Finishing off your woodwork can be tricky. You've spent days on a project and got the job done but your work still doesn't look as good as the ones in the shops. Why?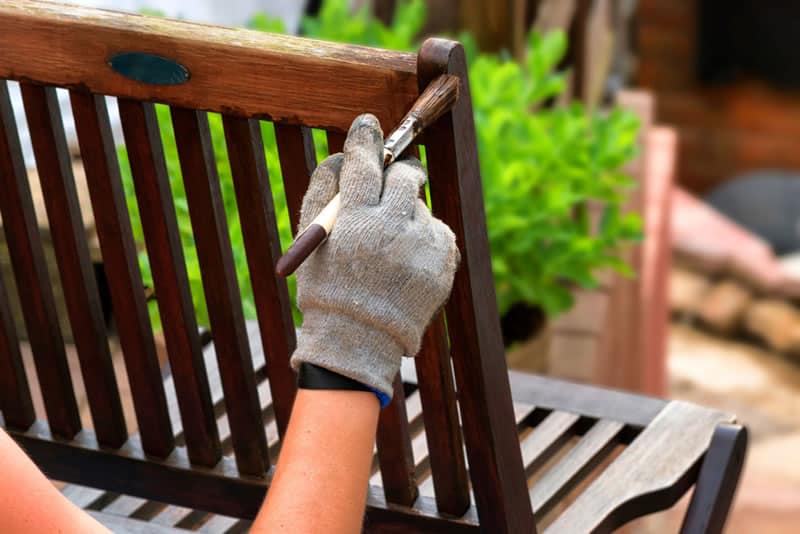 Well, the answer is all in the technique. And the professionals have been honing their skills for much longer than you have.
However, there are some ways that you too can get a more professional-looking finish. Here's a list of tips that will help you take your woodworking skills to the next level.
#1. Use Your Hands to Sand the Curves
While electric palm sanders are really useful, there will be some corners they just can't tackle. In these cases, there's no tool better than your own hands. So, it's a good idea to have some sandpaper grits nearby, especially when you have curved areas to finish.
First, tackle all the blemishes using 80-grit sandpaper. Then go onto using the 120-grit and 180-grit. You don't have to use this combination exactly, but you should gradually increase the grit as you go along. Your aim is to get rid of the deep scratches first, and then deal with the finer ones.
Also, make sure you are sanding each surface equally. Use the same grit for your hand as you did for the electric sander for each area, otherwise it will have an uneven finish.
If you want to completely avoid scratches, we suggest getting a random orbital sander. This is a very fun tool to use because it does all the hard work for you. And you don't have to sand against the grain either, because it follows a randomized pattern.
The random orbital sander will allow you to sand joints as well which isn't easy because that's where the grain changes direction. It's basically your solution for completely professional-looking sanding.
The trick is to go slow, preferably sanding one inch every second. Don't apply too much pressure or you'll get light swirly marks. Try not to press too tightly on the orbital sander as this might lead to uneven sanding.
#3. Carry out a Thorough Inspection Before Staining
How well your product turns out depends on how well you've sanded the wood. And no matter how confident you are, there's always going to be a few scratches here and there.
So, once you're done with the whole thing, make sure to look over your work one last time.
The easiest way to do this is by checking your work in a dark room. By shining a light over it at a low angle, you'll be able to see all the problem areas and sand them down.
#4. Test out the Final Product
If you truly want a professional finish, you should test out your finishing product before application.
For instance, stain samples you'll find in the store are not reliable at all. The real color will differ according to the quality, type and preparation of your wood.
In fact, even the oil-based polyurethane you use over the stains can change the color of the end product.
So, the best thing to do is to keep a few pieces or scraps from your project aside. Make sure they're going through the same sanding process as your real project. Then, test out your stain or polyurethane on those samples.
If you don't have any wood to spare, test it out somewhere it won't be visible. This way you can figure out how long you want to keep the stain and mix and match colors as well. That way, you'll know whether you're getting the final look you want.
#5. Get a Wood Conditioner
Ever wondered why dark patches sometimes appear after you stain your wood? Well, this happens when your wood is absorbing the stain unevenly – and it depends on the type of wood you're using.
This happens the most often with birch, maple, cherry and pine. But don't worry because there's a solution. Thankfully, there's something called wood conditioner that will minimize the blotching effect.
If you're using any of these types of wood, make sure to apply wood conditioner before starting the staining process. This will make your work look smoother and ensure that the end grain and face grain absorb the stain uniformly.
#6. Use Pyramids for Efficiency
Pyramids are a blessing for finishing off woodworking projects. Although they're just cheap plastic objects, their function is priceless.
Got some edges to paint? Use pyramids to elevate your work so you can paint easily, without getting any paint on your table.
Pyramids are really useful for painting both sides of doors and shelves. Simply rest the completed side on the pyramid and continue painting the other side. This means you won't have to wait for the paint to dry and you can get your work done faster.
What's more, there's no need to worry about the paint being ruined because the wood will be resting on the very thin, pointy ends of the pyramid. These spots are so tiny, they're hardly noticeable. If you're really concerned, you can touch them up easily at the end.
#7. Hide Scratches With a Marker
Sometimes, there's just not much you can do to prevent imperfections. However, this doesn't mean that your project is a failure. In fact, there are some pretty smart ways you can hide minor mistakes, so don't worry too much.
If your problem is a bunch of scratches, it's really easy to cover them up using permanent felt tip markers. And no – you're not taking the easy way out. Since this problem is so common, you'll see hardware stores selling furniture touch-up markers that almost everybody uses.
If you want a very specific color though, it's better to go to an art store and check out their markers, since they have a wider variety of colors. For the best finishing effect, dab the pen onto the scratch first. After it dries properly, lightly stroke across the scratch with the tip of the pen.
#8. Keep Your Project Clean
You'd be surprised at how much of a difference a good clean makes to your project's final look. When you're finished, get rid of all the polish and dirt that has built up on the surface.
Take a coarse, clean cloth that is absorbent and add mineral spirits to it. Use it to wipe down the surface until you can no longer see any dirt on the cloth. Then, use another rag to give it a final once over.
Don't forget to clean out the crevices and grooves! For these, it's best to use a cotton swab, following the same routine you did for the top surface.
It's also a good idea to vacuum your grits frequently. Or else, the leftover sand on the grits might mess up the next surface area you sand.
Final Thoughts
Woodworking is an art that not many are skilled at. But it's important to remember that even for people who have a knack for it, it takes time to perfect the skill. You won't have professional-looking projects right off the bat.
However, if you follow the tips above, they'll help you get a better finish. By using this new-found knowledge and making smarter choices, you'll certainly see an improvement in your work. Good luck!