If working with wood is your thing, or you want it to be, then our list of 20 Easy & Unique DIY Wood Projects You Can Sell from Home is just what you need. Whether you're a craftsman looking to expand their business,  or a novice trying something new,  wood is a great medium for creating eye-catching pieces you can turn into a business.
From furniture to wedding centerpieces, there's nothing you can't create. Read on to see some great ideas that we hope to inspire and motivate you, along with selling tips and tricks.
DIY Wood Projects: Untap Your Hidden Potential
Rustic wooden pieces, such as distressed pallet wedding signs, portable outdoor bars, and wall hangings are all the rage these days and a smart way to make some extra cash. If you're new to the world of woodworking, it's not as hard as you think. With a little know how and some creativity you can make stunning pieces that will amaze family, friends, and potential customers. And for those who are vets when it comes to constructing wood furniture and other items, why not take your talents to the next level and get paid for doing what you love?
Online Selling Tips
Point is, whether you're a beginner or a pro wood is a relatively inexpensive way to build items you can sell and grow into a potential business. And online is the simplest way to get your creations noticed and recognized, whether you sell on Etsy or make a site of your own.  Here are some tips to get you off on the right foot:
Start With a Well-Known Site
Unless you have an established business website you can the items you plan to sell too, it's best to start using a known and reputable site like Etsy or Craigslist. Yes, you will have to pay a small fee to sell, but it's worth it because these sites come with millions of potential customers and increase your exposure.
When you sell online a lot of your success, especially in the beginning, depends on people finding you in a Google search; problem is, new businesses tend to rank low in search engines unless they are associated with a recognized site. Using Craigslist and other online markets eliminate this issue and let you build your reputation and bank account.
Get Up-Close and Personal With Your Camera
Online sales are a blessing and a curse; it's great because you can reach so many people but it's bad because customers can't physically touch or inspect your items. That's why it's crucial to take quality pictures. No, you don't have to spend hundreds of dollars, but you should use an actual camera, not your phone, to show off your handiwork.
Also, make sure you use natural light and take pictures from various angles so viewers get a sense of the objects true size and dimensions. For instance, if you make an end table try to take pictures of it staged in your house, so they see what it looks like with other furniture
Besides pictures, use your words to sell your stuff. Now is not the time to be modest; use descriptive, enticing words to draw shoppers in and be sure to highlight unique details. Words like rare, one-of-a-kind, and whimsical catch the reader's eye and makes them look further.
In addition, be sure to describe your item clearly; exact measurements, materials used and any special care instructions should be noted unless you want to deal with complaints and refunds.
What will you make? If you want to create an online store, sell at a flea market, or add pieces to an existing business it's a good idea to pick an area of focus. For starters, having pieces that relate to each other makes you look more professional
Part of the reason many online businesses fail is that the process is too complicated so keep it as simple as possible. Clearly, state your return policy and make paying secure and straightforward. A good way to do that is to offer payments through PayPal. PayPal ensures you and your customers are protected, making them more likely to buy. And be sure to ship out sold items quickly; disgruntled customers are bad for your reputation and could sink you before you're off the ground.
20 Easy & Unique DIY Wood Projects
Now that you have a basic idea of where to start, here are 25 wood project ideas for every level of experience and niche.
1. Holiday Decorations to Make Everyone Merry
Simple and elegant, this star and other holiday-inspired items can be done using old wooden pallets and some acrylic paints. This particular design is great for beginners and can be done in under a day, which means you could crank them out if they take off and start selling.
Click here for directions to this design and check out this page for other holiday-inspired ideas (I love the Halloween ghosts!).
2. With This Book, I Thee Wed
Another good project for beginners or wedding planners is this clever guest sign-in book. Wood ac cents are all the rage these days and this project can be done in minutes, potentially giving you a big profit with just a little effort.
Go here for complete instructions.
3. Be The Teacher's Pet
With school about to begin this fun, chic chalkboard is sure to be a hit with teachers and kids. Inexpensive without looking it, parent's can use it to document daily events or big moments or they can give it as a gift to their child's professor. The directions, which you can find here, are easy to follow and you can change things like the stain color to make it your own.
4. The Life of the Party
Yes, there are a lot of parts and steps to this one, but surprisingly, it's not as hard as it appears; more importantly, it is a guaranteed seller, as bars and wine tastings are trending these days. This bar has a simple, care-free feel that can fit in almost any space and work with any decor, giving it a broad appeal. Click here to learn how to make it.
5. LOVE This Shelf!
If you're in the business of planning parties, particularly weddings, or looking to get into home furniture, this wood sculpture/shelf is sure to be in high-demand. You can stain or paint it any color, so it works with any party theme or interior design and the modern detailing gives it a polished feel that works in casual or more upscale settings. Get all the info to build it here.
6. Every Parent's Dream!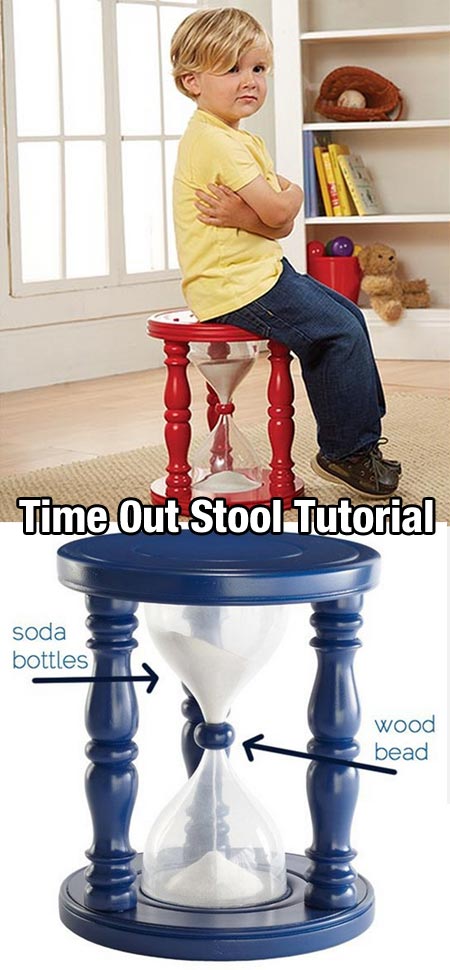 You may not be able to keep up with the demand for this stool once people get a look at it; I for one would definitely buy 2 for my 2 lil angel/terrors. This is simply genius as it is not only cute but serves a real purpose. Plus, you can make it any color, so it will work with any room.  Go here to find out how to create this lil moneymaker.
7. Racers, Start Your Engine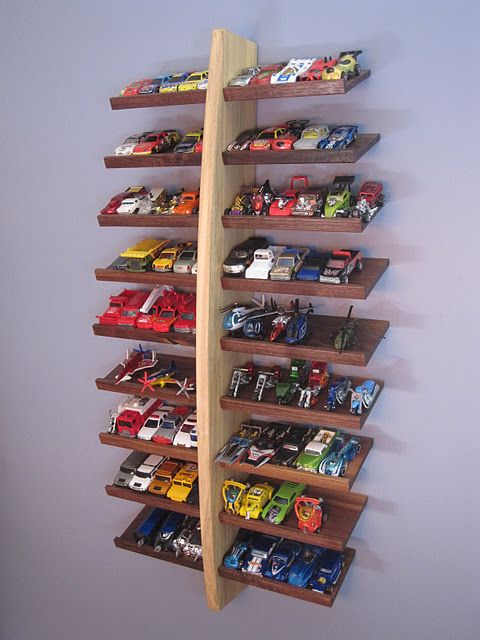 Parents are always looking for a smart, decorative way to hold and display their kid's toys and this is one of the best that I've seen so far. Sleek and unobtrusive, it can hold cars, minifigures, Barbie's and more. I'm not gonna lie, this piece will require a bit of time and attention, but it'll all be worth it in the end. Just be sure to take pics of it with and without toys on it when you go to sell to give buyers a clear understanding of how it looks. Click here for information.
8. "Rock" Their World
If you're looking for a piece with a wow factor you'd be hard-pressed to find a bigger one than this rocking motorcycle. The incredible details and craftsmanship make this a unique piece that would make any parent pay big money due to the obvious time and attention it requires. If this is something you think you can handle I'd suggest making it your only piece and adding or changing a detail to truly make it yours. I'd also make them by direct order only. You can get full building details here.
9. Anchor's Away!
This nautically inspired bassinet is sure to get people talking and buying. Pieces that you won't find anywhere else usually sell at a higher price point, as long as the craftsmanship is there. As a mom of 2 boys, I can tell you that I would have loved something like this in their room. Click here to learn how to make it.
10. Barking Up the Right Tree
This indoor dog house will have pet owners drooling! Just be sure to stress they are a made-to-order item because every home space will vary. This makes the process a bit more time-consuming, but it also ups your profit margins. Click here to find out more.
11. Fun For Everyone
Who said fun and games are just for kids? This wood tic-tac-toe set is just too good to resist with its simple, clean lines and funky design. Trust me, anyone would love to have this piece in their home and you can play with various wood shades and primary colors. Heck, you can even do different themes, like holiday tic-tac-toe Go here for instructions and idea inspirations.
12. Kids Can Build Too
Groom your kids to follow in your handi-man footsteps with this clever wood tool bench. Hey, you can even let them help you build it and document it on a YouTube page if you want some guaranteed exposure. This bench is easy to make, but depending on the wood it can be quite heavy to ship, so you may want to sell it at an actual market. Go here to learn what you need and how to do it.
13. Table for 2?
 
For those with the time and patience, this refined outdoor dining table and chairs is a game-changer. All you need is paint, old wood pallets, some 2×2's and a few tools and you're ready to go. Have fun with the colors to give it some personality and it's a guarantee the orders will be coming in! Instructions are here.
14. Light it Up
Simple and elegant, these wood candle sconces show you don't need to create something complex to garner attention. The deep rich wood stain looks great against the flickering lights and is a welcome addition in any house. Plus, they are quick to put together, so you can sell them in bulk with ease. Click here for instructions.
15. Coffee or Death
Anyone who loves coffee knows it's the most important meal of the day, making this coffee cup rack an added addition to any home or shop. You can change up the finishes, fonts or hooks, giving the piece you put together an original feel buyers will clamor for. Make one for your local coffee shop or diner to use for real-world marketing. Instructions are here.
16. Time's Ticking
Talk about a statement piece! This designer-inspired clock, much like the ones you see on HGTV, will have the cash rolling in. Timeless (haha, see what I did there?) and elegant, you can custom create this is any size or color; just be sure to stage it to give potential buyers a clear look at how it stands out in a room. Go here for complete instructions.
17. Moments For Life
These wooden plaques featuring photo transfers are smart for burgeoning home decor artists, photographers or event planners. They can be used to showcase sentimental wedding moments, 1st birthdays, engagements and more. You can also change the size and use them as favors or place cards. And since they cost pennies to make there's a real opportunity to make money. Try to use different moments to give an idea on how to best utilize them. You can find the instructions here.
18. Sign Me Up
Hand-made signs featuring well-known adages or original sayings are all the rage so why not try your "hand" at them? Shapes, colors, and textures can be changed and manipulated, giving you the opportunity to come up with something that can't be found anywhere else. Oh, and they're hard to mess up, so it won't be a waste of your time or money. Try to create a few before taking pics and posting them. Go here for the instructions.
19. Keep Your Cool
This is one of the coolest items on our list (pun intended!) and can be marketed for outdoor parties or to anyone who wants to classy-up there yard. You can choose any shade of wood that appeals to you and come up with a clever chalkboard message, like "Buy Me" for your online photos. Get the instructions here.
20. Family Means Everything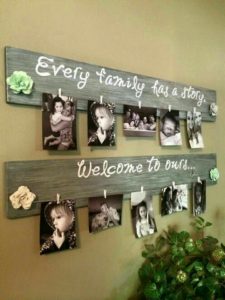 Last but not least is the ingenious photo frame wall that is sure to touch the heart of everyone who sees it. The distressed wood fits with any decor and you can use different accents if flowers aren't your thing. Psst… just remember babies and puppies make irresistible pictures. Get the instructions here.
I hope our list of 20 Easy & Unique DIY Projects With Wood You can Sell helps you create stunning pieces you can share with the world. With our tips and your creativity, there is no limit to what you can do. So, what are you waiting for? Go make that money!