DEWALT makes some of the best home improvement power tools that you can find. From air compressors to power saws, DEWALT has you covered. Today, we're comparing a couple of their high-quality orbit sanders so that you can understand the differences between both of these great products and choose the right one for your projects.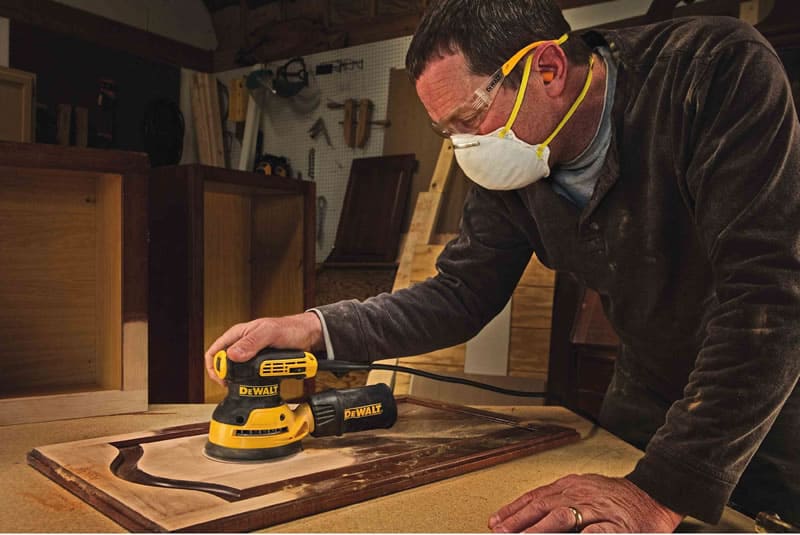 Comparing the DEWALT DWE6421k vs DWE6423k models is a worthwhile time investment into your next project so that you can get the right sander for your next job.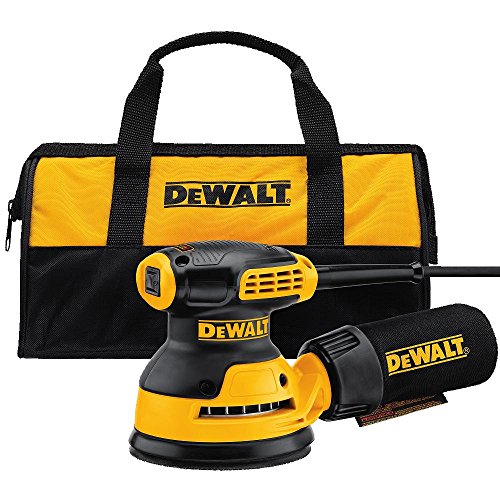 DEWALT is synonymous with quality and integrity, so it's no surprise the DWE6421k is a trusted and valued tool among professionals and amateurs. Great tool for creating smooth, sleek creations quickly and easily, it has some awesome features, including:
12,000 Oscillations per Minute: The 3.0 amp motor in this sander spins the pad at 12,000 OPM, plenty enough to polish the rough edges on your project. This one effective speed makes it easy to operate your sander.
Dust Collection: The vacuum on this tool cleans up after you as you work for a more hassle free experience. Attached to the sanding unit is a bag for collecting your woody byproducts.
Dust Sealed Motor Housing: The actual motor on this tool is safe from any harm that would come to it due to the fact that it is entirely rubber sealed. Even the on-off switch is protected from sawdust seeping in, keeping you from worrying about whether your sander is built to last.
One-Hand Locking Dust Bag: Got a lot of sanding to do? No problem for this product. You can detach and reattach the dust bag on this sander all with one hand, quickly and easily.
Replaceable Sandpaper: This product is supported by DEWALT through the manufacture of cheap but effective sanding disks. Depending on how much sanding you do, you'll find that these disks will last you just as long as you would want and expect them to.
Not to be outdone, the DEWALT DWE6423k sander is a great product in its own right. This sander offers a little bit more than its opponent with features like:
Variable Speed: Using this one product, you can sand at a range of different speeds between 8,000 and 12,000 OPM. This grants you a little more flexibility with your sander that you may find useful.
Compact Design: The shorter design of this sander gets you closer to your work. By minimizing the distance between you and your work, you can work with a little more precision.
Reduced Vibration: With power sanders, you can run into a problem with fatigue on a larger project. Thankfully, this product is built with rubber over-molds to keep vibration to a minimum.
Enclosed Motor Housing: With all of the sawdust your power sanding is sure to create, you will be satisfied to know that your sander won't fail you because of your work's waste. This product is sealed against any debris that your tool may encounter while you work.
3 Year Warranty: In order to ensure your investment a little further, DEWALT offers a 3-year warranty on this orbit sander. While DEWALT products are generally durable, this promise clears you from any worry you may have with your sander.
The DEWALT DWE6421k vs DWE6423k: Head to Head Comparison
What makes these tools similar?
Truthfully, there is a lot about these two sanders that is similar. Both products have the same motor housing and shape as well as the same motor. They both feature the same innovative dust collection bag, too, to keep your work clean. All the way down to the warranty, these products are comparable.
Altogether, these products are very similar but you would be thankful that they are since they are both top notch products.
What is the different between DWE6421k and DWE6423K?
Fortunately, there are some key differences between these two models that may make one more advantageous for you compared to the other.
In order to fully understand the separation between the DEWALT DWE6421k versus DWE6423k, there are a few facets of the two products that we need to pay attention to like:
Single Speed vs. Variable Speed: This is the true difference between these two products. Just looking at these two products, you wouldn't notice that they are different sanders unless you spotted the dial on the DWE6423k that changes the speed of the motor.If you just want a simple sander for perfecting your projects with no options for speed, the DWE6421k is your sander. But if you want to be able to work at differing speeds with your tool, then the DWE623k is your desired product.
Price: As with any purchase of a new toy, the price is a consideration. The difference between the prices of these two products is not drastic but it is still worth understanding the bang that you get for your buck. Simply put, the single speed model comes at a price that is $20-$30 less than the variable speed model.
Neither of these products are going to break the bank so it is truly a matter of whether or not the $20 dollar difference is worth earning yourself the variable speed technology of the DWE6423k.
Verdict – Which is the better sander?
So, as we have noted, these two sanders are probably more similar than they are different. Luckily, all of these similarities are what make these two products great; it is only a matter of which one of these products is more right for you personally. If you want the ability to change speeds with your orbit sander so that you can work at a range of paces, then you want the DEWALT DWE6421k.
If you want to work at one speed for more ease of use, then it looks like the DEWALT DWE 66423k is the sander for you. Both of these models are awesome orbit sanders that only serve to solidify the DEWALT name even further in the home improvement marketplace. The DEWALT DWE6421k comparing with DWE6423k is a matter of choice for your own personal preference for your woodworking needs.
[rwp-review id="0″]