Spring has begun! Which means my family and I have taken our post-dinner talks and entertainment from our cozy living room to the fresh outdoors. We have found ourselves loving these warm late nights more and more. So I had decided to make our outside a bit more comfortable. With a whole bunch of empty mason jars left untouched, why not turn them into lanterns?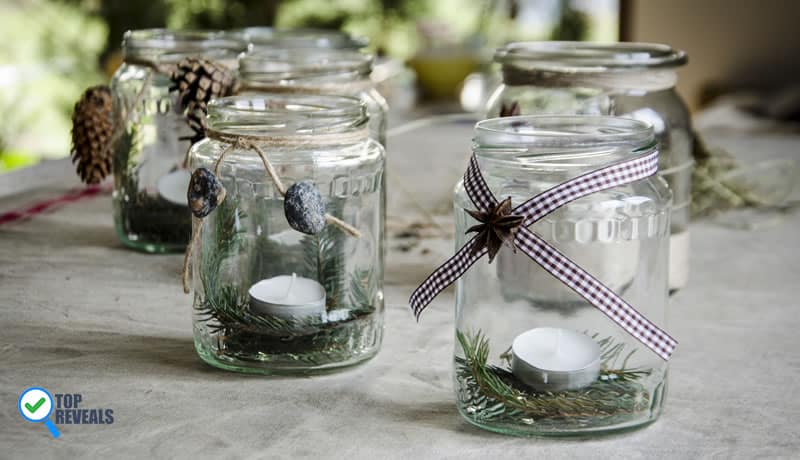 I had seen it numerous times, but it was not until I actually searched for DIY Mason Jar Lantern Ideas that I realized how many choices there are! Really, there are lanterns for every homey theme or season!
DIY Mason Jar Lantern Ideas
Simple Mason Jar Lantern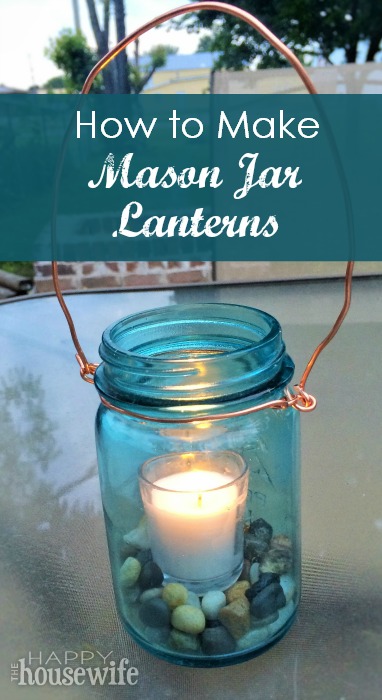 If you want something quick to execute, start here! Thi is a very simple mason jar to create, courtesy of the Happy Housewife, and all you need are some common objects you may have around your home. It is so beautiful and can sit nicely on a little table or handing from a canopy.
Fairly Mason Jar Night Light
I found this one from All Mommy Wants just so sweet. Not perfect for a backyard, but perfect for a kid that may not be too fond of the dark. It is simple to make and you could even get them involved!
Wall Hanging Mason Jar Lantern
I love these lanterns from A Southern Fairytale ones because of the incredible character they can bring to a room. It is basically the same concept as the other ones mentioned, but the addition of the boards and hooks makes it so much chicer, don't you think?
Nautical Mason Jar Lantern
Not everyone covers their home with burlap and southern charm. For those of you with a beach or nautical theme, these mason jars from Pink Fortitude are just dreamy!
Citronella Candle Mason Jar

Some candles don't need to look pretty, but they should smell good; this one from Martys Musings happens to do both. To bring in a nice beautiful scent or to mix a delicious smelling potion to get rid of those pesky nighttime bugs, give this DIY a try.
Prism Mason Jar Lantern
This project from DIY Projects is super simple but will give you some very pretty results. You can get especially creative with the jewels you use.
Mason Jar Chalkboard Lantern
Also from DIY projects, these are super romantic but also easy to make. Now I am not suggesting you need lanterns for every location, but I would make these specifically for date night!
No Candle Mason Jar Lantern
Simple Kierste Design's lanterns are simply marvelous. If you are especially sensitive to candles this is a great way protect yourself. Not only are the mason jar upside down, but the candles are also fake.
Fairy Mason Jar Lanterns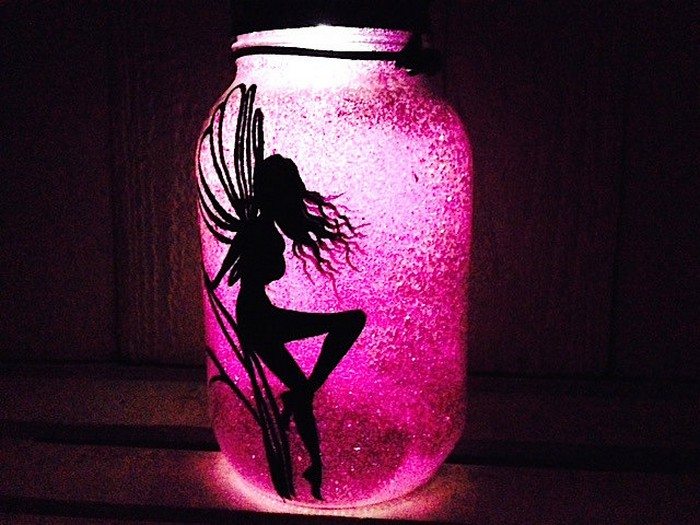 This magical night light from Ideas2Live4 will have your imagination running wild. Perfect for a girls bedroom or the garden just filled with fairies! 
Frosted Mason Jar Lantern
A frosted mason jar, like this one from JoyBoBo is just what your bathroom needs! This calming look gives a great effect as the light dances around the room. Also, it is probably one of the easiest DIY's!
Mason Jar Chandelier
Got an outside dining table that needs a pretty chandelier? Bring your mason jars together like Shanty 2 Chic did for a fixture that will light up the area beautifully.
Monogram Mason Jar Light
Want to show a little family pride? Make a monogram of your first or last name with this fun design from Oleander + Palm. It is not too difficult, but is definitely a conversation starter when you can say you built it on your own!
Mason Jar Tiki Torches
This one from AdaFruit can be challenging but don't let that discourage you! It can add such a beautiful effect to your jacuzzi or pool area, it is an irresistible look!
Constellation Mason Jar Light
For those obsessed with space and looking to add a bit of magical glow to the evenings, this constellation mason jar from Design Mom is more than just a lantern. The light will peak through the tiny holes giving off a fun glitter across your walls and furniture.
Patriotic Mason Jar Lanterns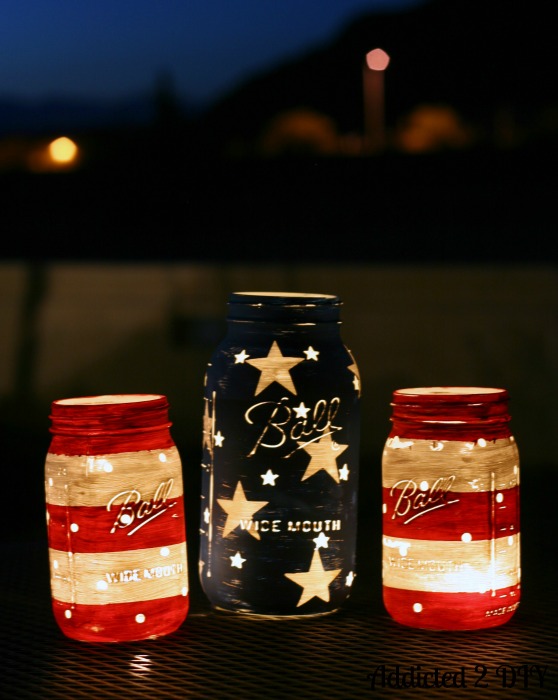 It is one thing to paint a mason jar, but it is another thing to do it with style. This fun mason jar, courtesy of Addicted to DIY, shows you how to flawlessly paint your jars so they display beautifully.
Moroccan Mason Jar Lanterns
Let's spice the mason jars up a bit, yea? Check out this DIY from Design Sponge for a boho chic room or eclectic room!
Colorful Mason Jar Lantern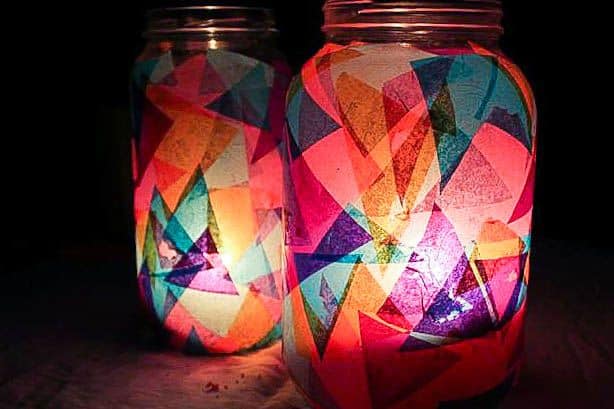 These mason jars from Hello Glow may appear basic, but I found them perfect for a party! They are easy to put together and then when you are done, you can remove the tissue paper and try another DIY!
Fence with Mason Jar Lighting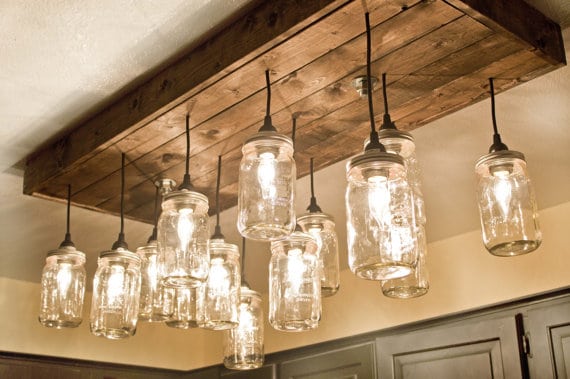 If a mason jar is not enough character for you, check out this pallet DIY from ID Lights. It can give a great cozy look to any room and can be fun to decorate during the holidays or spring!
Fall Lantern Table Decor
I like this DIY from Lil Blue Boo because it gave me so many ideas! You can change out whatever is in the jar based on the season or holiday. Great way to get many uses out of a couple jars.
Mason Jar Jack O' Lanterns
Pumpkins too much work? Go for some mason jars like these via Instructables; they won't rot and I can promise you they are easier to put together than a giant vegetable.
Mason Jar Christmas Centerpiece Lanterns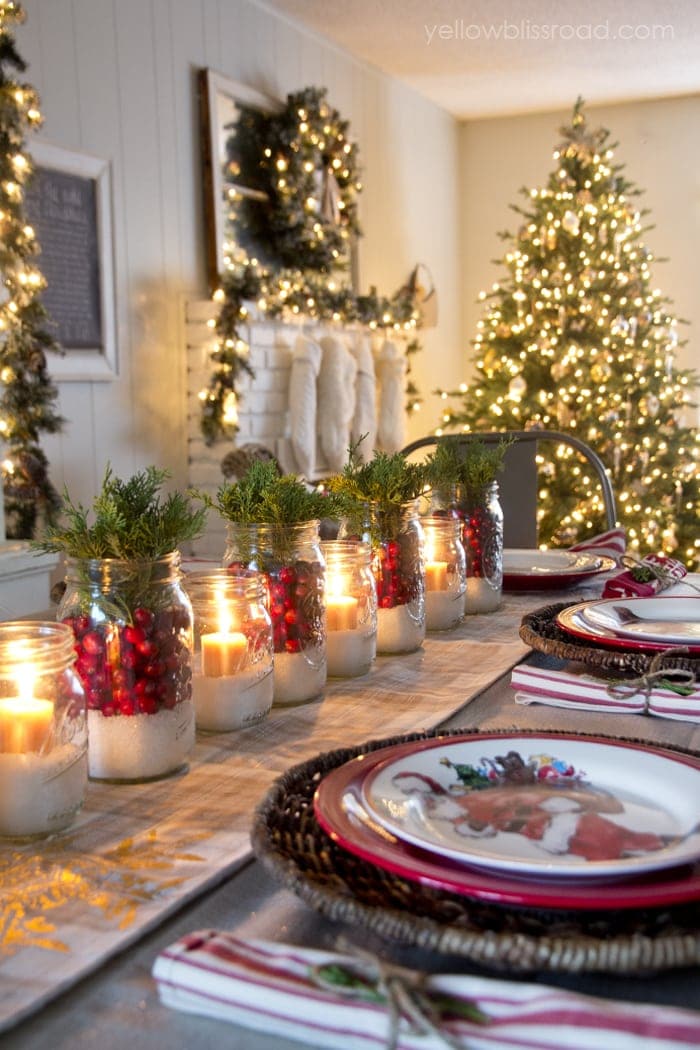 Keeping with the theme of the holidays, these jars from Yellow Bliss Road are so pretty for Christmas and they have the additional benefit of sitting beautifully on your dining room table.
Scented Mason Jar Lantern
Want something pretty and smells good? This DIY project on Flickr can come together with many items you have around your home! Bring them together for a mason jar candle you won't want to ever put out.
Did you enjoy the list? Not only did this help guide me on some nifty tricks for some amazing mason jar lanterns, but it just got my creative juices flowing! Let me know if this helped your creativity in the comments below and share it with a friend who could use some mason jar lanterns of their own.