Whenever it comes to following a certain diet, we can often times find ourselves in a rut. Eating the same foods every day and running out of ideas. This is especially true for those of us who have to take our lunch to work. Get out of that rut and try out some of these incredibly creative recipes.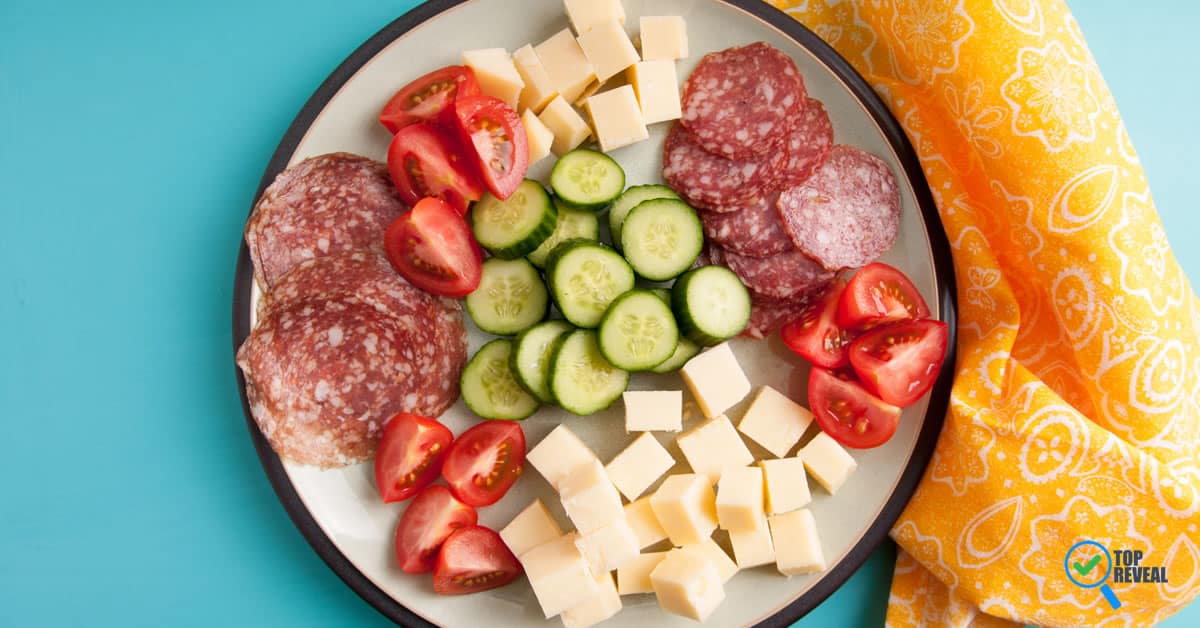 Whether you need your lunch in the form of a smoothie since you are always on the go or if you have a craving for sushi, there is something for everyone.
1.Shrimp Avocado Salad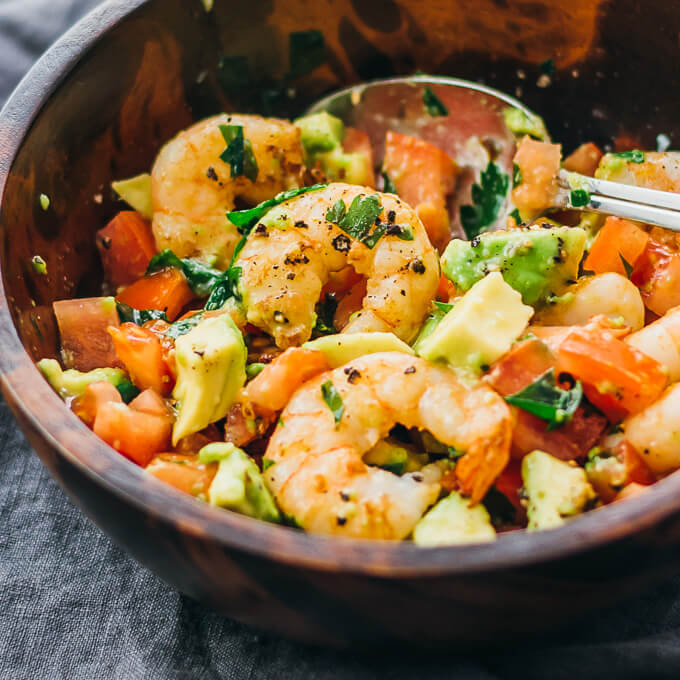 savory tooth
Cook some shrimp the night before and add some of your favorite diced veggies. Personally, I love bringing a whole avocado and a knife to chop it up when I am ready to eat. Check out the recipe here.
2. Loaded Cauliflower Bites
An easy way to get your veggies while feeling like you are enjoying a cheat meal!

deliciouslittlebites.com
Ingredients:
8 slices of cooked bacon
1 head of cauliflower
1/2 cup of mayo
1/2 cup of sour cream
1 tbs ranch seasoning
Black pepper
1 cup of shredded Colby & Monterey Jack cheese
1 cup of shredded cheddar cheese
6 tbs of chopped chives
Instructions:
1. Set oven to 370 and spray a baking dish with non-stick cooking spray.
2. Chop cauliflower into florets and steam cauliflower until tender, typically about 15 to 20 minutes.
3. Combine the mayo, sour cream, ranch seasoning, and black pepper. Then add the florets, half of the bacon, half of the cheese and half of the chives. Once mixed well, transfer into baking dish. Then top with the remaining ingredients.
4. Cover with foil and bake for 20 minutes. When done, remove foil and bake until the cheese gets a bubbly brown, typically 5 – 10 min.
3. Antipasto Salad

Well Plated
You won't even know you are dieting with this recipe! Simply combine the following ingredients:
1 chopped head of romaine lettuce
4 ounces of prosciutto, cut into pieces
4 ounces of salami or pepperoni, diced
1 cup of artichoke hearts, sliced
1/2 cup of olives
1/2 cup of pickled or roasted sweet peppers
Italian dressing to taste
4. Spinach Mozzarella Stuffed Burgers

The Iron You
Nix the bun and add all the fixings directly into the burger. This delicious recipe is great for everyone, Keto or not. It also helps eliminate the mess with a knife and fork, always keeping your desk clean. Check out the recipe here.
5. Low-carb Pork & Egg Pie

Keto Diet
This Keto low-carb lunch is perfect to make for dinner the night before, and then enjoy the leftovers at lunch the following day. Find the recipe here.
6. Deli Snack Box
We all loved those Lunchables back in the day. This is a fun Keto take on those lunch classics. In a Tupperware container, add a few crackers, some almonds, cheddar cheese, cherry tomatoes, a hard boiled egg, and some slices of turkey. It can be a quick way to put a boxed lunch together when you are on the run!
7. Blackened Steak Salad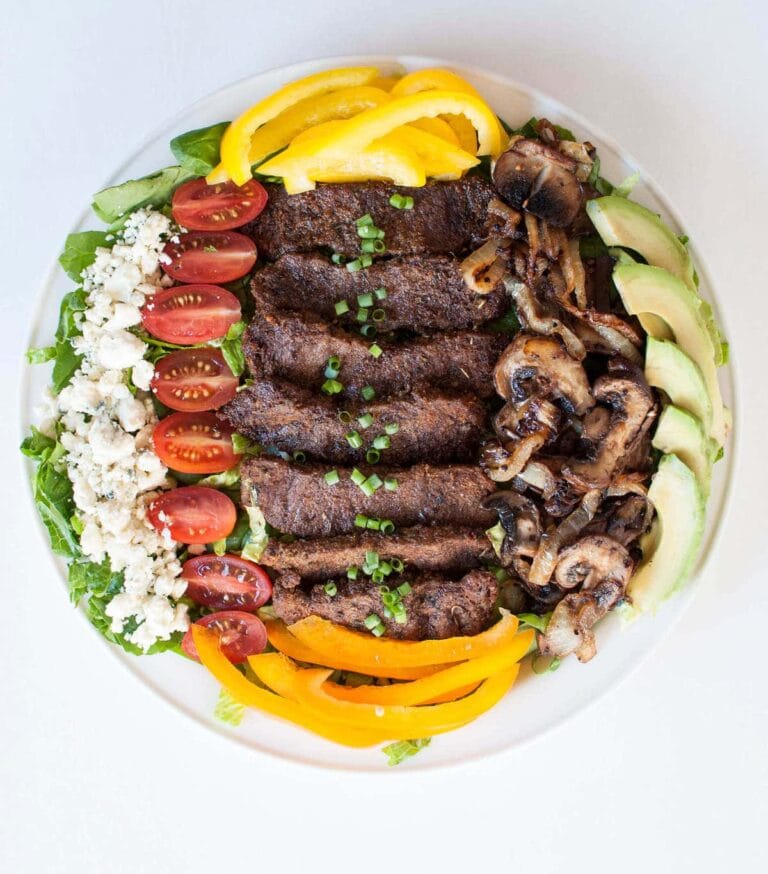 Peace,Love And Lowcarb
This salad is as tasty as it is pretty. The flavorful steak with the crunch of the vegetables complement each other perfectly. Check out this recipe and add your own twist.
8. Fish Cakes Paired with Avocado Lemon Sauce

Bullet Proof
If you loved fish sticks as a kid this adult healthy take is a great alternative. They have a fresh flavor and you can easily make a big batch as you meal prep.
9. Keto Egg Salad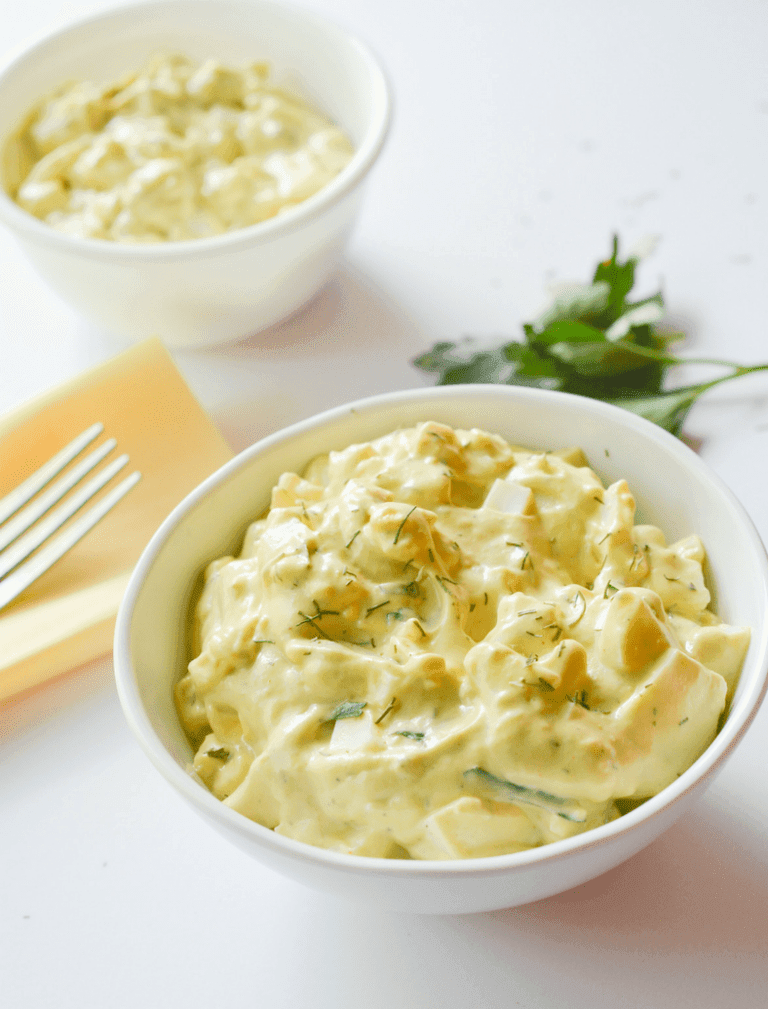 Hey Keto Mama
Perfect for that keto-er looking for a high-fat and moderate-protein lunch. Plenty of egg, avocado, and fresh dill for flavor! Check out the recipe here.
10. Shrimp Zucchini Noodles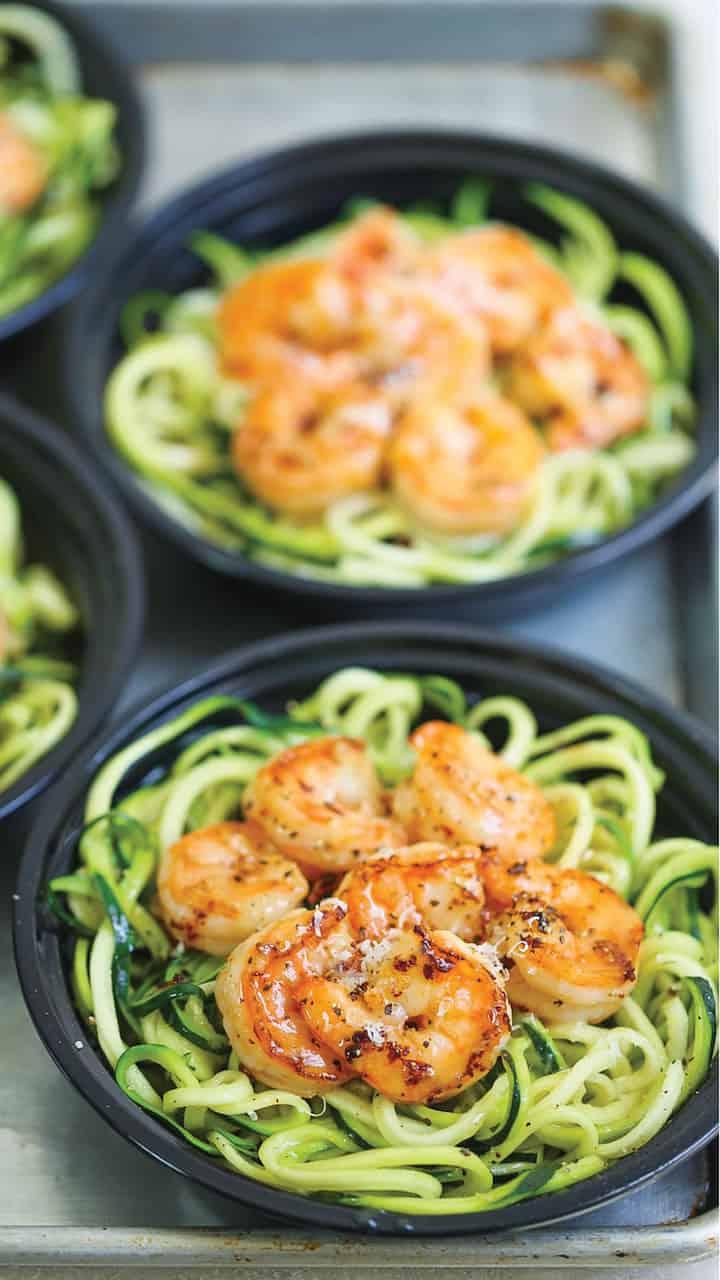 Damn Delicious
Perfect for those good weather days when you want something a bit light but filling and full of flavor. Everyone will be wondering where you went to cooking school. Check out the recipe on one of my favorite blogs, Damn Delicious.
11. Cauliflower Potato Salad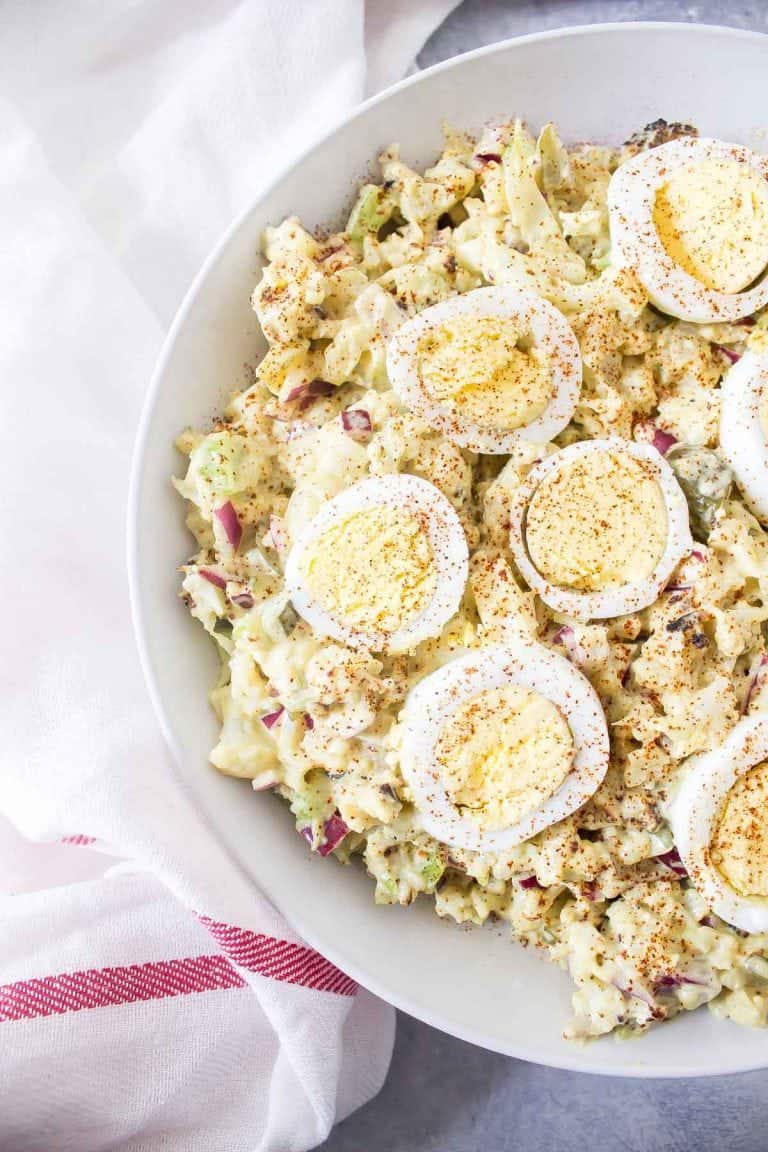 wicked spatula
Great for a potluck lunch or side, but frankly it is so good I wouldn't blame you for just eating this at lunch. Check out the recipe here.
12. Avocado Cucumber Gazpacho

All Day I Dream About Food
Cold soup may not sound that appealing, but when it comes to lunch it can be actually more convenient!
Ingredients
– medium cucumbers (2, peeled, seeded, and chopped)
– Avocado (1 1/2, chopped)
– Jalapeño (1, seeded and chopped)
– Cilantro or Basil (1/3 cup)
– Apple cider vinegar (1/4 cup)
– Garlic (2 cloves)
– Salt (1 tsp)
– Pepper (3/4 pepper)
– Water (1 – 1 1/2 cups)
Instructions
1. With the exception of the water, add all the ingredients to a blender or food processor and blend until smooth.
2. Once smooth slowly add water, blending and adding until the desired consistency.
13. Salami Cheese Rollups

sugarapron.com
This super easy recipe is perfect to snack on or add to an already delicious salad. Simply take some salami slices, spread some cream cheese and a few thin slices of bell peppers. Roll them up and keep tight with a toothpick.
14. Collagen Keto Bread

Source
Make a sandwich with this Keto Friendly bread! The recipe is pretty simple and it tastes amazing! The great thing about this recipe is you can use the bread for toast for breakfast, sandwiches for lunch, or garlic bread for dinner. Perfect for every meal!
15. Low Carb Tortillas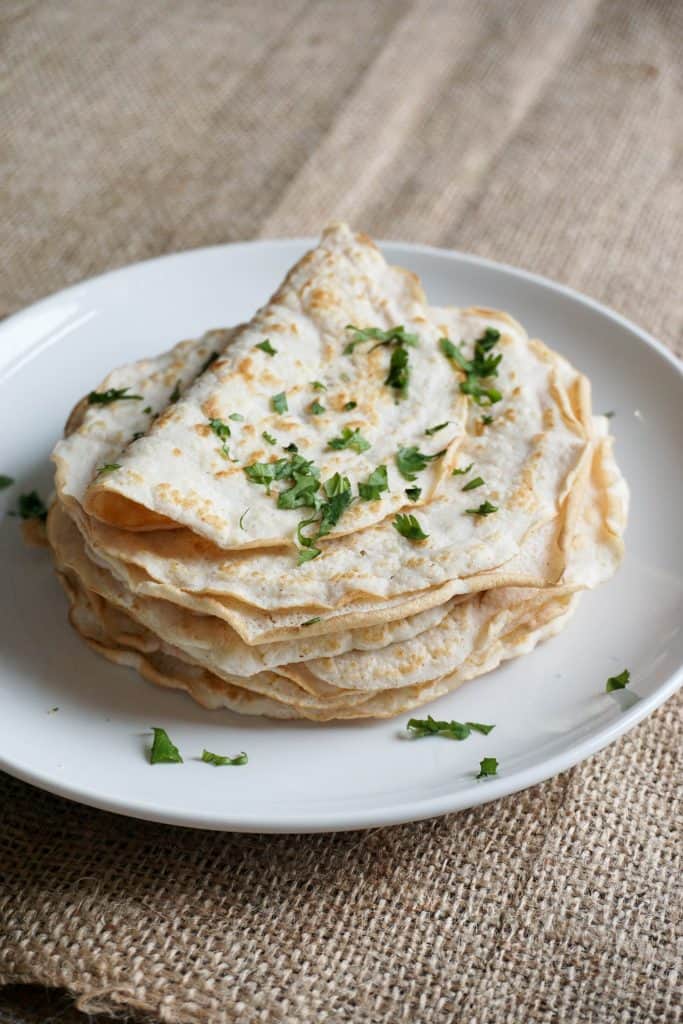 Keto Connect
Love tacos but hate the high amounts of carbs? This low carb tortilla recipe will get you back to your beloved tacos, quesadillas, and burritos. Let's get started with a good steel wok.
16. Cheeseburger Lettuce Wraps

Source
You can get real creative with this one. Take your favorite burger recipe and get rid of that bun, replace it with large leaves of lettuce. Add all the good fixings like melted cheese and fresh tomato all atop of a juicy burger patty.
17. Keto Green Smoothie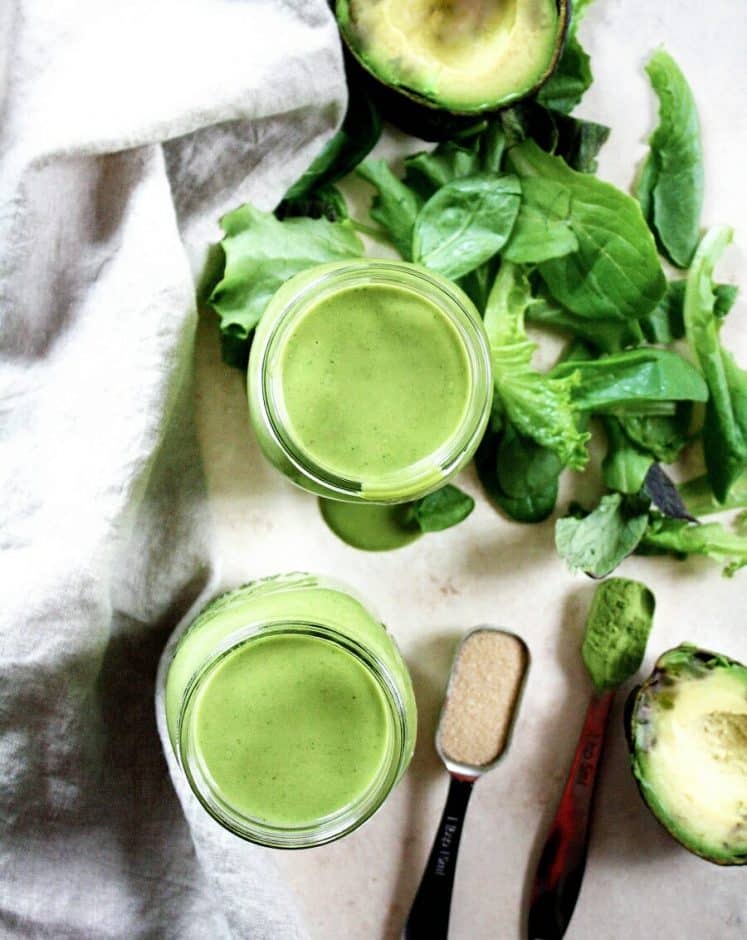 Source
When I am on the go, I love to just grab a smoothie to sip in the car. This recipe is super simple to follow, simply blend all of the following ingredients. Some optional additions may include chia seeds, collagen, vanilla protein powder, mace root powder, or turmeric.
Ingredients
– Spinach (2/3 cup)
– Avocado (1/2)
– MCT oil (1 tbs)
– Vanilla extract (1 tsp)
– Matcha powder (1/2 tsp)
– Sweetener (1 tbs)
– Almond or coconut milk (1/2 cup)
– Water (2/3 cup)
– Ice (5 cubes)
18. Turkey Cheddar Roll-Ups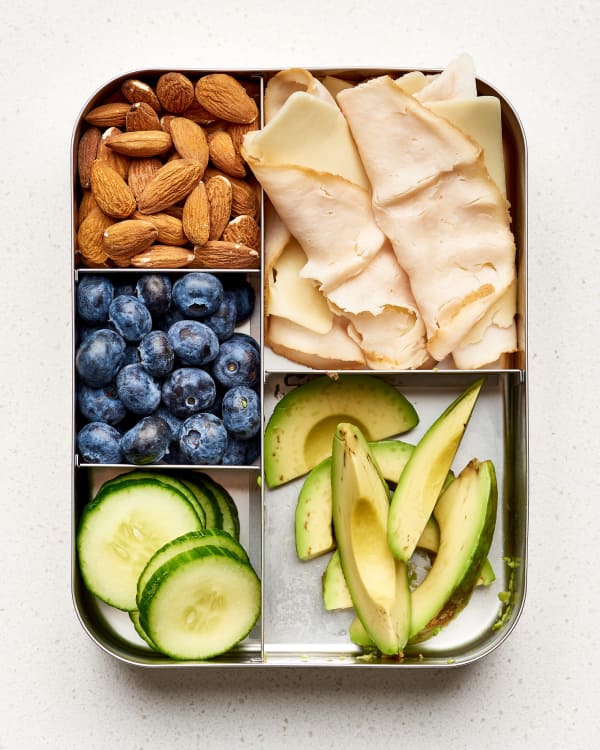 These recipes don't need to be super complicated. Often times the best lunches are in a sweet lunchbox that allows you to graze. So instead of a big heavy sandwich with all the carbs, simply wrap up some turkey and slices of cheddar cheese. They make a clean healthy lunch main.
19. Low Carb Keto Lasagna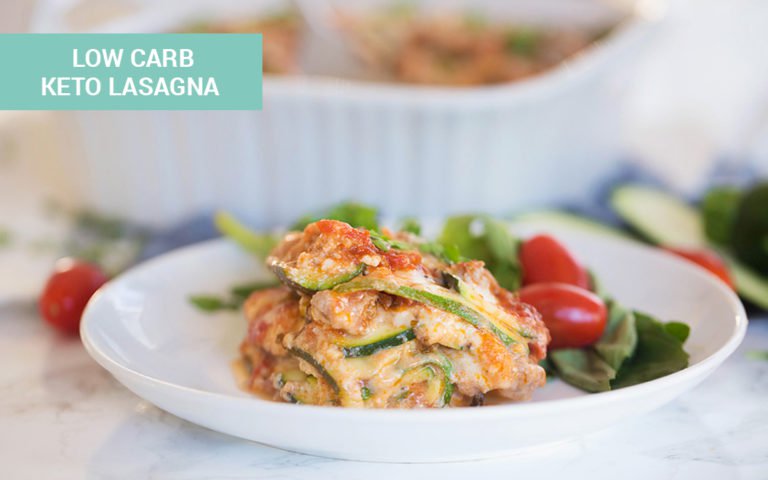 Perfect Keto
I love having lasagna leftovers and it doesn't need to stay in perfect slices to taste good. The same holds true for this lasagna recipe. Throw this low carb lasagna together the night before and make sure to cook plenty for leftovers!
20. Portobello Bun Cheeseburgers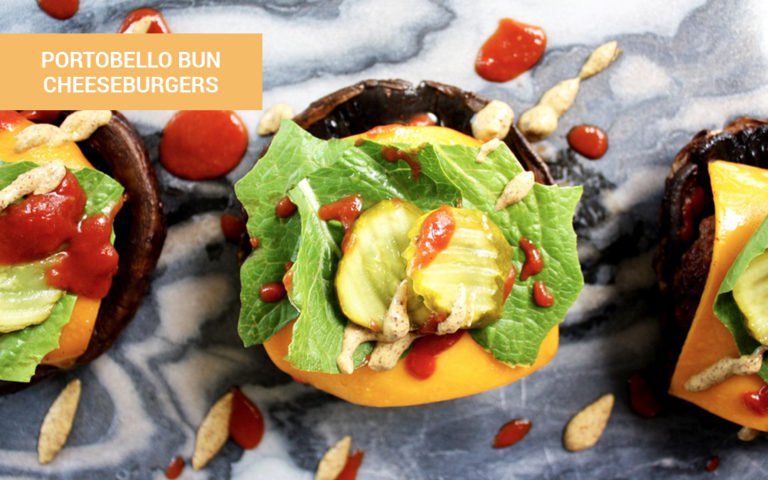 We have seen the burgers with fresh lettuce buns, but if you are looking to spice up your burger recipe a bit more, trade in that lettuce for some portobello mushrooms. You can still have all those good tasting fresh ingredients, just sandwich it between two large mushroom buns!
21. Low Carb Crispy Keto "Fried" Chicken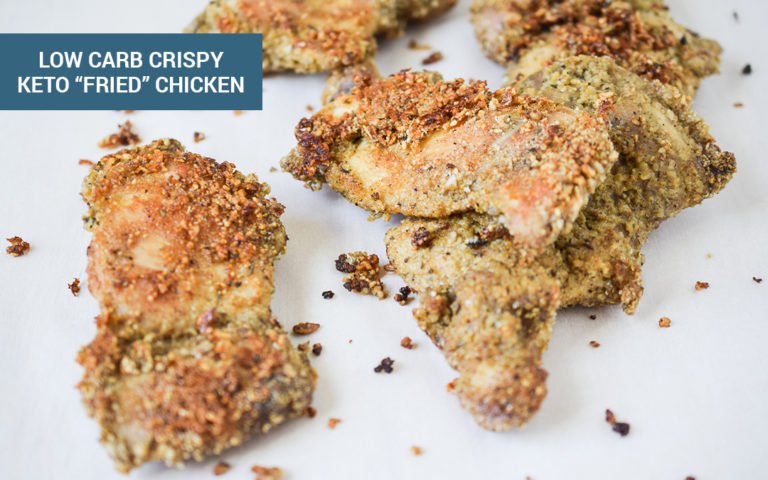 Source
We all get those cravings that won't go away. So when you are craving some crispy juicy chicken, this Keto "fried" chicken recipe will satisfy that itch. Check out the recipe here.
22. Spicy Shrimp and Avocado Salad with Tahini Dressing

Oh Snap Let's Eat
As soon as I read this title, my mouth started watering. A salad that doesn't taste like your average salad. Make a huge batch of this tahini dressing and use it for other salads and recipes to make everything Keto friendly. Check out the recipe here.
23. Keto Corn Dog Muffins

Source
Not every muffin recipe has to be a sweet breakfast treat. These Keto corn dog muffins are savory, filling, and easy to throw into a lunch box for you and the whole family. Visit the recipe here.
24. Cauliflower Low Carb Cheese Sandwich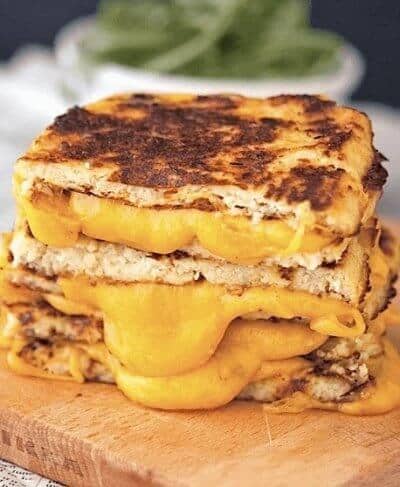 The Iron You
A grilled cheese is all I wish for during those cold rainy nights. So instead of counting it as a cheat meal, I follow this recipe. The bread can be a bit of work but I think you will find that it is so worth it. Check out the recipe here.
25. Turkey Taco Lettuce Wraps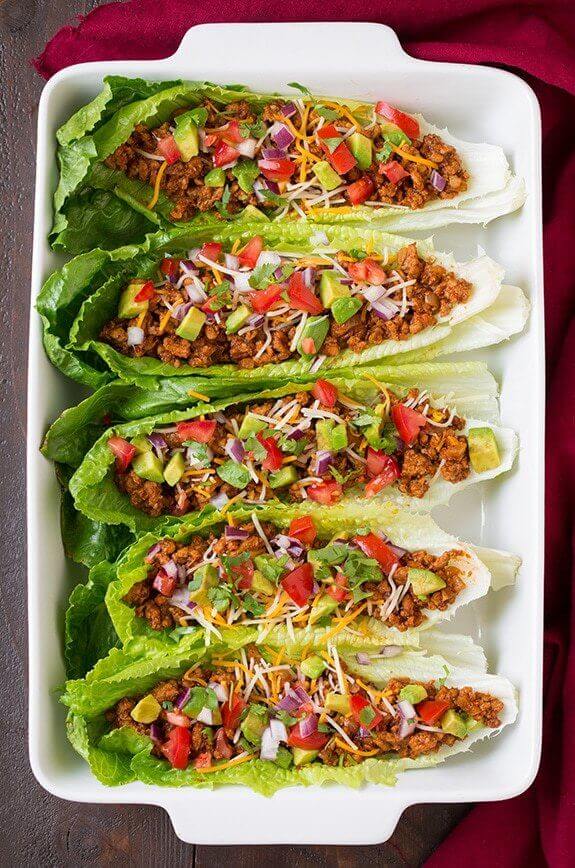 If you are craving those latin flavors and don't want to labor over fancy Keto tortillas, these are an easy option. Whip up some ground turkey, cheese, avocado, tomatoes, and red onion then add it to large leaves of lettuce. Easy to bring to work and put together at your desk.
26. French Quiche

Diet Doctor
Quiche is not only an easy recipe you can cook the night before but one where there will surely be plenty of leftovers for you to bring to work. It heats up quickly and is mess free. Get creative by adding different seasonings or veggies (using a veg chopper), or just follow this recipe.
27. Bacon and Mushroom filled Pierogis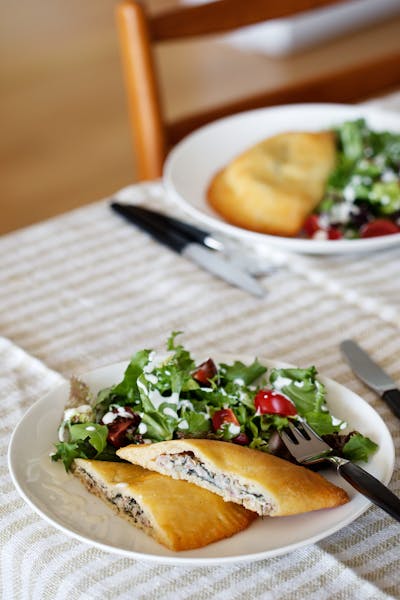 Source
Dieting does not mean you need to eat boring food every day. Try something international like pierogis! You can make a bunch the night before and toss a few in your lunch bag. So simple, but so tasty.
28. Lasagna Stuffed Portobellos

I Breathe I'm Hungry
Lasagna stuffed portobellos can be made the night before and meal prepped for the entire week. Simply pop them in the microwave at work for a few seconds, voila! The most delicious Italian lunch.
29. Keto Sushi

Source
Our imagination can sometimes feel limited when following certain diets. So this sushi recipe makes it easy for you to mix things up, have your favorite meals, without breaking from your diet.
30. Fresh Sriracha Broccoli Salad

Wicked Stuffed
A fresh broccoli salad is a lovely spring or summer treat that can be both light and refreshing. Keto Friendly with 212 calories, 16 grams of fat, 10 grams of protein, and only 6 grams of carbs. To get ahold of this recipe, click here.
31. Zoodles and Chicken Meatballs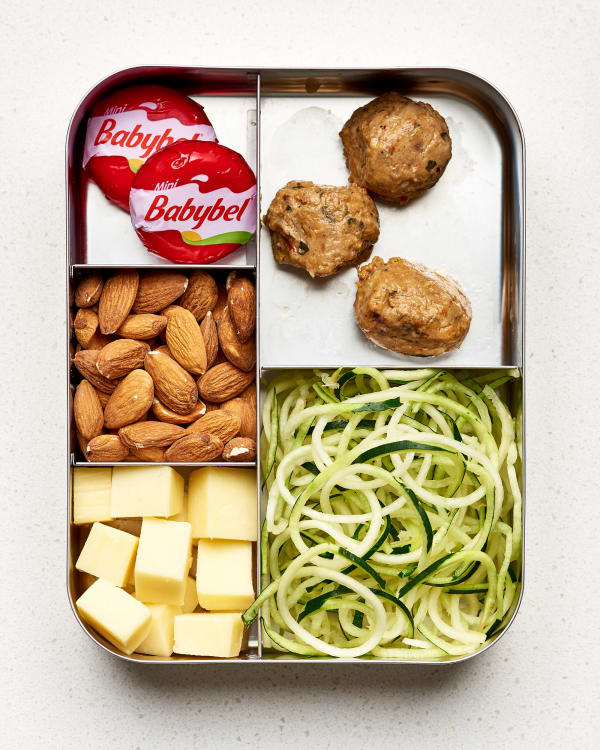 Love me some pasta, how about you? This take on traditional spaghetti and meatballs is easy to create with some zucchini noodles and chicken meatballs. Find unique recipes online or get creative with your own.
32. Double Chocolate Chip Keto Cookies
Chocolate chip cookies are my favorite dessert, so when I found a recipe that was Keto friendly, these became an instant addition to my lunches. Check out this clever recipe right here.
33. Vanilla Turmeric Anti-Inflammatory Keto Fat Bombs

Source
These little poppers are the perfect addition to any lunch. They are also super easy to whip up.
Ingredients:
1 vanilla shortbread collagen protein bar
Unsweetened coconut flakes (1/4 cup & a bit more for garnish)
Turmeric (1/4 tsp)
Ground ginger (1/4 tsp)
Water (1 tbs)
Instructions:
1. Add all dry ingredients to a food processor. Blend until ingredients are well mixed or crumbled.
2. Add water, mix until dough is formed.
3. Form dough into small balls.
4. Roll in the coconut flakes.
34. Chocolate Avocado Keto Brownies

Source
Creamy and chocolaty? Keto brownies that will keep you on your diet is the only way to end the perfect lunch.
35. Low Carb Shortbread Cookies

Sugar Free Londoner
What is lunch without a little treat at the end? This shortbread cookie recipe will hit the spot and maybe so popular in your office, you may have to make more. Click here to see the recipe.
Did you enjoy the list? Share this with a friend who loves Keto just as much as you do and be sure to let us know what you think in the comments below. Give yourself something exciting to look forward to at lunch.