Have you ever been to the grocery store and seen chickens or juicy pieces of meat rotating in giant ovens? That is a rotisserie oven, and if you have been lucky enough to try something cooked in one then you know how incredible it can be. Rotisserie is a specific way to cook your food by consistently rotating the meat that provides some delicious results.
If you are wondering what makes rotisserie ovens so popular amongst some of the greatest chefs in the country, it is the ability to offer high-quality air ventilation, steady and consistent rotating speed, and the ability to preset the temperature. Rotisserie ovens are easy to use and heat much quicker than conventional ovens. Making prep simple. Then when you are ready to cook it makes sure whatever you are roasting is evenly cooked throughout, making cooking simple.
Top Tips for Rotisserie Ovens
It may appear you do not need to know much to be an excellent rotisserie oven chef, but there are some great tips that can really take your meals to a whole new level.
Rotisserie vs. Conventional Oven – When cooking rotisserie your meat is going to be constantly rotating and cooking all sides evenly. That alone is very different from conventional ovens. It is what the rotating does to the meat that makes it such a great option. When cooking rotisserie you meet is going to be cooked more evenly and be juicier!
Proper Heating – When setting up your fire, be sure to not put flaming coals directly underneath the food. Instead, set them up around the food close to the edges. If you have a gas grill then be sure to set the burners on a low setting.
How to Get a Great Sear – Similar to getting a sear in a conventional oven, you will begin by cooking the meat low and slow. Then just before it hits medium-rare you will can the heat up to give it a nice crisp color and cartelized glaze. The temperatures and time can differ depending on the size of the meat and type, so be sure to do a bit of research on your specific recipe before cooking.
Marinade, Do Not Baste – This one is a bit of a trick because rotisserie cooking is self-basting. The rotating motion seals in the juices and allows the meat to baste itself. Those flavors will be held together much better if they sit in a marinade prior to cooking. This allows all the flavors to mix, combine, and seep into the meat.
Learn How to Truss – To truss is to tie chicken or your meat properly so that it is secured placed on the rotisserie rack without damaging the meat or sacrificing flavor. There is a technique, not difficult, but it should be mastered.
Best 21 Yummy Rotisserie Recipes
Now we get to the good part- the recipes! Below, we have some of our favorites, along with pictures and links to some great ones we found on the Internet. Enjoy!
1. Rotisserie Baby Back Apple Ribs
This play on pork chops and applesauce. featuring baby back ribs is sure to have you coming back for seconds and thirds. Get the recipe from Dad Cooks Dinner.
2. Rosemary Garlic Rotisserie Leg of Lamb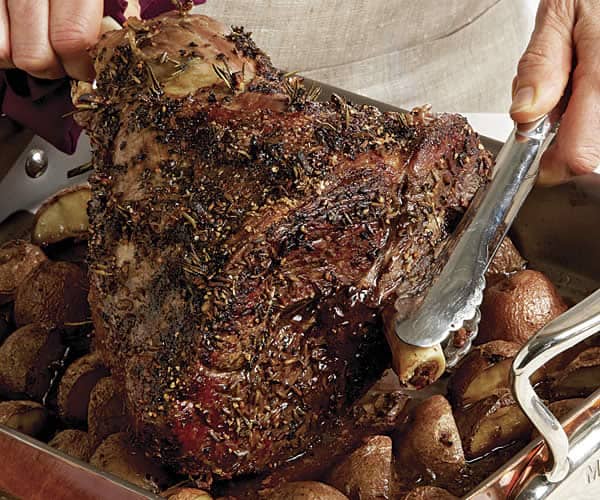 Lamb comes out juicy and tender when you slow roast it over a spit with aromatics like garlic, lemon and rosemary. The rotation of the rotisserie ensures it browns evenly and that the herbs permeate every bite. Get the recipe from Cooking at here.
3. Grilled Steak Kebabs on the Grill
Grilling shish kebabs is easier than ever with a rotisserie. Choose your favorite meats and veggies, skewer them up then place them on the spit and baste with your favorite dressing.
The recipe is courtesy of Life in the Lofthouse.
4. Caramelized Brown Sugar Bourbon Whole Grilled Pineapple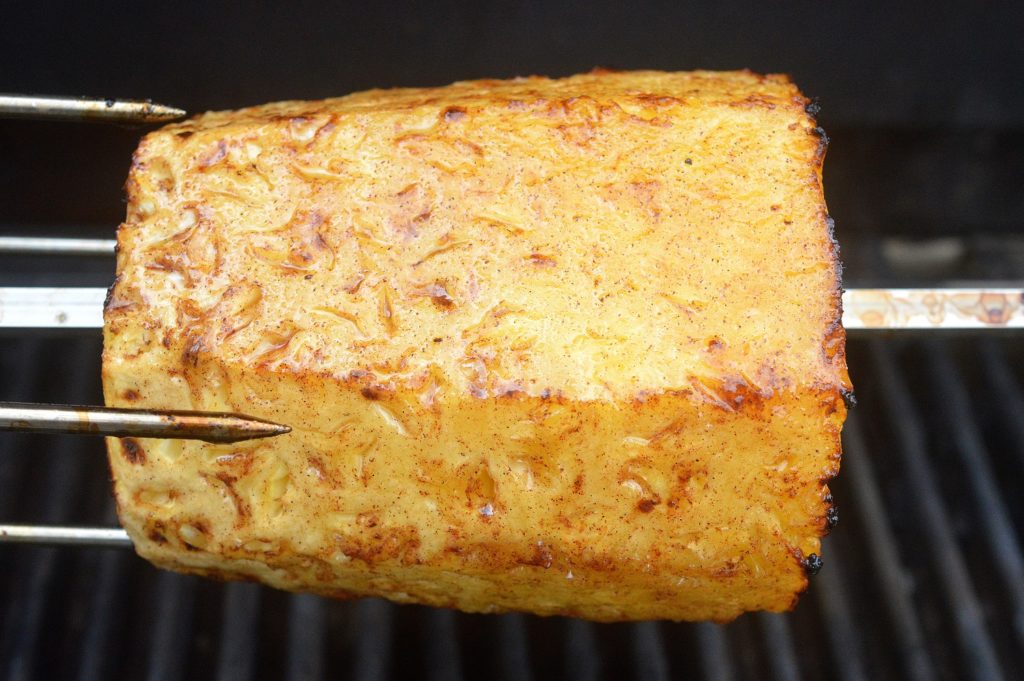 Who said you can't do dessert on a rotisserie? Grilled pineapple drenched in bourbon and brown sugar is the perfect end to any meal. Get the recipe from Souffle Bombay
5. Carolina Rotisserie or Roasted Apple Chicken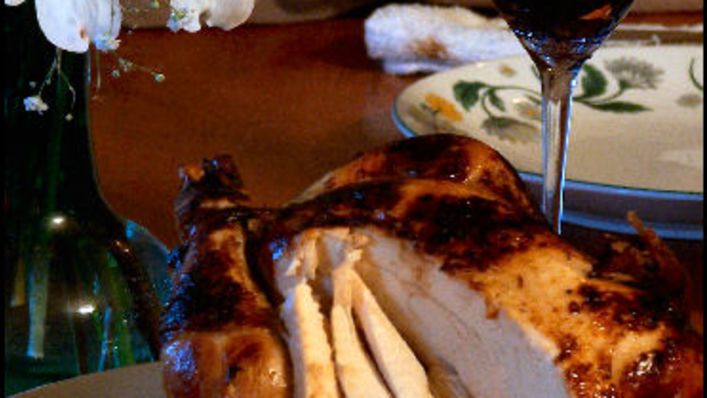 Take chicken to the next level with this apple, honey and paprika glaze that's a little sweet and a little spicy. Get the full recipe courtesy of Genius Kitchen.
6. Prime Rib Roast Recipe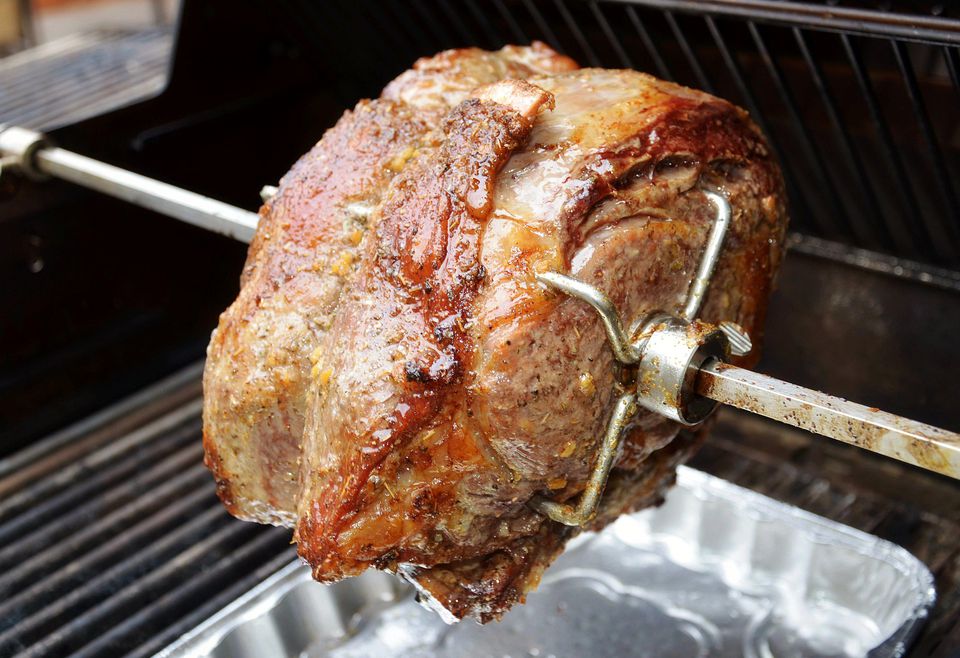 Ingredients:
Prime Rib Roast w/ bone-in
Salt and Pepper
Celery, (3 stalks cut into large pieces)
Carrots, (3 peeled & cut into large pieces)
Onion (Quartered)
Thyme
Red Wine (1 cup)
Beef Broth (1 cup)
Instructions:
Apply salt and pepper generously to the rib roast on all sides. Then load onto the rotisserie.
Spread celery, carrots, onion, and thyme on the tray insert. Load tray into the rotisserie.
Cook rotisserie according to manufactures instructions. These can vary depending on the machine and size of meat.
Once your rib roast is finished cooking, pour everything on the roasting tray into a saucepan.
Set to medium heat.
Add beef broth and red wine.
Allow mixture to simmer on low for 7-9 minutes. Strain vegetables and serve along with the rib roast.
7. Peruvian Chicken Recipe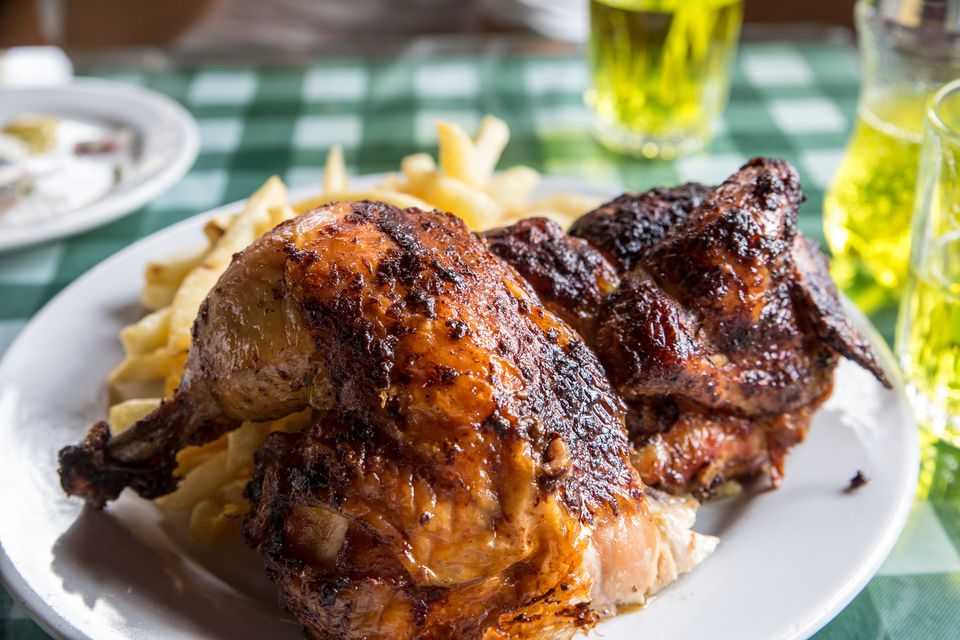 Ingredients:
Whole Chicken (approx. 4 lbs)
White Wine (3 tbs)
White Vinegar (1/4 cup)
Canola Oil (3 tbs)
Paprika (2 tbs)
Garlic Powder (2 tbs)
Black Pepper (2 tsp)
Cumin (4 tsp)
Salt (1 tsp)
Lemon Juice (1 lemon)
Water (1 quart)
Instructions:
Combine white vinegar, canola oil, white wine, garlic powder, paprika, cumin, black pepper, and salt. Mix well.
Add lemon juice to water.
Rinse entire chicken with lemon water.
In a zip-lock bag place chicken and spices. Rub it all over the chicken so it really gets into the crevices.
Seal bag and leave in the fridge for a minimum of 2 hours, a maximum of 24 hours.
Preheat your grill to 300 degrees F.
Place your chicken on the rotisserie rack. Grill for 1.5 hours. Check if it is done. The thigh meat should reach 175 degrees F.
8. Bourbon Pork Roast Recipe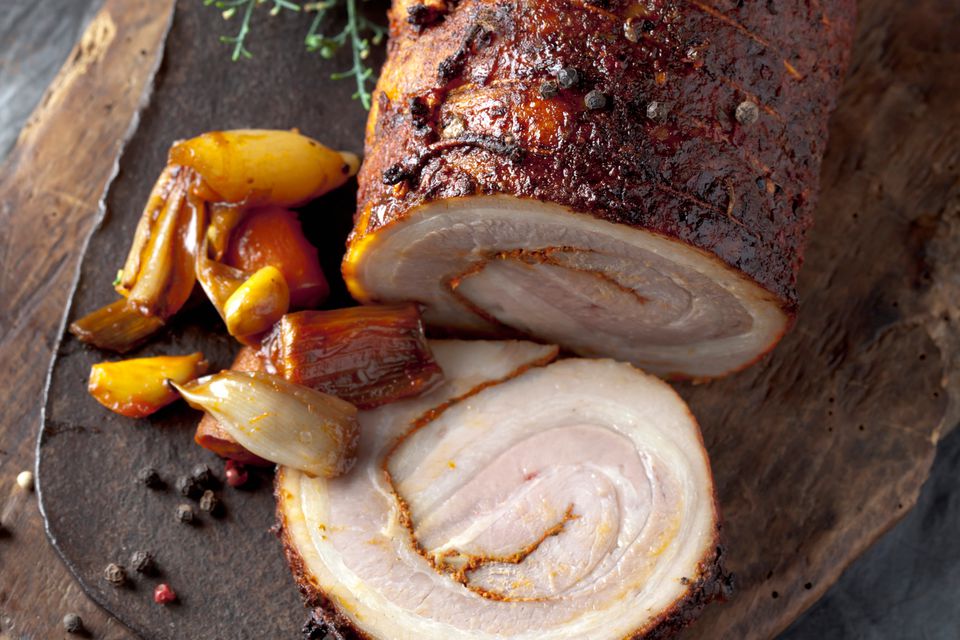 Ingredients:
Pork Shoulder (boneless, 5-6 pounds preferably)
Sea Salt (1 tbs)
Rub:
Light Brown Sugar (1 tbs)
Paprika (1 tsp)
Whole Black Peppercorns (2 tsp)
Garlic Powder (1 tsp)
Mustard Seed (2 tsp)
Onion Powder (1 tsp)
Sauce:
Light Brown Sugar (1/2 cup)
Bourbon (1 cup)
Ketchup (1/4 cup)
Onion (1)
Brown Mustard (2 tbs)
Corn Syrup (1/4 cup)
Instructions:
In a coffee grinder or food processor grind the whole black peppercorns and mustard seeds. Then combine with the remaining rub ingredients.
Apply the rub to the pork shoulder generously. Then wrap the meet in plastic or place in a plastic bag before putting it in the fridge for 11 to 17 hours.
Let meat rest at room temperature for slightly less than an hour and season with kosher salt.
Mix sauce ingredients in a bowl.
Preheat grill to the suggested setting based on your instructions manual. This may differ based on your machine and the size of the meat.
Place roast on the rod and cook on low heat for 3.5 to 4 hours. Once complete the inner temperature should be 145 degrees F.
Once it has cooked for an hour, apply the sauce. Then continue to apply sauce every 20 minutes until it is finished cooking.
9. Take-Out Style Rotisserie Chicken
If you're looking for a rotisserie recipe that's just like take-out, try this take-out style chicken via Serious Eats. It'll give you a rotisserie chicken from scratch that tastes like it came straight from the deli.
10. Rotisserie Turkey Stuffed with Herbs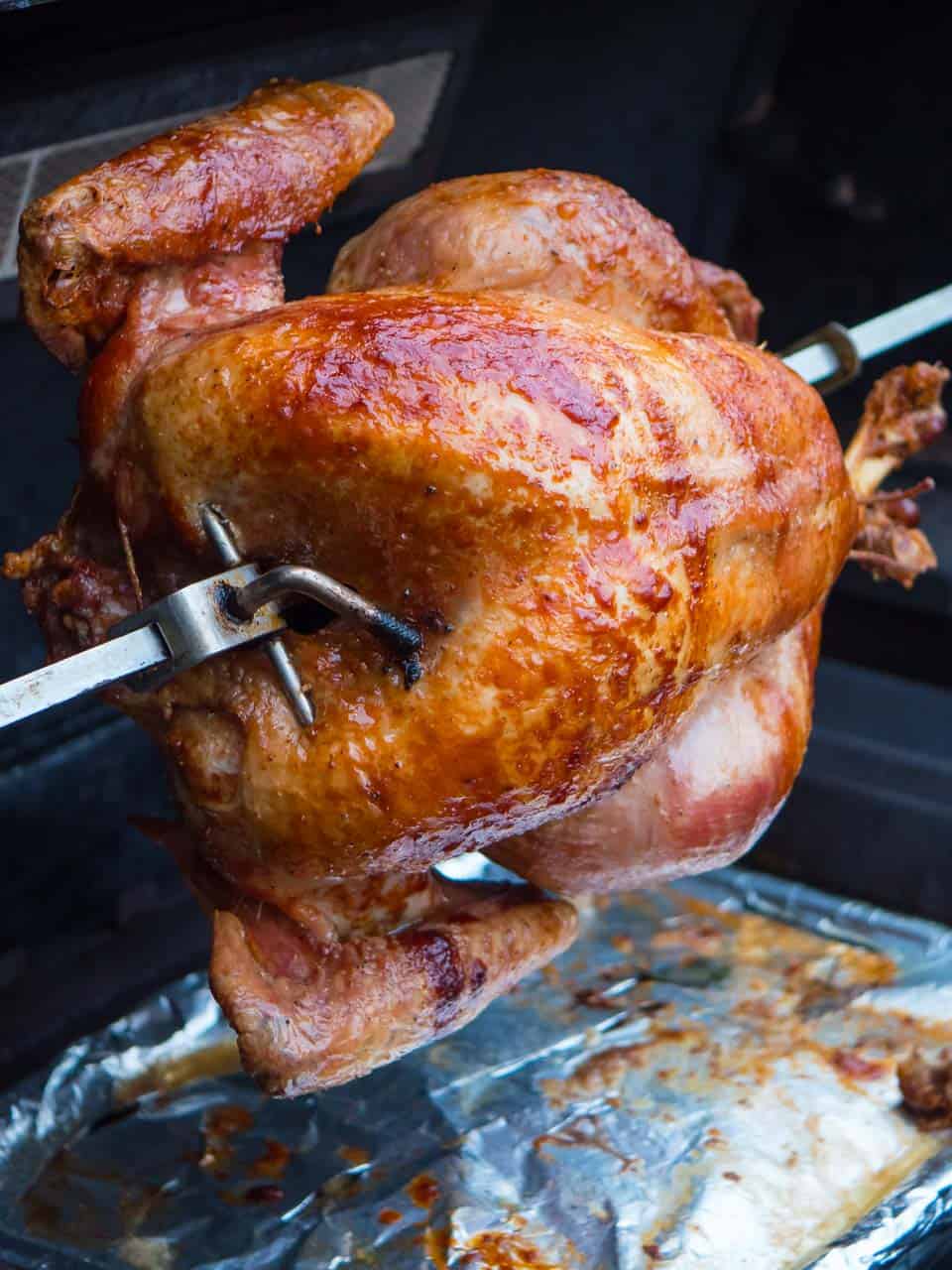 Another protein to put to work in a rotisserie oven is turkey with this recipe from dadcooksdinner.com. This is a great way to either just shake up the flavor or even use your rotisserie oven the next time Thanksgiving rolls around!
Well, if you are not hungry after discovering all of those incredible recipes then you should check your pulse! Rotisserie ovens offer the work that you just cannot do with traditional ovens, allowing for you to cook truly unique meals.