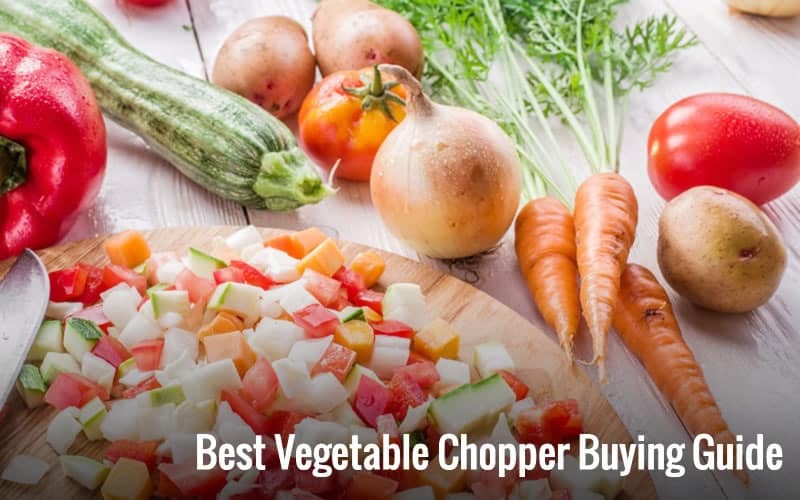 Summertime is my favorite time of year. Why? Because it is the best time of year to enjoy tasty, fresh vegetables. Yes, I said vegetables. Veggies are crunchy, refreshing, and of course, good for you. What's not so good for you, is all the chopping and dicing you have to do to them.
Which is why I invested in a vegetable chopper- and you should too. Choppers take the work out of prep work and make slicing and dicing vegetables easy, quick and fun. P Oh, and for those of you not so crazy about vegetables, they work great on nuts, chocolate and just about any other foods too.
My best vegetable chopper guide will break down everything you need to know to choose the best chopper for you, from features and pricing to summer recipes and maintenance tips. Read on and then run along and get one- chop, chop (see what I did there?)
What is a Vegetable Chopper?
Vegetable choppers come in all shapes and sizes, but their main purpose is the same: to help you peel and slice vegetables (or any other foods) in every conceivable fashion, from grating and dicing to gourmet cuts, like julienne, mandolin and more. They come in several styles and are easy to use and clean, making them a must-have in every kitchen.
Top-Rated Vegetable Chopper – Which one is the best?
Ok, so now that you see what a chopper can do for you, let's look at the best chopper currently on the market:

This chopper is a bargain and one of the best on the market thanks to its versatility, convenience and easy-to-use design.
Made with a built-in food tray, you simply place food on top of the blade, then push the cover down, pushing the food through for a no-mess, 1-2-3 chop. The tray is a durable, clear plastic that can also double as a food holder, so you can take it with you.
With quality discs to cut, slice, dice and chop
, it can handle small or large quantities of food simultaneously for fast, efficient work. The blades are made of stainless-steel, for precise cutting and easy cleaning, and they work well on vegetables, cheeses and fruits.
The multiple blades also let you create intricate designs and vary your cooking styles.
This unit comes with a cleaning prong to get all the debris off the blades and cleans up with soap and water, making cleaning a snap.
This model works great and is a top pick for any household thanks for all the different ways it can be used.

This model is one of the most affordable units and a good pick for anyone who needs a basic, no-nonsense model.
The HC306 is an electric model, with a curved blade that chops and dices fruits, vegetables and nuts. Featuring a 1 ½ cup bowl with the blade inside, you can cut fruits and veggies in half, then drop them in and turn the lid to activate the chopping action.
Effective Power Motor
It has a 70-watt motor for fast mincing and grinding and all the pieces come apart for easy cleaning; it is also dishwasher safe.
The single blade limits chopping choices (no fancy cuts) and you do have to cut large pieces before putting them in, but overall it does a good job for anyone who wants finely chopped and minced foods quickly.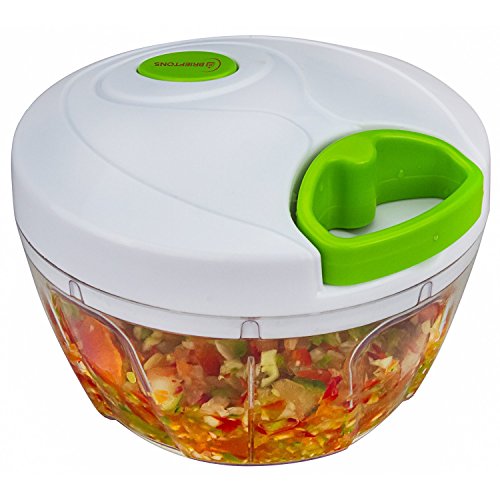 If you want to get the best value for your money then this is the model for you, thanks to its great pricing and multi-purpose design.
3-cup capacity and lightweight design
This unit is great for large families, as it has an ergonomic grip, no-skid base and simple pull-cord style. Just put any food you want in there- from veggies and nuts to herbs and spices, then pull the cord to get the desired cut.
You can pull once for large cuts or multiple times for purees, allowing you to create almost anything in your kitchen, including homemade pesto, salsas and more. There is even a recipe book to teach you to make new things.
The stainless steel blades are sharp and effective
, cutting with little effort and can be cleaned easily with soap and water. The unit itself is made of BPA-free plastic and can be hand-washed.
Briefton's Chopper is a real all-in-one model that is a good match for families and those looking for a little food inspiration.

Built to chop everything from ice to meats and veggies, the Chef'n chopper is perfect for those who like to entertain or want to quick chop and blend.
Pull-Cord Design
Reasonably priced Under $20, this model has a pull-cord design and steel blades for lightning quick dicing and blending. It can handle large pieces of food, which cuts down on prep time and has a safety-lock lid to eliminate accidents.
It creates smooth, tasty, hummus, pesto, guacamole and other sauces. It also works great for making crushed ice (ideal for a summer party).
All the pieces can be cleaned on the top rack of the dishwasher and since it works by hand you can take it with you if friends and family are having a party.
The perfect chopper for get-togethers or sauce lovers, it fits in any kitchen and works with most budgets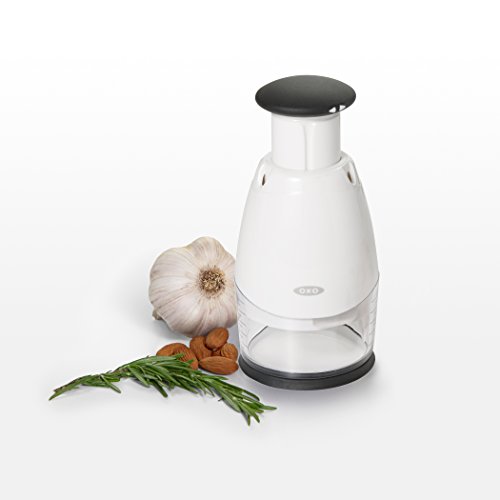 This is the most inexpensive of the choppers, but it's worth it thanks to its high-quality design and ease of use. With a stainless-steel bald that promotes even chopping, this unit has a
one-push design that feels effortless.
Shaped like a bullet, you simply place nuts, fruits or vegetables inside, then push down for instant chopping. The blade is located in the top part of the unit, so you can disconnect the bottom bowl and use it as a food storage container.
There is even a lid for it, so you can take what you chop to work, the park, or anywhere else. Dishwasher safe, this unit works well in any home, dorm room or for anyone who is on the go.
Manual Vs Electric
There are 2 types of choppers, manual or electric. Which one you choose depends on you and your needs. Manual chopper can either have a top with blades attached to it; you press up and down on the top to chop or dice whatever food you want. The other has crank style, where you turn the cranks to move the blades.
Obviously, this type requires more of a physical effort and can be a challenge for the elderly or those with arthritis. They also can be dangerous; however, they can be used to create precise and exact cuts exactly where you want them.
Electric choppers work using a motor and require no effort. Just put the food in and press a button to chop and dice. This style is easier on you and many have custom buttons for complex and fancy cuts. It's also safer, so little ones can help as long as you supervise.
The Benefits of a Chopper
Choppers may seem like an extra, not a necessity, but that couldn't be further from the truth. There are several benefits to owning one, which are:
[wpsm_list type="check"]
They help cut down on prep time by increasing the quantity that can be cut at once and lessening the number of cuts needed. For example, you can place a whole onion in a chopper and it will be diced with one push, or you may have a model that lets you chop several vegetables at once.
Choppers make cutting safer, as the blades on most models are enclosed and eliminate the risk of an accident.
Improves cooking quality because when you use a chopper all the pieces are the same size, ensuring they cook evenly and uniformly.
They reduce waste because you cut up and use more of the vegetable or food in question. When you chop up foods yourself you tend to cut wrong and have excess- a chopper eliminates this problem.
They allow you to create pretty dishes thanks to so creative blade designs. Now you can put out pretty veggie platters of food or create a chocolate birthday display that pro party planners would be jealous of.
[/wpsm_list]
Chopper Key Features to Look for
When buying a chopper, here are the key things to look for:
Blades
Ideally, you want a chopper with a number of blades so you can dice, chop, mince, and more. Manual choppers are known to have interchangeable blades, so you can use it to prep a variety of food items. Depending on how you plan to use it, this is a key component to look for.
Dishwasher Safe Parts
Choppers are supposed to make prepping food easier, but what good is it if you have to spend a lot of time cleaning it? Try to pick a chopper with parts that can go in the dishwasher. This saves you time and allows for a thorough cleaning and sanitization of the machine.
Container Size
How much, or little, your chopper holds is important. If you have a large family or meal prep for the week you'll want a larger container; otherwise, it can take forever for you to get all your food diced and chopped.
What to Consider When Buying a Chopper?
Now that you see what's available, it's time to think about what you need out of your chopper. Factors such as budget, the foods you are using it for, the number of people using it and what you want to create are all essential when choosing a model. Here's what to think about:
[wpsm_list type="star"]
Price: While none of these models will break the bank, you don't want to overspend. If you're not going to use it often, or only want to do basic chops, then go for a lower-priced model.
Size: The size of the container, and it's chopping capacity need to be thought out before you buy. If you have a large family, or prep large amounts of food, you'll want a unit that has a big bowl or can chop multiple pieces at once.
Otherwise, you'll be frustrated and the job will take just as long- defeating the purpose of the chopper.
Purpose: Why you use the chopper for will be a key thing to consider. If you want to do spirals or fancier cuts, you need a unit with varying blades so you can create what you envision. If you are big on sauces and pesto, you will need to look for a unit that can also puree.
If your chopper can't do what you need then what's the point of having one? Or can consider a shear to cut.
Food Selection: What you chop is just as important as why. If you want to make snow cones for a party, you need a chopper that can crush ice. Looking to mince meat? Then you want a unit that cuts through fat and meat easily.
Choose a chopper that can handle what you plan to eat- so you can spend less time cooking and more time munching.
[/wpsm_list]
Safety Tips
One of the big things to think about when using a chopper is safety. Safety requires a few simple steps, the biggest being concentration. Most models have super sharp blades, so you must pay attention to what you're doing. That includes cleaning too: if you hand wash be extra careful around the blades.
For units that aren't covered, you may want to wear safety goggles and you should always read the instructions before you use it. With electric models, keep them away from water when in use. And for all units, keep them away from kids and out of reach.
Chopper Recipes
For those of you new to choppers, or looking for something different, here are 2 chopper recipes that will get you going and satisfy your hunger.
1. Chopped Veggie Salad
This is a basic recipe everyone should have. You can use fruits or vegetables in the recipe, which works great all-year round.
Ingredients: whatever you have in your fridge. Take a mix of different vegetables, like broccoli, carrots, cauliflower and cucumbers, put them in the chopper and chop to the desired size.
Preparation: Once their chopped toss them with a dressing of your choice. Personally, I like a nice balsamic vinegar and oil dressing in the summer and a creamy ranch in the winter. Anything goes as long as it tastes good
2. Tasty Party Dip
This yummy dip will be a hit at your next party!
Ingredients: 1 Avocado, 2 garlic cloves, 1jalapeno, the juice of 1 lime, lime, 1 cup parsley and cilantro, 1 tsp salt, 1/2 cup Olive oil, ½ cup Pistachios, and ½ cup of water.
Preparation: combine all ingredients in chopper and pulse until creamy. Serve chilled.
Q & A
To give you a better idea of how choppers work, here are the most frequently asked questions:
Q. Do you need a lot of strength for the hand-held models?
A. Not really. Most work easily with a little push, although some do require more arm action, so if you have arthritis you may want a pull-cord or electric model.
Q. Do they really save you time?
A. Yes. They cut prep time in half and make the whole process much easier.
Q. Are they versatile enough to promote healthier eating?
A. Yes. With a chopper you can create homemade dressings and other healthy food options.
As you can see from our best vegetable chopper guide, these devices are essential in every home. Low in price but high in function, they can transform what and how you eat, making food fun and healthy (if you want it to be).
Versatile and easy to use, they let you create the food you want, the way you want it. Whether you love a rich pesto or want to create a picture-perfect veggie platter, these units will make life easy- and tasty. They will open you up to new flavors and recipes, so instead of spending your summer inside chopping you can spend it where you belong- outdoors smiling.
[rwp_box id="0″]