Are you tired of looking at your boring living room? Do you want an upgrade, but don't even know where to begin? Now you do! We have provided a great list of awesome dining room decor ideas to inspire your own home. The dining room is one of the most important rooms in the house. It's where you have family meals, play cards, and basically bond with everyone you love. So make the dining room into a place you will love to go to, and where you will enjoy entertaining guests.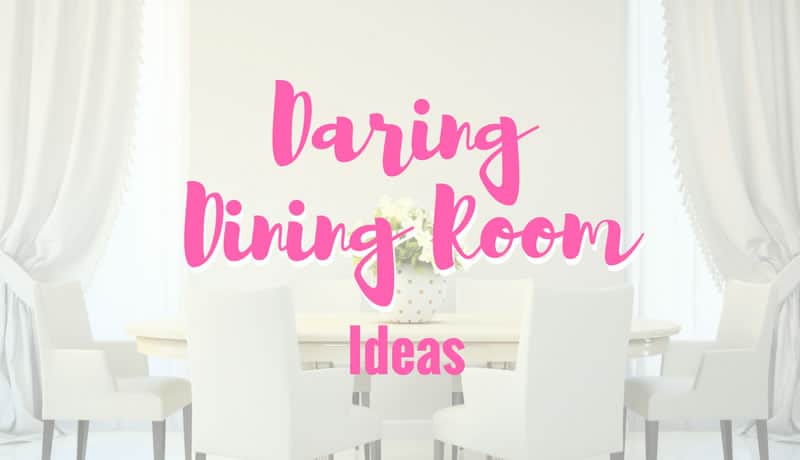 Dining Room Decor
Farmhouse Fun- Be Laid Back About Your Deco
The magic that exists in this kind of decor is the fact that nothing has to match. The farmhouse feeling is one of relaxation. This may be one of the most fun styles to do as you can just choose the antique pieces that catch your eye and mix and match from there!.
Kindly check out other similar ideas on Rooms for Rent Blog Post.
Red and Teal-Unlikely Friends
This isn't a color combination that is often, or ever, seen; but it is surprisingly attractive. Although it's quite feminine, this look is also very modern, even eclectic. For those of you who like to go above and beyond the norm, this may just be the dining room idea you have been looking for. Find this and other similar ideas at eatwell101.com.
Functional-Small Can Still Be Cozy
If you find yourself trying to redecorate in cramped living conditions, fear not! There is a way, and it is not as hard as you would think. This is a great example of how to have a cute, clean dining room that will fit in any space. You don't need to sacrifice style because you have more space than you realize! Check out more ideas at blogspot.com.
Gray- The Color of Elegance
A light dove gray is the perfect color if you are looking to go for a modern and elegant dining room. Back in the day, elegant meant that you needed as many baubles and decorations as you could fit, but now simplicity reigns. That's not to say you need to go minimalist; things like the detailed wall and lovely lamps lend a certain dignity to the tone of the room. You can see other ideas like this courtesy of taylor morrison Instagram.
Keep It Traditional-And You Can't Go Wrong
Even though there and endless variety of styles you could go with, sometimes traditional is just the way to go. It's familiar and it has never gone out of style, otherwise, it wouldn't be traditional, would it? A wooden table surrounded by wooden chairs is usually the staple when going traditional. And why not? It will always be a classy decor choice. We go this great pic from bhg.com; check it out and others.
Keep it Light-Go With White
It's no secret that white has taken center stage when it comes to redecorating homes these days; for good reason. It brightens up the whole room and makes everything just feel clean. What makes it great is that it's so easy. Basically, everything can be white and it will still look good. See other ideas from websta.me.
Want Some Pop?-Go With Green!
Green isn't usually the color you think of when you want to add some pop to your design, but when applied correctly, it can come out really well! This bright and summery dining room is the perfect example to showcase the power of thinking outside the box. The gold accents against the white contrast very nicely, and bring the whole look together.  Courtesy of StyleatHome.com.
8.Classic Inspirations-Some Looks Never Get Old
A soft blue and white room is something old yet so comforting and familiar. It can also match with lots of different styles, like rustic country, or high-end chic. These complementing colors are incredibly versatile and will make your space nice and bright while also feeling cozy and welcoming. This and others can be found on Hadley Court- Interior Design Blog.
Black-Not as Depressing as You'd Think
If someone were to tell you that black walls and black chairs would look great in a dining room, you would probably scoff and walk away. But seeing this picture may just change your mind.
With some colorful accents, such as the light fixture and area rug, the overall dark tones seem more modern and luxurious than ominous. Check out some of these cooling ideas.
Find more great ideas like this from 204 Park
Modern-Easy to Pull Off
For those fans of modern decor, this dining room is the one for you. The minimalistic decor is easy to do, and the color palette is simple. This is a look that can be pulled off by anyone. The concrete floors really tie in with the black and white furniture to create a stylish demeanor.
Check out other great ideas like this one from tumblr.com
Shabby Chic- Where Classy Meets Antique
This is easily a favorite when it comes to decorative choices. The antiqued pieces have a welcoming feeling that brings back memories of places like grandma's house. What brings those sentiments into this decade are the more modernized design features in the table and chairs. With shabby chic, you can enjoy the nostalgia while staying current and fashionable. Check out other great ideas like this one from livinking.com
Go Crazy-Go Eclectic
Why follow the norm when you can decorate your house however you like? If traditional doesn't suit you and modern bores you, then consider a more eclectic design. Find whatever decor pieces interest you and reflect your impeccable taste, and create an unforgettable room that will leave dinner guests talking. Check out other great ideas from Architecture Art Designs and topreveal.com
Mid Century Modern-In with the Times
This style has taken the decor fashion world by storm. With so many different furniture pieces and color palettes to chose from, this is one of the easiest looks to pull off. The variety of materials and textures is what makes this design so unique and popular.  You can find this and other cool ideas from Studio McGee
Mexican-Go International
Making your dining room seem like it's from a different country sounds difficult, but it's not as hard as you think. You can feel like you're in your own hacienda with this Latin American look. Pleasant pastel walls can be mixed with bright accessories to really bring the look to life. Check out other great ideas from onekindesign.com
Love Game of Thrones?-Combine Past and Present.
If medieval times are an era that speaks to you, then don't be afraid to fully embrace the old world style. What's great about this look is that it's still considered gorgeous and very much in. Things like antique paintings and ornate wooden tables will really bring this kind of dining room together.  Check out other great ideas from Wendy Tomoyasu 
Rustic Modern- Yes It's Possible
This is a style that probably doesn't even seem like one at first. After all, the words are complete opposites. Yet when you blend the two worlds, it results in a beautiful look that can match any household decor. Enjoy the rustic side with some wood pieces and neutral tones. But also make it modern with clean lines, sharp edges, and geometric shapes.  Find this and other great ideas courtesy of  Williams Sonoma
Go Big-Or Go Home
The dining room is a place where families and friends can get together over one thing everyone loves; food. If you're looking to fill the large space in your home, consider making it one large dining room. You'll never run out of room, and a long table looks elegant and luxurious. Check out other great ideas on Pinterest
Japanese- Bring Some Eastern Style West

blog.trilogybuilds.com
Asian culture has enamored us for centuries. If you're looking for a dining room to remember, think about adopting the Japanese style of sitting on the floor. It may seem a little unorthodox, but so is everything fun. This may not be a great idea for homes with elderly inhabitants for obvious reasons, but it's perfect for young couples. Cushions are much cheaper than chairs.  Visit Kansona Home for the best Japanese home goods.
Minimalistic-Clean and Easy
For all you minimalists out there, you can extend your style to the dining room as well. Or if you are looking to make this your new look, it's super easy to do! The design is simple and so should the furniture be. Pull off the look with neutral colors and clean lines. Check out other great ideas from UP Interiors . It goes perfect with this cleaning appliance at home.
Moroccan-Unique and Magical
There is definitely a certain charm when it comes to Moroccan styles. Rich colors and intricate patterns make this look incredibly beautiful and unique. This is definitely a good choice if you're looking for something outside the normal realm of dining rooms. Photo courtesy of Gypsy Yaya
     21. A Little Bling Goes a Long Way
Bling can be elegant when done right, as evidenced by this sleek and classy dining room idea. Placing shiny metal and crystal accents in key spots, like the light fixtures, can add a pop of pizzaz without being too much. Think clean lines, neutral tones and some dazzle and you're done. Find this idea and others like it here from homeylife.com
If you have pets, make sure to clean the couches with the top rated-vacuum.
Now that you have seen a variety of dining room styles, it's' time to start renovating and redecorating! Whether you like lots of interesting decors, a simple table and chairs or something in between, there is a lookout there for you. I hope you have enjoyed reading this list and gathering ideas for your upcoming project. Please let us know what you thought!