Are you trying to find ways to make your home more unique, more you? Tired of boring cookie cutter designs? One way to be more original is to spruce up your bathroom! Easily one of the most important rooms in the house, the bathroom could always do with more character and convenience. To Here you will find a list of some of the best bathroom ideas to inspire you!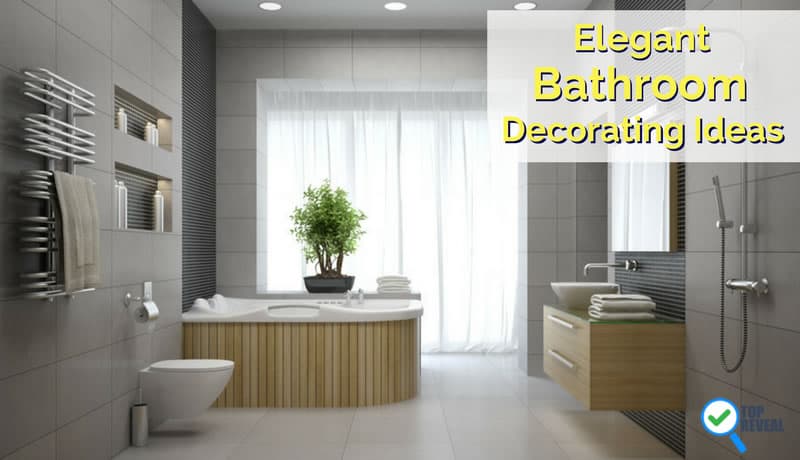 Life-Changing Bathroom Decorating Ideas
Organization Made Easy- Everything at Your Fingertips

https://www.hometalk.com
Need help organizing all of the little things you keep in your bathroom? Look no further than this creative idea. This would be great for small bathrooms that don't have much space. Who needs clunky shelving units when you have mason jars?
Making Every Space Count

Blogspot
Don't be afraid to get creative when it comes to mundane things like toilet paper. We all use it, but that doesn't mean you can't have some fun with the presentation. If rustic charm is your niche, then you will love this cute concept. I'm sure your guests will find it amusing as well.
Neat & Space-Saving All "Rolled" Into One

lifeasmama.com
Ladies, how many times have you struggled to untangle your straightener or curling iron from each other and everything else in your drawers? Make life easier with this super simple hack. You'll be wondering why you didn't think of this before; I know I am!
Rustic Charm

Source
Let nature inspire your interior design with this great stone stonework idea. Now you can pretend to be resting in a warm natural pool while you soak in a relaxing bath.
Not everything in a bathroom has to be porcelain; welcome some other textures too!
Perfectly Pearl

listotic.com
This is my first time hearing about pearl tile, but it will certainly not be the last. If you like shiny things, indulge your cravings and install some of these. This lovely reflective tile will be sure to brighten up any space.
Showers, Showers, Everywhere

http://www.ebaumsworld.com
Do you ever feel like you need more than one shower head? No? After you see this you will. Now you never have to worry about the water pressure again. If you were looking for a way to make your shower more luxurious, now you have the answer.
For the Little Mermaid in You

Source
Tired of all the basic tile designs that you can see basically everywhere? Well, show off your personality with this beautiful design. Make your bathroom unique by decorating it with these tiles instead.
Toilet Paper "Art"

Live Diy Ideas
I think it's safe to say that finding ample room for toilet paper is one of the biggest problems. And how to do it with finesse? It's hard to make toilet paper look attractive, but this might just be the answer. With this fun little shelf idea, you can create your very own T.P. cloud.
Eye-Catching Labels
If you need help coordinating all the things in your bathroom, consider labeling them. Not only does it add character, they serve a purpose as well. Just choose an adorable font, and you can easily print them out yourself. Also, a fun idea when you feel like decorating.
From thecreativityexchange.com
Floor Fun For Everyone

Decor Space
Add some serious personality to your bathroom with awesome floor tiles! There are so many amazing designs to choose from, you can easily find something that suits you. Remember to have this perfect tile cleaning helper. 
Towel Warmers- Stay Warm & Toasty From Head to Toe

http://www.ambaproducts.com/
These are very popular, even normal, in Europe. What I want to know is why aren't they more popular in the States? I can't imagine how amazing it would feel to snuggle into a warm towel after a shower, especially in winter. But you can! Enjoy the luxury of this brilliant invention.
Novel Shower Curtains- Simple but Effective

Overstock
An easy way to add character to your bland bathroom is with a neat shower curtain! This might be the easiest thing to upgrade since all you have to do is find a really cool one.
They come in so many shapes, colors, and textures, you're sure to find exactly what you want and what will make you smile with every shower. Also see some floor-fans to cool down this summer.
Bringing the Outdoors Inside
If you are a DIY fan, then this is the project for you. Turn your shower into a rustically themed foot massage with this simple yet impressive project. What's nice about is that you get to choose all the pretty rocks!
From http://somethingfromnothingdiy.blogspot.com
14.Nifty Storage Unit- Every Hoarder's Dream

Source
If there's one thing we all need more of, it's storage! This is a great little package that you can put just about anywhere; whether it's next to the tub, toilet, or under the sink. This super secret cache can store anything from toilet paper to hair products.
Pamper Yourself

http://www.homedecorpin.com
The wait is over ladies; someone has finally invented what we all needed. Finally, we have a designated contraption for when we need to shave our legs. I don't think I even need to tell you what a life changer this would be, the thing sells itself.
Hammock Heaven

Source
If you thought taking a bath couldn't get any more relaxing, then you thought wrong. I present to you the carbon fiber floating hammock bathtub. Need I say more? I feel more relaxed just looking at it. Now you can have the ultimate bath experience with this incredible "tub". One can mop the floor with a steaming appliance.
Raindrops Keep Falling on My Head

greenorc.com
I know you've heard of it, but have you actually tried it? It doesn't seem like such a big deal until you're actually under one of these bad boys; they are addicting. I used one several years ago, and I still think about it to this day. If you want to enhance your bathroom in any major way, make sure this is on the idea board.
Giving You a Leg Up

Via burlapanddenim.com
Are the mornings and evenings a daily struggle with your smaller children? It's hard to have a sink that is both a convenient height for you and the younger kids. With this nifty little invention, brushing teeth before bed can be so much easier!
A Little Paint Goes a Long Way

divaofdiy.com
Does your bathroom feel outdated? Are you tired of living in an era that has come an gone? You can easily change that! By simply redoing a few key pieces, you can give your bathroom a facelift without breaking the bank. A new water heater will fit in the design as well.
Bring Nature In- For All You Plant Lovers

designaddictmom.com
Do you love having plants in your house, but can never find one that will survive in your bathroom? Here are a few beautiful ideas for enhancing your own personal oasis. What makes them great is that they don't even need any light!
See other appliances for your bathroom like this cooling fan.
I hope you enjoyed this list of great bathroom ideas! You are officially ready to begin transforming your boring bathroom into your own personal sanctuary. I love looking at designs of amazing things I can do in my home and I hope you do as well! Please let us know what you think!