For most of us, our pets are a part of our family. We treat them as if they were our children, and our children cherish them; They are lifetime companions, ones who bring us joy and unconditional love.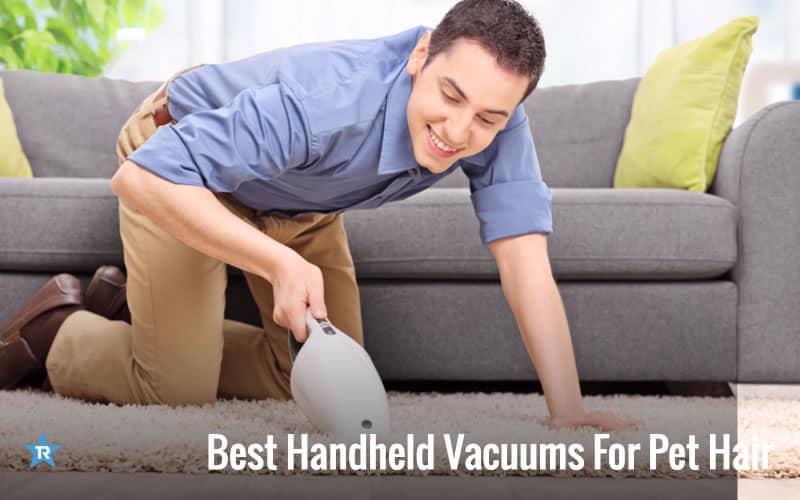 But if we're being honest, there is one small "pet peeve" we have when it comes to them: their hair. No matter how hard we try, we can't prevent their fur from falling and sticking to the furniture and floors. But now, with our guide to the best handheld vacuum for pet hair, we can prevent it from staying around.
Benefits of a Handheld Vacuum For Pet Hair
Many people think that a standard vacuum is enough to deal with pet hairs but it's not. Pet hair is fine and embeds itself in carpet fibers and couch cushions; a traditional vacuum can't lift and remove them because they are so deep and intertwined.
A traditional vacuum uses a hose and brush mechanisms to act in tandem to remove dust and dirt. This kind of scheme is perfect for the typical dust and debris in our home. The brush will effectively stir the dirt before the hose sucks it.
But with pet hairs, it is completely ineffective, as the spinning action will just drive away the fur instead of lifting it.
This is where a handheld vacuum for pet hair becomes useful. This kind of vacuum uses a set of silicon brush, special attachments, and other intricate designs to make sure that all those hairs will be removed thoroughly. Moreover, a pet hair vacuum prevents the tangling of hairs into the brush and beater bar.
Best Handheld Vacuums For Pet Hair: Our Top 5 Picks
If you want a handheld vacuum with as much power as a traditional one this model from Bissell is the way to go. Powered by a lithium-ion battery it can clean up messes big and small quickly and easily.
Lithium-Ion Battery
The battery is one of this model's best features, as it allows you to use the vacuum for longer without needing to charge it as often. It also adds power to the unit, which makes picking up pet hair, food, and other debris easier to do with one pass over.
Three-Layer Filtration
Pet hair and dander can stick to furniture, hardwoods, and rugs, irritating your airways when it is vacuumed up, especially if you have allergies or asthma. Thankfully, this model has a 3-layer filtration system, so pet hair is sucked up and doesn't escape. Which means cleaner, fresher air for you and your family.
Multiple Surfaces
The Bissell Pet Hair vacuum can be used on wood floors, rugs, upholstery, and car interiors, so you can get rid of pet hair and dust anywhere you need to.
Pros
Lithium-Ion battery gives you extended run time and powerful suction
Bin is easy to empty
Triple filtration keeps the air clean
Comes with multiple attachments to clean every crevice of your home quickly and effectively
Cons
Although run time is longer than other Bissells, it is still not that long at around 20 minutes.
One of the most powerful pet hair vacuums is the Dyson V6. As its name suggest, this vacuum is powered by the Dyson V6 digital motor, which is considered to be one of the most powerful in the realm of vacuum cleaners. For this reason alone, you should expect a high-quality performance from this product.
Powerful Vacuum
We all know how sticky our pet's hairs are. Once they fall in the carpet, removing them can be a real headache. So you need a vacuum that has a unique design to deal with this nuisance, which the Dyson V6 does. It uses a 2-Tier Radial Cyclones, to blast and eliminate even the most ground in hairs. Each tier contains 15 cyclones, which works in a parallel motion to improve the airflow of the tool, enabling it to suck up the finest dust and pet hairs.
Reliable Power Source
The Dyson V6 has a fade-free battery. This type of power source can deliver four times more power than the DC34 batteries. Even in extended use, this tool won't give up on you! The run-time of this device is 20 minutes, which is considered long for a cordless vacuum!
Innovative Design
If you want additional power, then you can activate its "Max Power" mode. When in this mode, the Dyson V6 can deliver higher suction capacity for arduous tasks. When it is time to release the collected dirt, just push the button of its Hygienic Bin. It can eject all those rubbish without leaving any mess.
You will also love the Dyson V6 because it is very lightweight. It only weighs around 3.5 pounds! Moreover, it has a design that enables the distribution of balance weight for easier handling!
Pros
Powerful and lightweight construction
Radial cyclone technology enables deep and thorough suction
Can perform up to 20 minutes
Works well on upholstery, cars, and sticky surfaces
Cordless and compact design
Cons
Requires regular maintenance (multiple filters need constant cleaning)
A regular vacuum can't make the cut when it comes to removing the hair of your furry pets, but the  MAX Lithium Flex Vacuum can. It is an all-around vacuum that can do a variety of applications aside from expelling the mess of your pets.
Versatility
It comes with three different accessories to aid in your cleaning: an extendable hose, stick vacuum attachment with pivoting floor head, and a Pet Brush attachment. All of these accessories enables this vacuum to clean any surface, from wood to rugs and deal with different types of rubbish.
Three-Stage Filtration System
This vacuum utilizes a 3-stage filtration system, which prevents debris and dust from escaping in the vacuum and enables a cleaner exhaustion of air.
Moreover, the suction power of the MAX Lithium Flex Vacuum is strong enough to make your cleaning a lot faster. It uses 20 volts of electricity to operate a full cyclonic motion to suck all those sticky dirt.
Thoroughly Organized/Strong Battery Life
This machine comes with a charging base, so it's always ready to go. This feature also allows you to fully organize and store all of its accessories when you are not using it. The MAX Lithium Flex Vacuum uses lithium-ion batteries, which are much better than the NiCad (nickel–cadmium) batteries in terms of lifespan. It also provides a fade-free power throughout the duration of its use.
Pros
Lithium battery and Fade-free technology enable extended performance for this device
Cordless and compact design
Comes with a floor extension for thorough cleaning
Three-stage filtration system prevents dust from escaping
The motor can provide powerful suction power
Easy to clean and straightforward ergonomics
Cons
It has a peculiar way of disposing of its collected waste. The side door just spills everything it collected.
Lightweight and affordable, the Shark Pet Perfect II has a surprisingly strong motor that can lift hair, dirt, and more without too much effort.
Powerful Motor
It runs on 18v batteries, allowing for strong, consistent suctioning power as you go. This is great because it will work equally well on rugs as hardwoods and will help get the job done fast. The motor lets you get up hair that is caked on as well as any other debris embedded in your carpet.
Ergonomic Handle
The rubber handle fits comfortably within your grip. The rubber stops it from slipping as you move it around the room and allows you hand to stay relaxed and minimize straining.
Multiple Surfaces
You can use this model on carpets, rugs, tiles, hardwoods and just about anywhere else. This adaptability, along with the pet hair brush extension makes cleaning up a snap.
Pros
Affordably priced it is lightweight and easy to use'
Powerful suction lets you pick up hair from any surface
Can be used on various textures, so you can clean curtains, couches, floors and more
The handle is comfortable and lets you vacuum without stretching and straining
Cons
Suction is not as strong as other models
Charging tine varies and is not consistent
If you are looking for a tool that can keep up with the mess of your pet, then consider the Pet Hair Eraser Cordless Hand Vacuum. Its cordless technology lets you clean those hard-to-reach areas with ease and can do a full cleaning on a single charge.
Compact and Portable
Lightweight and cordless, the Pet Hair Eraser vacuum can efficiently deal with pet hair. It can suck hairs and dirt that are on your furniture, carpet, and even in your car. Wherever your pet plays, this tool can follow.
Advanced Filtration System
This vacuum uses a two-stage filtration process so that it can extend the life of its filter and has a motorized brush that can scrape embedded dirt for a deeper cleaning. It also comes with upholstery and crevice tools that you can combine for maximum efficiency.
Extended Battery Lifespan
This tool uses Nickel Metal Hydride (Ni-MH) rechargeable battery and you can also purchase separate Ni-MH batteries in case you want a backup power source. If you want to prolong the life of its batteries, do not plug it continuously.
Pros
Filtration system performs dual action
Comes with 1-year warranty
Cordless and compact design
Can provide deep and thorough cleaning
Ideal for cleaning hard-to-reach areas
Cons
This device takes time to charge
FAQ
Q: Can this device clean a car?
A: Yes. Its thorough and powerful suction power can suck pet hairs stuck in your car
Q: What is the voltage of the battery?
A: 14.4 volt battery.
Q: Does this come with a cord that you can attach to a power outlet?
A: No. It only uses battery, as it is a portable pet vacuum cleaner.
Things To Consider Before Buying a Pet Hair Vacuum
Flooring and Layout of Your Home
The overall layout and flooring of your home is the biggest factor in choosing what kind of vacuum you should buy. You want one that will easily reach where you need in the shortest amount of time.
Tiles and Hardwood
This type of flooring needs a vacuum that has a strong suction power. If you choose a vacuum that has a poor performance, it will just blow the hairs around.
These types of floors are good at spreading the furs of animals. Therefore, you need a vacuum that can clean up the mess immediately.
Carpets and Rugs
This type of flooring is peskier to the deal with, requiring not just a strong vacuum, but one with a rotating brush. This accessory will aid in pulling those furs away from those sticky surfaces.
Another great aspect of this kind of vacuum is its adjustable height. This will give its user versatility while doing this errand.
Moreover, you should also know that a rotating brush can damage hardwood floors. Therefore, only use this vacuum on carpet and rug areas.
Stairs
Dealing with stairs can be quite hard, especially if they are steep; Lugging a vacuum up and down the stairs will be stressful to your part. Therefore, you should consider a vacuum that is lightweight. Moreover, do not buy a vacuum that can risk you into falling!
Furniture
If your pets keep climbing on your furniture, better purchase a vacuum that has an attachment on it. These accessories can make your job faster and easier.
Budget
We like the idea of saving money. When buying cleaning tools like a pet hair vacuum, we prefer those cheaper brands compared to the expensive ones. This move is quite logical, considering that they are all vacuums. However, doing this is just a grave mistake.
You should know that cheap brands of vacuums have a lot of maintenance issues. Moreover, they are also prone to fur clogging.
On the other hand, we do not also recommend buying a steeply-priced vacuum. Yes, they possess a lot of features. However, you should not pay for something that you can rarely use.
Comparison of Different Types of Pet Vacuum Cleaners
Upright Vacuum Cleaner
This kind of vacuum cleaner is easy to use. They are also versatile and can be used for various applications. Moreover, they can deal different surfaces such as carpets and bare floors (e.g. tile and wood). Depending on your brand, an upright vacuum cleaner may come with attachments that are for removing pet hairs.
Stick Vacuum Cleaner
A stick vacuum cleaner doesn't possess unique features compared to other types. Its only advantage is its weight, which is very light. This vacuum cleaner is ideal for those homeowners that don't like carrying heavy cleaning tools. However, they are not the best variant when it comes to dealing with pet hairs.
Handheld Vacuum Cleaner
This model of vacuum cleaner doesn't possess strong sucking power. However, handheld vacuums are good at spot cleaning. It means that this tool is very efficient when it comes to cleaning corners and tight areas of your home. You don't also need to plug them because they are battery-operated.
Canister Vacuum Cleaner
Canisters are good for different floorings and house layout. Moreover, it is specifically designed to clean pet hairs and dirt.
Robot Vacuum Cleaner
This type of vacuum is automatic to some degree. It can do the errand for you. It has a system that lets you program it to clean the hairs of your cats or dogs. Moreover, this vacuum can do it all throughout the day.
On the other hand, this vacuum cleaner cannot deal all types of pet hair. Specifically, it cannot suck furs that are sticky on the floor. Aside from that, you need to empty the bin from time to time.
If you are looking for the best pet hair vacuum cleaner, then choose the canister, handheld or upright models.
Questions to Ask when Buying a Pet Hair Vacuum
Before you go and buy any of these machines, there are some things you need to consider:
Where do you plan to use the vacuum?
Do you have rugs throughout the house or do you need it mainly for couches, curtains and other furniture? It's important to factor this in when you're buying as some models are made for specific surfaces.

If you have multiple surfaces/places to clean you may want to opt for a more versatile model.  Look for one that can work on tile, linoleum, carpet and more.
How big is your house?
The size of your house will determine the size/power of the unit. If you have a large home you'll want a unit that can go for an extended time without needing to be recharged or one that has an extra-long cord so you can easily move around. You'll also want it to have the ability to hold large amounts of dirt, so you don't need to keep emptying it.

Conversely, if you have a smaller home you can go with a smaller model, as it will take up less room and be easier to carry around.
What accessories come with it?
Many vacuums come with accessories, like poles to clean walls and curtains or brushes for car upholstery. Check the models and compare accessories before you buy to ensure you have all the tools you need to clean every surface in your home.

Among the many accessories to look for are: extension tool, brush for hardwood floors, mattress tool, ceiling fan tool and a crevice tool.
Cord or no cord?
Do you get a cordless or corded model? Well, that depends on your home's size and preference. If you have an apartment or small condo a corded model is a good option; you don't have to worry about charging it as there is no battery and it can reach most areas easily.

If you need to use your vacuum outside in your car or have a larger home, you may want to consider a cordless style. They can go just about anywhere, so you can use it whenever you need it. However, you need to be aware of the battery power, as it may need recharging frequently.
Vacuum Maintenance
Keeping your home hair and allergen-free depends on you as much as the machine you choose. You need to properly maintain your machine if you want to get the best results every time. To help you with that here are some great tips how to care for your vacuum:
Empty & Clean the Tank: The tank is a crucial area to concentrate on. You need to not only empty it after every use but clean it. You can use warm soap and water to keep the tank looking new and this will also prevent dust build-up, which will eventually get into the motor.
Clean Filters: For models with filters that can be removed, you should take them out and dust or wash them off. Check your manual first, but most filters can be gently cleaned using a rag to wipe off any hair or dust.
Clean the Outer Casing: The exterior needs to be maintained too, so be sure to wipe it down regularly.
Safety Tips
For your safety and to ensure the integrity of your machine, here are safety tips to follow:
Keep Cords Untangled: Tangled cords cannot only become damaged, causing exposed wires, they can also cause you t trip and fall, which can lead to serious injury. Do not tangle cords around tables or other furniture either, as it can cause them to topple, damaging furniture or even you.
Keep Them Away From Liquids: These machines are mostly meant for dry carpets, so do not use them on wet rugs as they can easily clog or become permanently damaged. Use them only on dry surfaces to ensure they work properly. Also, always keep cords away from rain or any other liquids, as that is a hazard that can result in serious injury.
Watch What You Vacuum: Be careful not to accidentally suck up toys or other objects that can damage the internal workings of the machine. In the event that the machine does get jammed, do NOT try to dislodge it while the machine is plugged in or the battery is intact. Disconnect all power sources and check the instructions before attempting to fix it, as you may do more harm than good.
FAQ – Common Customer Questions
Q: Does this pet vacuum cleaner comes with a cord?
A: No. Some Devices are cordless
Q: Will it take time for me to clean this tool?
A: The cleaning will take around 15 to 20 minutes.
Q: What is the material used in the construction of this product?
A: They used plastic on its body. However, you can guarantee it is solid and durable.
Q: What is the run time when this device is fully charged?
A: Around 20 to 25 minutes.
Q: What kind of charger does this vacuum cleaner has?
A: 120 volts
Q: Can device clean the blinds and front of a fan?
A: Yes. This pet vacuum cleaner comes with a small brush for such purposes.
Final Verdict
If you are a pet owner, then you should have a pet vacuum at your home. It doesn't matter how good you are in keeping your area clean. The furs and hairs of your pet will not stop appearing on your floor and furniture.
Moreover, you should understand by now that ordinary vacuums can't do the job. Therefore, having the best handheld vacuum for pet hair is truly essential.