We all love our pets but you probably don't love all the pet hair they've left in their wake. It can be pesky to get off your furniture but it doesn't have to be a headache.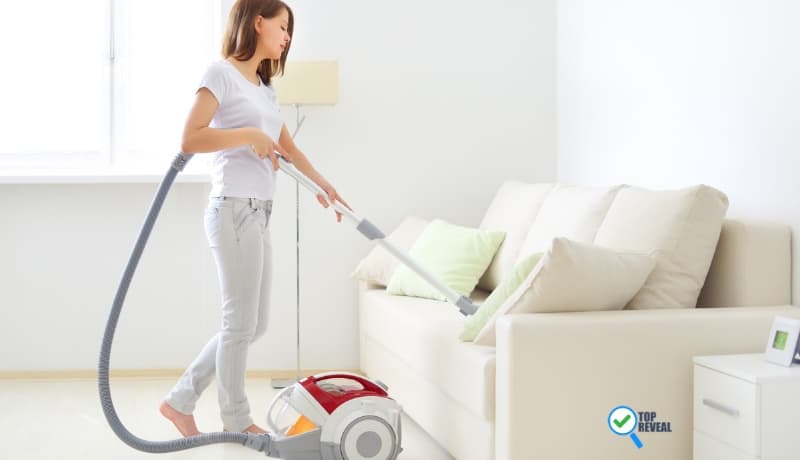 That's exactly the question that we want to help you with. We're going to take a look at some of the best pet hair vacuum on couch options you have to clean up your couches!
Our Top Choice
We wouldn't be doing this list justice if we didn't say our favorite choice is the BISSELL Pet Hair Eraser. This portable vacuum is easy to reach every nook and cranny of your couch. Its motorized brush tool helps to puck up even embedded hair and debris which gives you a more thorough clean.
Differences Between Portable Vacuums and Upright Vacuums
The difference between portable vacuums and upright vacuums comes with their fundamental design. An upright vacuum is what most people think of as a "traditional" vacuum. These have a tall design and a large bag. They may or may not need to be plugged into an outlet during use.
These were once a fairly bulky option but their design has slimmed more over the years. This decreased weight and size make them easier move and get into tight spaces.
Portable vacuums are handheld models that are lightweight and usually battery-powered. While smaller, they can be surprisingly powerful. These are great choices when you're trying to get into tight spaces or higher, non-floor areas (like your couch!).
Top Rated Pet Hair Vacuum for Couches – Which One is the Best?
If you've been looking around for a vacuum, you've probably already seen the Bissell brand name. They've become a household name over the years for good reason – they always seem to deliver quality items. The name holds up thanks to features such as:
Specialized Pet Tools
This vacuum comes with a few tools to help remove pet hair and dust from your house. It has a motorized brush tool that's meant to pick up pet hair from your floor while upholstery and crevice attachments can help get pet hair off your couch and out of corners.
The crevice tool is especially helpful for vacuuming stairs. The motorized brush is designed to pick up even embedded pet hair.
Triple Level Filtration
With Bissell's triple filtration system, you can rest easy knowing that every bit of dirt and dust has been picked up.
With an easy-empty, large bin, you can get rid of any dirt or debris easily. The bin holds up to 0.7 liters.
14V Lithium-Ion Battery
This handheld option is powered by a 14V lithium-ion battery which allows for extended run time. Bissell estimates that users can expect a run time of up to 17 minutes.
Bissell Donation
With this purchase, Bissell donates up to $5 to the Bissell pet foundation.
Black & Decker has also made a hefty name for itself over the years. While that name is usually associated with power tools, they don't disappoint with their Black & Decker Flex Vacuum.
Cyclonic Action
The Black & Decker cyclonic action works to spin dirt and debris away from the main filter. This helps to avoid the issue of dirt blocking up the filter and damaging performance. The filter for this vacuum is washable, so you don't need to worry about replacing it.
The 18.9-ounce dust bowl isn't one you'll have to empty every few minutes either.
Accessories and Attachments
There are plenty of attachments that come with the Flex Vacuum. For this list, the most intriguing is the pet hair brush. This attachment is made specifically to pick up pet hair and it's small enough to sweep over your couch easily.
Other attachments include the Stick Vac floorhead, a long crevice tool, and a 2-in-1 brush and nozzle tool.
20V Lithium-Ion Battery
This is another cordless option powered by a strong 20V lithium-ion battery. Back & Decker also provides a charging station and base. This makes it easy to simply charge the vacuum while you store it.

We're going to end this list the same way we started it: with a Bissell vacuum. This Bissell differs from our top pick because it's an upright rather than a portable option.
Triple Action Brush Roll
Bissell's triple action brush roll paired with the scatter-free technology helps it to pick up any dust, debris, or pet hair in its path. It has 5 surface height settings, so it can easily transition from hardwood to low-pile carpets.
Pet Hair Tools
This vacuum comes with specialized tools for pet hair. This includes a pet hair turbo eraser tool and a pet hair corner tool
. These will help you get stubborn pet hair out of every nook and cranny of your couch.
Bissell Donation
For this purchase, Bissell donates up to $10 to the Bissell pet foundation.
The Hikeren Cordless Stick Vacuum has a simple, sleek design and it has impressive features that have earned its place on this list.
2 Power Modes
This vacuum is made to transition between carpet and hardwood floor. If you're trying to clean the pet hair off of your kitchen floor, switch to the low-power mode. When you're trying to clean pet hair out of a carpet or couch, the high-power mode works.
The LED headlights also help you make sure you've gotten even the darkest corner on any type of floor.
2-in-1 Design
This is perhaps one of the most creative features that this vacuum offers. The 180-degree swivel head on this upright vacuum can help you get into tight corners but when you need something more portable, a handheld vacuum can be pulled out of the body of the vacuum. This is a handy feature for cleaning pet hair off of your couch.
Rechargeable Lithium-Ion Battery
Since this is meant to be both a portable and upright vacuum, it has a battery that lasts long enough to clean your whole house. On a full, 3 to 4 hour charge, it will operate for 40 minutes on the low-power setting and 30 minutes on the high-power setting.
The Eureka NEU180B Upright Vacuum looks the most like a traditional vacuum but don't be fooled – it's still only 10 pounds. This makes it easy to maneuver and take advantage of its helpful features.
Multiple Height Settings
The height settings on a vacuum help its versatility and ability to handle hardwood and carpeted floors. The more options you have, the more specific you can get to factors such as the length of your carpet.
This vacuum has 5 height settings, so you can handle everything from tile to long carpet fibers.
Accessories and Attachments
An upright vacuum on its own isn't very helpful to cleaning couches, so this one earns its place in this niche with its attachments. These include a dusting brush, a long crevice tool, and an upholstery brush that'll help clean couches.
You can store these on board as well, so you don't have to worry about going to find them whenever you need them.
Extra Large Dust Cup
The dust cup on this vacuum is easily the largest on this list. At 2.6 liters, you aren't going to be emptying this every few minutes. The vacuum also has a washable filter and easy to empty cup, so you don't have to worry about any bag or filter replacements.
Pet Hair Vacuum Benefits: Why Should You Have One?
The first benefit of having a pet hair vacuum is obvious: it's going to work well at picking up pesky pet hair. Additionally, it's a good choice to reduce allergens in your home as well. Since you're purchasing a vacuum that will work well on your couch, you'll also have a vacuum you know can clean multiple surfaces – especially if it's an upright model.
All in all, taking the time to look for a pet-hair-specific model, you're going to be sure that you're getting something that will clean your house from top to bottom.
Buyer Considerations – What to Consider when Buying One?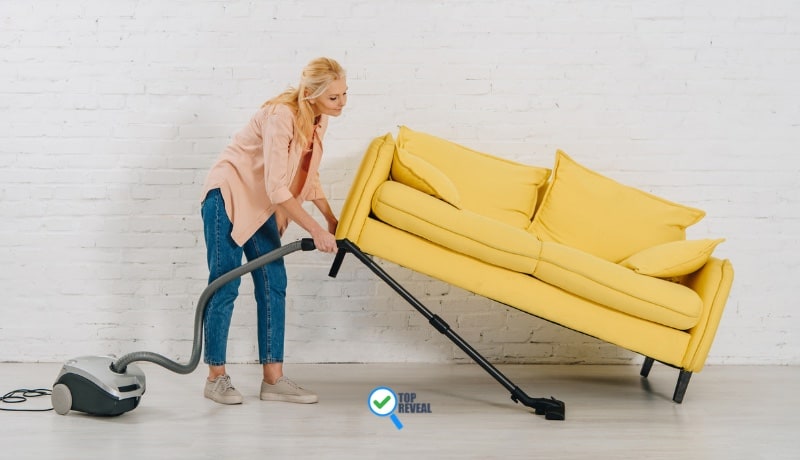 Of course, just like anything else, there are some factors you'll want to keep in mind before making a final purchase. When you're looking for a vacuum for pet hair, these are some factors you'll want to consider:
Pet Hair Capabilities
This almost goes without saying but there's an important fact to take note of: not every vacuum can or will pick up pet hair.
If you don't look at vacuums that are specifically for or include pet hair capabilities, it won't pick up or might even be damaged by pet hair.
Different Accessories
Many of the vacuums designated for cleaning pet hair have special attachments for doing so. Especially upright vacuum cleaners usually have extra attachments that can help you get a deep clean in tough spots.
These include items like upholstery brushes, narrow and angled arms for getting into corners and behind furniture, and other items. Since accessories are usually arms you can take on and off, they don't add much to the bulk of the vacuum. Some companies may sell extra accessories separately from the vacuum itself.
Multi-Surface
Not every vacuum works with every surface. So, if you have hardwood floors or carpeting, you're going to want to look for the respective features.
The most all-encompassing option is to consider a multi-surface vacuum. These can switch between carpeting, fabric or leather couches, and hardwood with no problem and won't be damaged by either.
Bags and Filters
All vacuums use either a bag or filter, so you'll want to know which one you'll need before making a decision. Bags will need to be emptied and periodically replaced. Filters will need cleaning but inexpensive HEPA filters – which are great for filtering allergens – will need replacing. If you have allergies, emptying a bag after every use is likely to be an irritant.
Many vacuums anymore have a third option – washable bags or filters. These can save you a lot of money in the long run.
Customer Commonly and Frequently Asked Questions
Q: What if my pet is afraid of vacuums? Are there any choices that can help?
A: Yes! Many vacuums anymore try to cut down on the bulk and noise of older models. Higher-end models especially aim to be as quiet as possible. The best way to judge sound ahead of time is to look at product reviews and comprehensive reviews like ours to get an honest answer.
Q: Can I use the vacuum for pet hair on couches on my floors?
A: Most vacuums are meant for some form of floor use. This is true in upright vacuums more than portable options. As for hardwood vs. carpet, it's best to look at the manufacturer's recommendations. Some vacuums won't work on floor transitions while others may be able to transition without pause.
Q: Is there any way to make sure I protect my home against allergens?
A: Whether you're looking to avoid allergens from pet dander or other forms of allergens, looking for a vacuum with a HEPA filter can go a long way. HEPA-type filters are good too but they usually fall short of meeting all the quality standards of HEPA filters.
If you have a model with a vacuum bag, anti-allergen bags have a higher filtration than standard bags.
Wrap Up
If you're looking for the perfect vacuum for pet hair on couches, the one that's best for you. We personally recommend Bissell Pet Hair Eraser. Of course, everything on this list is fantastic but we can't help but love the deep clean that the Bissell vacuum offers.
However, everyone has different needs and preferences. That's why we've looked at so many options today – so you have the top choices to choose what's best for you.
It's best to make sure you know what you need and want from a vacuum before making a purchase. We have faith that no matter what your preferences are, you'll find the perfect vacuum on this list!