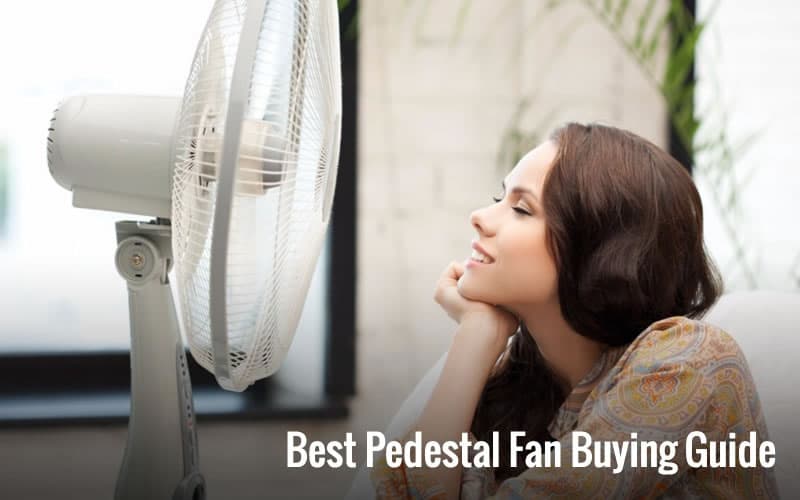 If you are looking for an efficient but inexpensive way to help cool things off when the weather is too hot, a pedestal fan is a great option. Compact and easy to use, these appliances are designed to circulate the air in a room to keep it cool. Since they are on the small size, they are mainly for office use, but they also work well in homes, particularly in bedrooms and dens, creating a cool breeze when you are sleeping or watching TV.
We highly recommend Rowenta VU5551 Turbo Silence Oscillating Stand Fan for reasons. Like any other type of fan that uses a spinning blade, they don't actually reduce the temperature in a room.
Instead, the set of spinning blades creates a breeze that helps circulate air to cool you down if you are feeling hot. As a result, they can make everyone in the room feel comfortable, cooling without chilling.
What is a Pedestal Fan?
A standing fan is a piece of equipment that allows you cool your rooms. It has an electrical motor that connects to a rotor, which rotates when plugged in and pushes out, or blows out, air to help cool your environment.
Standing fans are usually tall and can pivot in a variety of ways to ensure air moves throughout the room. The blades can be metal or plastic and they can be operated either manually or digitally.
5 Top-Rated Pedestal Fans for Bedroom – Which One is the Best?
Standing Fan Comparison Table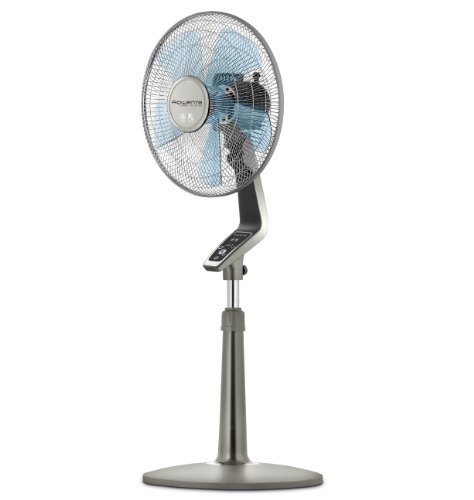 If you are in the market to buy a powerful fan that is ideal for both home and office use, the Rowenta vu5551 turbo oscillating 16″ stand fan with remote control is the ideal fan for you.
This high quality stand fan is popular and highly recommended, as it is one of the best and most reliable for air circulation. It is also on the pricey side, but with all that it can do, the price is more than justified. It features 5 blades, to produces a lot of airflow and can cool a room quickly.
It is so quiet that the manufacturers state that it can be used in libraries, so you can imagine how quiet it actually is. This unit has an adjustable height of 42-54 inches, and its head rotates in different directions, for spot cooling. It also comes with a remote control (with programmable timer) which has a turbo boost selection when you need it, and 3 seed settings.
The roweta vu5551 stand fan is easy to assemble, easy to carry, not taking much floor space, and best of all, easy to clean.
Pros
It has a remote control so you can control its speed from anywhere in the room without having to approach the fan.
Its head pivots in many directions
It has 5 blades which ensures a lot of airflow is produced
It's so quiet that it is used in libraries
It is energy efficient for cooling your bedroom
Cons
There are enough speed options for some customers.
Customers who purchased this item are very happy with it. They love that it is so easy to assemble, with only 3 steps, that you may not even need to read the directions. In addition, its sturdy base makes it very stable, and it's extremely quiet.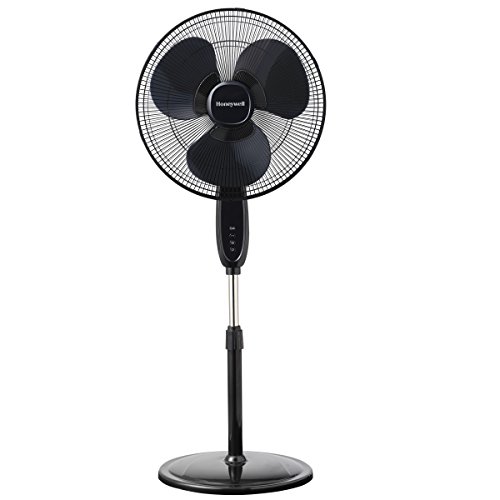 If you are looking for a powerful stand fan that will cool your entire room and help you have a peaceful and quiet nights rest, the Honeywell HS 1655 16″ stand fan is the one for you. This unit has exciting features that you will love and will satisfy your needs.
The Honeywell HS stand fan is the best fan for cooling an entire room quick. It consists of 3 different speed level options and is not noisy thanks to a super quiet mode in its settings. This feature makes it the best choice if you are buying it to use in your bedroom, as it circulates without creating background noise – keeping the noise level low.
Another reson it is good for a bedrom is the shut off timer, with a 1-8 hour auto shut off. With this feature you can prgoram it to go on and off as you sleep, for no-hassle operation. Finally, its front panel has a nice blue light that can be used as a night light. And its height is adjustable.
Pros
Adjustable height so you can set it in the best position that suits you.
It has a quiet mode setting so you can enjoy a quiet night's sleep.
5 speed levels to choose from which means you can definitely find the right speed that suits your given mood no matter how fast or slow you want it to blow the air.
Cons
This is not whisper quiet.
In addition to its beautiful design and construction, customers love the extreme quietness of this product, as they can watch TV or listen to music with pleasure. They also love how convenient it is to use, as it comes with a remote control that has 5 speed and 4 timer settings,


The Lasko brand is a very popular and reliable brand, so if you are looking to get a well-built product, this one is the one for you.
This standing fan was built with your convenience in mind, with a remote control (with programmable timer) to make life easier for you, a height adjustment of up to 54 inches, and three quiet speed adjustments to evenly cool a room.
And speaking of convenience, the head tilts backwards to help you direct the air
exactly where you need it, perfect for those really hot days. It doesn't have any complicated tools, so assembly and cleaning are made easy, and the best thing about this fan is that it can be programmed to come on and go off at whatever time you want it to.
Pros
It blows a lot of nice cool air even in low setting
The remote control not only turns it on and off, you can also set the time on when you want the fan to go off
Easy assembly no screws involved
Cons
Some customers complain that it is a bit noisy.
What customers love most about this unit is its powerful output of cool air. One customer, who doesn't have a hair dryer, actually used this fan to dry her long hair in minutes. They also love the fact that it has a programmable timer that can be set with the remote control.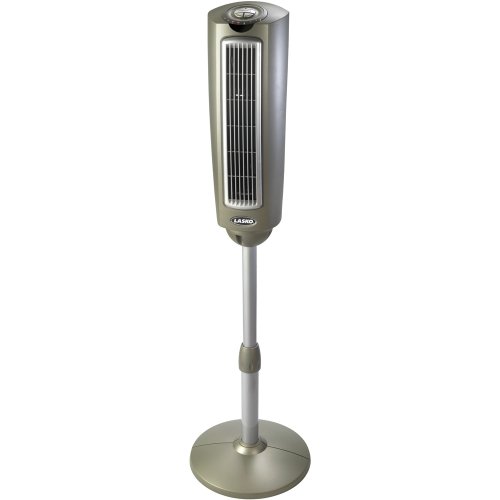 This fan makes it easy for you to be able to create your desired comfort level, with its all-inclusive design that can save you space in your home, office, or kitchen.
The Lasko 52″ fan is one of the tallest in its class, is easy to put up, extremely quiet, and its airflow is very good. This appliance stands on its own and can be adjusted for heights, and the blades can be adjusted in such a way that the air comes out in the direction you want it to.
Its remote control is equally easy to use, and this fan can cool your apartment quickly when the weather is warm. It is trim and lightweight, can fit anywhere, and thanks to its slim design you can move it from room to room when you need to.
Pros
As a result of its trim design it can fit in the tightest corners.
It doesn't just blow air, it blows cool air and because of the tremendous amount of air it blows out it can cool your apartment.
Remote is straightforward and easy to use
Cons
Some customers complain that when it's on high speed it gets noisy.
What customers love most about this product is its slim design that can fit any where, especially if you live in a place where space is a problem. Customers who have used this product have also confirmed that they love its quietness and its ability to blow out a lot of cool air, enough to cool your entire room.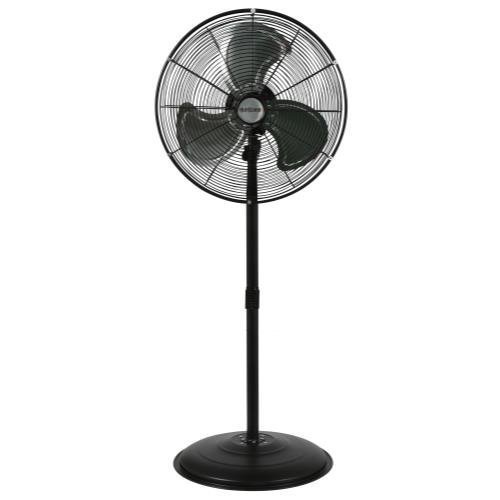 If you are looking to buy a powerful fan that will cool a large area or room, look no further for you have found what you are looking for. The Hurricane high velocity stand fan is a powerful, high-velocity fan for industrial use, producing a lot of wind that will cool a big area or room off.
This equipment is an all metal construction and its assembly is easy, with a wide base that will make it sturdy on any surface, even carpet. If you like white noise when you are sleeping then you will love this fan, which produces a low, soothing sound when in use. It has 3 powerful speed high torque motor and its height is adjustable. Plus, it has heavy duty, 20″ aluminum blades with a head that pivots 180 degrees from left to right.
Pros
It puts out a lot of air even when it's on low
Its metal construction is sturdy
Uses less power that an air condition will use
Cons
It's a little heavy to move around.
People who have used this product love its powerful outPut of air they say that it blows out more air on low power that most other fans on high power.
Buying Guide for Best Pedestal Fan – What to Consider?
You should consider these when buying a Fan:
Size of room
The size of the room in your house or office should be considered when shopping for a standing fan. Most people do not understand how important size is until they buy one that is either too small to work effectively in a big room or too big and powerful for a small room.
The Fixed design or the directional design
There are two basic designs for these fans: the Fixed design and the Directional design. Fixed design fans are the types that do not rotate. They are designed to blow air in only one direction and are good for a small room or if it is just a particular area that you want to cool.
However, if you want to cool a larger area or an entire room you should be looking at getting a Directional design. The Directional design rotates from side to side, so it will blow air in different directions of the room. For instance, if you want to purchase a fan for an office environment the directional one will be ideal especially if you were having a meeting with several people in a meeting room.
As the directional fan rotates from side to side, it will distribute the air around everyone in the room, whereas the fixed type will only be blowing air on one or two people.
Remote control
Most Stand fans are controlled by a number of switches on the body of the fan. However, there are some that have remote controls to make life easier. If you get too hot or too cold you can control it from anywhere in the room without having to get up and touch the switches on the fan.
The height of the standing fan
The better quality stand fans have adjustable height features, so you can target the area in which you want the air to blow easily. It is advisable to buy one whose height is adjustable in order to get the most out of the fan's performance.
The O

scillating

blades
Most of these fans use plywood for blades, but some come steel blades, aluminum blades, and even plastic blades on some of the cheaper models. Obviously, the ones that have aluminum and steel blades will be more dangerous than the plastic or wooden blades.
However, no matter what material the blades are made out of, they still circulate and spin air adequately. Plus, there isn't a noticeable difference in the amount of air that the blades will blow.
A Head that tilts
Most of these standing fans have heads that tilt. This means that instead of positioning it in a way that the head blows the air directly on you, you can tilt the head in an upward position to deflect the air around you,
Benefits of Owning a Pedestal Home Fan
They are cheaper to operate than a full HVAC system; for under $30 in some cases you can get a pretty powerful appliance- one that can make a room comfortable even on the hottest day of the year.
These machines redistribute the air so it will keep your rooms cool when the weather is hot. Circulating air flow feels cooler, allowing you to work or relax without being distracted.
They are portable so they can be moved around easily to your desired position.
They are environment-friendly
Does not use as much power as an air conditioner
They are easy to operate as most of these fans don't need mounting or installation all you need to do is plug it in, switch it on, and enjoy the breeze
Stand fans are multi-functional. They add ventilation as well as cool your room.
Different Types of Fans
To help you understand the benefits of a pedestal-fan let's look at the other types of fans available and their advantages/disadvantages.
These types of fans vary in price, depending on their features and speed variations. To help you choose the perfect fan and understand why this style is the best, we put together this in-depth buyer's guide, complete with comparisons to other fans as well as reviews of the top models. Visit Terra Bloom, for more product options on how to reduce your ventilation costs.
Ceiling Fan
This style of fan is mounted to the ceiling and has a powerful motor to cool a room of almost any size by circulating the air. While they are stronger than a standing fan and cool a bit quicker, they are more complicated to install and require electrical knowledge as they usually are connected to your home's wiring or lighting.
In addition, ceiling fans are stationary and cannot be directed in one area; which means if you like having the fan blowing directly on you as you sleep you are out of luck.
Window Fan
A window, or box fan, is probably the most powerful house fan and can be used to blow air into a room; many models also give you the option to switch the direction the fan works and suck out the hot air in the room like an exhaust. These fans are sturdy and the exhaust option is great for humid days.
On the downside, the fans are bulky and limited in where you can direct the air, even more so than a ceiling fan. Since it can't pivot and stays in the window you may be too cold if it is directed right at you or too warm if it doesn't hit where you sit/lay.
Tower Fan
Many think a tower fan and stand fan are essentially the same, but they are not. Yes, both are tall and pivot to cool different areas of a room, but a tower fan has less maneuverability and power. It fits better in most homes because of its slim design, but can't cool as efficiently as a standing fan.
Tower Fan Vs. Pedestal Fan: What You Need To Know
Since so many people confuse tower and standing-fans lets take a closer look at their similarities and differences in the major categories:
Size
A tower fan is tall and slim with enclosed blades, so you can fit it in any part of a room without it being in the way. Stand fans, on the other hand, are a bit harder. The base is usually in the shape of an X and while the pole is slim, the upper part where the blades are is usually round and wide.
Placement wise, it is a bit easier to find a spot for a tower fan, but that convenience comes at a price. Also, most standing fans are tall, so you can slide them between low-lying furniture, like a couch, without an issue/
Power
In this category there is no contest; the stand fan, with its larger blades, is stronger and can better cool a larger room. Tower fans do an adequate job, but their covered blades, or for some models, bladeless styles, simply can't match the power of a stand fan.
Range
This is another category that goes to the pedestal style. With a tower fan, it can move back and forth, but only to a limited degree; you can't control how far it goes. This allows for great circulation but you may not feel the fan depending on where you sit. However, a pedestal not only moves back and forth but can be tilted up and down as well. This allows you to customize exactly where it points in a way a tower fan can't match.
The bottom line is that both fans are good, but if you want to get the most for your money a standing fan is the best option.
What to Consider Before You Buy a Bedroom O

scillating

 Fan?
Before you choose a fan, and to ensure a fan is right for you there are certain things you need to consider:
Room Size: If you have a small room or limited space a tower, ceiling, or window fan may be your best option; however, for a decent sized room a pedestal is the most efficient
Maneuverability: If you plan to move the fan from one room to another a pedestal is the ideal choice; It is light and can be carried anywhere, so it can go with you if you need it to.
Location: If you live in an area like the mountains, a ceiling or window fan is great for drawing in naturally cool air; otherwise, a stand fan is the best choice for cooling a large space.
Price: Standing fans are one of the most affordable options, especially when you consider that you may need an electrician for a ceiling fan. Tower fans are also affordable, but since they are less efficient it is not really worth it.
Safety and Maintenance
First and foremost, make sure your fan is on a level floor surface. Hardwood floors, tiles and other similar surfaces are your best choice for keeping the unit stable. They are not made for desks or elevated areas- there are desk fans for that.
Otherwise, it may tip, which could damage the fan and possibly hurt you. They can be used on rugs, but it is not recommended.
Ensure that the correct power supply (frequency, phase, and voltage) is available. An incorrect power supply will permanently damage the fan motor and could cause a short. Check the fan before you buy it to make sure it is the correct one for your home.
Make sure your fan is away from any water sources. Do not plug it in near a sink or have any cups/buckets with liquid in it near the fan as they can cause it to short-circuit (the safety feature) and even catch fire if spilled. In addition, do not store the fan any place where it is humid or there is a chance it could get wet, like the garage. See other Fans like Tower and Floor for comparison.
Unplug it if you don't use it for long period of time and make sure the cord is not in anyone's way. If someone trips not only could they get hurt, but it can cause permanent damage to the fan.
FAQ
Q: Does it come apart for cleaning?
A: Yes, most pedestal fans can be easily opened up for cleaning. This allows you to clean not only the casing, but the blades, eliminating dust and allergens.
Q: Does it have a timer?
A: Not all standing fans have a timer, but many styles do, allowing it to automatically shut-off. If you are always in a rush, or you are buying one for you forgetful teen, this is a great option.
Q: Does the fan have controls without having to use the remote?
A: Yes you can control it directly or with the remote. The remote is great for controlling it when you are lying in bed or on the couch watching a movie.
Q: Is it safe to keep it outdoors on a deck if it rains?
A: They are not made for outdoors, especially in rainy weather. The operating parts can easily get water damaged.
Q: Do these fans consume as much energy as air conditions?
A: No they do not consume as much energy as AC.
Q: Does it require assembly?
A: Yes most of them have an easy step assembly that can be done in minutes; usually it requires putting the caging over the blades or screwing the pole into the base.
Summary
In conclusion, purchasing a standing fan is a good investment, particularly if you live and work in areas where the weather tends to get hot. They are good appliances for cooling your environment, be it your office, bedroom, lounge, garage and so on. These appliances are portable, reliable and user-friendly.
If you are in the market to purchase one, it is important to get a good quality fan that will last long in order not to keep replacing it every summer. We highly recommend Rowenta VU5551 Turbo Silence Oscillating Stand Fan. I hope these five best standing fan review will help you in choosing the right fan that best suits you.