The latest craze in tech has arrived in the form of virtual assistants. The number of homes that feature one is constantly increasing – and you better believe the Amazon Echo is leading the way. The Echo will be easily the coolest piece of tech in your household due to the simple fact that there are so many reasons to get an Amazon Echo.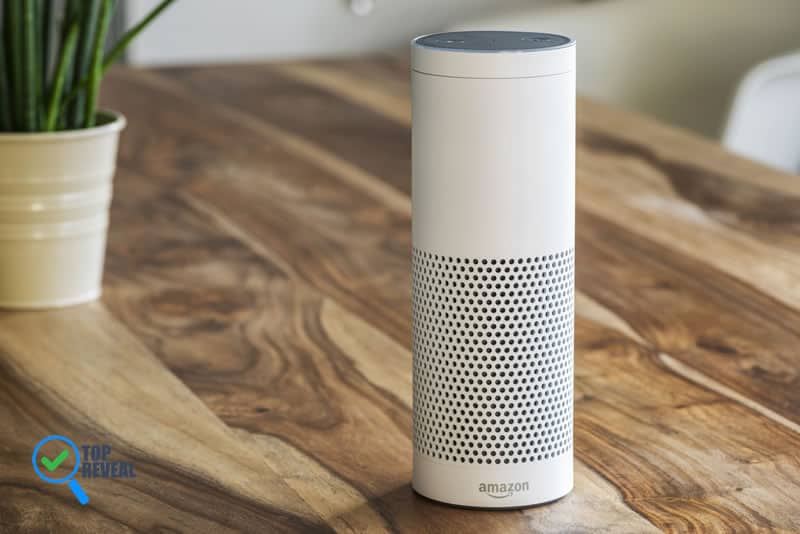 The Amazon Echo is one of the first in a line of state-of-the-art Echo models, of which there are several. The Amazon Echo is a personal assistant, smart home device, and speaker.
With an Amazon Echo, you can access features like voice interaction and music playback. An Echo will allow you to stream your own podcast, play audiobooks, or check traffic and weather. You can even use an Amazon Echo to control other smart devices in your home (such as the Echo Plus)!
We are going to tell you our favorites – but we could go on and on and on for days about how exciting this product really is. You'll see why!
The Echo is First and Foremost a BlueTooth Speaker
The Amazon Echo was designed, first and foremost, as a state-of-the-art Bluetooth Speaker. Your Echo can connect to Amazon Music Unlimited, Pandora, Spotify, TuneIn, Gimme Radio, Deezer, iHeartRadio, and Sirius XM.
Along with this, you can ask Alexa to play a playlist, a specific song, or an artist, genre, activity, album, etc. Skip, stop, repeat, or shuffle… even command Alexa to play music for the length of your workout (for example, a half-hour).
Meet Alexa
Alexa is your personal voice assistant, and she is a part of any Amazon Echo device. Just say the trigger word, 'Alexa,' and then state your command -Alexa will hear.
What sorts of things can you tell Alexa to do? There are more than 30,000 Alexa skills (apps) available, including guitar tuning, ordering an Uber, and more… Open the Alexa app or visit Amazon's website to see them all.
Alexa can connect to and control hundreds of smart devices, including your household smart locks! Visit the Alexa app if you'd like to change your Echo trigger word from 'Alexa' to 'Echo,' 'Amazon,' or 'computer.'
What can I do with Alexa – Your Standby Maid
She is your a Smart Home Assistant
The Amazon Echo can connect directly to your household smart devices, and control lights, music, smart locks, and so on… If you've got a smart device, chances are that the Amazon Echo can connect to it and offer you easy, remote control.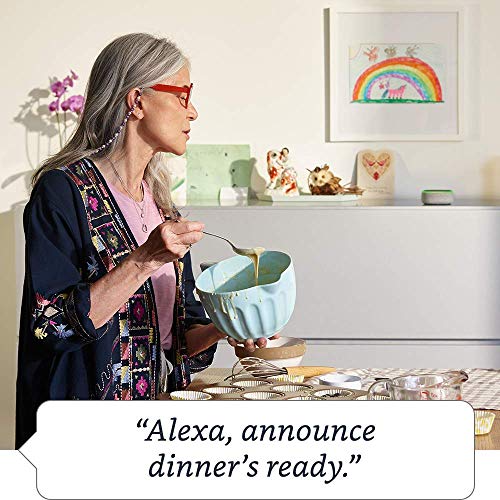 Use Your Echo as an Alarm Clock
You can use just about any Echo as an alarm clock, though the Echo Dot best fits the bill. Just ask Alexa to wake you up at a certain time. You can even specify that you'd like to wake up to a certain music genre, like progressive rock.
Or, for fun, have the voice of a celebrity, like Dan Marino or Alec Baldwin, wake you up (this will affect your alarm tone only, and not Alexa's voice in general).
She Makes Shopper Faster and Easier
You've doubtless heard that you can shop with your Echo devices. You can even order products directly from Amazon if you're an Amazon member or Amazon Prime member, located somewhere in the US.
Just ask Alexa ('Alexa, find Blue Buffalo wet food for cats chicken recipe on Amazon'). Use your Amazon Echo to write up a shopping list, and make your voice purchases securely with a 4-digit code (so no one can make purchases but you and your spouse).
Use Your Echo to Make a Phone or Video Call
To use your Echo to make a phone call, simply give Alexa access to your contacts, and then verify your phone number. Once these steps are complete, you can tell Alexa to give a certain contact a call. Or, simply state a new phone number.
Make calls to mobile or landline phones, and even other compatible Echo devices (such as the Echo Spot). You can also make video calls, with the Echo Spot or Echo Show.
Our 10 Amazon Echo Hidden Skills List: Discover Skills You Didn't Even Know You Needed
If you own an Amazon Echo or Echo Dot odds are Alexa is not doing as much for you as she should, or could. Sure, you know Alexa can stream music or help you find a recipe, but did you know she can wake you up by playing your favorite song or help you plan a trip to Tahiti? You see, there are so many skills and commands at your fingertips, er, lips, that it is easy for some to get lost in the shuffle.
Even Alexa needs help sometimes and that's where we come in. Our Ultimate Amazon Echo Skills Cheat Sheet will help you make the most of your device. So read up and then have some fun!
1. Alexa, Where's My Phone? The Mastermind Skill
The Mastermind Skill is one of the few that isn't free(costs about $15 unless you want to be on the Beta waiting list) but it is well worth it because it can do the one thing everyone needs at some point during the day: help to find your phone. Just say: " Alexa, ask Mastermind where my phone is" and she will have it ring for you- even if it's on silent! It can also be used to send and receive text messages, find out how much juice you got left on your battery an turn on/off Bluetooth or Wi-Fi.
2. Become a Sommelier: The MySomm Skill
If you're like me and don't know what wine goes with your steak the MySomm skill is a Godsend. Just activate the app and name it (mine's Wine-ing mom) and you're ready to go. For instance, if you're having salmon for dinner say; "Alexa, ask Wine-ing mom what pairs best with salmon" and she'll give you a few choices.
3. Figure out Your Next Vacation: Kayak
Anyone who has a Kayak account can use Alexa to plan their next trip, hands-free! Alexa can use it to check and compare prices, find flight information, and even search for a getaway of you're not sure where to go. Just say, "Alexa, ask Kayak yo find me a tropical destination for $800" and she'll tell you. You can sign up for Kayak for free if you don't already have an account.
4. Mrs. Peacock, in the Den, with the Revolver: the Board Game Answers Skill
Does Monopoly ever end (and if so, how)? How does a rook move in Chess? If you need the answers to any of these questions then enable the Board Game Answer skill and find out. It has the rules and regulations to just about every board game ever made. Simply say, "Alexa, ask Board Games how you determine who goes first in the game of Life" and you'll put an end to every fight once and for all. If you tend to cheat while playing you may want to mute Alexa. lol
5. Dry, Not Shaken: The Bartender Skill
If you dreamed of being like Tom Cruise in Cocktail, love to throw parties, or just want to enjoy a good drink after work in the comfort of your own home then you'll love the Bartender skill. It tells you exactly what you need and walks you through the process. There are over 12,000 drink recipes to use and if you're not sure what you want just ask Alexa to pick for you.
6. Drop and Give Me 10: The 7-Minute Workout Skill
Now there is no excuse not to get your daily exercise in thanks to the 7-Minute Workout skill. Just ask Alexa to start it and she will walk you through a variety of moves to help you burn calories, fat, and tone up. And don't be scared because you can ask her to change it if it's too difficult or pause it if you need a minute to catch your breath.
7. Boredom Be Gone! The Magical Door Skill
Whether you have some extra time on your hands, love to play games with friends or have kids, the Magical Door skill is pure genius- and fun. Simply say: "Alexa, open the Magical Door" and your adventure begins. There are puzzles to solve and things to find and when it's done the winner will get a prize!
8. Parenting 101: The What to Expect Skill
Should I be this tired? Is it normal to pee every 5 seconds? Moms-to-be, and expectant dads too can find out all this and more from the What to Expect Skill. Just tell it your basic information, like when you're due, and it will give you a rundown of pregnancy milestones customized to where you are in your pregnancy. It will give helpful advice, daily and monthly reminders and even prepare you for what to expect after the baby comes.
9. Lullabye and Goodnight: The Short Bedtime Story Skill
Keeping on the kid theme, did you know Alexa can help put your little ones to sleep with a fairytale? Just say: "Alexa, read a bedtime story to(say your child's name)" and she'll do all the work for you. You can also ask her to read a specific story if your child has a favorite. One of my personal favorites.
10. Alexa, Show Me What You Can Do: The Alexa Things to Try Skill
Not sure what you need from Alexa? Have her tell you with the Alexa Things to Try skill. Once you enable it she will give you a rundown every day with your morning wake-up or briefing of some of the things you can do with her. This is a great way to discover fun and interesting new ways to use your device, making each day an adventure.
As you can see our Ultimate Amazon Echo Skills Cheat Sheet is full of great ways to make the most of your Echo devices beyond what you already know. So try them out and be sure to share this post with your family and friends so they can have some fun too
Reasons to Get an Echo – Why do I get one?
1. Real-time Information
To us, this is the biggest one of the reasons to buy an Amazon Echo. Just ask Alexa to read you the news, tell you about the traffic on your commute, or let you know what the weather is like outside. Alexa is connected to the cloud so she constantly has live information to work with to bring you the most up to date info available. Through a simple voice request, you will know everything you need to know for the day?
The coolest part? You can set up a "Morning Routine" with Alexa so you get the info you want and cut out the stuff you don't. By simply saying "Alexa, start my day," you can have her read the world news (including focusing on a certain story by request), get the weather that is right outside your front door, and tell you if you need to hurry up to get to work on time. Bonus tip: You can add turning on the lights with the right equipment… (See our next reason!)
2. Control Other Smart Devices
Through commands with Alexa, you can control nearly any electronic part of your home. Since Amazon's Echo is indeed the leader in the virtual home assistant space, all of the best smart home electronics manufacturers know to make their products compatible with Alexa. Accordingly, you can turn on lights, set thermostats, turn the TV channel, and so much more just through simple voice commands!
Just imagine the possibilities! We did mention a few just now but let's envision the end of the day with Alexa. You're curled up tight in your bed, you seem to have misplaced your remote, the thermostat is set too high, and you didn't turn off the lights before laying down. Now, with Alexa around, you don't have to get out of bed! "Alexa, turn off the TV. Alexa, turn the thermostat to 68 degrees. Alexa, turn the lights off in my room." Boom. Crisis averted.
3. Drop-in and Calling Feature
This one is way cool. The Amazon Echo can be used to talk to other Echos around your house – and beyond. Say there is an Echo Dot in your bedroom and an Echo in your kitchen. You're done making dinner in the kitchen but you want to let your significant other knows without leaving the stove on (That food might burn!). Just ask Alexa to call your room and your voice will be thrown upstairs!
Let's take it a step further even – outside your own household. That's right, an Echo can be used to communicate with other Echo products the world over. You can chat with grandma if you haven't seen her this week (she will need an Echo Show to see your beautiful face!) or call the kids home from the neighbor's house. No need for a house phone anymore!
4. Listen to your Music
The Amazon Echo has an amazing speaker built right into it. The sound quality is just as good as any other you can get and the volume it can put out is remarkable. The Dolby technology is certain to produce only the best and the Echo itself can connect to as many music services as you can think of. Spotify, Amazon Prime Music, iHeart, Pandora, Apple Music, you name it, it's all there and it can all be controlled just by using your voice. Your tunes, your way, whenever you want them.
And where other products fall short, the Amazon Echo succeeds. With a lot of lesser smart home speaker systems, the microphones are going to have a hard time picking up your voice while your music is bumping. But that isn't the case with the Amazon Echo. The far-field microphone technology knows how to decipher your voice from the noise when you want Alexa's attention, keeping you from having an inaccessible tool while you listen to music.
5. So. Many. Skills.
With the Amazon Echo, the possibilities are practically endless. Every day there are more and more skills for Alexa to add to her repertoire and you're going to love so many of them. Take a look at the biggest categories that we use our Alexa for.
First, we love to the different skills that Alexa has for news. Everybody loves a different source for their news and Amazon knows that. That's why there are so many different types of coverage in Alexa's library to choose from. CNN, Fox, CNBC, NPR, and podcasts are all mainstays of this category.
Second, there are services that will bring you the products you want. The best example is ordering an Uber or a Domino's Pizza. Yes, you heard me. You don't even have to make a phone call to get your favorite pizza anymore. Just ask Alexa! There are so many others that we love – but you can explore some more for yourself.
Third, game night, baby! Alexa can play 21 questions or set up you and your friends to play a whole slew of games for yourselves. It's tons of fun!
Members of the Echo Line
The Amazon Echo
The Amazon Echo is one of the first of the Echo line, featuring BlueTooth speakers, Alexa, and more.
The Echo Show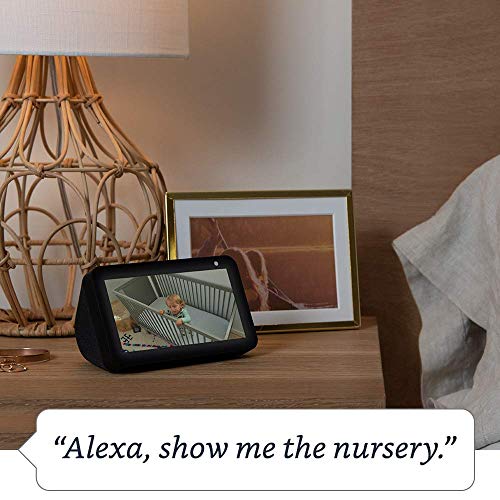 The Echo and Echo Spot are fantastic on their own, but what about when you want to make a video call? This in mind, Amazon created the Echo Show. The Echo Show has all of the features of your standard Echo, Echo Spot, etc., but with a 10-inch touchscreen, as well. This way, you can watch media or even make a video call.
The Echo Dot
The Echo Dot is even smaller than the Echo Spot, measuring at about the size of a hockey puck. These small, onboard speakers can be used in a room or bedroom, or, for more range, you can connect your Echo Dot to a more powerful external speaker. The Echo Dot has all of the same features as the Amazon Echo, as well.
The Echo Plus
The Echo Plus works like the Amazon Echo, but functions as a smart home hub, as well. What does this mean? That you can connect your Echo Plus to most smart devices within your home, like smart lightbulbs, smart locks, smart dog food feeders, and more. The Echo Plus also has noise cancellation, Dolby sound, and even a handy temperature sensor.
The Echo Flex
The Echo Flex is a mini smart speaker that you plug into an outlet in the wall. This will allow you to plug Alexa in anywhere. You can also connect external speakers to your Echo Flex – have better sound quality.
The Echo Spot
The Echo Spot could be considered a tiny version of the Echo Show. Besides size, the main difference between them is that the Echo Spot is hemispherical. With a 2.5-inch screen, the Echo Spot looks like nothing so much as an alarm clock.
Your Echo Spot will display both the time and the weather.
The Echo Look
If you'd like an Amazon Echo, but with a camera, you may be interested in the Echo Look. This has a camera built-in, so you can take photos, record videos, and so on. This, without having to sacrifice any of the great features of the Amazon Echo!
FAQ (Common Questions)
Q: What is the difference between Alexa and Echo?
A: Alexa is a voice recognition system, whereas an Echo is a smart BlueTooth speaker (with Alexa capability).
Q: Does the Amazon Echo Need Wifi?
A: Yes, the Amazon Echo and all of the Echo devices require reliable Wifi in order to work.
Q: Can Alexa call 911?
A: As a matter of fact, Alexa cannot call 911. Alexa can get a hold of an emergency contact on command, however.
When it comes to the Amazon Echo Latest news, that's just about everything you need to know! Which Echo device is the one for you? The Echo Dot, perhaps, or the Echo Show? No matter what you choose, your Echo -with the help of Alexa- will grant you access to features like music, phone calls, video calls, shopping, smart device control, and more!
Wrap Up
Want to know the best thing about this list of reasons to by an Amazon Echo? It doesn't even cover everything! There is so much to explore with your Echo that you will constantly be finding new ways to use it – and so will Amazon considering how many skills they keep adding!
With Alexa, you can turn your home into a brand new space that is as dynamic as you are.