Ladies and gentlemen, they have arrived. If there was ever a time to get excited, it is absolutely now. Amazon has released both the Echo Plus 2 and the Echo 2nd Generation. To be fair, we know exactly what you are thinking. This is amazing – uh, but which one do I get? Don't worry, we are here to save your day.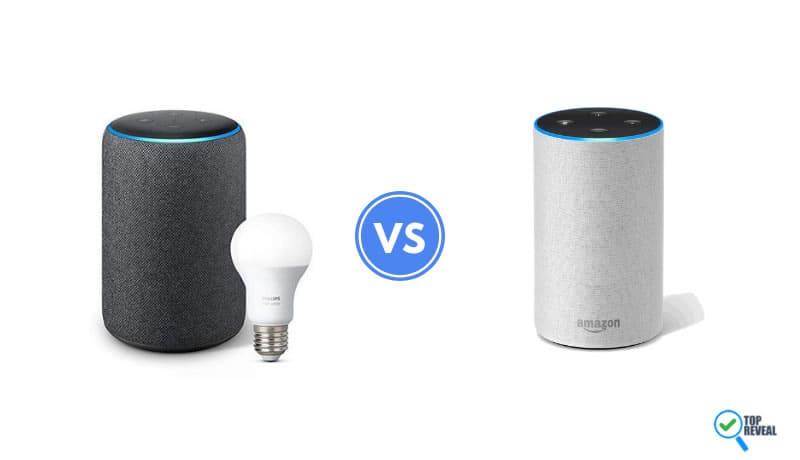 We have put up the Echo Plus 2 Vs Echo 2nd Generation so that you can get a better idea of which Echo product is the right one for you. But we're going to make one thing clear from the start: you have got to get your hands on one because they are amazing.
Our Winner
If you're not a big fan of scrolling a whole page just to find out which one is better, we are just going to hand you your answer right here at the top. Call it too easy but we don't care. So, without further ado – spoiler alert!
While we love both of these Amazon products, the Echo Plus 2 is our favorite here. The Echo Plus 2 has all of the awesome fixings that you can get out of an Echo 2nd Generation – but with the added bonus of having a built-in smart home hub, temperature sensor, and "voice control" so you can still control other devices when the internet is down!!! Oh, and it has an improved sound system
Woofer Speaker size

Tweeter Size

Built-in hub for setup smart devices

Streaming music with wifi

Control Smart Devices
Echo Plus 2 and Echo 2 Comparison Table
But if you are a fan of details, we've got a lot of useful information on these two products that may help you to make your new favorite purchase.
Amazon is continuing their push toward providing the world with serious smart home technologies through the release of the Echo Plus 2. The Plus 2nd Gen 2018 is meant to be an all-in-one package to transform your home from the usual to the intelligent. It's easy to see where the Echo Plus would bring a whole new life to your home with features like:
Built-in Smart Home Hub: This is where the Echo Plus shines. If you intend on getting other smart home appliances for your home, the Echo Plus is a must. You need a hub to command your smart home electronics and the Echo Plus does just that all the while providing all of the other awesome benefits of a regular Echo.
Temperature Sensor: This new feature allows you to control the temperature in any room- even if you're not home. For instance, if the living room hits 75 degrees and you want it at 72, the sensor will register this, and Alexa will notify you and engage the room's fan to cool it. Just think, you'll never need to get out of bed again to turn the heat up.
Local Voice Control: With this new feature you can stay in total control of all the devices hooked up to the Plus 2 when there is no Internet connection. Thanks to compressed Alexa controls built-in you can still turn the lights on or off when you lose connection.
Enhanced Sound: If you are a stickler for high-quality speakers, look no further than the Echo Plus. The speaker (3 inch neodymium-woofer and 0.8″ tweeter) locked into the casing of this unit features the best Dolby sounds that Amazon has put out yet and is significantly louder than the previous generation.
Improved Aesthetics: Available in 3 fabric colors, heather gray, charcoal, and sandstone, the Plus 2 has more rounded edges that give it a modern yet cozy feel. It looks great in any room and is the perfect compliment to your other electronics.
Always Getting Smarter: Amazon's virtual assistant Alexa is constantly learning. She already has tons of useful skills but will constantly be adding more as time goes on. Order pizzas, Ubers, ask for jokes, and all sorts of interesting things to see if Alexa can handle your wishes.
See the difference between
The Echo Plus
and
Echo 2nd Gen
in this Video.
The second generation of the original Echo is another beautiful item to add to your household. The original Echo was innovative and immersive, just like the latest version is. The new Echo 2 builds on the strengths of its older brother while updating its technologies. There is a lot to love about this product with its countless positive characteristics like:
Alexa-Enabled Skills: The cloud-based voice service that allows you to make calls, play music, and check the news (and so much more) is the hallmark of the Echo. And while Alexa is already a great tool to have around, she is always getting better!
Far-Field Voice Sensing: Even if you have the best music turned way up on your Echo, Alexa will hear you asking for another favor. The microphones in the sidewalls of the Echo make it so you can be heard from any direction.
Hands-free Calling and Messaging: Using your Echo, you can make calls to your loved ones and text your friends with just your voice. No need to go find your phone or go through any buttons with your Echo.
Echo Plus 2 Versus the Echo 2nd Gen: Which is Better?
What is the difference between Echo 2 and Echo Plus 2 (2018)?
Then what about these products makes them different? While a lot of the strengths of these two Echo gadgets are common to each other, there are some major, key differences that are important to note. Of those dissimilarities, the ones we think are the most important to see are:

After watching this video, click to vote your favorite: The Echo Plus or Echo 2nd Gen.
Smart Home Hub Capability: For this reason, the Echo Plus 2 is a whole different beast than its friend. When it comes to the Echo Plus vs Echo 2nd Generation discussion, this is where the rubber meets the road. The Echo Plus doubles as the hub for the rest of your smart home technology while being a smart home appliance itself. This is something that the Echo 2nd Generation simply can't do.
Special Features: The Plus 2 has a few the Echo 2nd Generation doesn't besides the built-in hub, mainly a temperature sensor and local voice control. The temperature sensor is a big plus, as you can use it to have your AC on before you get home or raise the heat in your kid's room if it gets chilly. And the local voice control allows you to keep going even when the Wi-Fi is on the fritz for exceptional control you won't find anywhere else.
Speaker Size: Now this difference is only slight but, to the music buffs out there, it may make a huge difference. The tweeter on the Echo Plus is a full 0.2 inches larger than the tweeter on the Echo 2nd Generation while the woofers are the same. So, if you are big on your speaker arrangement, the larger speaker on the Echo Plus might be where your head is at.
Price: Hey, we won't be shy about this part. The Echo Plus 2, with its grander capabilities costs a little more. The Echo Plus 2 is priced at $150 while the Echo 2nd Generation is only $100. But we're going to be honest. The value of the Echo Plus provides is far great than that $50 difference if you plan on having other smart home devices. Having the hub built into your Echo makes setting up your smart home a cinch and you'll appreciate its ease of use.
Size: Another difference that we found is that the sizes of these two machines are slightly different. While this may not be the biggest deal in the world to some, having a bulky devices sitting on a tabletop may not be what some people are going for. The Echo 2nd Generation is smaller at 5.9 inches tall and 3.5 inches around.The Echo Plus 2 is 9.3 inches tall and 3.3 inches around. So, the Echo is pretty much unnoticeably thinner but it is 3 inches taller. It is also heavier at 954 grams since the Echo 2nd Generation is only 821 grams.
Finishes: The last major dissimilarity between these two options are the finishes that give the Echo its look. The Echo Plus 2comes in sandstone, charcoal, and heather gray. The Echo 2nd Generation has six options, though, in charcoal fabric, heather gray fabric, sandstone fabric, walnut finish, oak finish, and silver finish. To some folks, the look of their Echo may not be their biggest concern. However, maintaining the appeal of the home may be of chief importance to some homeowners.
So, from these differences, we can pretty clearly see what Amazon's intentions were with these two new Echo devices. The Echo Plus 2 is clearly designed for those who are looking to turn their home into a smart home. With current technology, smart home appliances require a hub – and the Echo Plus 2 delivers just that. But, of course, you have to pay for this added technology, to the Echo 2nd Generation is there to pick up the slack for those who don't need those capabilities. So, side by side, we see that each of these Echo products provide something different for different users.
What's similar about these two products?
In short, there is a lot about these two products that make them quite similar. But we aren't going to try to hide that fact. Why? Because just about everything about both of these Echo products rocks. Of course, Alexa always has your back with her various skills that allow you to do everything you need.
The far-field voice recognition is clutch for when you are bumping your favorite tunes. And the speakers on these two machines are outstanding. They're compact, easy to use, and look great sitting in the right spot in your home.
So, while we would love to recommend both products to you, we won't get greedy. Let's stick with one for now. (But putting one into several different rooms wouldn't be a bad idea in the future, would it?)
Echo Plus 2 (2018) vs Echo Plus (2017)
To understand the beauty of the Plus 2 we need to compare it to the original. Both devices work great but the Plus 2 is the better option thanks to the temperature sensor and local voice control. The ability to gauge and adjust a room's temperature makes this device a must as it truly improves your quality of life.
Now, you can come home to a cool room after a long day of work or up the thermostat when it gets cold- without leaving your couch. And the voice control is just beyond cool and convenient as life doesn't have to stop just because the Wi-Fi did!
Final Thoughts
So who gets the final word here in the Echo Plus vs Echo 2nd Generation battle? To our minds, it has to be the Echo Plus. We are really big on encouraging our readers to get into smart home technologies because of the ultra convenient – and fun – capabilities that these appliances provide. But, of course, the decision is up to you and that makes you the real winner here.
If you're the type that just wants Alexa's assistance and skills with the added bonus of a sweet speaker, the Echo 2nd Generation is yours. So, either way, you're making a great buy that should upgrade your home for years to come.