For a while, technology was just about ready to reach the point that automation, virtual assistants, and other Jetsons-eque technology could be brought into every home. But that era has ended. Now, you can automate your home for less with an Echo Dot. Oh, yes, did we forget to mention that all of this can be done for a low, low price? Because it can, folks.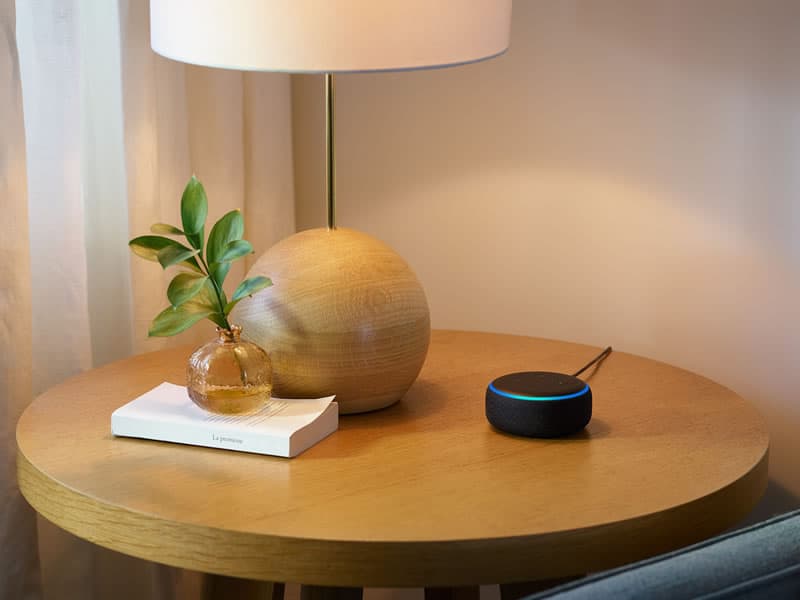 In fact, you can get your house all set up to do just about anything technology related for less you'd think.
What is a Echo Dot? How to Automate Your Smart Home with?
An Echo Dot is an incredible piece of technology from Amazon. A Dot looks like a hockey puck that has Amazon's virtual assistant, Alexa, installed and linked up to a series of microphones and speakers so that she can listen to voice commands that you give her.
Alexa can do anything from telling you what time it is, play your favorite music, and turn off your lights just using your voice. But that's not everything that is great about the Echo Dot.
Affordability
With all of the features packed into an Echo Dot, you're probably expecting to see a big, obnoxious price tag on it. While you're right in thinking that that the Echo Dot has huge value, it won't put a big dent in your wallet. In fact, the Echo Dot can be purchased for $50. And, while that's a low price, these handy pieces of tech are constantly going on sale for as little as $30.
So, keep an eye out for a sale! That way, you can automate your home for less with an Echo Dot.
Easy Set Up
To get Alexa all prepped up and ready to go, all you have to do is plug the Echo Dot into the wall and get it connected to your home Wi-Fi. Then, you have to – well, that's it! You're ready to have Alexa start handling your every whim.
There may be an extra step or two to get her linked up with your other smart devices but those processes are about as easy as the getting the Echo Dot itself set up.
Compatibility with Other Smart Devices
Since Alexa is so popular, other tech companies have made sure that their products work with her. That means that you'll be able to get your hands on tons of devices for all sorts of uses throughout your house from a bunch of different vendors.
The fact of the matter is that Amazon dominates the "in-home virtual assistant" market so other companies have to take note and make their products work with Alexa.
What Other Devices Does the Dot Work With?
As we just mentioned, Alexa can help you with all sorts of tasks around the home. She will have to work with other devices to get things done so let's take a look at what other home technologies you should be on the lookout for to get your home some sweet automation.
Smart Plugs
This is probably the most interesting automation option, in our opinion. With Alexa communicating with a smart plug, you could have her turn all sorts of stuff on and off. A smart plug pretty much works like a light switch that responds to voice.
So, with this useful little tool, you can plug in a lamp, television, garbage disposal, hair dryer, fan, and so much more and turn it off and on with just your voice.
Security Cameras
The Echo Dot can also work with smart security cameras and other home security devices to keep your home safer. The idea is that Alexa could give you an idea of any potential threats as they happen rather than you finding out about these issues before it's too late.
Turning the Echo Dot into a part of the plan to keep your home and family safe is a highly recommended reason why we love having Alexa around – and you would, too.
Fire TV
If you're in one of those households that has three remotes in the living room, you absolutely need an Echo Dot synced up with Fire TV. Fire TV has the ability to give you access to so many shows and movies on all of your favorite platforms. Netflix, TV and movies on Amazon Prime, Hulu, and whatever else!
Not only does this get you an endless amount of entertainment but it also can be controlled by your voice! Yes, just say "Alexa, watch Game of Thrones on HBO" and you'll be all good to go with your popcorn.
A Few Benefits of Home Automation
While there are so many benefits to getting an Echo Dot and automating a bunch of devices in your home, we like to highlight a few of our favorite uses. First, multitasking in the morning. We love having Alexa give us the weather, news, and traffic report while we go through our morning routine. We also like to adjust the thermostat for the day with a simple voice command.
Then, when we get home after work, we flip on the lights in the house right when we walk in using Alexa. At the end of the day, after we have crawled into bed and finished reading, we don't want to get out of bed to turn off the light – so we just have Alexa do it. "Alexa, turn the lights off." And off to bed we go.
As you can see, using an Echo Dot will get you moving faster and more efficiently through your day so you can focus on all the things you need to be.
Wrap Up
While we feel like we have made the Dot sound ever so useful to automate your home for less with Amazon Echo, we're really only scratching the surface. Alexa can help you in the kitchen by reading your recipes and setting timers, call Ubers for your friends after parties, and play music from your favorite audio services.
Truly, the automation never ends with an Alexa-enabled Echo Dot around as she constantly learns new skills – and so will you.

[rwp-review id="0″]