I love the Amazon Echo products. In my house, it's gotten to the point that we all use them so often that it's become second nature. Alexa is truly a member of the family at this point, hitting my family with the news in the morning, audiobooks while I cook, and sweet tunes during dinner.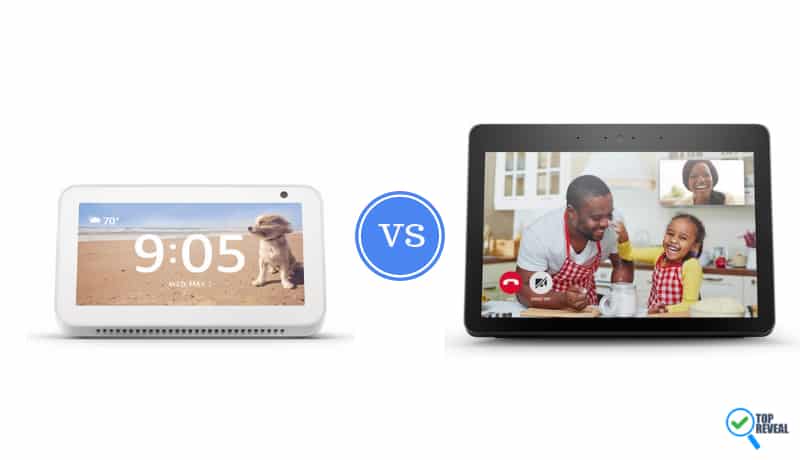 I like Echo products so much that I like to keep my home stocked with the latest and the greatest. The problem? They produce a lot of stuff. A lot of stuff.
It's a good problem, but choosing the right Echo for my home is never easy. That is why today I'm highlighting the Echo Show 5 vs the Echo Show 2. Both great products, both posing us all with a tough choice. Which will it be? Let's take a look.
Our Recommendation
If you don't want to filter through this whole article while we do an in-depth comparison, I get it. There are lots of things to do in life, and reading long articles might not sound like the way you want to spend your time.
I'll just put it on front street that I'm somewhat partial to the Alexa Show 2nd gen. The screen is big and attractive, making it easy to read and view. You pay a little bit more for the added features, but if you're an Echo junky like me, the money is going to be well spent.
Echo Show 5 (Under $5o – Black-Friday Deal)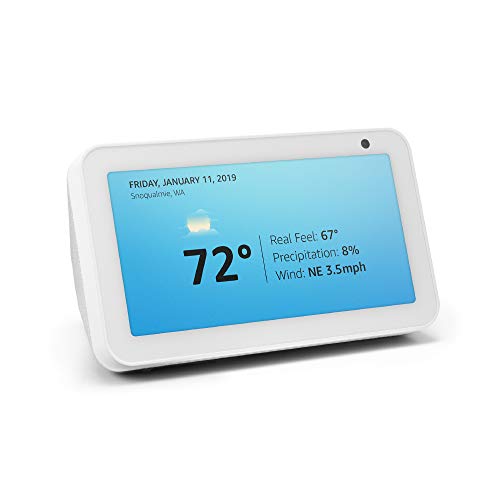 The Echo Show 5 is for buyers that want to save a little bit of money while still getting an awesome project. Actually "a little bit" was something of an understatement. This bad boy retails for about the same as the traditional older Echoes, giving you an enormous amount of bang for your buck.
Let's just leap right into the features, shall we?
Compact
Compact may or may not be a pro depending on how you look at things. If your goal is to safe space, you're going to love the size of this unit. In fact, it takes up roughly the same amount of space as an alarm clock. And since you can set timers, and view the time on this machine, it actually might be a great bedside accessory.
Of course, you can use it in any room in the house, and because it's so compact, you aren't going to find yourself wanting for very much counter space. It's a good situation no matter how you cut it.
The Screen
You still get a decent sized screen
, on which you can watch news updates, view recipes on a step by step basis, and see the lyrics to your favorite songs. Basically, anything that a full-sized Echo show can do, but in a much more affordable package.
Video Conferencing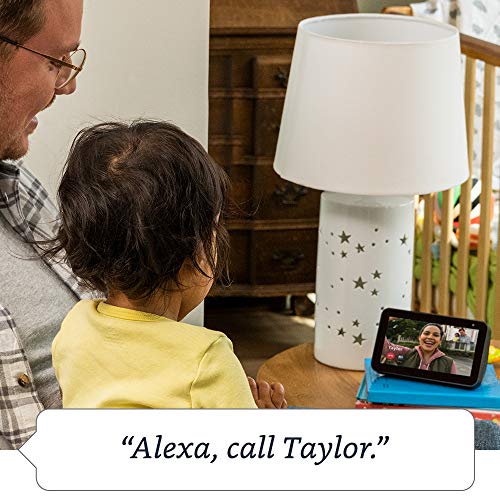 My very favorite aspect of this product is that it can be used for video conferencing. Obviously, video chat isn't as novel as it once was. Nearly everyone can do it from their other if they want. But the voice-controlled element of the Echo creates a new level of novelty. I don't know. It's just so Jetsons-like.
Stay in touch with relatives from all over the planet, simply by telling Alexa that you want to talk with them. It's a great feature.
An Emphasis on Privacy
Wifi devices of every kind are under an enormous amount of scrutiny for how they handle our privacy. You can't even turn on the news anymore without hearing about some major data leak. It's disheartening, and frankly, a little bit frightening.
What can be done? Well, some of the responsibility falls on our shoulders. We do need to be careful with how we handle our sensitive information. But in a world where the internet is not optional, it's still a challenge. One the Echo Show has an answer for.
Security is tight with this unit. For one thing, it records only in the event that you say the word "Alexa." This means that you don't need to worry about your every word being taken down on the record.
This is great, but if you need a little bit more peace of mind, you can further secure the privacy of your device and your home by turning off the camera and the microphone. It's as simple as flipping a switch.
Screen: The Happy Medium
This screen is the Goldilocks choice because the Echo Show 5 is smallest at 5", the Echo Show 2 is largest at 10." and the Echo Show 8 is just right at 8," while still being that rectangular shape.
The resolution is also best at 1280 x 800, like the Echo Show 2, for viewing in high quality.
Superb Sound Quality
Once again, the Show 2 is largest and the Show 5 is smallest when it comes to speaker size, but the Echo Show 8 is right in the middle at Dual 2" but retaining the wattage at 10W per channel.
It's enough to rock out in layman's terms. You won't be lacking for volume with the Show 8 whether it is dance party time or just watching your favorite movie.
Privacy Features
Everyone has the same worry – who is listening? With Echo Show 8, you are in control and it is easy to ensure the camera and microphone are covered.
Besides the fact that Alexa only records when you say her name, closing the shutter and pushing the off button is just an added layer or reassurance. Quick push of a button is all there is to it!
Accessibility Hands-free
Just say, "Alexa" and she is at your service. Like the other Echo devices, you can call on Alexa to play music, set timers, create reminders, search for movies, adjust temperature controls, or call up your Ring device camera view. It is too easy.
If you want to reach out and get in touch with family or friends and see them on screen, just tell Alexa that, too. She is like having a full-time assistant at your service 24/7.
Simplify Your Life
One of the things I like about Echo Show 8 is the simplicity of having everything controlled from one central device that can do it all. For example, you can set Alexa to display your photo albums and then as simply as you can say, "Alexa," she is now ready to do your bidding.
She will change from album display to playing your favorite podcast that you have set on a timer. She will remind you of your doctor appointment. She will let you know the weather as you head out the door. Then as easy as pie she is back to displaying photos.
The seamlessness of moving from one feature to another is really top notch.
Newest Features
Some of the most recent additional features that are only on the Echo Show 8 are "drop in on all," which allows you to start a group chat with all your prearranged family or friends at once if they have an Echo device. It is a great way to stay connected.
Amazon's kids' bundle, FreeTime, which includes games and content for the kiddos is also coming soon to Echo.
Food Network Kitchen, a new paid cooking subscription shows you how to do it and saves your favorites as a virtual recipe book. Pretty cool! These features are not to be found on Echo Show 2 or Show 5.
Price Buster
Okay, I know for some people money is no object but for most of us, it can make or break the decision. This won't be a problem in your decision on Echo Show 8 because it is right in between the price points of the other two devices.
So you can just choose the one that is best for you rather than worrying about price. It is actually the mid-priced version even though it is the newest model. That rarely happens!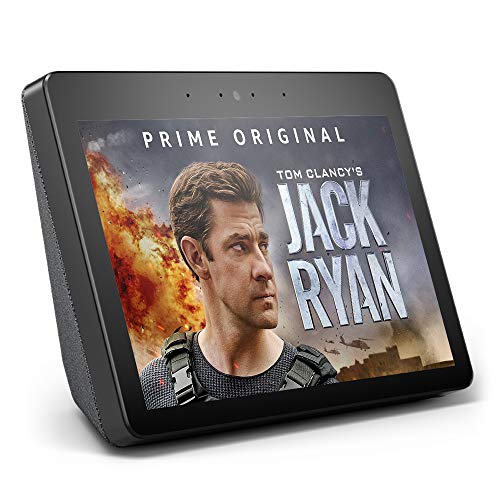 You'll probably recall that this is the option I chose for myself. Though I love both of these products, it is a no brainer for me. I want the Echo with the best features that I can get my hands on, and it seems pretty unambiguous that the Echo Show 2 is the one that does that.
It Can Do Everything that the Compact Unit Can
So, yeah. Let's just put that on front street right now. There is nothing that the Compact that we just looked at can do that this one cannot. This option has heightened safety features that will protect your online privacy.
It features a sizable screen that will show you news updates, lyrics, recipes and more. Naturally, it also comes with Alexa already installed so that you can control everything with your voice. And, my favorite feature, it includes a video conferencing capability.
The only thing it doesn't manage that the Compact does accomplish is that it features a compact build that can be easily stored just about anywhere.
Otherwise, it's the exact same product, but with even better features.
You Get a Really Big Screen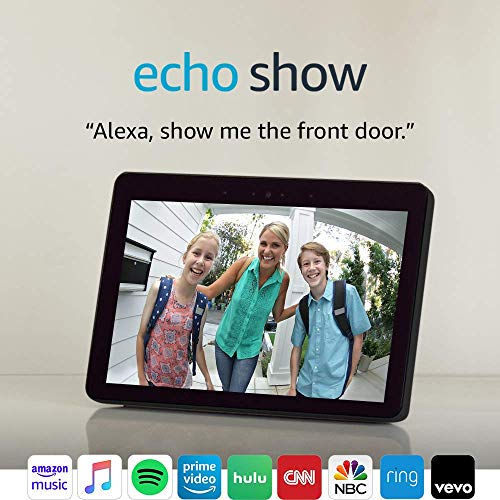 The nicest thing about this unit (at least as far as I am concerned anyway) is that it comes equipped with a sizable screen. At 10.1 inches it's big enough to give you a clear view of whatever it is that you want to watch. That includes recipes, but it could also include television or sporting events.
Basically, if it can be seen, it can be seen on the Echo Show 2. And, thanks to this high definition screen, it can be seen with greater clarity than ever before.
Excellent Speakers
The speakers are also top notch. The Show 2 put in a lot of work here, upgrading not just what we saw in its predecessor, but also in all of the other Echo products that have debuted to this point.
Considering the fact that Echo products are, at their heart "smart speakers" (even though that's hardly what most people consider them) it's nice to see that sound quality was put at a big premium with this option.
Photo Album
I'm a family person, so I really loved this feature. The Alexa Show now allows you to upload photographs that rotate in and out as various screen savers. It's just like any other electric photo frame int hat regard, perpetually hitting you with happy memories no matter where you look.
It's a relatively small feature when you get right down to it, but it also adds lots of warmth to your house. I like to think of the Alexa product line as a series of robot butlers (a designation that is becoming increasingly more accurate as automation technology continues to take off).
They can't cook you dinner, but they do provide constant small improvements to your day to day life. The photo feature is one of these improvements, making your home a happier place at all times.
Similarities: How are they alike?
These products actually have quite a bit in common. The good news for consumers is that they pretty much both do the exact same thing. Both have Alexa, and everything that that entails. Both have promising safety features, video conferencing capabilities, and a great screen that you can use to view recipes, song lyrics, and much more.
In other words, with either Echo, you're getting a piece of equipment that will really take your home life to a whole new level.
What are the Differences between Echo Show 5 and Show 8 versus Echo Show 2nd Gen?
So, what are the differences? After all, it's not how these two products are the same, but how they are different that will inform your choice. Let's now take a look at all of the features that distinguish these two products from one another so as to improve your ability to decide. Read on to learn more!
Screen
The Echo 2 does have a much better screen. The screen on the Compact unit (Echo 5) is 5.5 inches. It's not insignificant exactly. You can still watch shows or review recipes, but it's a little like looking at a moderately sized phone screen with those dimensions.
The Echo 2 on the other hand, comes in at 10 inches. It's a little like the difference between a phone and a tablet.
The larger screen is a valuable feature simply for the fact that it improves your viewing experience on a consistent basis.
On the other hand, bigger is not always better. If you are living in a smaller space at the moment, you probably don't want the biggest version of anything. To that end, you might actually like the smaller dimensions of the Echo Compact. It's really just a matter of knowing what you are looking for.
Sound Quality
The Speaker is also a lot better on the Echo 2
. It's mostly a matter of size. Bigger speakers generally have enhanced range relative to their smaller alternatives. If you want to be able to hear your music from pretty much anywhere you are in your own home, there is no getting around the need for the Echo Show 2.
On the other hand, if you are probably going to be in close proximity with your Echo at all times, then you might not mind having something that is a little bit smaller, a little bit quieter.
Again, it's mostly a matter of what your home needs.
User Experience
What this all aggregates into is a slightly enhanced user experience with the Echo 2. It's not to say that this is an objectively better smart speaker regardless of your situation. It's more to say that by all measurable means the Echo 2 does outperform the compact at least a little bit.
Better picture and better sound translate naturally into a slightly better time with the product. But, if your new Echo is too big for your countertop and so loud that the neighbor you share a wall with is constantly complaining, you probably won't end up being super stoked about your purchase. They both work well with those Ring Smart Doorbell products.
Price
Price is definitely the biggest difference here. You could get your hands on several of the compact units for the same price that you would be the full sized Echo Show 2. If you are on a tighter budget, that will probably be enough to tip the scales entirely.
Why spend lots more on a product that essentially does the same thing, right? On the other hand, the next several differences may shower you what sets the Echo 2 apart.
Customre FAQ – Still have questions?
Question: Are they difficult to set up? Is one harder than the other to set up?
Answer: This is one of the best parts of the Echo series of products. Each one of them sets up in three easy steps. These devices are so smart that they practically set themselves up once connected to WiFi.
Question: Which one will fit in small spaces?
Answer: The answer to that is really any of them, but if you are looking for the smallest of the three, the Echo Show 5 is your best bet at 5" of screen size.
Question: Which one is the best value for the price?
Answer: Obviously you want to get the one that best fits your needs, but if value overall is what you are looking for, I would say that Echo Show 8 has the most value for your buck.
Question: If I already have Show 2 or Show 5, do I really need Show 8?
Answer: I would say that depends on you. If you are a food aficionado or have kids, those features might be a big step up for you. Also if you find your screen size too big or too small, the Show 8 is a great mid-size.
Verdict
So, there it is. Really, the three products are very similar, and I like them all for different reasons. I love the affordability of the Echo Show 5. When it comes to getting the latest and greatest in technology, there is often a price wall that a large portion of the population cannot overcome.
Such isn't the case here. Amazon is giving us access to their new technology at an affordable rate right out the gates without making budget buyers wait a couple of years to get it. So that's awesome.
And of course, I also can't help but love the majesty of the Echo Show 2. It's big, it's beautiful, and it really makes the most out of all the awesome new features these devices have.
Then again, if I can push my budget just a tad and get something even better because the value is really there to gain, I would do it and get the Echo Show 8.
If you are a cooking fanatic or have kids running around the house, Echo Show 8 also has some special features in Food Network Kitchen and the kids content that is coming soon. There is always something nice, also, about having the latest as any upgrades in technology are going to be there.
As a whole, this new product line is looking awesome. Three great products, each with their own strong set of pros. Now that you know what's out there it's time to decide for yourself which is right for you.