This year we've seen many different styles and trends that bring a fresh look and feel to your living room space. As a result of the global pandemic, the year 2020 changed the dynamics of how companies do business, and many people found themselves working from home. The living room has become more than just a space used for specific reasons; but has become a multifunctional space.
With new trends in the home decor and design space, there is something for everyone. One of the biggest trends in 2021 includes naturally relaxing, tranquil, and succulent designs. Decorating your home is all about expressing yourself; however, here are five trending ideas that could inspire you to help freshen up your living room.
A Modern Twist
Although your home is filled with country and nature designs, a modern twist is a massive trend in 2021. Create a modern flair to the country living adopted due to lockdown, introducing a modern flair in the country style. Bring in a modern round coffee table to complement the traditional wood and tranquil living space and create the perfect contemporary finish to a traditional environment.
Multi-functional Space
In the new normal era, having a multifunctional living room is best. Having clever storage ideas is essential, for our living rooms have become double-up spaces, from being homey to pop-up bars, gyms, and offices for those who work from home. A great piece of furniture to fit this job is a storage ottoman to keep all office supplies and gym equipment.
A fold-out desk is another valuable piece of furniture that serves a multifunction purpose while stores quickly when not in use. While spending more time at home, having versatile pieces of furniture adds a flexible change in the image of the living room and creates a calm environment.
Bold Statement Rugs
Hard flooring continues to be a popular choice for homeowners in 2021 and leaves an opportunity for runners and rugs to make a statement. Particularly in open-plan rooms and delineate spaces, the use of runners and rugs brings out the color while offering an extra level of comfort for your feet. The best way to fill an open space with a carpet is going big and bold with patterns and bright colors to draw attention to the center of the room.
Natural Green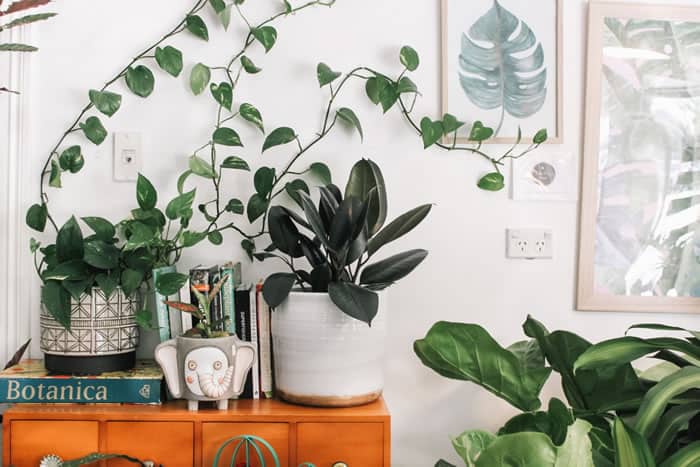 Photo by Prudence Earl | Unsplash
In 2021 we see a continuous introduction of earthy and outdoor decor. The true color of nature is green, associated with the outdoors and tranquility, and makes it the perfect color code to set a relaxing tone in the living room. To compliment your chocolate color furniture, wrap-around feel, restful, and cozy environment, coat your walls in green.
Classic Florals
Stage your living room comeback with a classic floral wallpaper and connect back to nature by covering your walls with traditional floral patterns to the ceiling. When taken up to the sealing, the classic Jasmine creates a connection with nature and a protected feel. Teamed with dark woodwork, with its organic weave, Anime makes a perfect choice.