Have you been scouring lists for bathroom project ideas, but keep finding the same old stuff? (Been there, done that). We made a point to comprise this list of only the top DIY bathroom projects: those that are truly beautiful, unique, and clever. If you're looking for some ideas to make your washroom truly special, look no further!
Our Top Bathroom DIY Projects that Will Shine
1. Store Towels in Wicker Baskets for Practical Decor
If you want somewhere to store towels besides flopped over the shower bar, you can also employ a couple of attractive wicker baskets. Not only will these work as quick storage for towels, but they double as decor!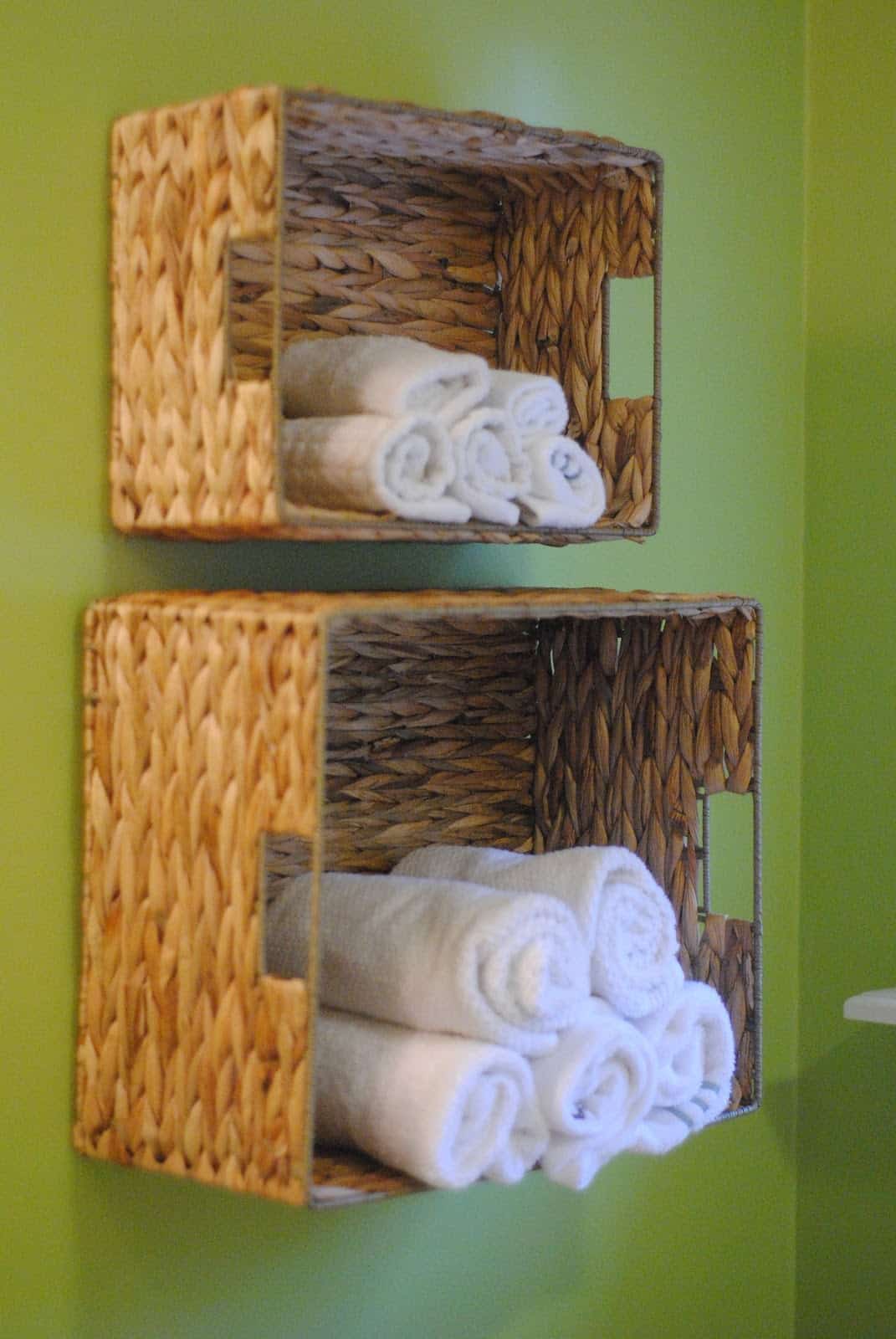 Making Lemonade Blog
2. Turn a Waste Basket Rustic (All You Need is Some Rope)
It's all in the detail. This, one of the simplest yet cleverest and best DIY bathroom projects, teaches you how to wrap a cheap wire basket in rope, for a much classier, more aesthetic look!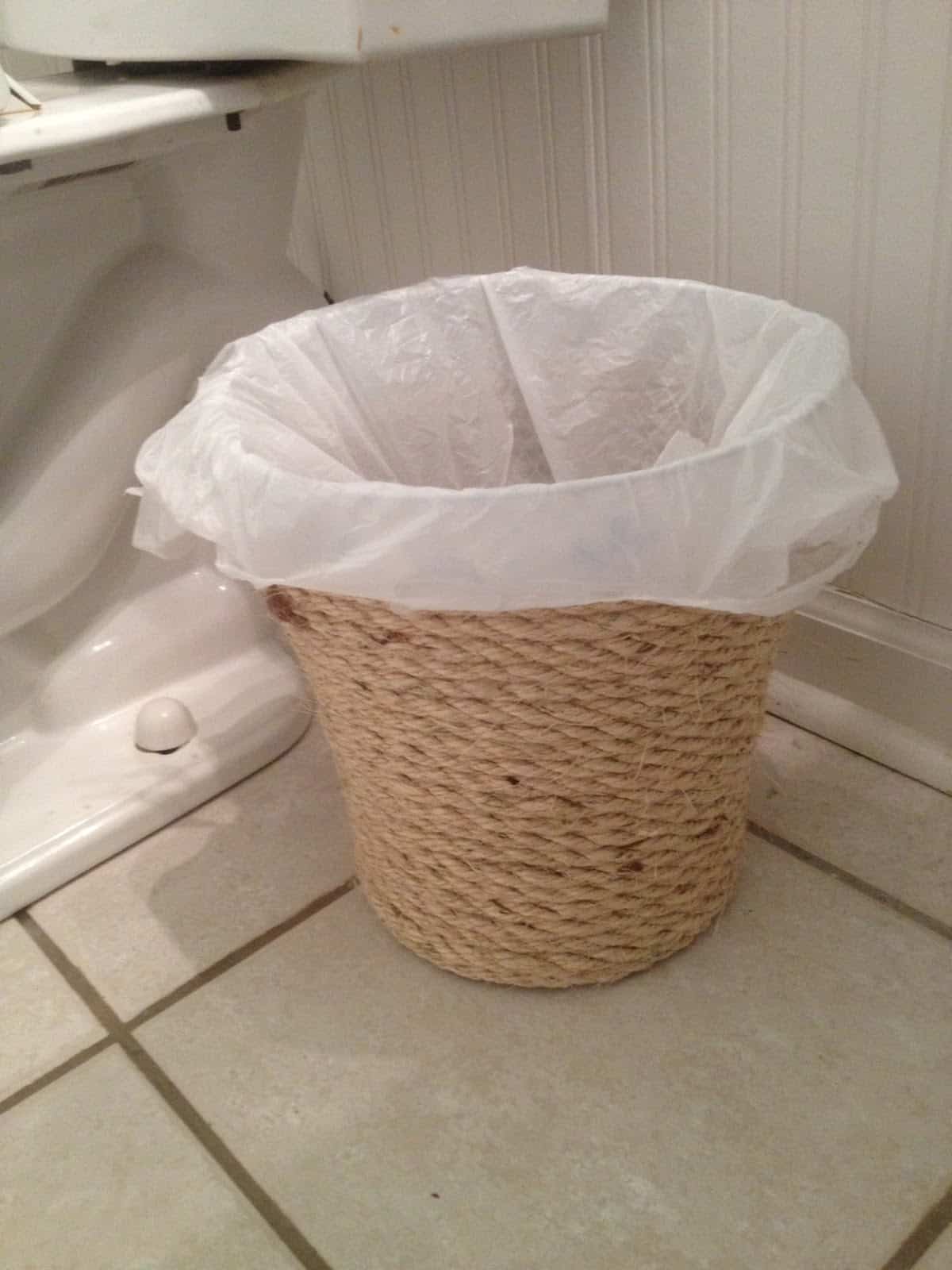 Two It Your Self
3. Class Up the Bath Tub with a Faux Stone Veneer
This one is sure to be a crowd-pleaser: a faux stone veneer for the bathtub (this kind of makes it look like a fancy hot tub). While a plain white bathtub looks out, a stone bathtub looks more prestigious, aesthetic, and all-around better!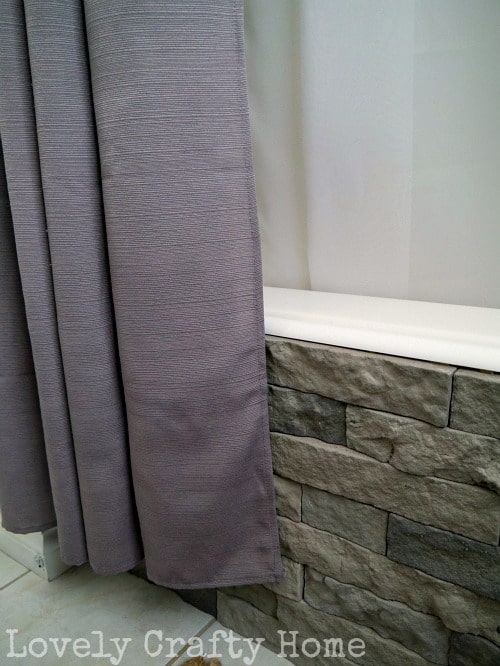 Lovely Crafty Home
4. A Basket Storage Wall
We see your two wall-mounted towel baskets (item #1 on this list) and raise you a whole basket wall. This is a fantastically convenient and aesthetic way to combine your storage and decor!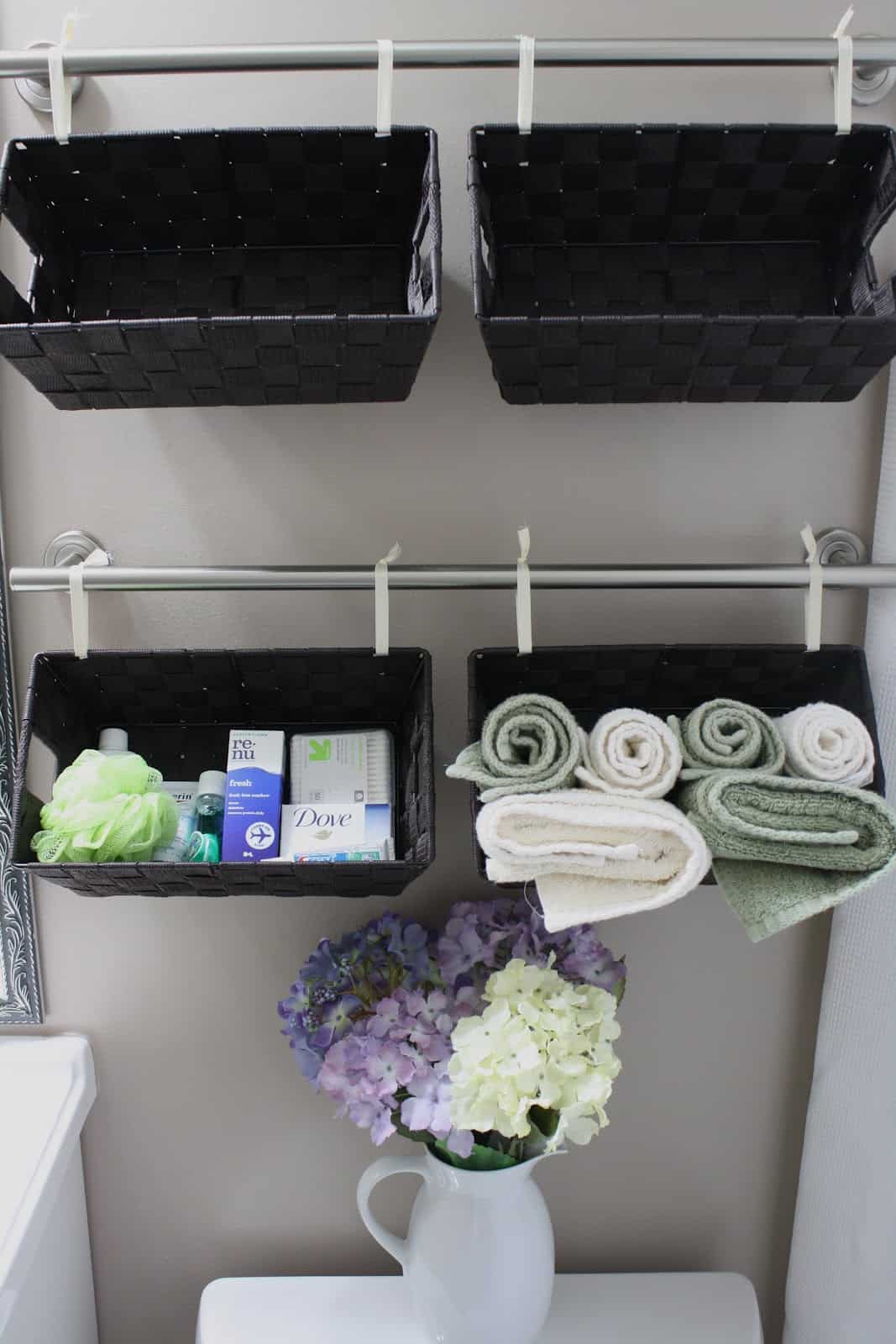 SIMPLY DIY 2
5. Make Your Own Luxurious Bath Tub Caddy
You'd be surprised at how easy it is to make a luxurious bathtub caddy. This will allow you to enjoy food and drink, and even enjoy a good book (without getting any of it wet)!

Dunn Lumber
6. Create Your Own Lovely Tile Frame Mirror
You can go a long way to beautifying your bathroom by creating your own, lovely tile frame mirror. This will add a bit of class and color!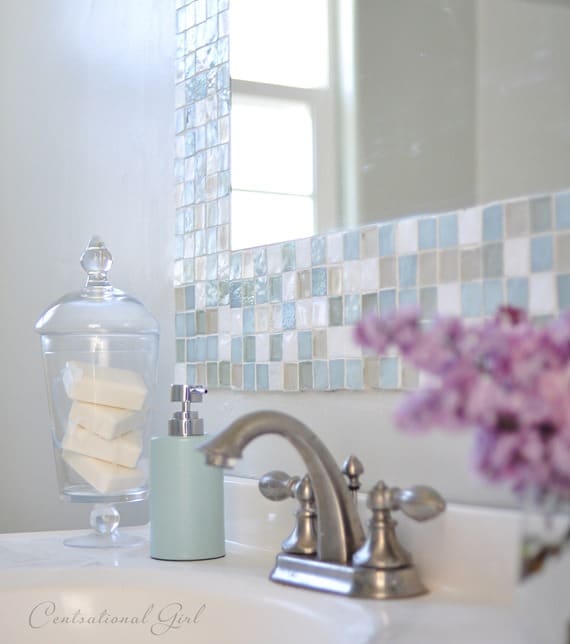 Centsational Style
7. Add Pebbles to Your Shower Floor for a Natural Appeal
Have you ever seen shower floors with pebbles on the bottom? I've always thought these had a really gorgeous, natural look. It never occurred to me to make one myself. This is an easy way to create the look and feel of a bathroom makeover!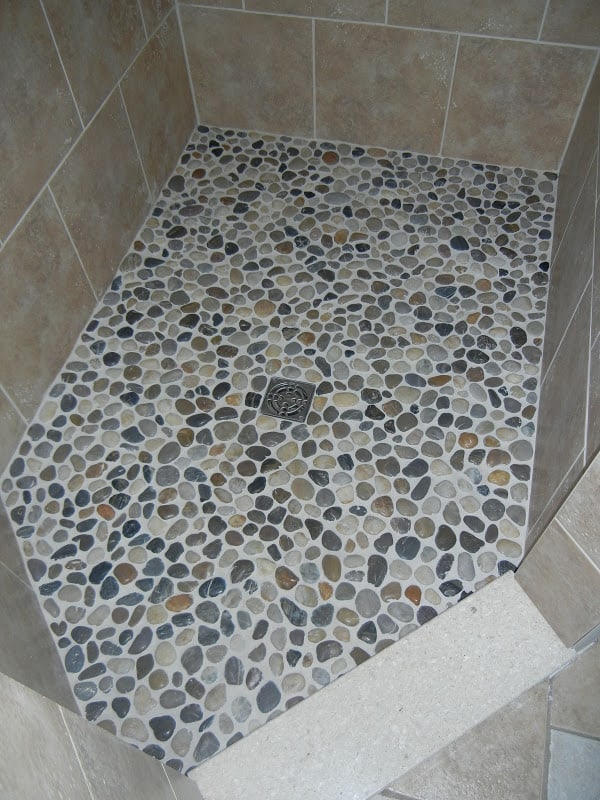 Source
8. Hang an Elegant Bathroom Sign (Makes it Easy For Guests Too)
An elegant bathroom sign can give your home the feel of a classy inn or high-class restaurant. It will also show guests where to go, without their having to awkwardly ask!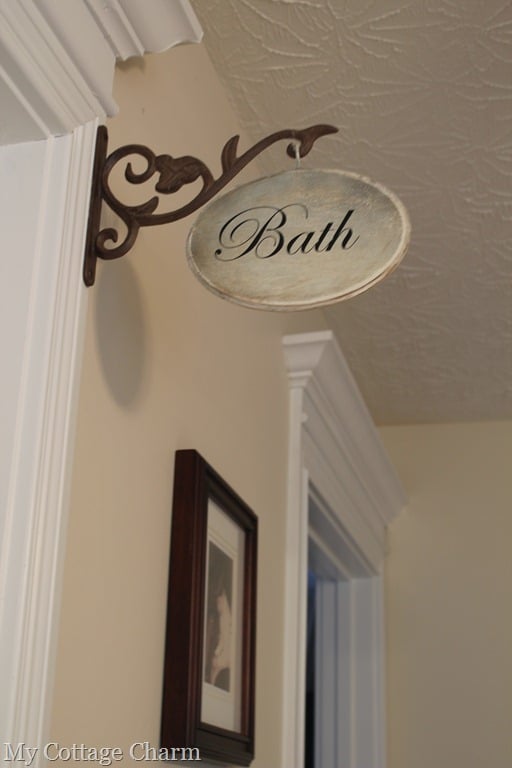 MY COTTAGE CHARM
9. Repurpose Empty Candles Into Elegant Holders (the Use You've Been Waiting For)
Are you one of the countless collectors of empty candle jars? These are much of such nice glass, and so pretty, that it's hard to toss them away. Now you've got a use, with this handy elegant candle holder hack!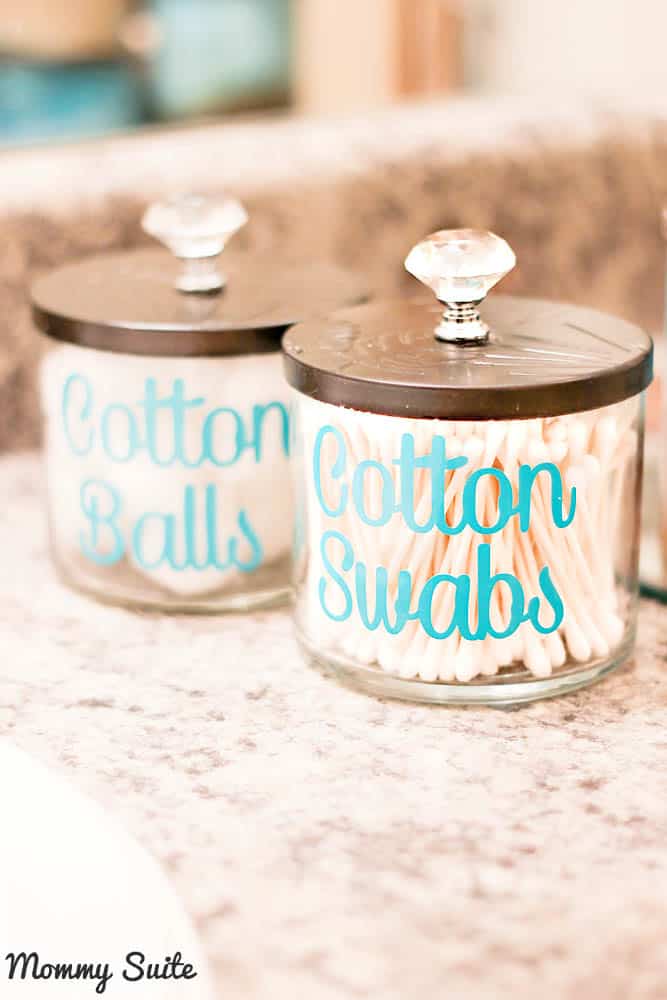 Mommy Suite
10. Craft a Rustic Wood Frame for the Mirror
This is a bathroom project that can utterly transform your mirror. An ordinary, frameless mirror is easily ousted by a classy, framed mirror. Especially this gorgeous rustic frame DIY!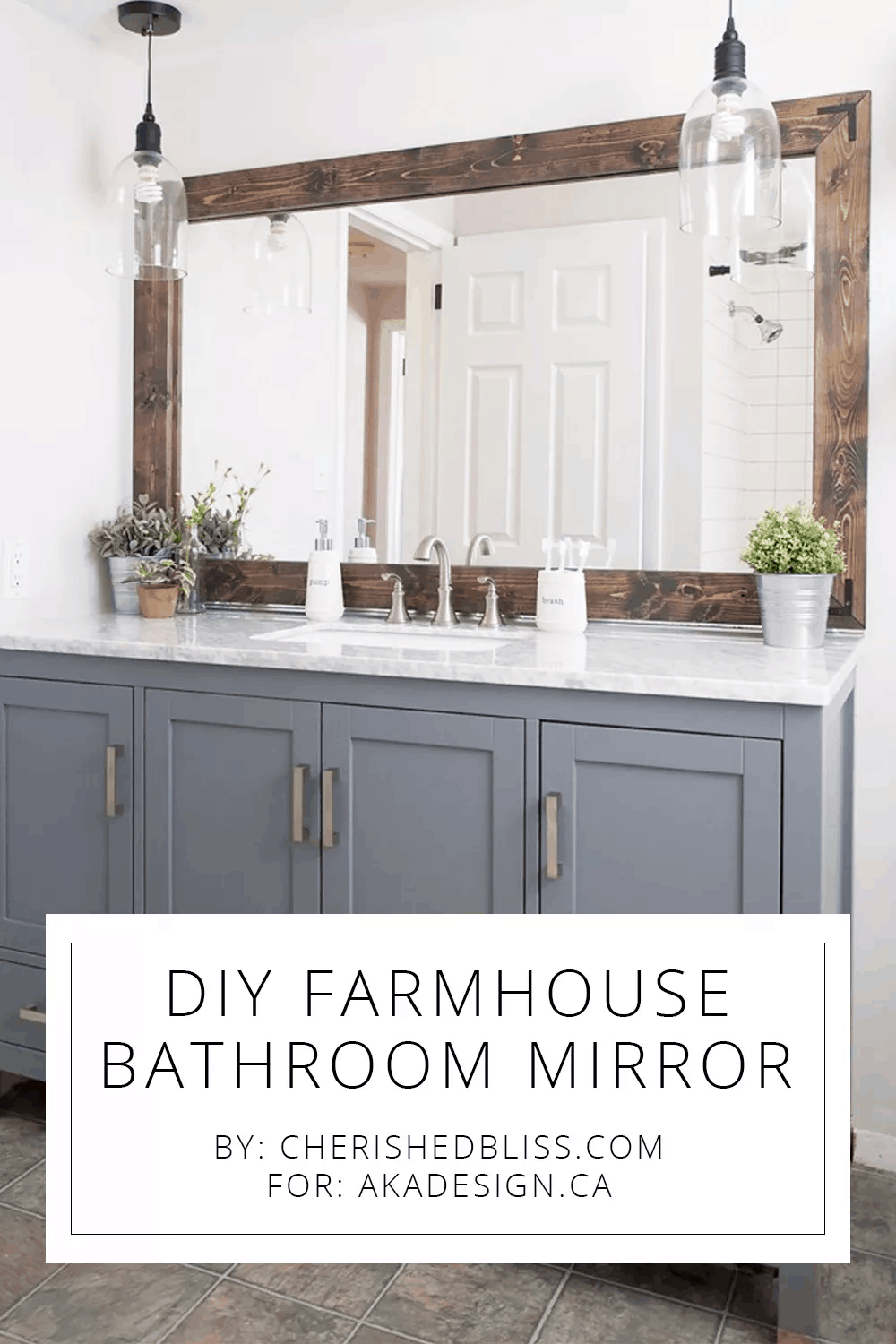 Home Made Lovely
11. Create a Beautiful Rustic Wood Backdrop (Creates a Feel of Seclusion)
This is one of those bathroom projects that really make you go: wow! Who would have thought a wood backdrop could make such a difference in a bathroom? It really takes the space from ordinary to extraordinary, and the result is both luxurious and cozy (a high-end vacation cabin kind of feel). Wow!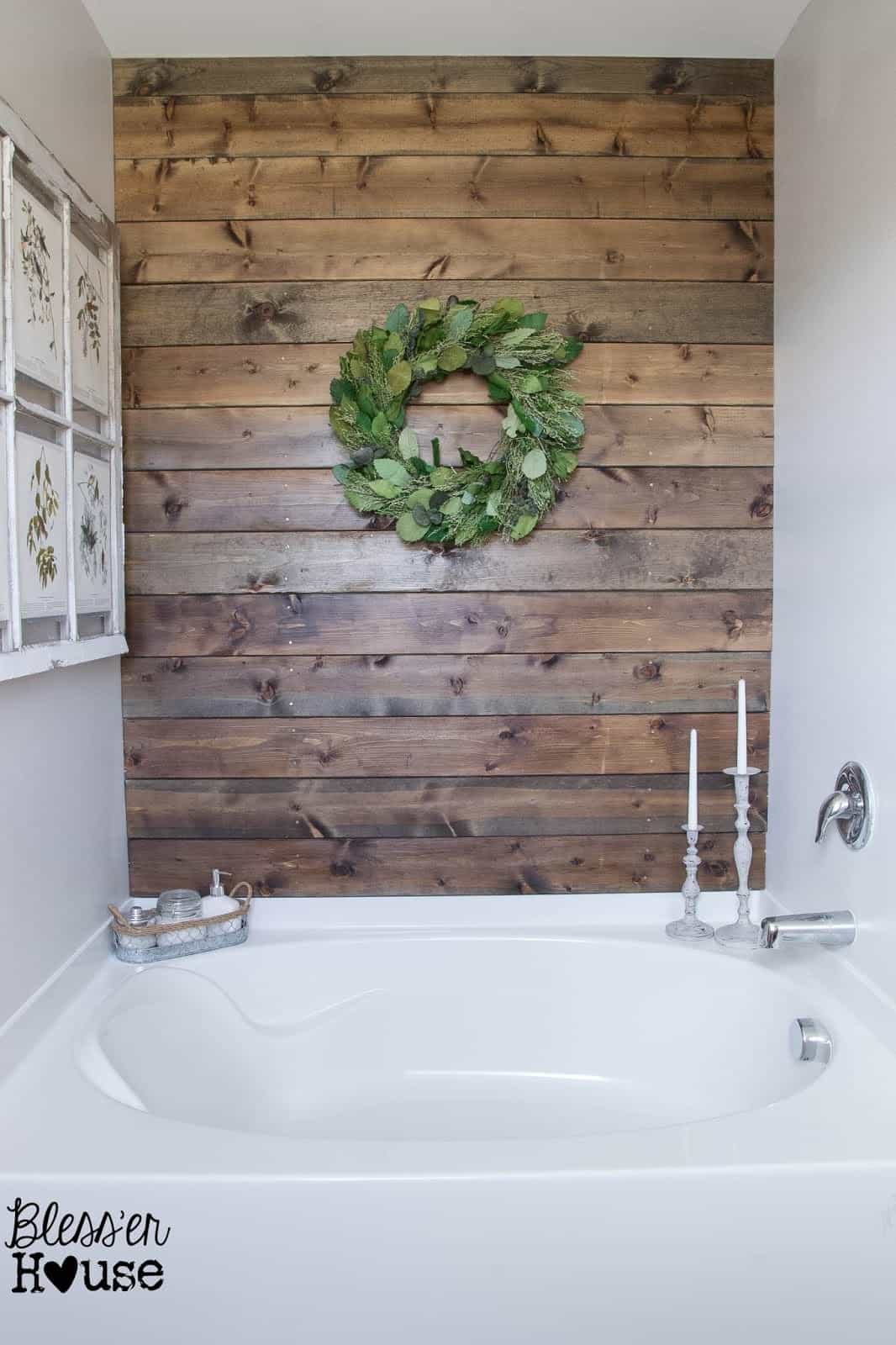 Bless ER House
12. Add a Rustic Storage Ladder (Can Be Quite Useful)
This is a super clever use for a rustic storage ladder: towel racks (and more). A ladder can lend a lot of personality to a room, and can perfectly complement a natural or rustic look!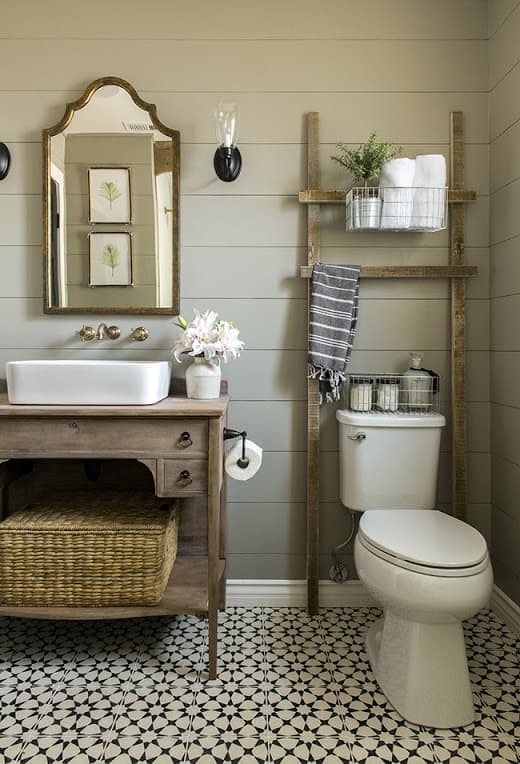 Jenna Sue Design
13. Install a Handy Little Toilet Paper Roll Shelf
If you'd like a spot to keep some potpourri or scent spray, you can install a handy little toilet paper roll shelf.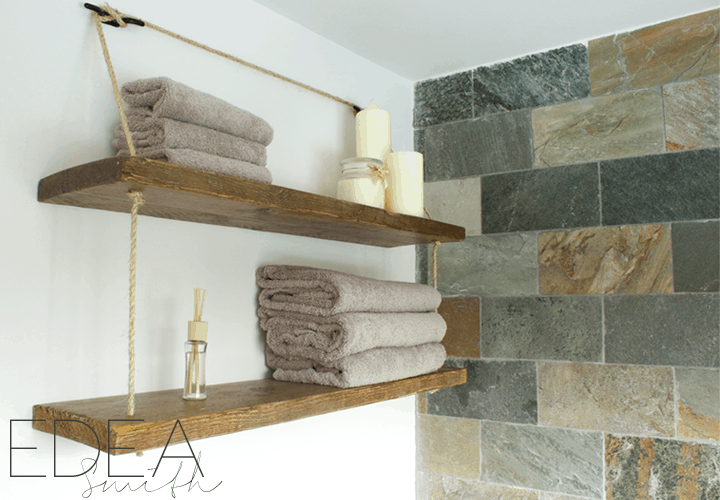 Edea Smith
14. Make a Cute Soap Pump out of a Mason Jar
This is just one of the hundreds of fun uses for an old mason jar. Turn it into a soap pump, for a simple and charming look. This goes especially well with country or rustic bathroom decor!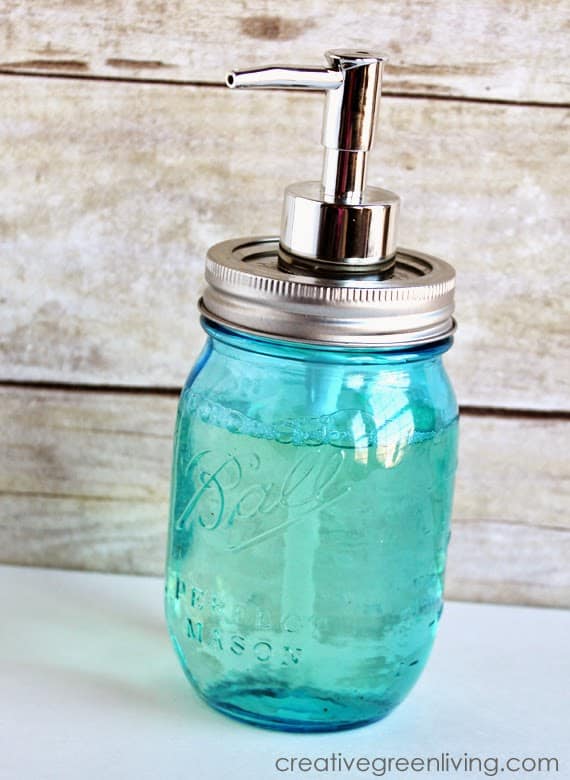 Creative Green Living
15. Macrame Shower Curtain DIY (For a Touch of Elegance)
This is one way to class up your shower: a macrame shower curtain DIY. The result is a unique, truly elegant look!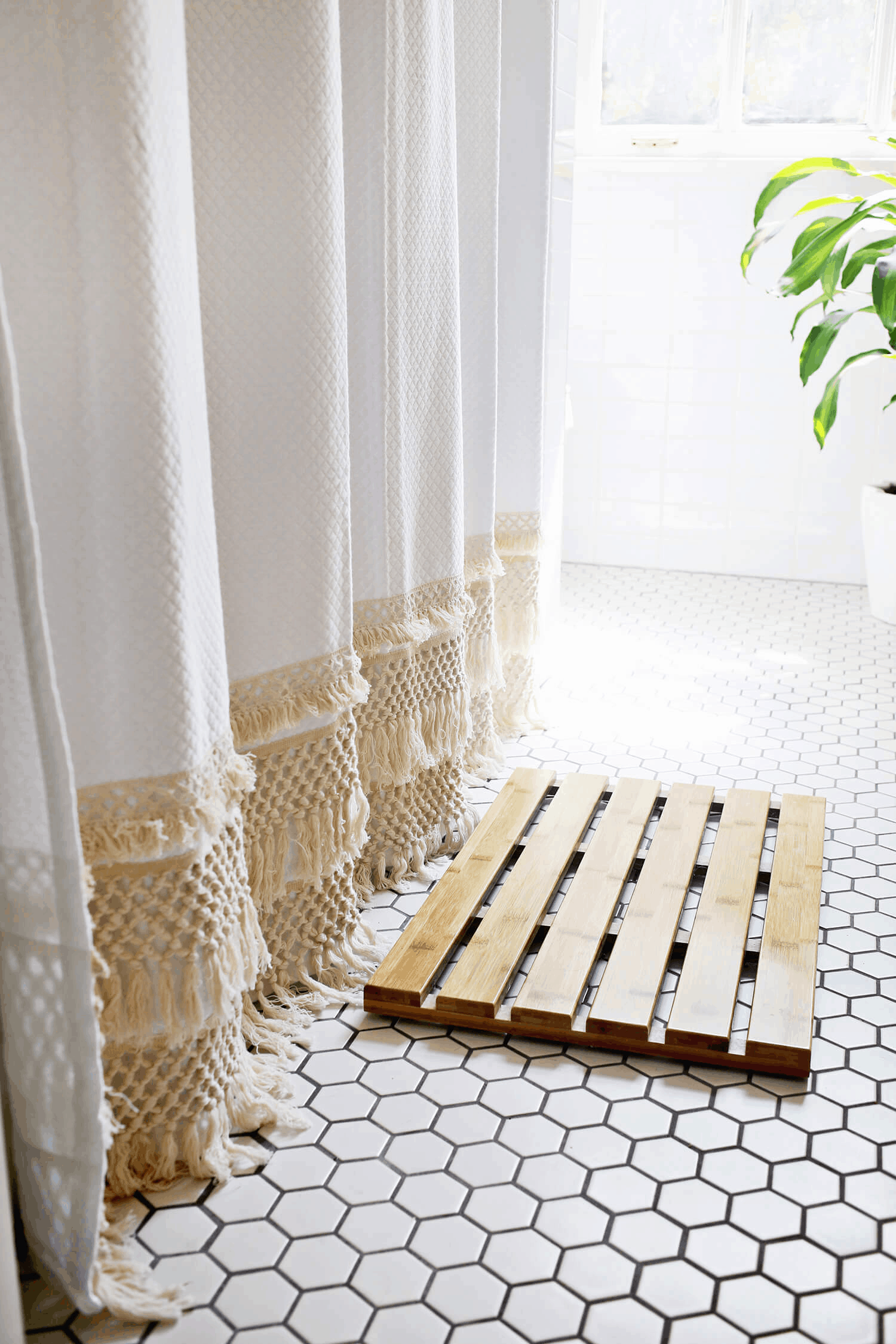 A Beautiful Mess
16. Display Tissues In Style With a Homemade Wood Tissue Box
The designer of this project was sick of gaudy, unflattering colors that are inevitable in a store-bought tissue box. Her solution was this simple, classy homemade wood tissue box!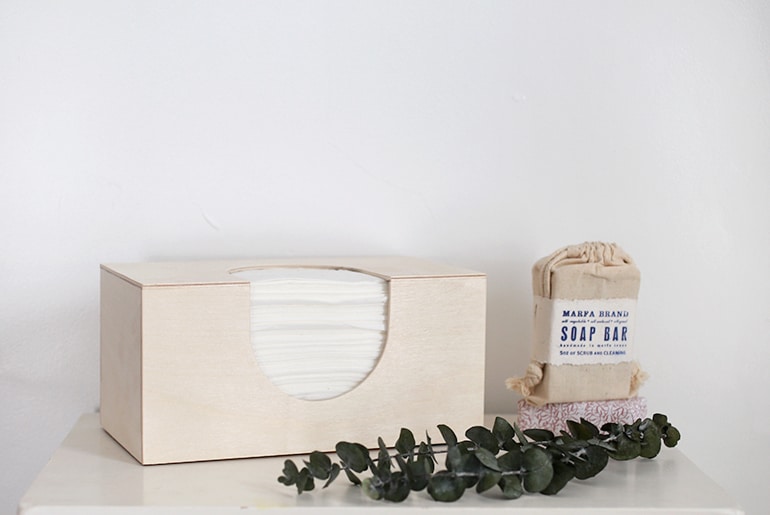 The Merry Thought
17. Add Some Personality To Your Bathroom With a Ruffled Shower Curtain (Super Easy)
Add personality and charm to your bathroom can be as simple and easy as ruffling the shower curtain. This can imbue the space with an entirely new, luxurious look!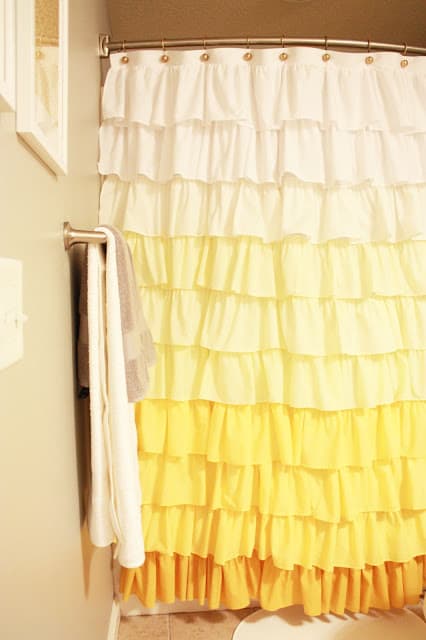 Elle Apparel
18. Make Your Own Sauna Bath Mat Out of Cedar
One of the nicest parts of a sauna is the comfortable, luxurious wooden floor. Class up your shower by making your own bathroom bath mat out of cedar. This will give you a similar feel and look!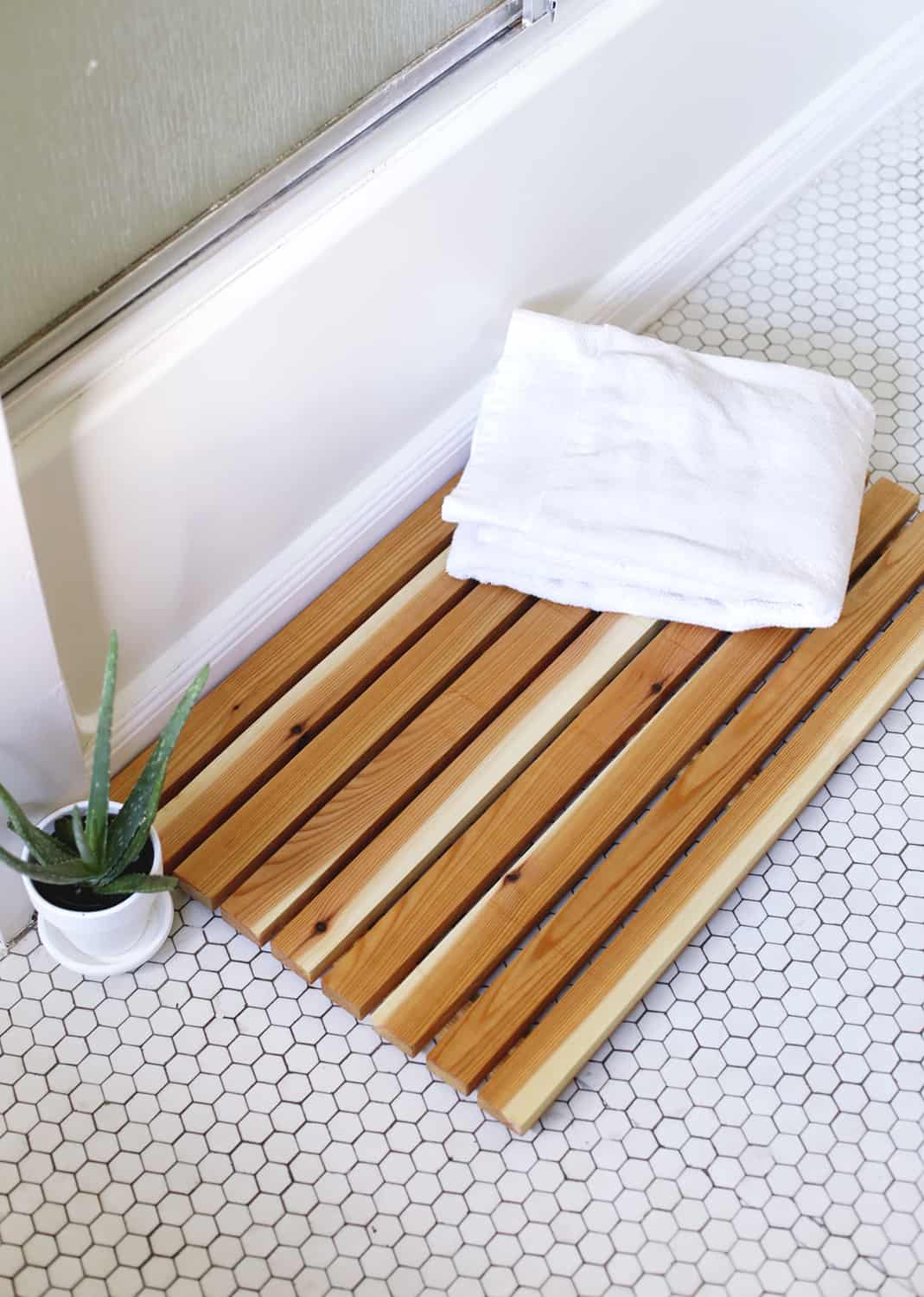 The Merry Thought
19. Turn a Vintage Window into a Towel Rack
If you visit second-hand or antique shops, you may spot a vintage window. This can be repurposed into a unique, truly statement-worthy towel rack!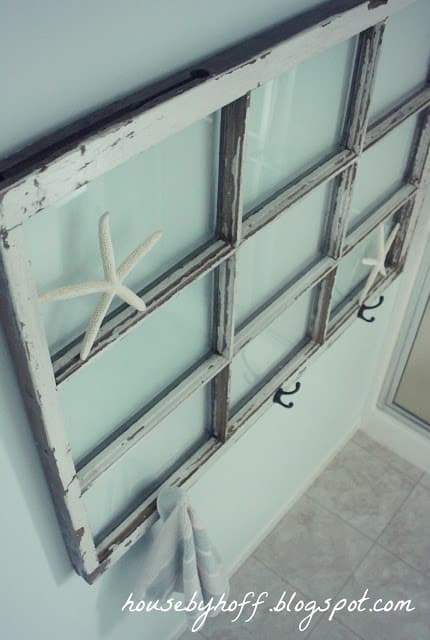 House By Hoff
20. Add Charm to Your Bathroom with Mason Jar Lights DIY
Replace your standard light fixtures with mason jars with this charming DIY.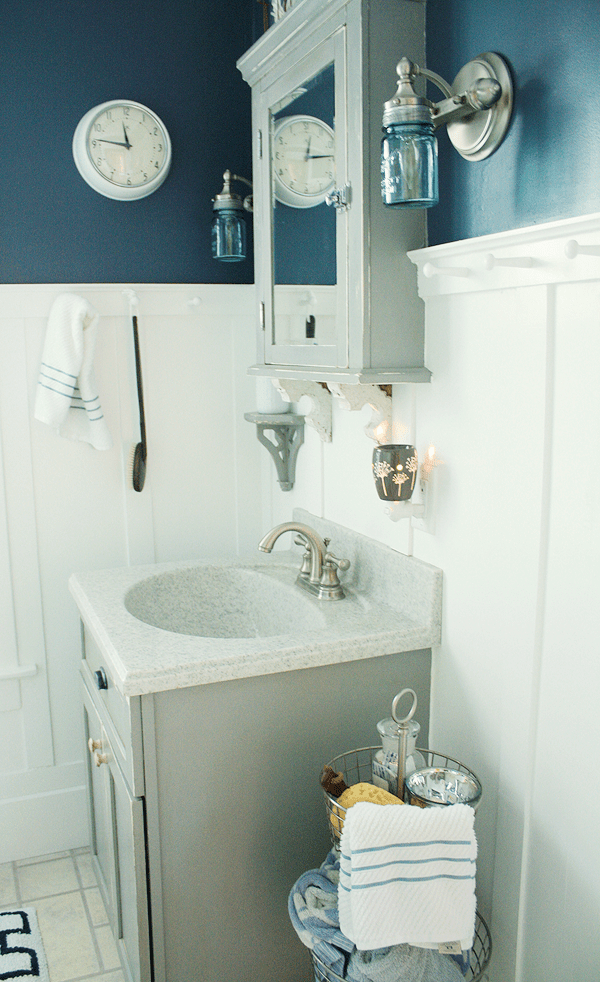 Robb Restyle
21. Make Your Own Natural Pebble Bath Mat (Smooth to the Touch and Therapeutic)
Water and pebbles are often put together, as the effect is quite beautiful. With this project, you can create a natural work of art with just some pebbles and a bath mat (and a couple of other supplies, like glue).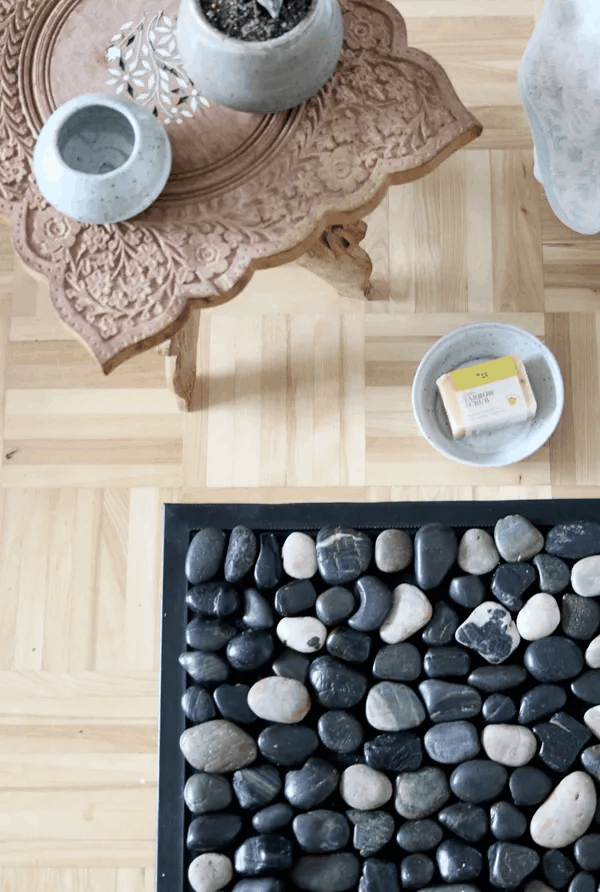 Curbly
22. Customize the Scent of Your Bathroom with Homemade Potpourri
To best beautify a space, you want to include all 5 senses: in this case, smell. You can control odor in your bathroom and customize its scent with this DIY homemade potpourri!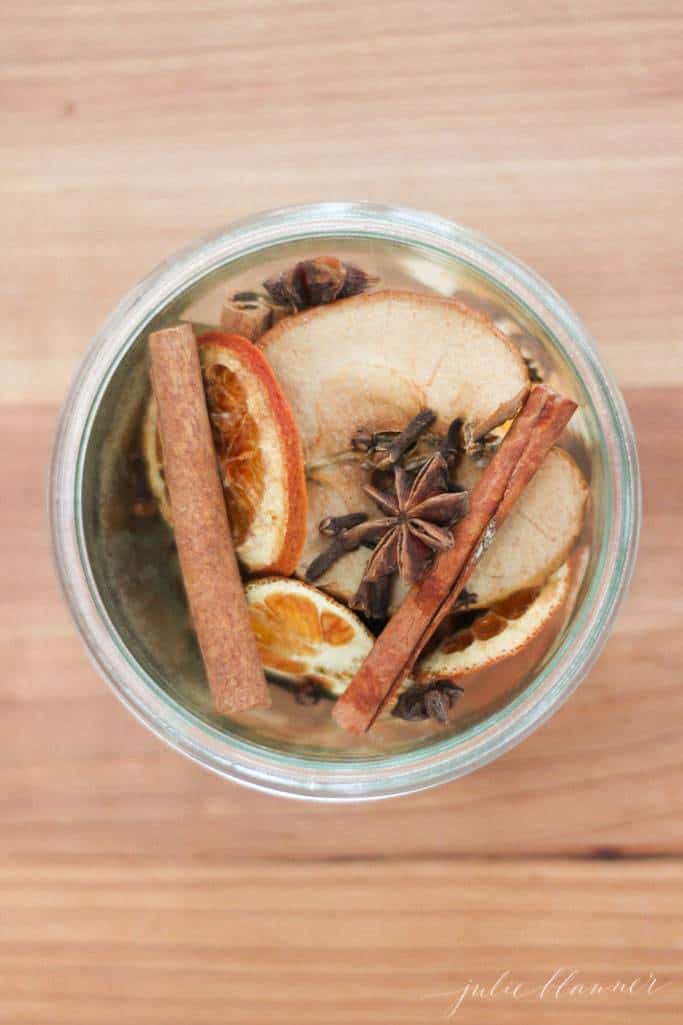 Julie Blanner
23. Repurpose Mason Jars for a Unique Makeup Organizer
If you're looking for a makeup organizer, consider repurposing some old mason jars. This can be placed on the countertop, or, better yet, mounted on a shelf. When it comes to keeping track of your makeup, this stylish DIY idea will do the trick!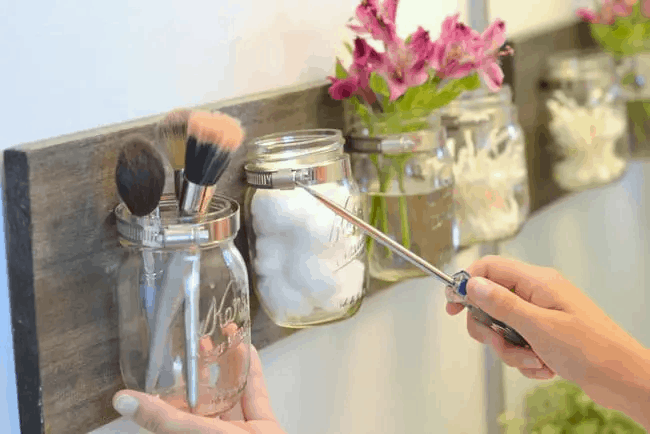 The Diy Play Book
24. Add Natural Beauty to Your Bathroom with a Homemade Moss Bath Mat
This is arguably one of the most beautiful bathroom projects out there: a real homemade bath mat. With just a few supplies and some segments of real moss, you can have a bath mat that's softer and lovelier than ever!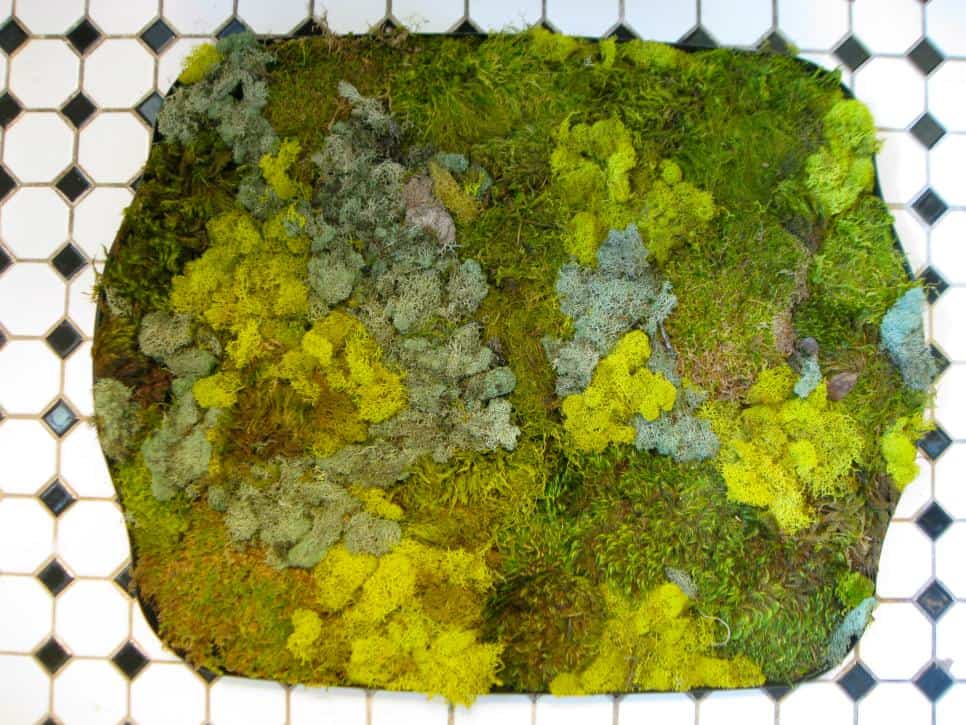 Source
25. Create Your Own Refreshing Wall Art (Simple Art Anyone Can Make)
This bubbly, energetic-looking art can be made by practically anyone; look closely, and you'll see it's made up of paint circles. It's a simple design that can have a striking effect, and fill your bathing space with a bit of cheer!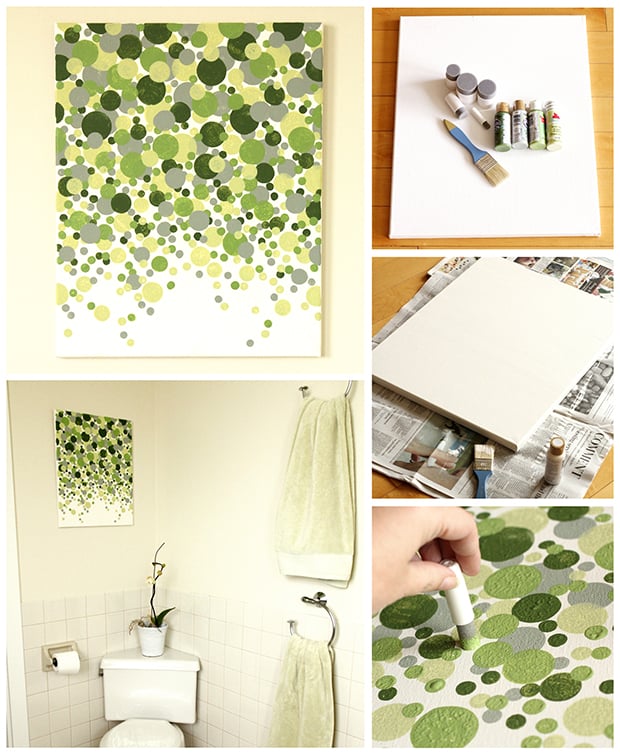 Dabbles & Babbles
26. Custom Embroider the Shower Curtain (This is a Fun One)
Like us, you may have noticed that there's not exactly a surplus of unique shower curtains out there. This is really unfortunate because a shower curtain is such a great way to make a statement. Luckily, with this shower curtain embroidery idea, you can spruce any curtain up yourself.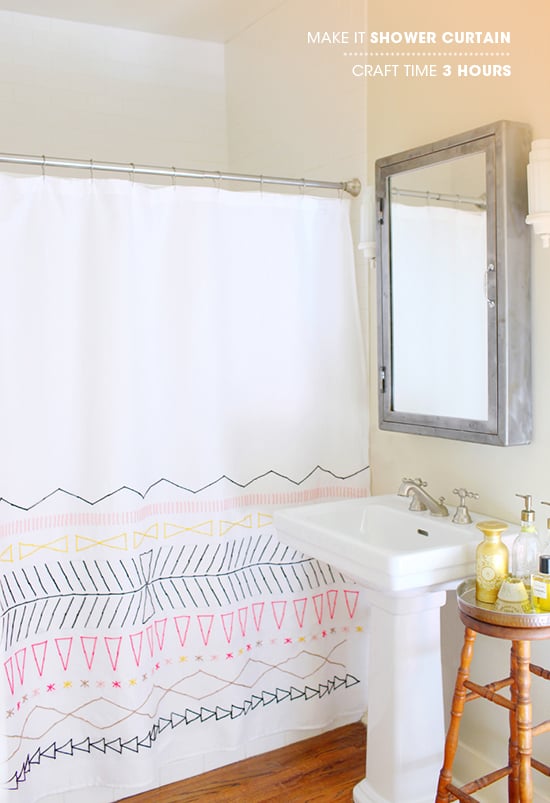 Design Love Fest
27. Pattern a Bath Mat Yourself
For this DIY, all that you need is a cheap bath mat, the stencil of your choice, and material-safe, water-proof paint. This is an easy way to make a bath mat that perfectly matches your decor! (The cat will have to be gotten separately).

Shelterness
28. The Best DIY Bathroom Pocket Organizer
Tired of your cleaning supplies and other bathroom essentials falling all over each other? We bring you the best DIY bathroom pocket organizer!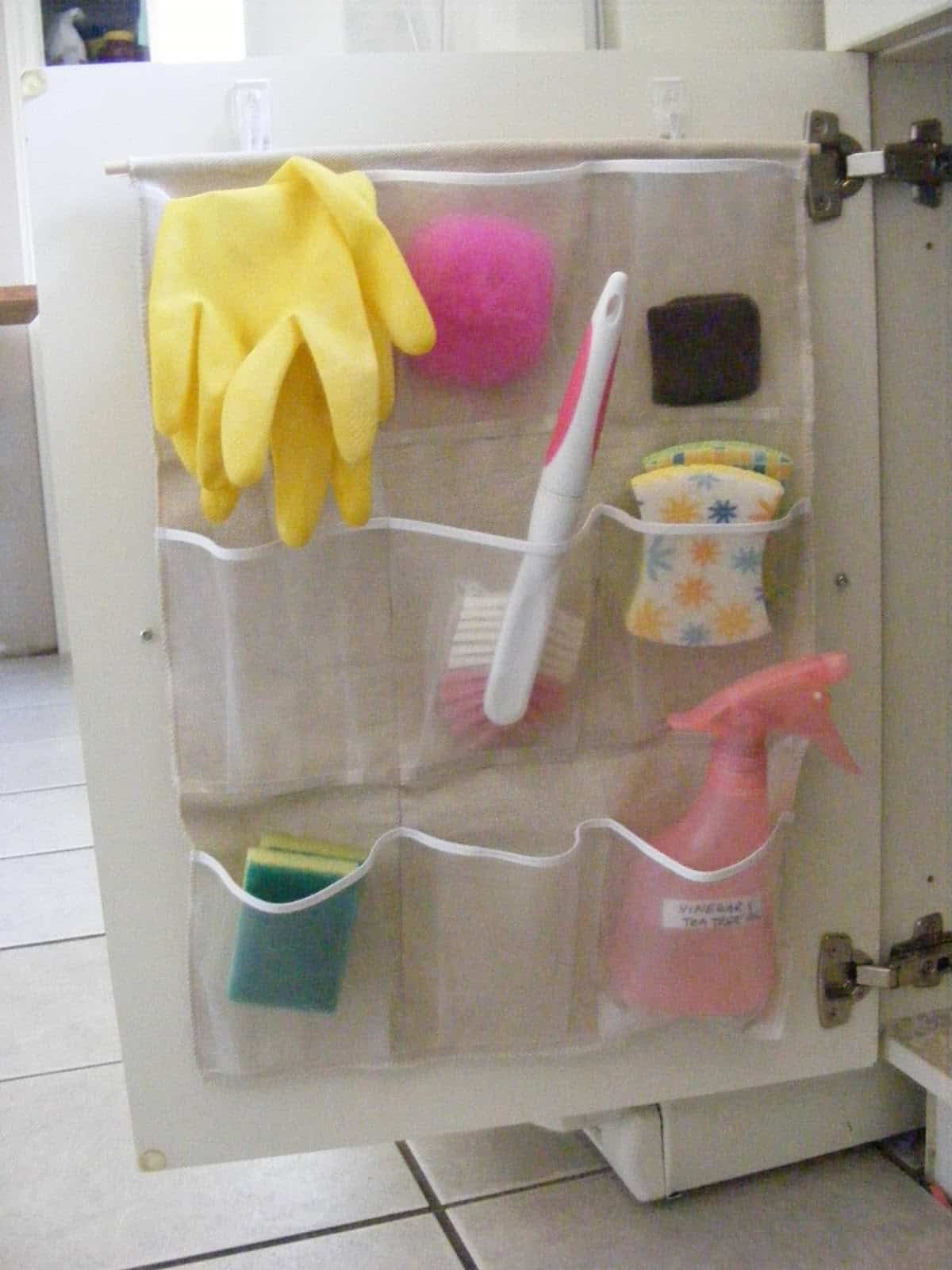 Imperfect Home Making
29. Repurpose Mason Jars for Bathroom Storage for a Quaint Look
Mason jars can be used to create all kinds of decor. These bathroom storage holders have a particularly quaint, aesthetically appealing look!

Mason Jar Crafts Love
30. Magnetic Strip Bathroom Organizer 2 Minute DIY
You've probably never heard of this ingenious magnetic strip bathroom organizer. Check out this 2 minute-only DIY!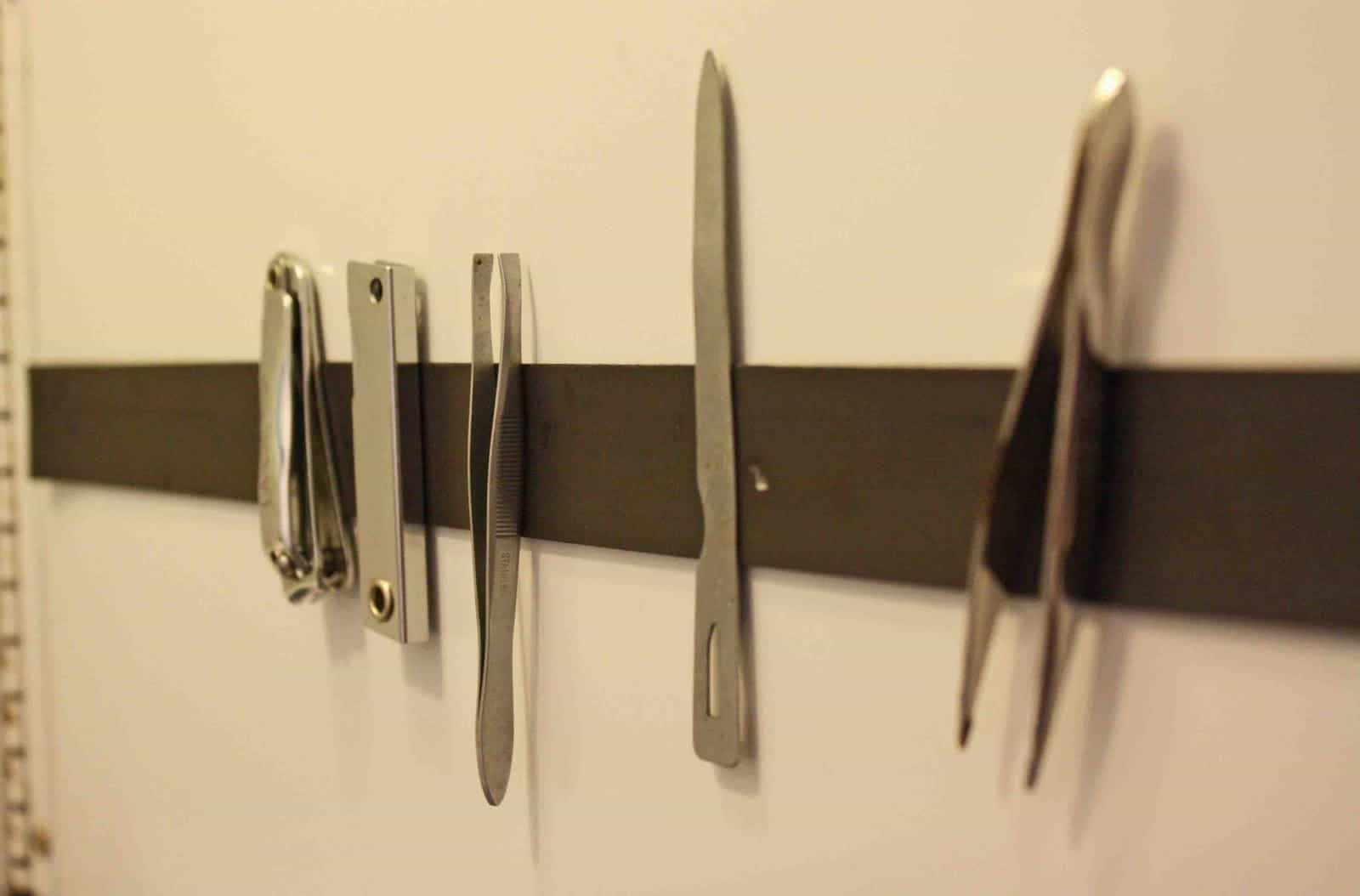 Super Woman
31. Turn Storage Crates into Super Decorative Bathroom Shelves DIY
Storage crates can be repurposed into garden planters, storage side tables, and yes, even super decorative bathroom shelves. Take a look!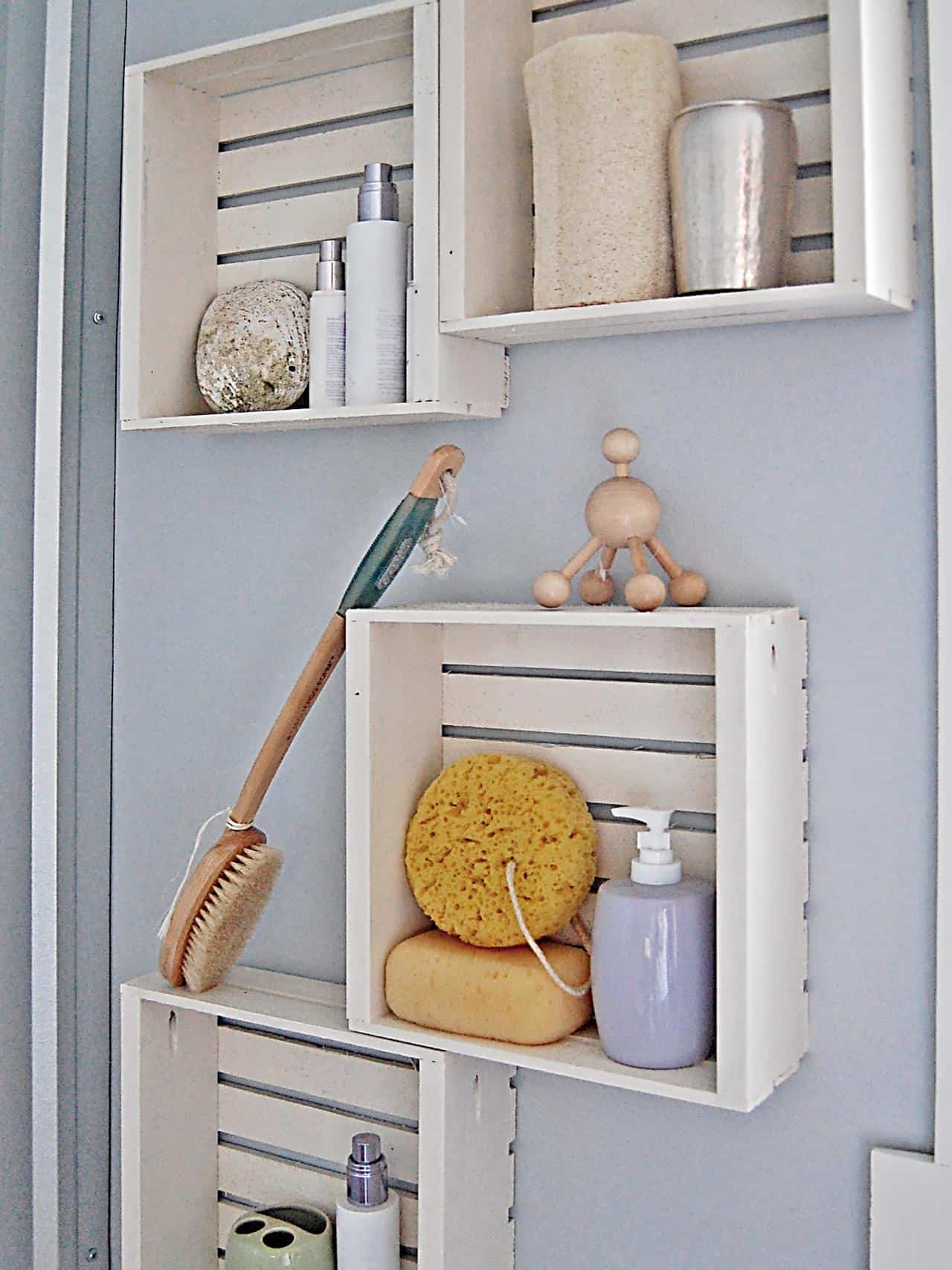 HGTV
So, what do you think of this list we put together? Does anything catch your eye? I'm going to make a pebble bath mat and moss bath mat ASAP, because who doesn't want a forest in their shower? If you liked this list, feel free to comment or share, below!