When it comes to getting work done, nothing matters more than having the right space to do it. Having a study room that speaks to your thoughts and gets your cogs turning is great for helping you work better, faster, and stronger. So, whether you're off at college, a corporate raider, or in your first apartment, here's our list of Smart Study Room Ideas to get you thinking and doing!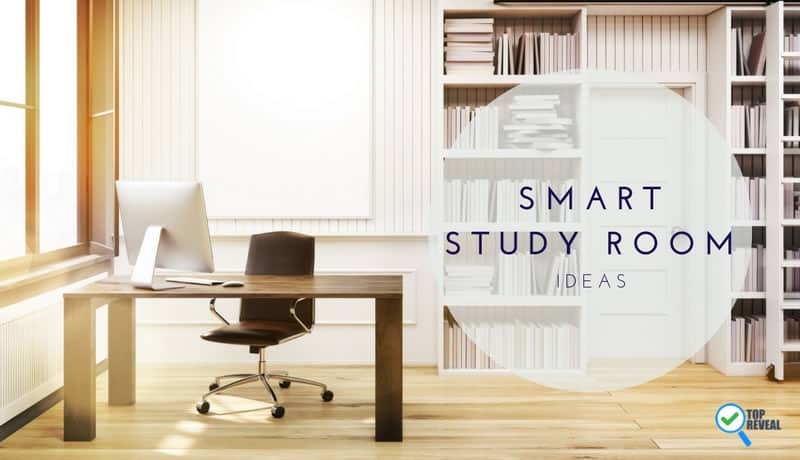 Smart Study Room Ideas
1. The Explorer (of the Mind)
Does thinking about all of the possibilities in the world spark your creative mind? Perfect because one of our study room ideas uses a map (or maps, if you prefer more) to get you pondering everywhere that life could take you – if you focus up and complete your current studies.
Shared via Decor Pad
2. The Bright Office for the Bright Mind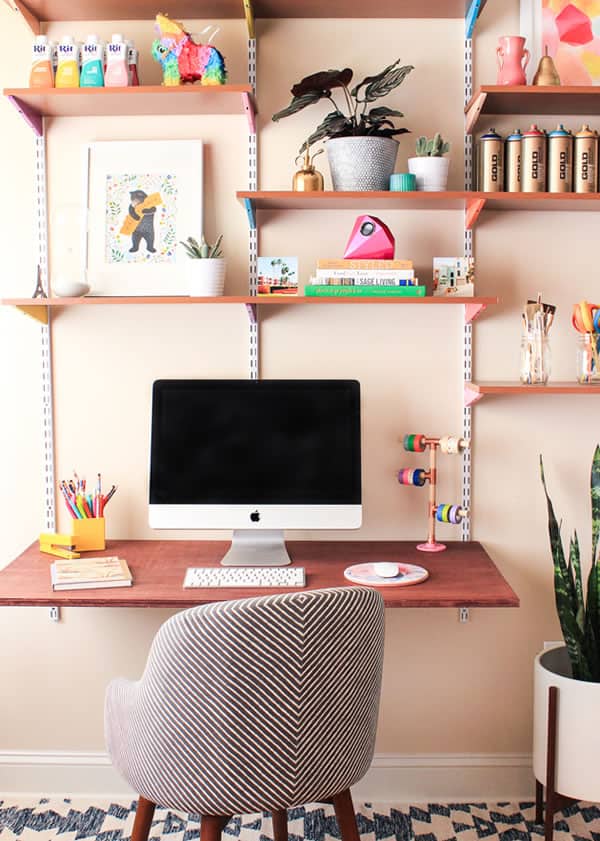 Liven up your study room through the use of bright accents, paint, and decorations like the one in the space pictured above. Perhaps you find radiant colors sharpen up your senses to keep you focused on the task at hand.
To take on this style, we suggest a darker colored desktop to make sure that your brighter objects pop!
Shared The Crafted Life
3. The Window (to the Mind)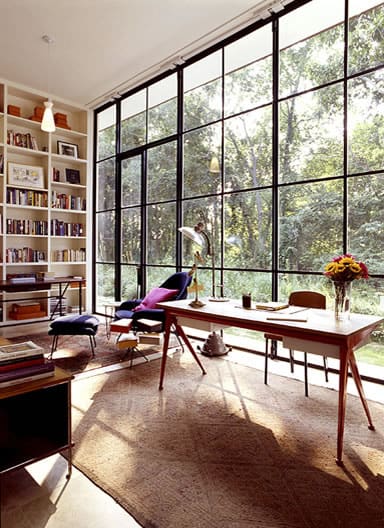 Nothing like a nice, big window for natural light to get you stewing on your studies. You could choose to face the window for a relaxing view or put your back to it, like in this study, to enjoy the natural light warming your entire room.
Reference from Michael Haver Land.
4. The Organizer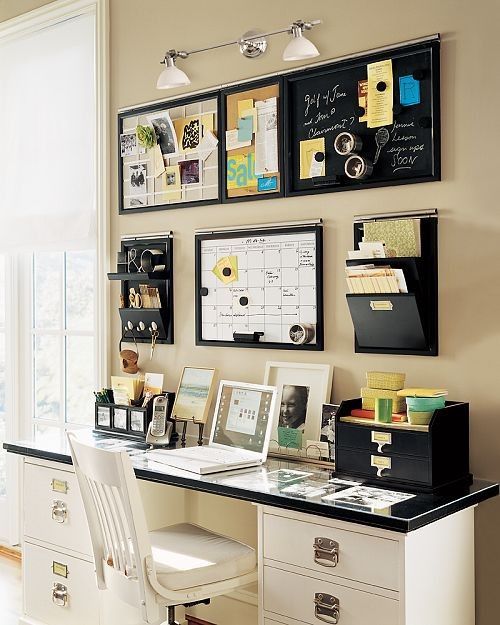 Keep all your thoughts in line with this design's multiple files, drawers, boards, and a calendar. If you work better in a busy environment, a deskspace like this could sharpen you up while giving you places to stash away your items. Best of all, you can stay on top of everything with a calendar!
Via Momfabulous
5. The Artful Office
Who doesn't love a pretty picture every time they look up? Art of a style of your choosing can be placed up on your study room's walls to keep you inspired every time you glance upwards away from your projects. Creativity is never further away than a tilt of the head – as long as you aren't the easily distracted sort!
Posted via Domino.com
6. The Straightforward Thinker
Some of us are the distracted type – but that's okay! Use natural colors with white and black contrasts on simple furniture with no designs to create a space that breeds focus. No need for any extra frills here, right? Your study room is a place to come to and get things done.
7. The Space for Industriousness
Nothing like an industrial inspired study room to inspire your own industry, right? A desk and shelving that features prominent metal features along with other metal furniture can give you a barebones study room that keeps your mind as sharp as the razor's edge. It's great to cool off with a study room fan this summer.
This essentials-only feel can also keep you from distractions that other styles might let into your space.
Via Modernize.
8. The Bookworm's Haven
Surround yourself with knowledge with books, books, and more books! A large bookcase or other shelving styles can be used to cover up entire walls or mounted in front of your desk to remind you of the wealth of knowledge the world has to offer you as long as you are in your study room. Low light can be used to create that library feel.
Shared ameblo.jp
9. The Sailor's Study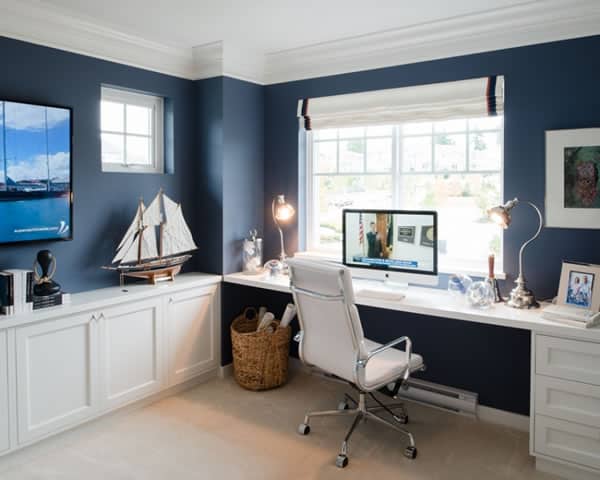 For a themed study with some character, you may enjoy a nautical style. Use plenty of white, dark blue (perhaps navy), and silver to create the perfect aesthetic to navigate your mind's ocean. Some seaworthy art or other decorations can further accent your maritime flair.
Via Polyhomes
10. The Homey Office
Shared from bhg.com
A heavy use of weathered wood and metal accents can give your study space a rustic aesthetic that feels comfortable and inviting. What's the use in having a study that doesn't feel comfy, anyway? With the appropriate "barnyard chic" styling, your study room can send your head to a warm meadow with a cool breeze of knowledge.
11. The Corkboard Bureau
Give yourself a space that changes with you by incorporating a corkboard. Post your favorite photos, thoughts, and inspirations on your (physical!) wall to add your always changing personality to your office.
You can even use it to keep organized or give yourself reminders. Style and function are mainstays with this corky idea.
Via Next Luxury
12. The Relaxed Researcher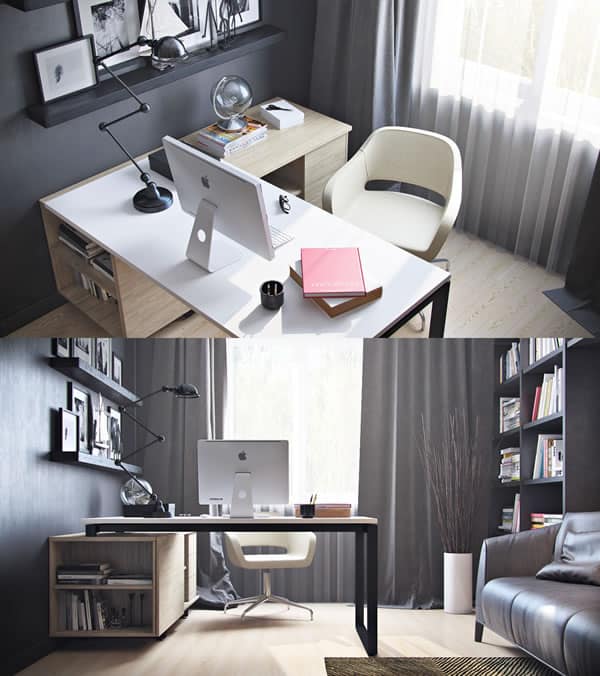 Hey, just a quick reminder that nobody said you can't whistle while you work! Put a couch in your study room so that you can relax your mind for a second and rest up for another bout of work. Or, if you prefer, you can take a load off while you strive for excellence.
Shared from Home Designing.
13. The Entrepreneur
A large, heavy desk with wardrobes of shelves around the room is a caricature of the office space and personal study – but for good reason. For some, the professional feel of sitting behind such a desk can be enough to put them in the mood for getting down to business and getting done what needs to get done.
Via Houzz
Which will you choose?
In our opinion, all of these study room ideas are top notch – but which one do you think is right for you?  We know just how important it can be to create an atmosphere conducive to your studies and love to think that this list will help you create your own. Hopefully, we've given you some inspiration to start up on your study room space with ideas that matter. Tell us what you loved in the comments and don't forget