The kitchen is usually seen as the most important room in a home, considering this is usually where individuals spend most of their time, eating and cooking. For this reason, the living room can sometimes get neglected. You may agree that the living room is just as important in a home and it should be decorated in a way that provides people with the comfort levels required. If you think about it, the better this area looks, the more likely you and your family are to spend time here together.
If you ever have a movie night or invite people over to hang around, it is more likely this would happen in the living room so that everyone can sit together. However, if you have not paid much attention to this room in your home recently, you may feel that it needs sprucing up! This article will provide you with six amazing ideas to upgrade your living room decor, which will make it look stunning.
1. Change the Colour Scheme
A great way to upgrade your living room is by completely changing the color scheme. This may come as a surprise to many people, but the colors in a room can make a massive difference. Your room can instantly look brighter or even bigger if you use the appropriate color palette. You do not have to go crazy – choose something that is to your taste. You may opt to go for something bold, however, remember that you may get tired of this after a while. It is recommended you go for something neutral, such as light greys so that you can have more choices when it comes to decoration pieces. You can also use wallpaper instead of paint to have one wall and the center of attention while the rest remains fairly basic.
2. Upgrade The Seating Area
The living room should be a comfortable area where people can be together, even if it is just to watch a movie with loved ones. To achieve this, you will need to have a cozy seating area, therefore you could consider getting new sofas. You have many options available in the market and you will surely find something that matches your needs. You can go for shabby chic loveseats that are perfect for a movie night in with your other half. If you have a big family or expect to have many guests at one time, you can invest in bigger sofas with more seats. You will also have plenty of colors that can match any decor you choose to have in the room.
3. Decorate With Plants
Having plants around the home makes it look instantly fresher and gives it the natural feeling that will brighten any room. If you want to spruce up the living room, this is certainly a tip to go for. You can choose a range of different plants, as they come in different colors and types. Evidently, just make sure that you are committed to looking after them as plants require appropriate care to remain alive. If you think this is not something you can keep up with, maybe opt for fake plants as they will still create a similar vibe.
4. Add Textiles and Fabrics
Any living room requires a good amount of pillows, curtains, and a nice rug to complement the decor. These may seem fairly basic items but you would be surprised at how naked and empty a room can feel without these. Even if you have a plain decoration system going on, these can have a great effect on how the living room looks and feels.
5. Create a Gallery Wall
If you do not want an extravagant living room overall but want to create a 'wow effect', you can have one wall that is the main focus of the entire room and steals away all the attention. There are different ways you can accomplish this – you can frame a number of pictures of you and your family and the best memories you have with loved ones and have them on the wall if you want your personal moments and memories displayed. On the other hand, if you are into art, you can purchase a few paintings from your favorite artists and have them displayed on this wall.
6. Upcycle The Furniture or Rearrange it
The furniture is a big part of any room which is why changing the furniture is a sure way to upgrade your living room. Buying brand new items and getting rid of the old stuff can be done if you have the budget for it. However, you can also upcycle what you already have simply by painting it in a different color or rearranging the room with the exact same items. The latter will not cost you a thing and it will still make a massive difference.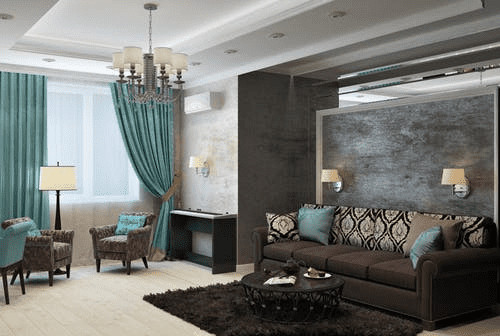 The living room deserves as much love as any other room in the home. If you want to change the look of this area, make sure to follow the ideas discussed on this page, which will help you upgrade your living room decor, increase the comfort levels for you and your loved ones and add the wow factor should any guests come over.