Rounds, rectangle, or square? What shape should I choose for my dining room table? Well, this is a question that bothers more people than you think. Because how does one know which is the right type of dining table for them?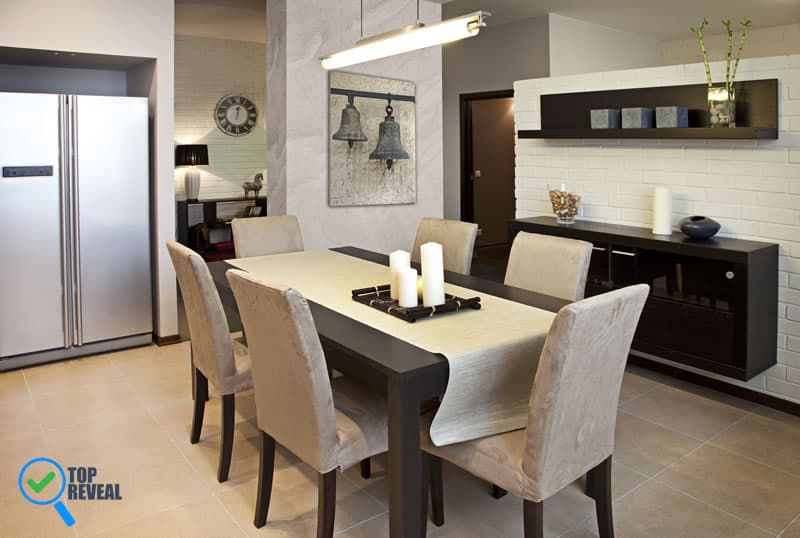 There's more to it than your personal preferences. Not that your taste for one design over another is unnecessary! I mean, that is important; imagine being stuck with furniture that you loathe each time you see!! 
The size of your dining room and the number of people required to be seated are the two factors that decide the shape of your dining table. You'll notice that different forms are better suited to particular situations. When you combine the two, you create a flow that improves the appearance and functionality of your area.
Dining tables are one item of furniture that works like a chameleon by doing it all. Be it allowing you to eat, or work from home, or socialize with friends and family, engage in family activities or even have a romantic candle-light dinner date. It suffices to say that choosing the right dining table for your house pays off because they are investments. 
We've prepared our own dining table shape guide to help you decide which one is right for you.
Rectangular Shaped Table 
You have probably seen this in every other household because rectangle-shaped dining tables are one of the most common. Many love it because it's the ideal option for sitting groups of people. The long, thin shape fits itself to sizeable gatherings of friends or family, with the hosts positioned at opposite ends. 
Ideally, a rectangular table should be 36 to 42 inches broad at its widest point. Smaller rectangles too work well. But you can always keep a trolly or buffet table for the food items so that the dining area doesn't get too crowded. A rectangular dining table is basic, and the linear design fits well into most spaces and allows for effortless movement around the table.
Square Shaped Table 
Suppose you have a quaint little apartment or a small space where large rectangular dining cannot fit. It is best to go for Square shaped dining tables because we can tuck them neatly into the corner of the room. In addition, square dining tables are ideal for compact houses where the table serves many purposes like a reading nook, a work desk, and more. A square table is a simple choice if you have a small family of only two or four individuals.
A square dining table looks best in a square space. If you special events like birthdays or other events where you have guests over, you can always keep a square table handy.  You may join these two square tables to form a bigger rectangle seating arrangement whenever needed. 
Dining tables can feel cold if they are huge. Square tables have the advantage of providing closeness and a pleasant option for sitting a small group of people. 
Round Dining Tables
There is something wonderful about round tables. They look luxurious and are among the unique dining tables of all the other shapes. A round table can fit a room of any size and shape, so if you are confused with options, find an easy way out by choosing a round table. 
The round table isn't best suited for holding large gatherings. Instead, consider purchasing a round table with an extension leaf if you prefer a round table over a rectangular one. This will also help if you regularly need to accommodate a bigger number of guests from time to time.
But round tables are a superb choice for small intimate gatherings as the atmosphere it creates is very casual and cosy. This specific design uses the space efficiently and can accommodate the maximum number of visitors.
Conclusion
Always remember first to measure the dining area before you go about selecting tables. What good will a dining table be if it doesn't even fit the place! To avoid yourself to get into this morbid situation, do the measurements earlier. Then, follow the guide, and you can find a dining table that will serve you well.