Living rooms are the most frequented room in the house. You use it for family gatherings, parties, sports games, and just relaxing. With such versatile functionality and exposure to family and friends, you need a space that is both stylish and functional. And making that happen is easier than you think with our list of stylish living room ideas that anyone can do!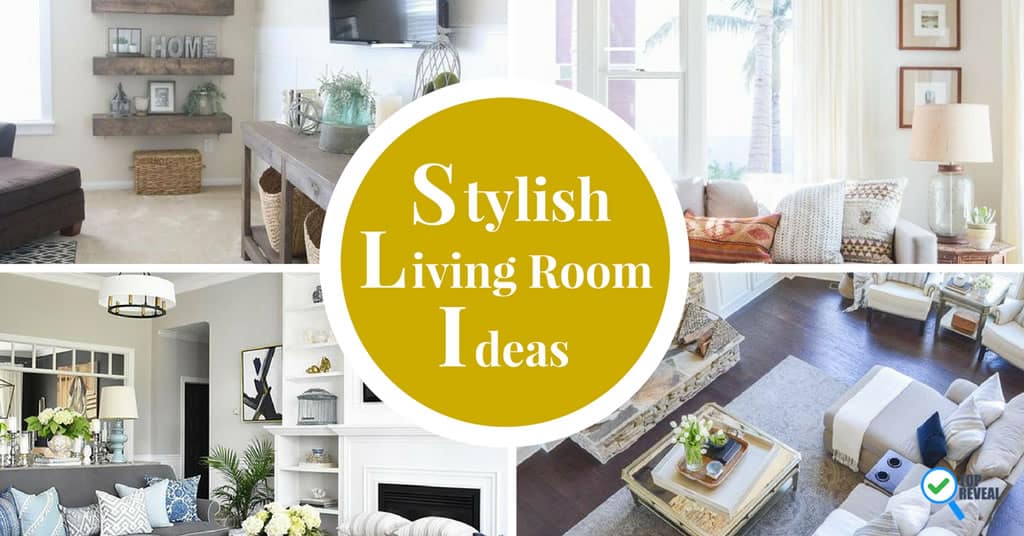 Stylish Living Room Ideas: See Which One Fits You
Gray is the New Black-Pair it with Anything
If you prefer a low key vibe for your living space, then some cool grays are the way to go. This color palette is a great example of how to create a neutral environment that isn't a boring nude. This style of room is perfect for those of you who prefer simplicity. See other ideas on Reusero.com.
Color Schemes- The "Make it or Break it" of Homes
Pops of color in an otherwise cool color scheme have become all the rage these days. By looking at this picture, you can see why. The deep turquoise really catches your eye, as does the scattered patterns throughout.
For that regal look, this living room is what you want. See more Color ideas here.
White Rustic Chic-You Can't go Wrong
White has become every homeowner's dream hue lately and with this great look, it's easy to see why. It complements everything, especially that wood feature.
If you like the rustic look, consider accompanying it with lots of white, or other light colors to make the focal points really stand out. More Design Ideas are here.
Vintage is In-Was it Ever Really Out?
The vintage style is not for the faint of heart, but if pulled off correctly, can make an amazing looking space. Mixing the new with the old is difficult to do, but as you can see, it's never a bad idea.
Black and White-Always a Classic
Contrast is the key when it comes to bringing a style together, whether it's what you're wearing or what your living room looks like.
If you're feeling particularly bold, you can choose to go to opposite ends of the spectrums with black and white. What's nice is that you can't go wrong!
Simple Vintage-Old Fashioned Minimalists Rejoice
For those of you who miss the 70's, now you can bring them back! In your home at least. The spare decor shown here is perfect for the minimalist in you. This just goes to show that a little goes a long way with design.
Light Colors- Lighten the Whole Room
Everyone likes some natural light in the living room, but it's not always attainable. If this is something your house struggles with, consider lightening up the decor instead. Cream is a great color choice for this, as it brightens the space, but isn't as glaring as white. It also matches with a lot of colors as well, like this slate you see on the walls. See this on myshopify.com
Optical Illusions-Just Takes a Touch of Ingenuity
You can't change the size of your living room, but with the right decor, you can make it appear either bigger or smaller. If you have a small space to work with, contemplate going with a white, or very light color scheme.
This will make the room feel airier. Also, controlling the amount of clutter goes a long way. More on decoholic.org
Coziness and Cushions-The Best Combo
When you think of the word cozy, you might think of some small space with warm, inviting colors. But that's not always the case. What makes this living room look cozy-despite the cool tones- are the low lights in the lamps and the abundance of cushions and pillows. Having all that cushion makes the room itself feel softer.
A Feast for the Eyes-Dare to be Different
For every all white living room, there is one filled with color and patterns. If you lean a little more towards eye-catching decor, then this is a good example of the possibilities that are out there. Don't be afraid to choose a bold color, or a couch with a fun pattern on it. It's your living room, decorate it how you want. Refer to Homeastern.com
Modern Masculinity-Girls Can Like it Too
The simple decor and the sharp, clean lines make me feel like this could be the home of an organized bachelor. If you disagree, then that's okay; this room is elegantly done, and the colors complement themselves very well.
My favorite part is the rock wall, which adds a unique detail which is subtle and yet stands out at the same time.
Decorate your Living-room with some cooling fans and other appliances – to make it completed.
See more on southern living.com
Modern to the Max-Living in the 22nd Century
Love anything modern? Then this is the living room for you. With zero clutter, and smooth, geometric designs, it doesn't get much more modern than this. From the tiered side table to the inset fireplace, this room is firmly set in the 21st century..From Worthminer.co
Luxurious Tastes-For the Royalty in You
If living in the lap of luxury (or at least pretending you do) is something you've always wanted, then consider adopting this style. Nothing says "Oh la la" quite like leopard print and pink velvet. The gold accents come in to complete the look.
Farmhouse Fantasy-Bring the Outdoors In
This is the perfect example of a tasteful farmhouse feel without going overboard on rustic or antique accents. It has just the right amount, and is modernized by the geometric rug and white walls. Create more space with this appliance.
This little living room is nothing short of adorable. Shared via Instagram.
Bohemian Bliss-Comfort is Just Around the Corner
Do you consider yourself a Bohemian? If so, then you need to take a look at this living room. The varied textures bring about that flower child feeling, but the design is kept classy with the semi modern couch and neutral colors. From decoholic.org
Apartment Living-Small Spaces Can Yield Big Results
A limited capacity is something all new homeowners have to deal with at some time or another. Whether you live in an apartment or a small house, there are still ways to utilize all of the space that you do have. This is a good example of how you can still have a quaint living room even though you're limited. Via theurbaninterior.co
For the Fans of Floral-Or Bright Colors
Floral patterns are making a comeback, and it might be time for you to jump on the bandwagon. Patterns are a fun way to introduce color to any palette. Find the pattern that you love, and then you can easily accentuate it with pops of color taken from your chosen pattern.
As you can see, the bright red goes nicely with the white and gray pieces. Reference from Inmod.
Bringing Retro Back- One Room at a Time
For those of you who are nostalgic for this style, it's officially time to welcome retro back to the scene. Foster your old fashioned soul with this tasteful and one of a kind look. From the sharp wooden lines to the greenery of the plants, this artfully dated living room has it all.More on newdarlings.
See these power tools helping your DIY Living Room projects this Holiday Season.
Eclectic Living-Live to the Beat of Your Own Drum
This style is for the open minded and diversified. By blending lots of colors, textures, patterns, and furniture, you can achieve the eclecticism you crave. With anything, there is a right and a wrong way do this. This living room is a good example of using the contrasting colors of bright yellow and deep blue in many of the pieces. Via dorisleslieblau.com
A Room for the Roamer-Wanderlust Just Got a New Look
Everyone likes to travel, but some of us were born for it. This awesome look encaptures those who travel to live. With the low key natural colors and pieces from all over the world, you can create your own little slice of traveler heaven.
Like I said, your living room is the most important room in the house since that's where the gatherings happen. With this list of various styles, you can impress your friends and family with your amazing interior design knowledge. Please let us know what you think!