Do you ever look around your bedroom and wish it looked like the ones from the magazines? Well, now you can! Don't live in a place that isn't up to your expectations. Turn your tired outdated room into the luxurious master bedroom you've always dreamt about. It's just a renovation away! Here is a list of dreamy master bedroom decorating ideas to get you started.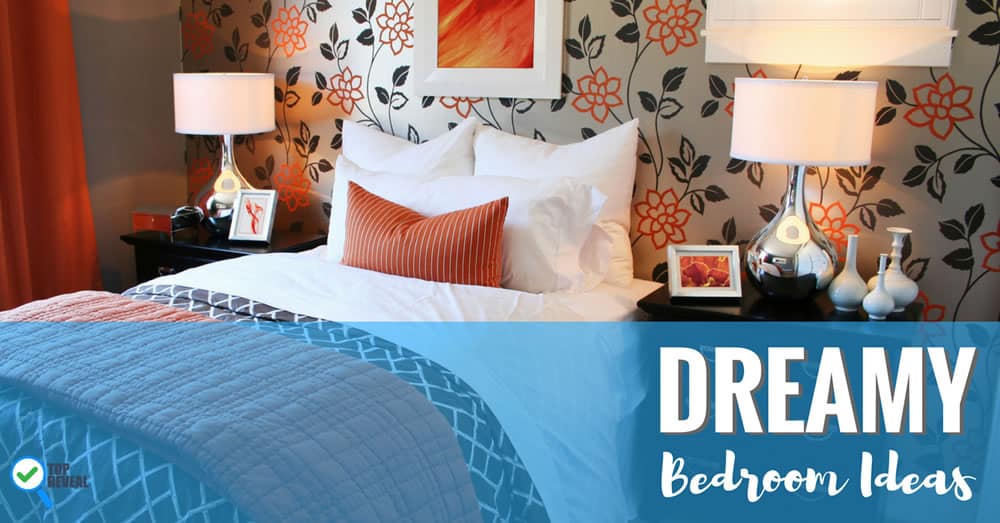 Dreamy Bedroom Decorating Ideas
Rustic-With a Hint of Modern
While rustic is a very in design, not everyone is feeling the "Little House on the Prairie" vibe. But before you knock it, consider decor like this one. Little touches of farmhouse feelings can really make a space feel nice and homey. The white design pieces keep it airy and more modern. Via Besideroom
Beach Blue-There's a Reason it's so Popular
Beach themes can be overdone sometimes, but this one nails it. The blends of white, blue, and cream make this bedroom an elegant space. Yet it still maintains that relaxing feeling of being at the beach. Shared Homevialand.com
Classic Contemporary-You Can't go Wrong
This look is quite easy to pull off as you can use a wide variety of furniture and textures. The sleek lines on the bed frame and pillows contrast nicely with the rough stone wall. Of course, nothing says elegance quite like a dark hardwood floor that has white fluffy rugs.
Accent Colors-Make Your Room Pop
Usually, we think of yellow as too bright of a color, especially when it comes to decorating a house. But as you can see, this decor is balanced perfectly with the yellow, gray and white. Also, it doesn't have to be yellow. With any bright color, you can always neutralize the dramatic color with some softer ones. On Homevialand.
Master Bedroom-Or Living Room?
For those of you with a larger footprint in your bedroom, consider ways that you can make the most of the space you have. The master bedroom should be an oasis, a place you can escape to and relax. Not only do the soothing colors help, but having other furniture makes it feel like a home away from home in your own house!
Retro Lovers Rejoice!- This is the Room for You
If you are a fan of the retro style, then this is the decor for you. From the overly unique bed frame to the gold chandelier above, it's a haven straight out of the 60's.
The Darker the Room-The Cozier it Feels
This chocolate color palette will leave you feeling warm and fuzzy every time you wake up or when you go to bed. Whites and bright colors are nice, but there is something so inviting (not to mention romantic) about a darker color palette.
Just make sure not to contrast too heavily for this look; as you can see, the creams complement the browns. Pinterest
Mid-Century Modern-Keep it Simple
This is one of my favorite themes, and by the look of this stunning bedroom, I think it might become one of yours as well. Things like the gorgeous diamond geometric rug and the wood accents are a must have with pratical home appliance.
Via Pinterest
Like Modern?-Then You'll Love This Room
It doesn't get more modern than 360-degree concrete surfaces does it. What's surprising is that it doesn't feel as cold as you would imagine with all the cool gray. The soft lighting helps, and that's a big part of balancing the look.
On one hand, you have this barren tree in winter as the headboard, yet the soft brown touches in the decor really help bring it all together.
White- and… Moroccan?
This master bedroom has a strange blend of styles but manages to make it work extremely well. All white decorations are very popular, but now you can stand apart from the crown with unique decor features like the ornate headboard and elaborate lanterns hanging from the ceiling. Pinterest
Cozy and Romantic-Does it Get any Better?
If you're looking for a way to set the mood, nothing works better than a dark palette and the perfect lighting. What I love about this room is how the lights are aimed at the wall instead of glaring right down at you. If you lack natural light in your bedroom, this may be the design for you. Pinterest
Colors-Choose Wisely
When it comes to designing and decorating your dream master bedroom, be sure to keep in mind how the colors will affect the mood and feel of the room. For example white will make it airy, gray will make it more somber, brown will make it cozy, and, as you can see, purple will make it more sensual.
Source
Neutrality- Now in White
You can really never go wrong with white. With an all-white master bedroom, you can accomplish the perpetually clean feeling. Not to mention how bright it will. If you have a lot of natural light coming into your bedroom, consider white decor choices to make the most of it. Pinterest
Chic-With Just a Little Rustic
I just love this style. You can have the best of both worlds! You can even do your all-white bedroom, but by adding some rustic touches, you can really make it pop. This is a great example of that. I don't think anyone would disagree that the wood ceiling is a stunning decor decision. Via Besideroom.com
Farmhouse-Welcome to the Ranch
Now, this design might be a little overboard with the farmhouse decor, but in order to get that true blue western feel, you may want to consider incorporating at least some of these ideas. Perhaps you could skip the corrugated metal ceiling, but the antique door headboard is just precious.
It would be great enhancement to have a standing fan or electronic heater to fit your room style.
Shared Besideroom.com
There's Modern- And Then There's Futuristic
If you want to feel like you're living in the next century, then consider some innovative decor pieces. As you've probably guessed, this look is for those of you who can afford it. To achieve the right feel, everything has to be state of the art.
At least it will be easy to choose color and decoration. As long as it's on the grayscale, and you can throw in some asymmetrical lines, you're golden. See more on Pinterest
We highly recommend that you clean your bedroom floor with steam cleaning machine or steam-mop without any chemical.
Get Organized-Go Minimal
I can imagine being a minimalist is hard, but if you have successfully accomplished this feat, then consider designing a bedroom to match your skills. With scarce decoration and storage, you can make room for other important things, like an awesome king-sized bed. Pinterest.
For the Non-Minimalists-Think of the Opportunities!
For those of you who like to decorate, the possibilities are endless when it comes to redoing your master bedroom. There are a plethora of photos, paintings, and feature you can add to make it more unique to you and your personality.
Some great examples here are the painting over the headboard, the gorgeous fireplace, and that super awesome tree seat. Reference from Pinterest.
Going Medieval- Not as Dreary as You'd Think
This theme is for all the "Game of Thrones" fans out there; and also for some who aren't. Even though this may not be your first thought when deciding on what to do in your master bedroom, at least make it second or third. The bed frames alone are spectacular, not to mention the decor will make you feel like royalty. Via Pinterest.
Master Bedroom-Or Spa?
Your bedroom is the place you to escape reality and to relax, if only for a little bit. There are a lot of ways you can accomplish this, maybe with a luxurious recliner, or with a reading nook. Another option is to share space with your master bathroom; the tub part at least. Now you can easily take off your uniform and get right to soaking in your tub. Pinterest
I hope that you have enjoyed this list of dreamy master bedroom decorating ideas and that you are inspired to do something special with your own! When it comes redoing your own room, the possibilities are endless! Please let us know your thoughts in the comments!