Life at home can get crazy busy, and the Livingroom is the hub. My kids and pets make great use of our furniture, and our couches are especially well-loved. Keeping our couches clean can be tricky, between regular use and the occasional mess. Couches can hold smells, and keeping them clean will help your home stay fresh. As the focal point of your living room, cleaning your couch is an essential part of your cleaning routine.
One of the greatest ways to clean my couch is to use a shampooer. It does a fantastic job of cleaning, deodorizing, and extending the sofa's life. During this tutorial, I will walk you through how to shampoo your couch with a shampooer.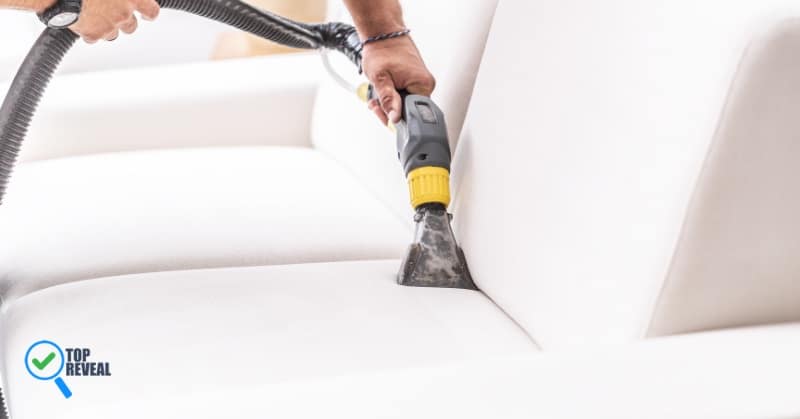 What will you need for this tutorial:
Vacuum
Shampooer
Pretreat Solution
Upholstery Cleaner
Gloves
Alternatively, if you don't have access to a shampooer, baking soda can be a great option for cleaning your couch. Sprinkle baking soda all over the couch and leave to sit for 20 minutes. Vacuum the couch of all traces of baking soda.
The baking soda method can be a great option; however, it doesn't tackle stains as a shampooer does.
Step by Step
Before you start
Check your labels. Your couch should have a label that will tell you what is safe to use for cleaning. Watch for a "W" code that indicates applying a water-based solvent to the couch is okay.
Do a test patch. Mix a couple of drops of the shampooer with water and apply to the underside of your couch. Pick a spot that isn't visible, like underneath one of the cushions, and put a small amount of the mixture. You will leave this to dry overnight and check to ensure there are no stains.
Day of the Cleaning
Step 1 – Protect yourself
Put on your gloves to protect your hands. While the shampooer will contain most of the water and solvent, it's essential to protect your hands during the process.
Step 2 – Vacuum
Vacuum all surfaces of your couch. Focus on the high traffic areas of the couch and remove the cushions to get all corners of the couch. Take the opportunity to move the couch itself and vacuum all the dirt and debris that has accumulated underneath.
Step 3 – Pretreat Stains
Spray visible stains with pretreat solution and let it sit for the recommended amount of time. This gives the treatment a chance to soak into the stains and work its magic!
Step 4 – Cleaning Solution
Follow the manufacturer's instructions and fill the shampooer tank with solvent. There will typically be a fill line indicated on the machine, be careful not to fill above that.
Step 5 – Shampoo
Plug in the machine and turn it on. Hold the handheld brush attachment to the couch's surface, and while squeezing the trigger, carefully drag the nozzle along with the couch in a slow and even motion. Do one pass over a given area while squeezing the trigger. The nozzle trigger is what releases the water and cleaning solvent onto the couch. Do an additional pass without squeezing the trigger. Nicole Michael DIY shows us a great technique:
https://youtu.be/3zrnSwoVDwc?t=207
Repeat this process for every exposed surface of the couch. Pro-tip: Focus most of your passes with the nozzle on the seat cushions. These surfaces have the most exposure to traffic and will contain the most dirt.
Step 6. Empty the dirty water
When you are done with this process, your shampooer will have a tank that contains the dirty water extracted from your couch. Don't be alarmed; it will be filthy! Empty this water, and you are done. Let your couch air dry.
Shampooer Styles
Shampoo machines can be both rented and purchased. They are a worthwhile investment to consider purchasing, given how useful they are with various tasks within your home. Even beyond planned cleaning tasks, like your couch, they are a great option to have on hand for unexpected messes.
There are several styles of shampooers available on the market. You can get large cleaners that will also clean entire carpeted floors. With these units, you will be using the handheld attachment to clean your couch,
Another option would be to purchase a smaller, portable unit that is easy to use to clean your furniture and does a great job on stairs. A great example of a hard-working portable unit is here. Using a portable unit makes cleaning your couch easier by being more lightweight and can be more flexible than a larger machine. A portable unit is also easier to empty the dirty water.
Tips & Tricks
A couple of helpful tips can bring your couch cleaning routine to the next level:
Remember your dry time –  Try to schedule your couch cleaning at a time that is the least busy within your household. Don't let a couch that isn't dry get in the way of your family's evening activities.
Make use of your calendar – a great way to keep this job in your routine is to add it to your calendar. If your couch is barely used, once a year should be sufficient; however, if you have kids or pets, you should be shampooing your couch up to four times a year.
Use a lint shaver – to keep your fabric looking new; a lint shaver is a great way to remove rough wear spots from your couch. Or you can use a portable vaccum for it.
Use suitable solvents. It's best to use the shampooing solution as recommended by the manufacturer of your shampooer.
Don't forget your accessories. Make cleaning any throw cushions or blankets part of the cleaning routine
Conclusion
I hope you found this tutorial helpful. Cleaning your couch can seem like such a big task, and I hope that my tips and tricks can help you incorporate this into your cleaning routine. Please comment below what you thought of this article and share it with someone if you think they would find it helpful.