When starting any diet, it's easy to focus on the foods that you'll be deprived of. In the case of the paleo diet, this includes wheat flour, sugar, etc. You may worry about breakfast especially, as this tends to be a pretty carb-rich meal.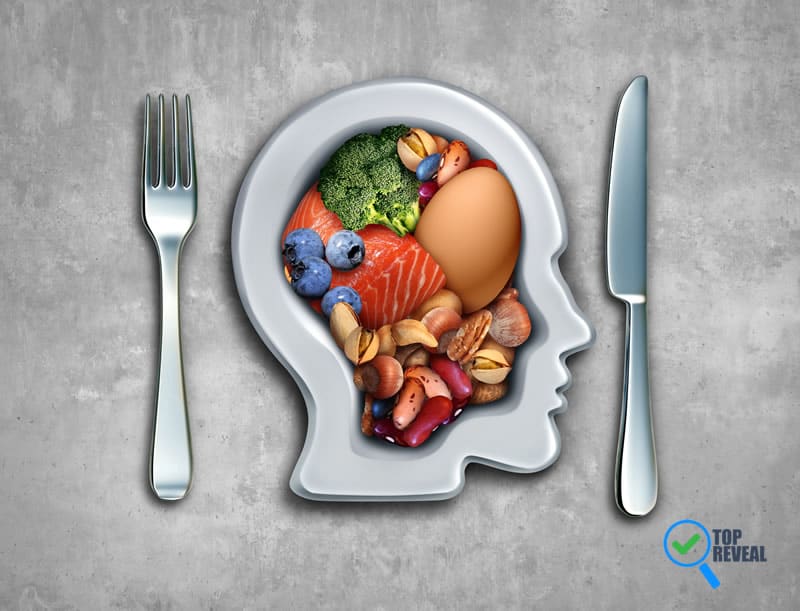 Fortunately, there are other types of – low carb – flour, and it's super easy to find another favorite sweetener (honey or maple, for example).
Here is a list of creative, delicious, and – of course – autoimmune paleo diet breakfast recipes, so you'll have plenty of ideas for both classic and new foods you're sure to love, below!
Yummy and Easy Paleo Diet Breakfast Recipes
1. Start Your Day with this Paleo-Friendly Meatball Frittata to Curb Your Hunger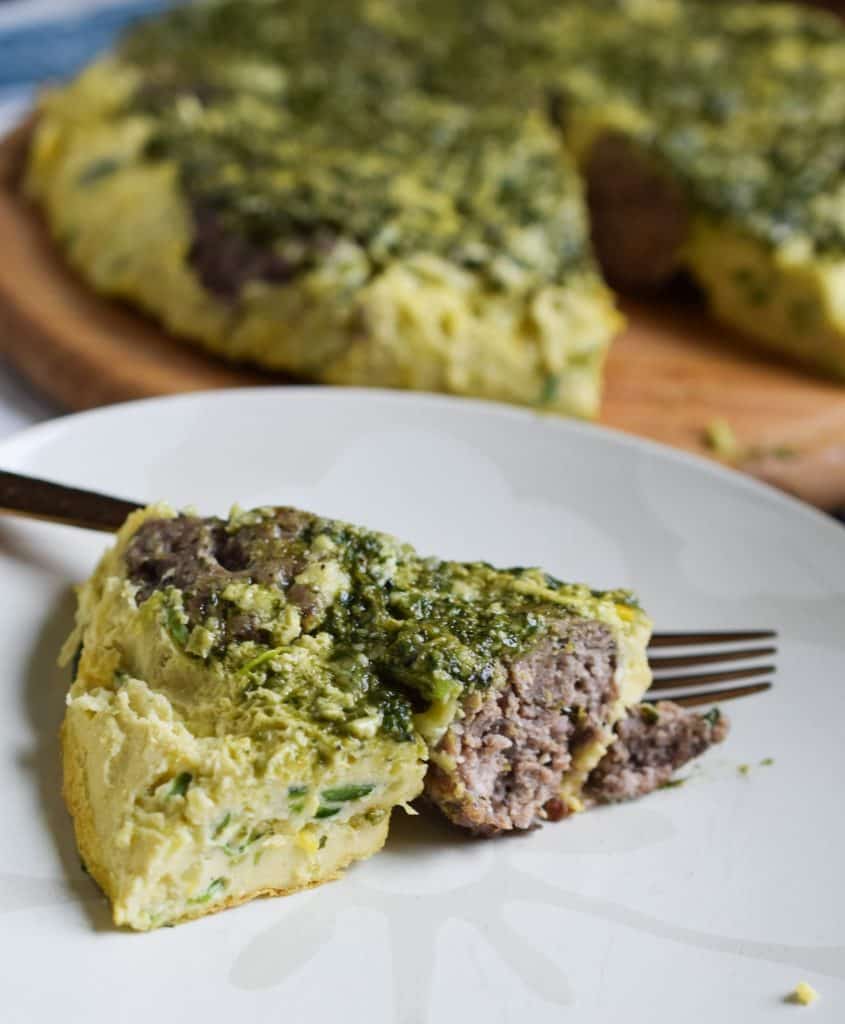 The Castaway Kitchen
This is one of the heartiest paleo diet recipes that you can make, and all that you need are some eggs and the ingredients of another recipe that you have leftover!
2. Enjoy a Paleo Double Chocolate Banana Bread Muffin to Finish Your Breakfast Off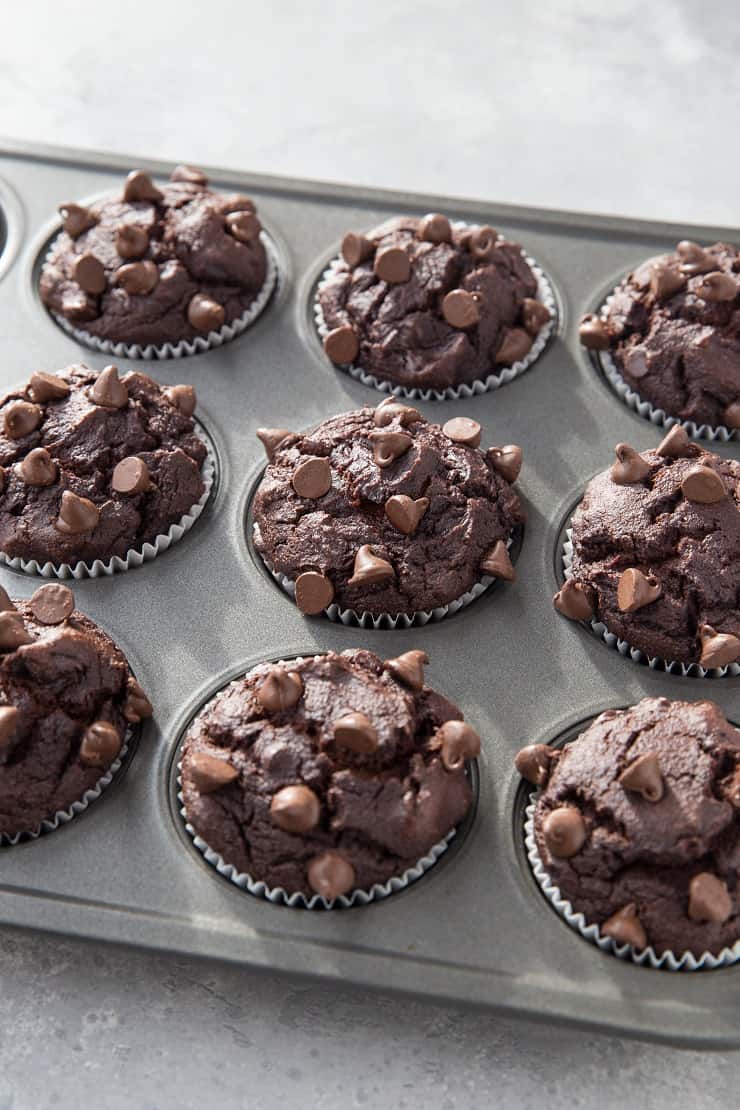 The Roasted Root
Are you a chocolate lover? It's kind of hard to satiate that craving when you're eating paleo, isn't it? That's what these FODMAP-friendly and guilt-free double chocolate banana bread muffins are for!
3. Spicy Paleo Shrimp Omelette Recipe – Try Something New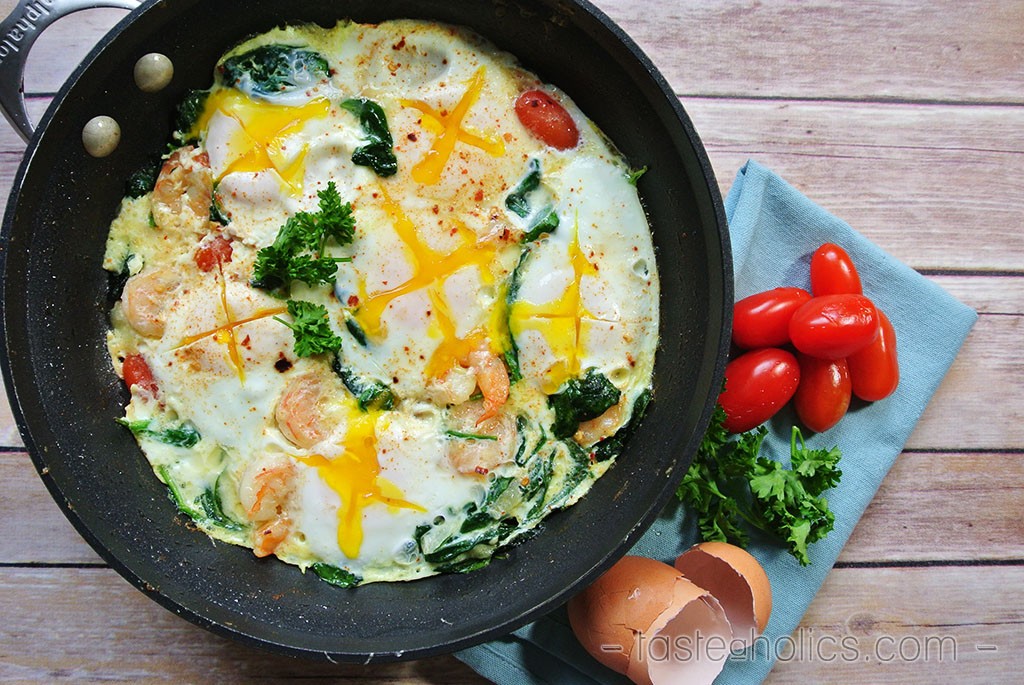 Tasteaholics
This is a classic omelet – with a twist! Eggs, spinach, and grape tomatoes combine with shrimp to transform your omelet into a one-of-a-kind seafood breakfast dish… spiced with cayenne pepper.
4. Make Some Paleo Breakfast Burritos You Can Save and Reheat Later

Health Start's in The Kitchen
This recipe was crafted with the busy parent in mind, as a way to feed themselves and their kids a complete and healthy breakfast, quick! All that's needed are some paleo tortillas (recipe included here), stuffed with sausage, red onion, red pepper, green pepper, eggs, and cheese. This makes 18 servings, so once you've had your fill, you can freeze the rest to reheat later.
5. Make 2-Ingredient Banana Egg Pancakes for a Paleo Healthy and Quick Paleo-Friendly Meal

Hurry The Food Up
Now, this is one of the age-old paleo diet recipe ideas that you'll definitely want to know. Believe it or not, these Banana Egg Pancakes require only 2 ingredients and just 10 minutes to make – wow!
6. These 3-Ingredient Paleo Sweet Potato Waffles are a Game-Changer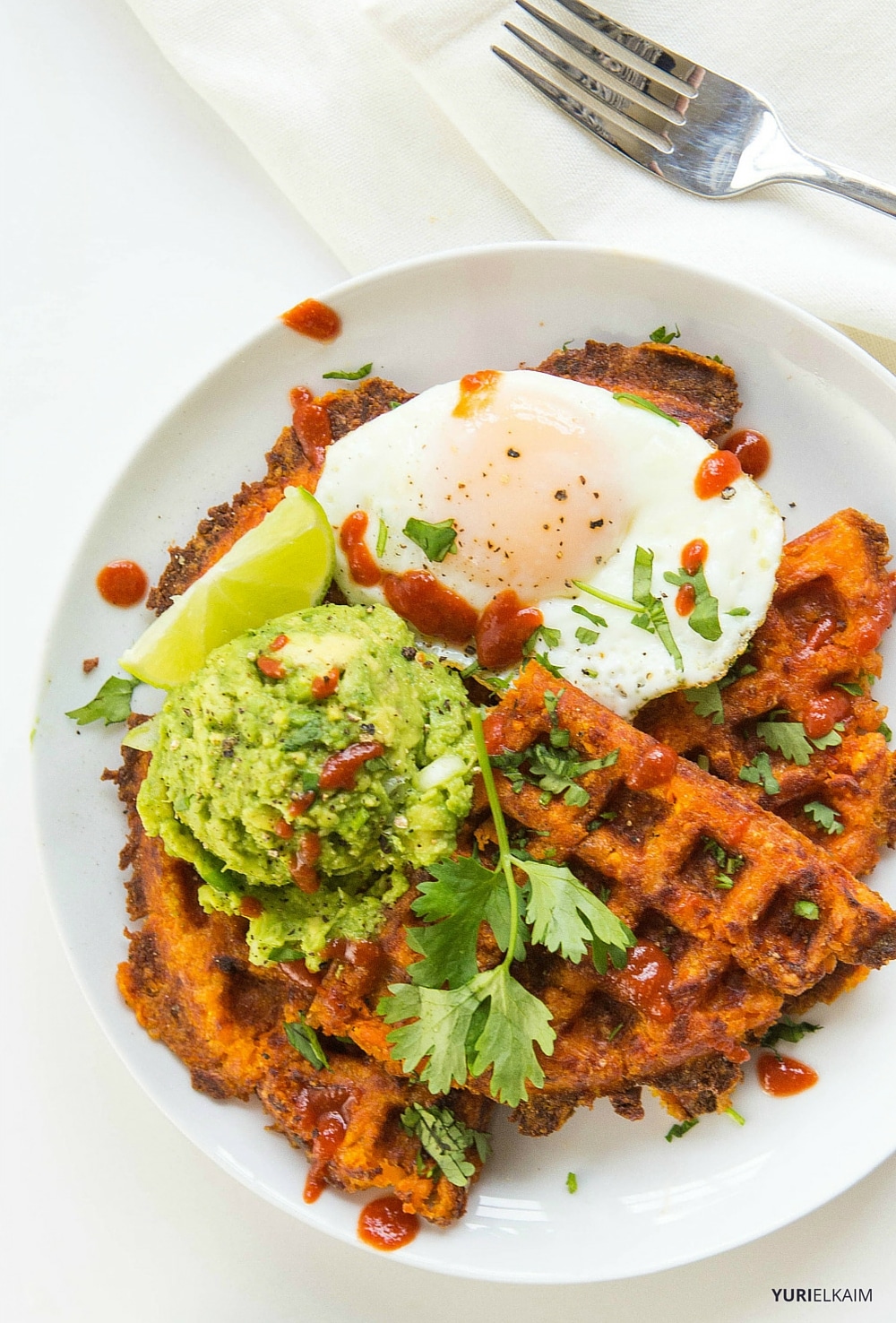 Yuri Elkaim
This is a super-healthy paleo breakfast that you've probably never tried before – and you're missing out! This 3-ingredient recipe combines fluffy, moist sweet potatoes with eggs and coconut flour. The result is an ultra-flavorful, gluten-free, and paleo-friendly dish, and topped with maple syrup, it's seriously to die for.
7. Enjoy a Hearty and Sweet Breakfast of Paleo Sweet Potato Oatmeal 30

Little Bits Of Real Food
This is another recipe tailor-made for sweet potato fans and will satisfy your hunger. Namely, breakfast sweet potato oatmeal, topped with bananas, walnuts (optional), and almond butter.
8. Paleo Breakfast Pizza is a Great Way to Try Something New

The Big Man's World
Who says a paleo diet has to be boring? Ditch the same old recipes and throw in something like pizza, that's exciting and new. Pizza for breakfast? Sure thing, and it's healthy, too (paleo, gluten-free, and grain-free).
All this ingenious recipe calls for is paleo pizza crust, eggs, pesto, and BBQ sauce, for a paleo breakfast packed with flavor.
9. Indulge in a Healthy Chocolate Banana Shake to Finish Your Paleo Breakfast Off

A Beautiful Mess
This is a chocolate breakfast shake designed to satisfy your sweet tooth, without sacrificing your health; all you need is a frozen, super-ripe banana (the riper the better) as a sweetener. Combine this with cacao or cocoa powder, almond butter, and unsweetened almond milk in a blender.
10. Try the Ultimate Breakfast Sandwich/Burger

Grass Fed Salsa
Are you a burger kind of guy/gal? It's unfortunate the buns are so full of gluten and carbs, isn't it? That's where this breakfast sandwich comes in, which is more of a special, hearty, sweet-potato-based breakfast burger.
11. This Italian Paleo Breakfast Casserole is Sure to Be a Winner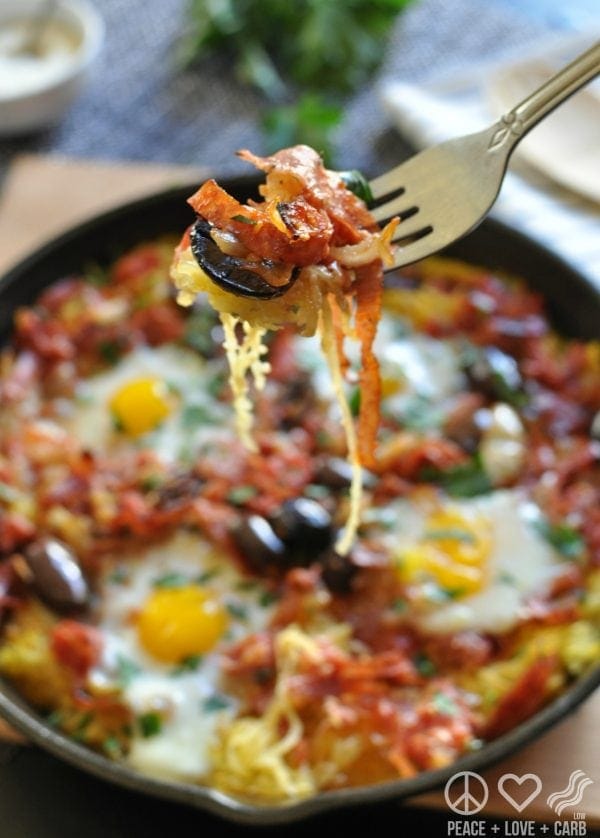 Peace Love and Low Carb
Are you a fan of squash? Are you looking to mix your paleo breakfasts up a little? This keto-friendly recipe combines spaghetti squash, onion, garlic, tomatoes, salami, eggs, and kalamata olives, for an exotic paleo casserole that could be your answer.
12. Munch on this Paleo-Friendly Cinnamon Toast Crunch for a Crisp and Sweet Homemade Cereal

I Breathe I M Hungry
Sometimes, you just crave some cereal. That's why this gluten-free and paleo-friendly breakfast recipe came to be! The ingredients are milled flax seeds, hulled hemp seeds, apple juice, cinnamon, and coconut oil. This is one nutritious and energizing beginning-of-the-day snack.
13. The Best Paleo Breakfast Peach Parfait with Blueberry and Basil

Meatified
There's no reason you can't enjoy a parfait on a paleo diet, and this peach parfait, garnished with blueberry and basil, is proof.
This dairy-free parfait has yogurt made from grass-fed gelatin and almond milk. It has a subtle lemon tang, and honey as a sweetener. Topped with paleo granola (recipe included here), it makes the perfect morning meal or snack.
14. The Ultimate Paleo French Toast for Breakfast or Dinner

Civilized Caveman
If you're a fan of hearty breakfasts, then you probably enjoy fresh toast; there's no need to go without on a paleo diet, either. Paleo banana bread is the star of this recipe, topped with eggs, cinnamon, and your choice of dairy-free milk.
15. Apple Muffins with Crumble Toppings are Delectable Paleo Breakfast Snack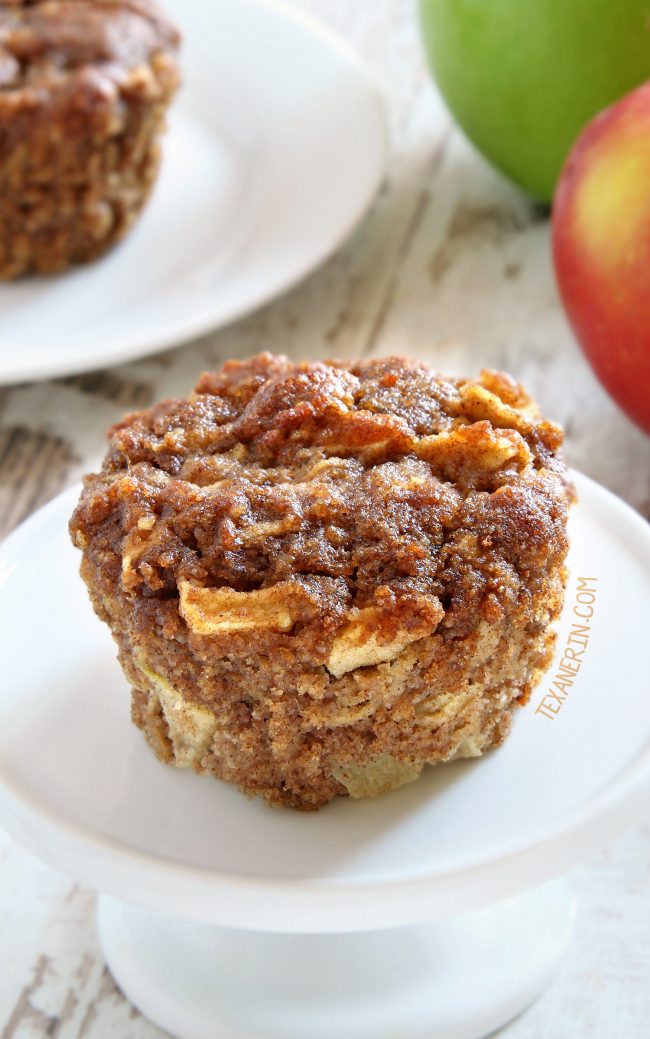 Texanerin
Muffins are comforting, belly-filling comfort food that there's no need to deprive yourself of These crumble-topped muffins are paleo-friendly (and grain-free, gluten-free, and dairy-free!).
16. A Paleo Egg Cup Recipe that Couldn't Be Tastier or Easier

A Healthy life For Me
These protein-packed egg cups are paleo-friendly, made with eggs, bacon, asparagus, and coconut oil. All that you have to do is lay a strip of bacon in a muffin pan, and crack an egg over it, top with asparagus, and season with salt and pepper. Don't forget the line the pan with (conveniently non-stick) coconut oil.
17. Paleo Waffles with Cacao for the Chocolate Lover

Downshiftology
Feeling like a decadent breakfast, but not willing to pay the price in carbs and sugar? This recipe has got you covered, with a paleo waffle mix flavored with cacao, and maple syrup – and chocolate chips on top – as a sweetener.
18. Stuffed Sweet Potato Burritos Are a Creative Morning Meal

Physical Kitchness
This recipe is so creative, it fills me with wonder! Filling a low-carb, high-fiber and paleo-friendly sweet potato with tasty, protein-rich ingredients is so clever. See how!
19. A Vegan and Paleo Pumpkin Smoothie for the Pumpkin Lover

The Blenderist
This is the perfect, paleo-friendly pumpkin recipe, as long you swap out the peanut butter (which some consider a bit high in carbs) for almond butter. If you're craving pumpkin spice this season, here is your answer.
20. Fluffy Paleo Cinnamon Roll Pancakes You'll Love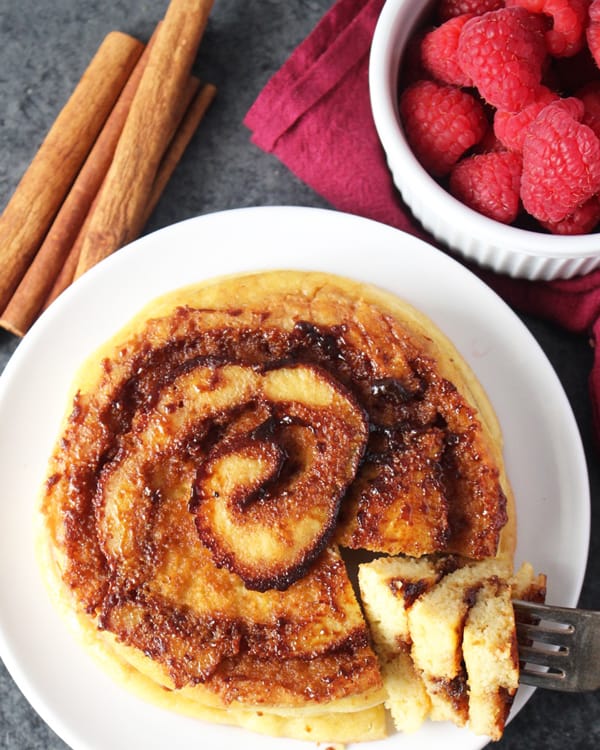 Real Food With Jessica
Just because you're eating keto, paleo, gluten-free, etc., doesn't mean you have to deprive yourself. All that's needed is some creativity – and these paleo-friendly cinnamon roll pancakes should do the trick.
21. Snack on a Paleo Strawberry Banana Cereal Bar

Physical Kitchness
Have you ever had a cereal bar? These are toothsome snacks that make for some quick energy, which is a great way to start out the day! Take a look at this recipe for a paleo-friendly strawberry-banana cereal bar.
22. This Paleo Red Flannel Hash Makes For a Hearty Morning Meal

Tasty Ever After
If you wake up hungry, here's another hearty paleo-friendly breakfast recipe: Red Flannel Hash! This recipe earns its name from the beets' red hue against the potato's white color.
23. Give These Zesty Paleo Breakfast Tacos a Try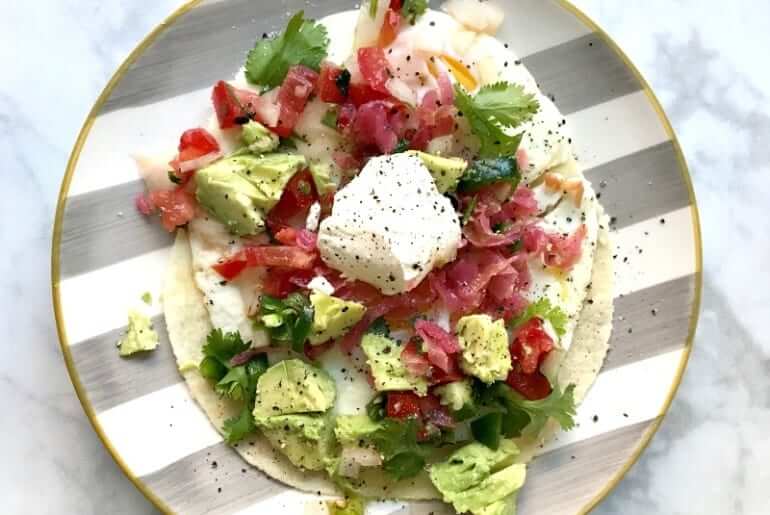 Ancestral-Nutrition
A breakfast taco is surely one of the most fun paleo diet breakfast recipe ideas, with plenty of zesty ingredients for you to savor. This recipe calls for homemade almond flour tortillas, eggs, avocados, pico de gallo, sour cream, spicy, fermented cabbage, and butter (or your fat of choice, to fry the tortilla in).
24. Paleo Lemon Blueberry Bread is the Perfect, Blueberry-Filled Breakfast Snack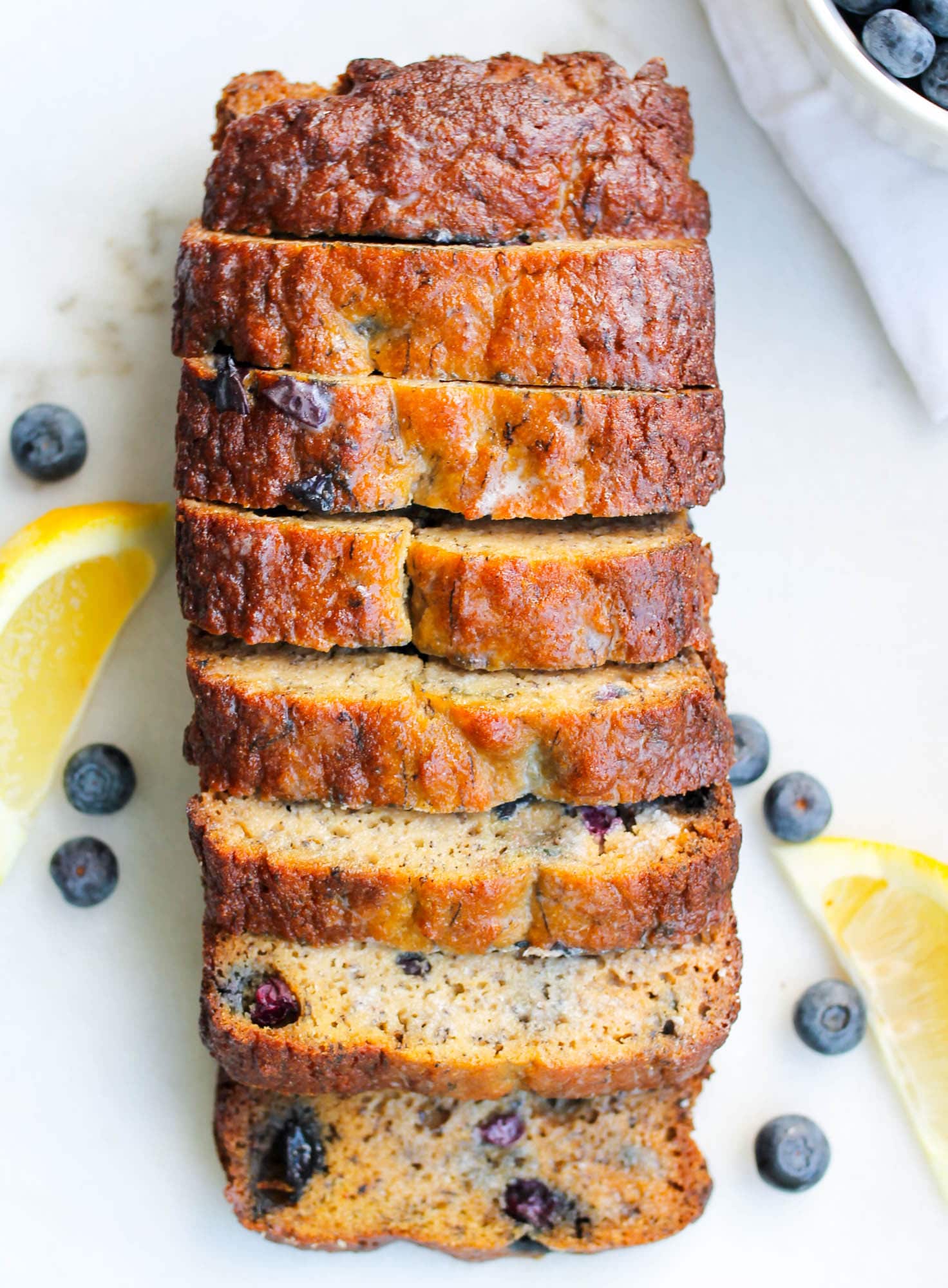 Smile Sandwich
If you like bread, then you absolutely have to try this paleo lemon blueberry bread; just the right amount of tangy and sweet, and with healthy honey or maple syrup as a sweetener.
25. This 5-Ingredient Strawberry Chia Pudding is Paleo (and Vegan and Gluten-Free)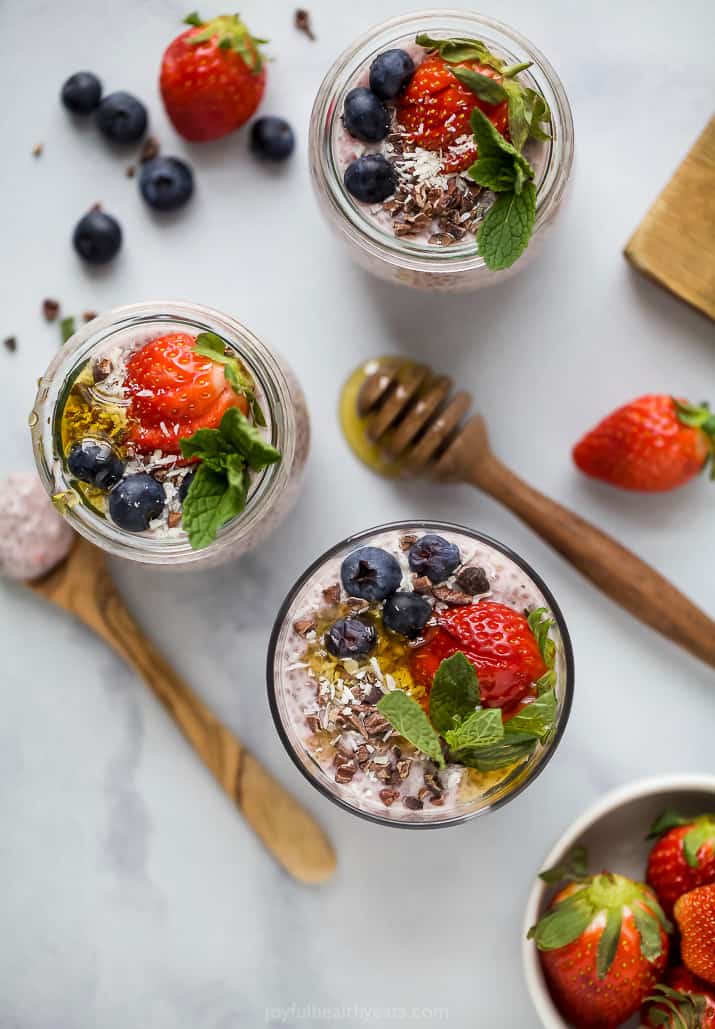 Joy Ful Healthy Eats
This chia pudding calls for just 5-ingredients, for a light and creamy, paleo-friendly dessert that will fill you with wonder!
26. Avocado, Bacon and Spinach Paleo Breakfast Casserole for the Bacon-Lover

The Lean Green Bean
This is a unique take on your classic breakfast casserole, with avocados, sweet potatoes, bacon, spinach, chicken, and more….
27. A Grain-Free, Chunky Paleo Granola You're Sure to Love 30

Making Thyme For Health
When becoming paleo, you might think that you have to say goodbye to grain-rich food like granola – actually, you just need to try out a grain-free granola recipe, like this one, below.
28. Paleo Blueberry Muffins with Almond Flour

Wholesome Yum
It's amazing, everything that you can make with almond flour. These low carb, paleo keto blueberry muffins are super-healthy, with fresh blueberries, and your choice of sweetener (recommended is coconut sugar).
29. Homemade Palo Fig Newtons for the Fig Newton Lover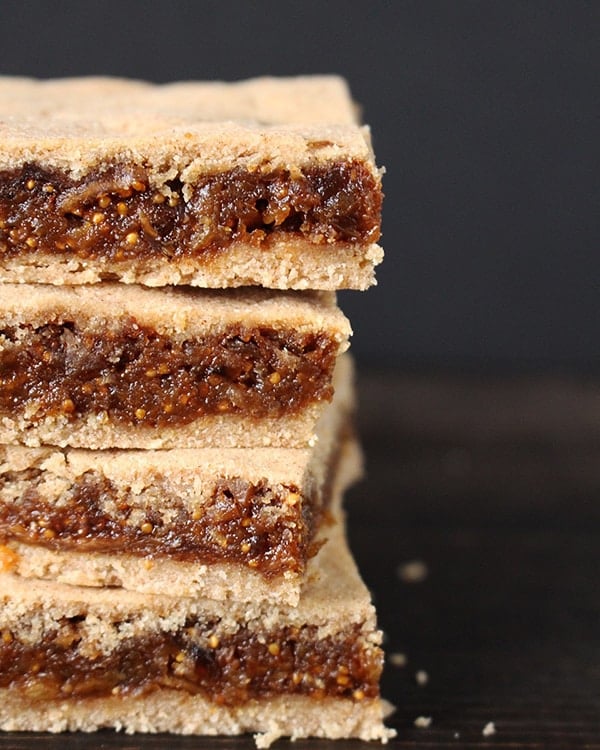 Real Food with Jessica
Ah, fig newtons, a beloved childhood (and adulthood) snack! Too bad they are so high in sugar, right? That's what this delicious, paleo-friendly fig newton recipe is for.
30. Energize for the Day with a Super-Powered Paleo Blueberry Energy Ball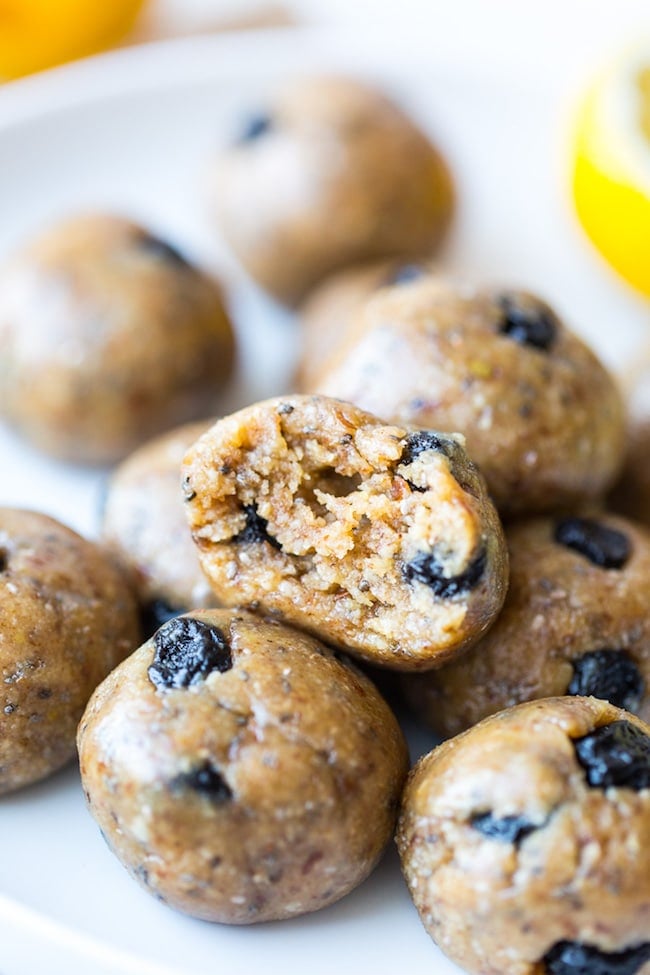 A Saucy Kitchen
If you're fond of blueberries, and you're one a paleo diet, never fear! Among paleo recipes, fiber-rich fruits like this are quite popular. Start your day off right with a blueberry energy ball (or three!).
31. The Ultimate Paleo Blueberry Crumb Bar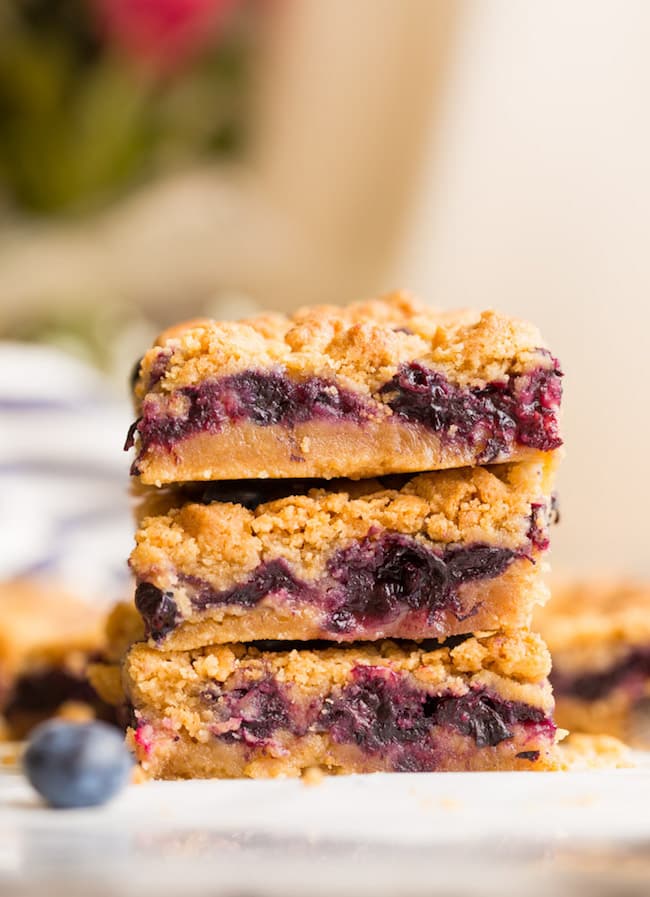 A Saucy Kitchen
Last but not least, we have a gluten-free blueberry crumb bar. Blueberries, white caster sugar, brown sugar, cinnamon, vanilla, and your choice of all-purpose gluten-free flour!
So, what do you think? Do any of these recipes catch your eye? This list will help you pick from a variety of breakfast recipes, so you never have to go without the rich, savory, and sweet foods that you love!
Let us know what you think in the comments, and if you have tried any recipes, etc. We'd be happy to hear!