There's a place for everything and everything in its place…
Those words, which I heard almost every day growing up from my grandma, were playing over and over in my head, mocking me a few weeks ago as I rummaged through the "junk" drawer in our kitchen for a bottle opener. Oh if grandma could've seen me she would have been shaking her head. God knows I was; how had I, someone who is normally organized, become the mom with the messy kitchen?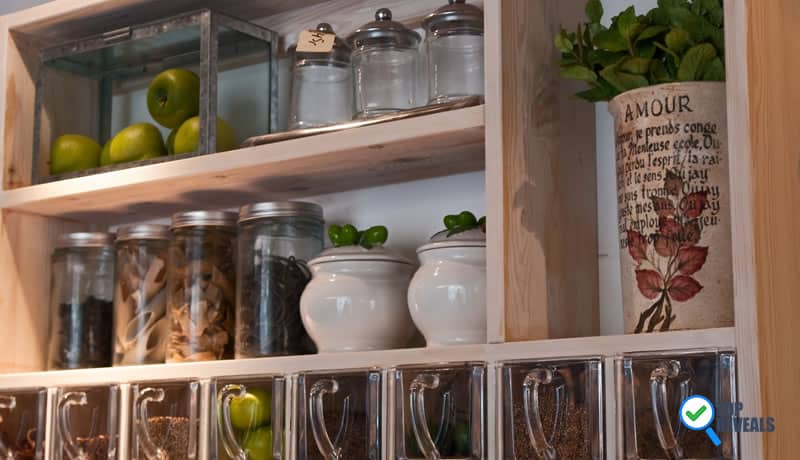 And more importantly, how do I fix it without spending a fortune? Turns out, it was easier and cheaper than I thought to get organized and regain my sanity. If you don't want to be the mom with the messy kitchen, read our 20 phenomenal tips on how to organize your kitchen without breaking the bank.
Organize Your Kitchen Without Breaking the Bank
The thought of organizing spices, herbs, dishes, utensils and more may seem overwhelming, but with my tricks and DIY projects, it's a cinch. Here's what to do:
Tip 1: OCD Heaven- Group Items Together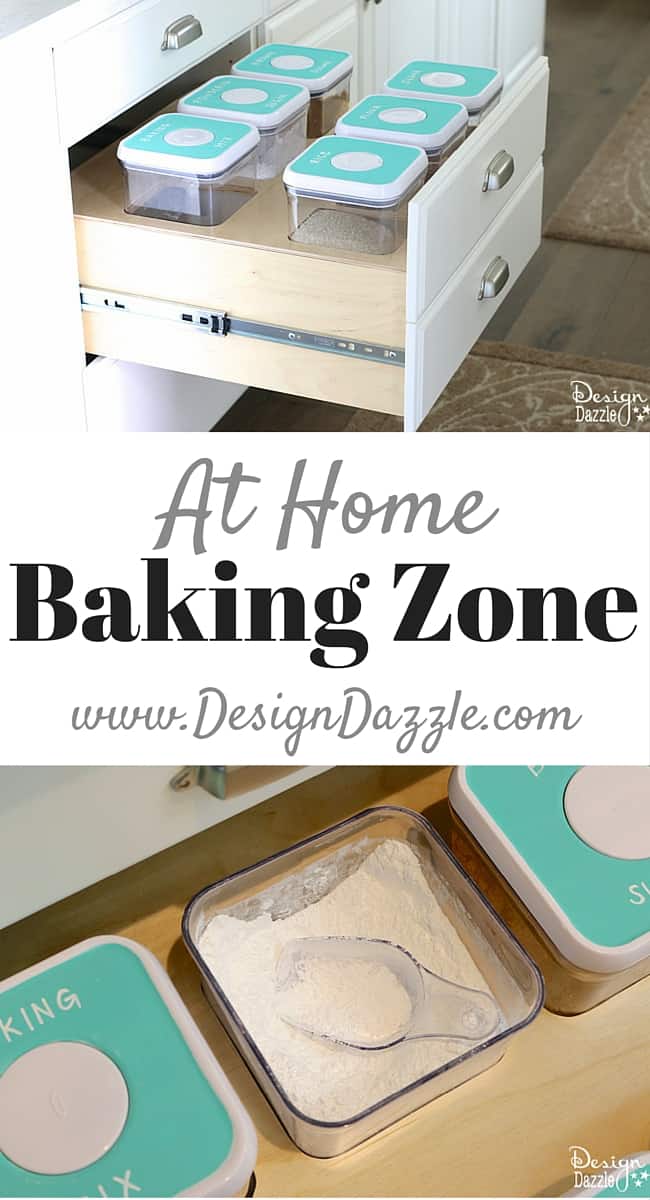 If you bake a lot a great way to make the process simpler and quicker is by creating a storage drawer for all your dry ingredients like the one here from Design Dazzle. This style of storage ensures all your ingredient are in one place and easy to access, so you can spend more time creating new recipes and less time looking for the flour.
And if you don't bake you can also use this for frequently used foods like rice and pasta or do a bunch of smaller containers to hold essentials like sugar, salt, and pepper.
Tip 2: Pantry Power- Use the Right Containers
Classy Clutter has a great way to keep your pantry in order: containers that are clear or clearly labeled. Containers that are see-through let you know where everything is at a glance and also let you know when it's time to restock.  And if you don't like clear you can use solid bins or holders that are labeled in bold print for you to quickly find what you need.
Containers look neater than boxes, make better use of shelf space, and best of all, cost next to nothing.
Tip 3: Draw A Line- Create the Right Draw Space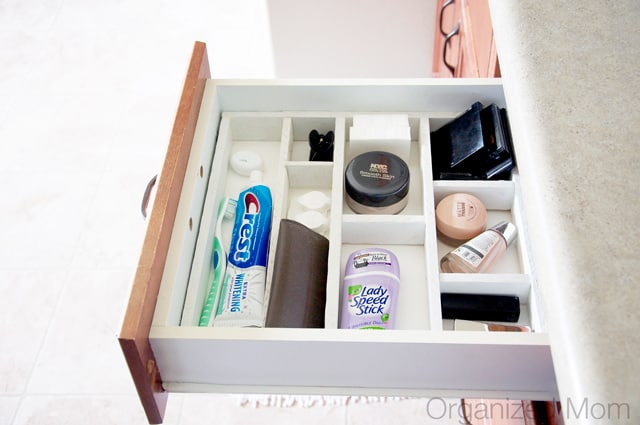 Find even the smallest item in your kitchen drawers with this super simple and super affordable DIY drawer organizer from Organized Mom. Truth is, kitchen drawers are often the culprit when it comes to mom's everywhere losing their minds. Either they have no dividers and things roll everywhere and pile up or the dividers are too small/ oddly shaped and you end up with utensils shoved in places they have no place being.
This organizer is the answer; you can configure it to have as many or few compartments as you want and make them any size you need. So every draw can hold what you need where you need it. And all you need is some good old Elmer's Glue and wood slats.
Tip 4: Rack 'Em Up- Keep A Lid on Things
Here's a brilliant idea from BHG to keep all your lids and covers neat and easy to find; use a CD rack to hold them in place and make it easy to grab them. If you're a bit OCD like me you can even stack them in size order, but no matter how you rack them I guarantee you will never curse and fling a cover again.
Tip 5: Now That's Handy- Divide and Conquer
The key to organization is being able to find what you need quickly and efficiently. And the best way to accomplish that is by designating a place for everything, which is easy to do with ideas like this one from the Family Handyman.
Tip 6: Pretty Precision- Measure Things Out
Bakers, check out this brilliant idea from Modish and Main, which not only keeps everything you need to measure out portions at arms reach, but also helps you remember ounces, grams, and more. As someone who often forgets how many teaspoons make a tablespoon, this is a personal favorite for me.
Tip 7: "Cut the Cord" – Keep Things Under Wraps
One of my biggest pet peeves when it comes to kitchen organizing is seeing cords hanging all over the place; this easy trick at Dreaming in DIY eliminates the issue once and for all. I love this tip so much I even used it in my living room, getting those pesky TV and cable wires neat and orderly once and for all.
Tip 8: Stack The Deck- Everything Has a Place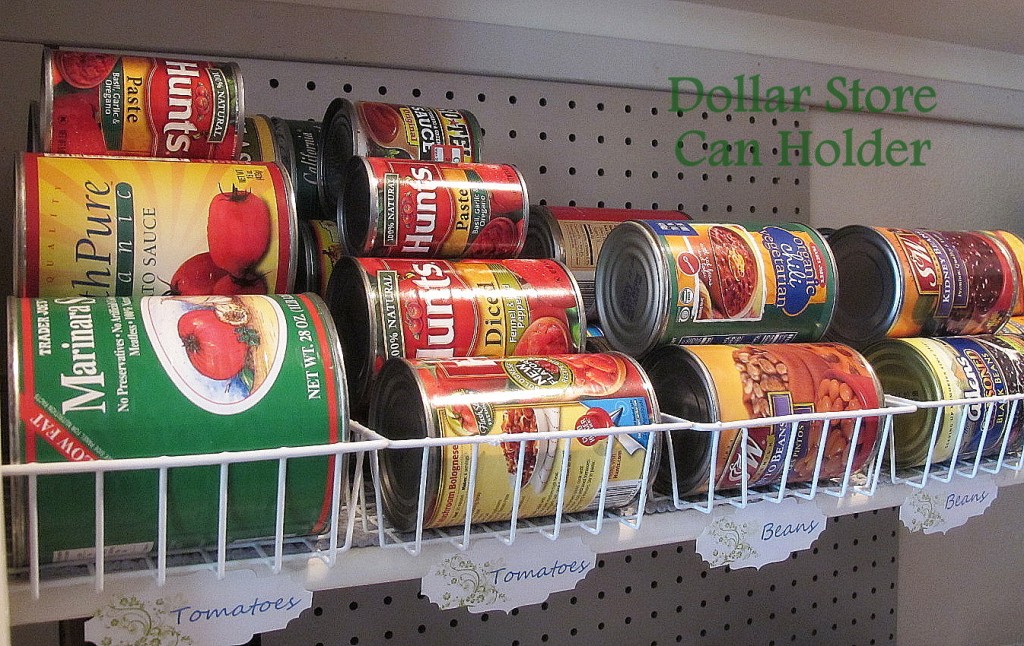 My Uncommon Slice of Suburbia has an easy DIY for keeping cans organized and making the most of your shelf space using simple dollar store racks. And the great thing here is you can even hang them for even more space-saving ingenuity.
Tip 9: Spice Things Up- Make the Most of Your Space
Most of us use spices every day; so why not keep them where they're easy to get and save valuable shelf space by installing these magnetized baskets from Instructables on the side of your fridge?
Tip 10: Spin the Wheel- Lazy Susan Ingenuity
Who said a Lazy Susan is only for cabinets? A great place to use one is in your refrigerator, as demonstrated by Acasarella. This is simple and easy way to keep jars and bottles in one spot; because let's face it, the shelves on the door are never enough space.
Tip 11: Island Bliss- Create More Storage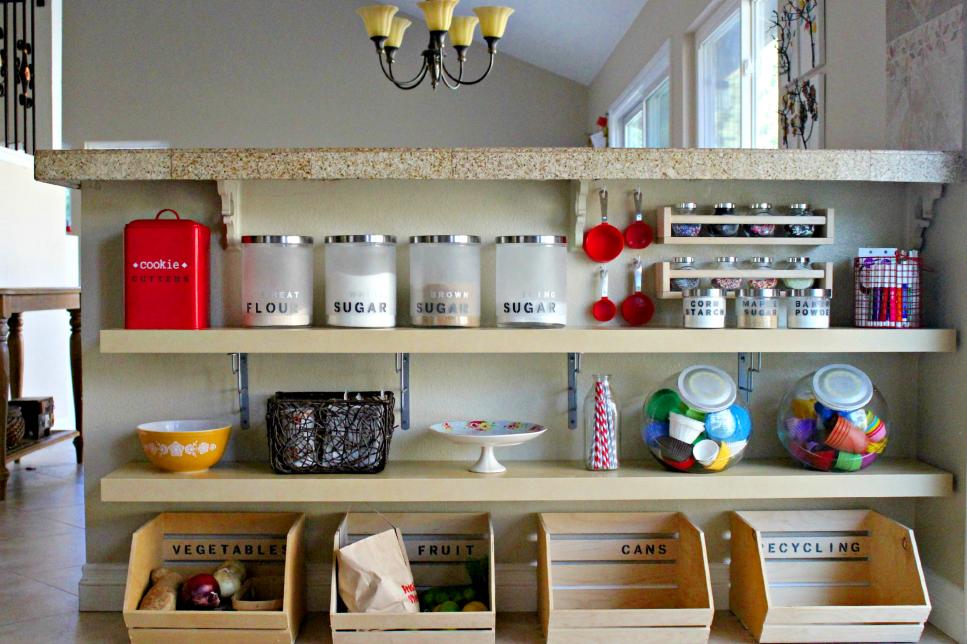 Almost every kitchen has an island these days, so why not use it to its full potential, adding storage underneath for the things you use most? Check out the shelving and baskets here from the DIY Network for some inspiration.
Tip 12: Cut The Mess- Balance Your Boards
This easy hack from That's What She Said is a brilliant way to keep your cutting boards neat and orderly without having them take up too much space.
Tip 13: Roll Out- Convenient Drawers
Make your pantry more accessible with this DIY trick from A Spicy Perspective. Roll-out drawers let you find any bottle, bag, or can 1-2-3. One can store knives inside.
Tip 14: Magnetized Magic- Spice Up Your Space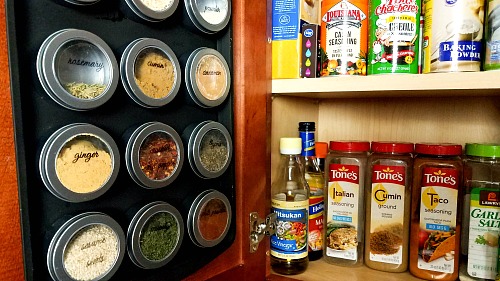 A Cultivated Nest came up with this ingenious DIY project, using magnetic containers to hold all your spices. Now you can see how much you have left at any time and have instant access.
Tip 15: Hold This- Smart and Simple Organizing
Want to make snacks easy to grab for kids without having them all over the table or stacked up in your pantry? Then use this DIY tip from Money Saving Queen.
Tip 16: What a Drain- Keep A Lid On It
Wading in the Wonderful had a quick way to keep lids all lined up and easy to grab using an everyday drain rack; who knew?!
Tip 17: Embrace Your "Hang-Ups" – Add More Storage
If you are pressed for space use this idea from the  Two Seasons to create more storage and show off your best cookware.
Tip 18: It's "Bin" Real- Fridge Finesse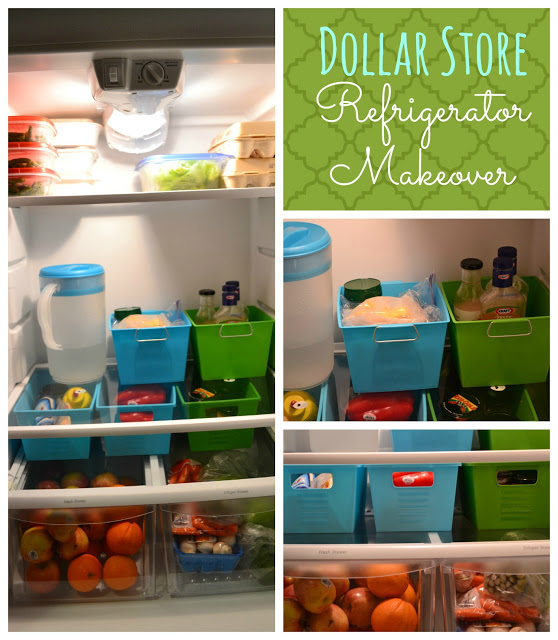 Keep food fresh and organized with this fun and fresh DIY project from The Domestic Geek Blog
Tip 20: Line Up- Divide and Conquer
Keep your knives, forks, and every other utensil where they should be using this trick from The Elm Life.
What do you think of our tips to  Organize Your Kitchen? Share your thoughts or projects with us below and be sure to share this post with all your family and friends.