A kitchen can be one of the most beautiful and harmonious rooms in your home, if things are organized well. The following 31 kitchen cabinets organizing ideas will teach you how to showcase the items of your choosing while getting rid of unsightly cuttler!
31 Brilliant Ideas to Organize your Cabinets in your Kitchen
1. An Ingenious Kitchen Window Shelf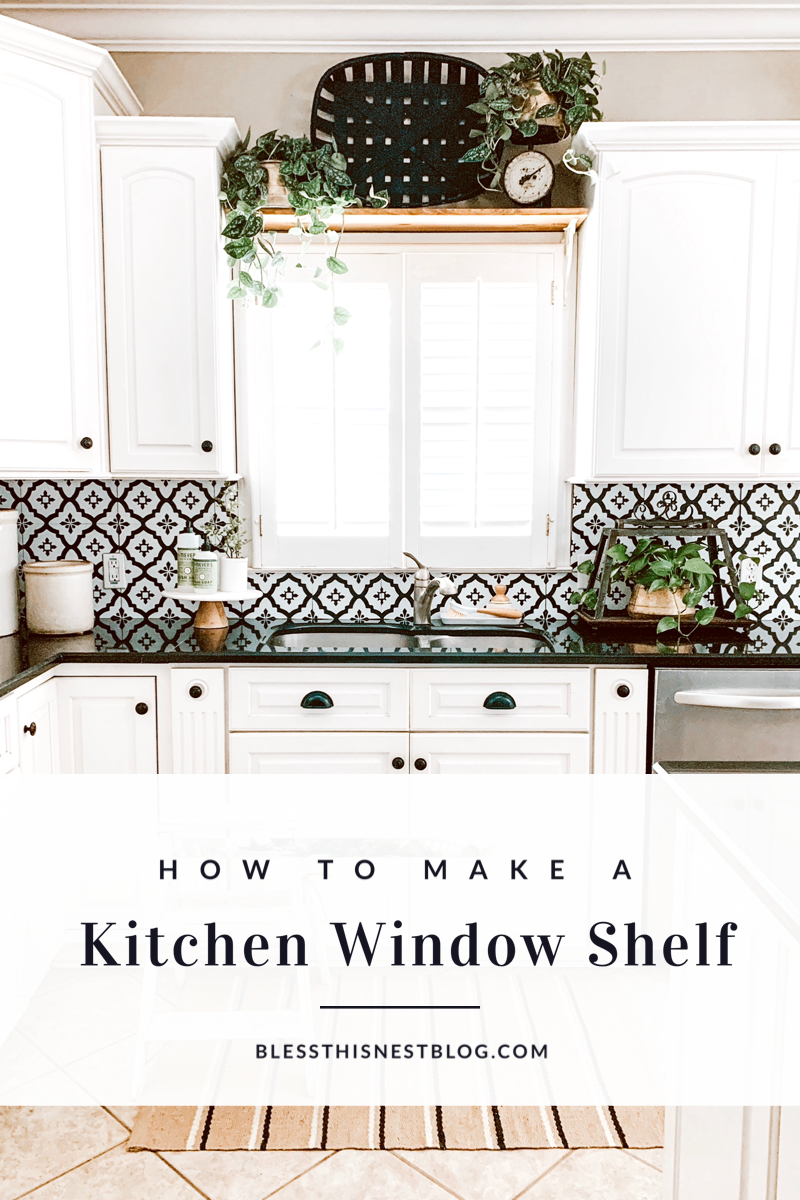 Bless This Nest
Think about it: there's empty space above just about every household window! You can both increase the aesthetics and save room in your kitchen with this ingenious kitchen window shelf.
2. This Rotating Spice Rack is a Lifesaver
Spices always seem to get disorganized in the cabinet, don't they? "Where is the garlic salt," and, "what is garlic powder?" The answer to your woes could just be a rotating spice rack!
3. Turn Corner Cabinets into Handy Corner Drawers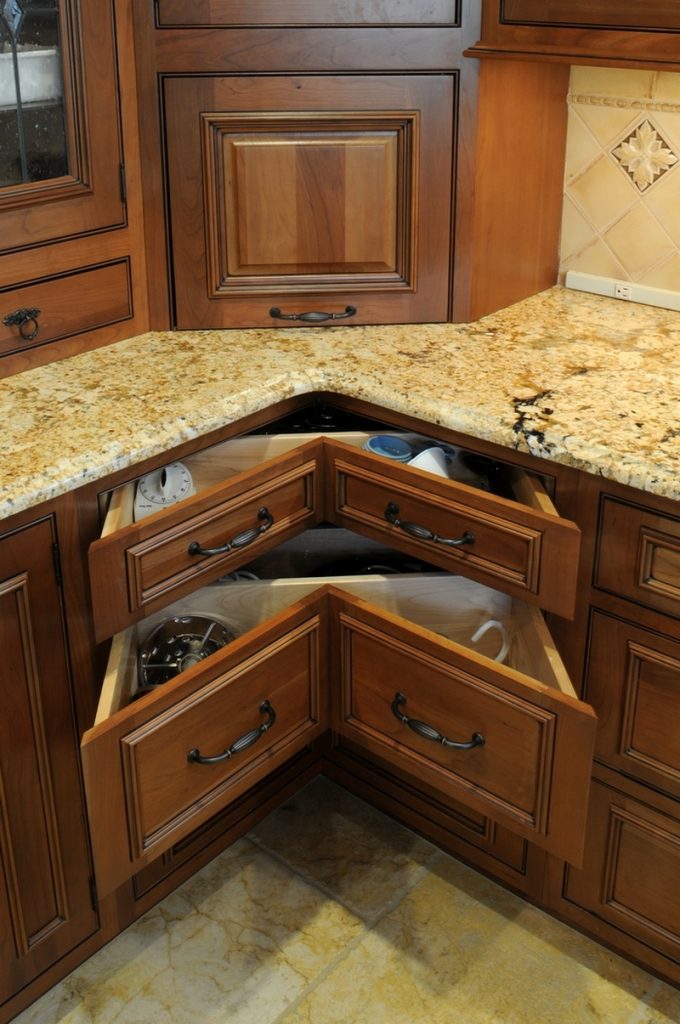 The Owner Builder Network
As a matter of fact, corner drawers are super popular. What better to do with the extra space, after all? They are perfect for storing pots and pans, Tupperware… whatever you prefer.
4. Pullout Trash Cans Will Help Keep Your Kitchen Beautiful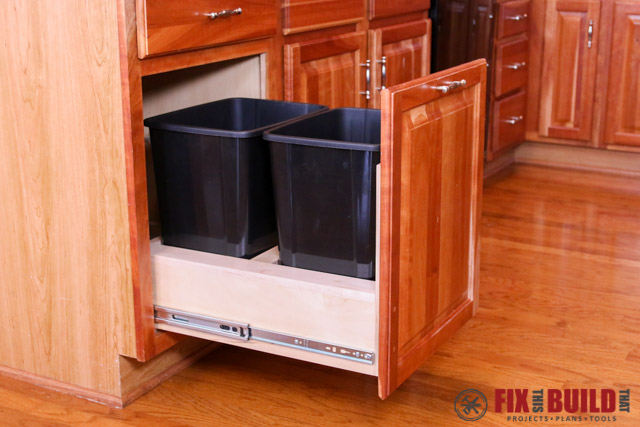 Fix This Build That
There's just no way to make a trashcan beautiful, unfortunately. Thankfully, there is a solution: pullout trash cans. These can be installed beneath the cabinet of your choosing, to keep the less-than-picturesque cans out of view.
5. Show Off Your Favorite Utensils with a Utensil Rack

Grillo Designs
Wooden spoons, spatulas, and the like always seem to get disorganized in a drawer. They are also not on-hand as easily as they are with a utensil rack (which can be placed right by your stove and baking and cooking area). What's more, you may have some heirlooms – such as grandma's wooden spoon – you'd like to show off.
6. Put Your Cleaning Supplies In a Folder Organizer

Family Handyman
A folder organizer will ensure your cleaning supplies never fall over!
7. Turn a Cabinet into an Ultra-Modern Appliance Garage

Kenyarae
As you've probably noticed, appliances tend to create kitchen clutter. You can get them out of the way by creating a nifty appliance garage in your kitchen. Just swing it open to access whatever appliance you need, and then place it back in again afterwards, to maintain a truly seamless look!
8. Organize Your Fridge Condiments With an Empty Six-Pack Container

Family Handyman
This one may not be only about cabinets, but it's worth a look anyway (and you can use this in cabinets, too). Simply utilize an empty beer or soda six-pack to store condiments and effectively prevent them from falling over!
9. Tension Rod Storage Hack DIY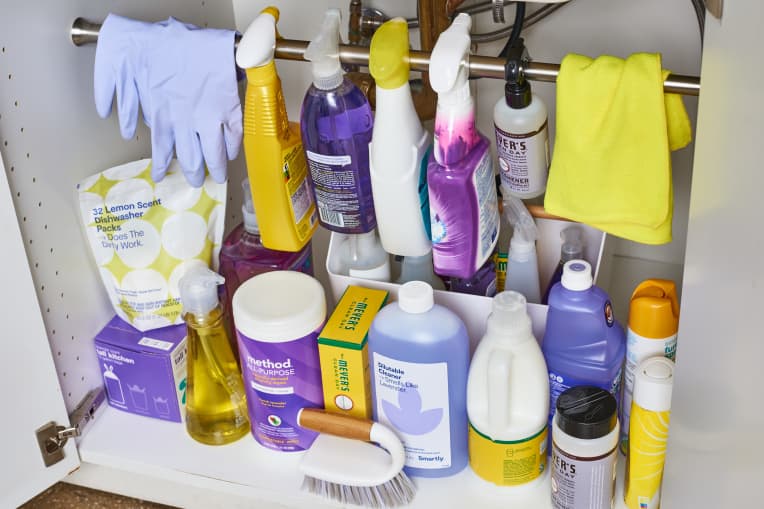 The Kitchn
I think we're all tired of rummaging around for cleaning supplies. "Where's the carpet cleaner?" You can solve the issue with a super simple tension rod under the kitchen sink. With one of these, you can hang spray bottles, storing them in a neat, orderly row!
10. Keep Track of Your Spices by Moving Them Into Clear Containers in the Cabinet

Simplicity For Designs
Lots of spices come with opaque containers and lids, making it difficult to identify individual spices.The labels are also often much too small to easily read. To make finding the one you need faster, simply move your spices into some airtight clear containers (and perhaps label them clearly with a label maker).
11. A Super Classy Mobile Cabinet Bar Cart

Shanty 2 Chic
This is one of the kitchen cabinets organizing ideas I've never seen before, personally. My first impression is that it looks super classy. You can bring your cabinet supplies to you, with a wheeled cabinet cart. Stock these with snacks, dishware, or the makings for a personal bar!
12. File Holder Cabinet Lid Organizer

Darice
Let's be honest: locating Tupperware lids is much harder than it should be. You think you've found the right one, but it's for a different kind of square container… right? This alternative recommends storing all of your lids inside of your cabinet, in a repurposed file holder. Just stack the lids like files, and you'll be able to select the right one without having to sweat it. It's a game-changer!
13. The Beautiful and Practical Floating Shelf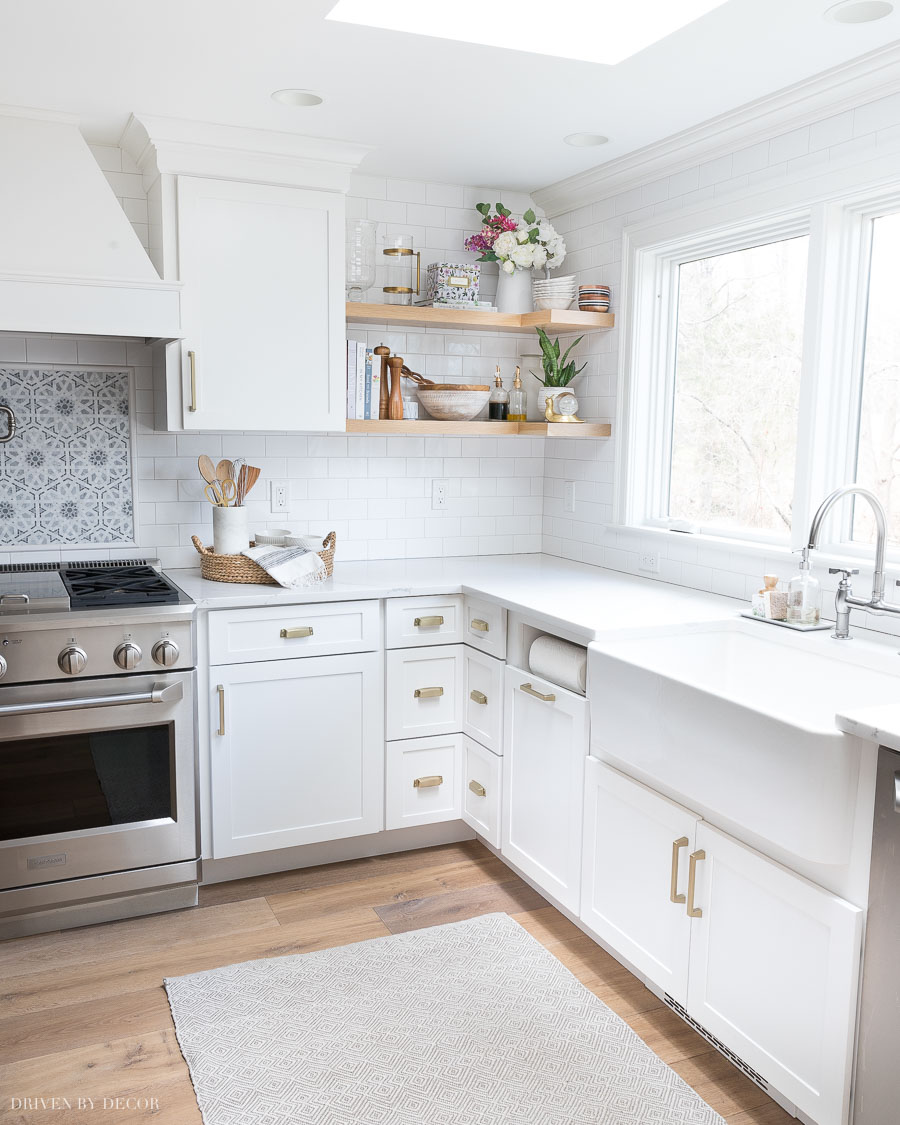 Driven By Decor
Floating shelves are one of the top ways to maximize kitchen space. If you have a cabinet that ends on a corner, you can add a floating shelf. Create space out of nothing, and keep your kitchen organized like a pro!
14. Wooden Paper Towel Holder

The Nomad Studio
This is a quick-and-easy organization hack to create a paper towel roll holder. Place one of these under one of your cabinets for convenient access.
15. Cut to the Chase with a Knife Block

Woodworkers Journal
Where is the sharpest knife? It can be a bit risky, digging through a bunch of loose knives in a drawer. Know exactly where each one is with a handy, homemade knife block! It's a must-have for every chef.
16. A Gorgeous Tiered Produce Basket Under the Cabinet

Katie Bookser
Produce seems to take up a lot of space, doesn't it? You can free up every bit of this counter space with a tiered produce basket. Hang it from the ceiling, or from the bottom of a cabinet. As a bonus, fruit is quite ornamental, which will give the baskets a decorative look!
17. A Lazy Susan is a Surprisingly Hard Worker

I Heart Organizing
Cabinets are often stocked all the way to the back. This means that reaching a certain strainer or pot can be a bit of a hassle. Installing a lazy susan will allow you to simply spin the item you desire toward you, with the flick of a wrist. What more can you ask?
18. The Classic Hanging Pot Rack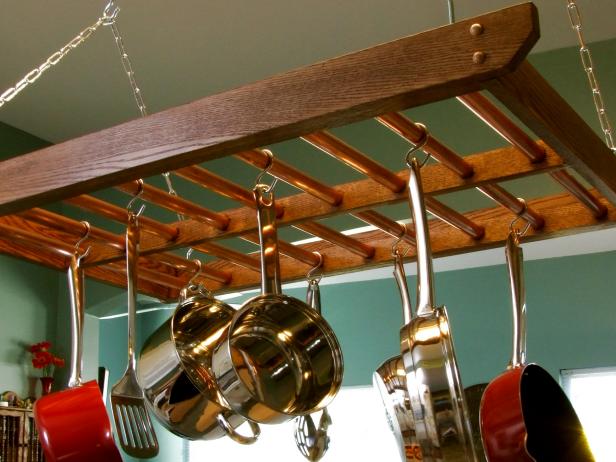 Diy Network
If you don't have a hanging pot rack, you may wish to reconsider. Not only will this give your kitchen a rustic or medieval look, but it will also free up a great deal of cabinet space. All that this one calls for to make is a ladder!
19. Use an Etagere to Organize in Style

The Happy Housie
Add some practical sophistication to your kitchen with an open cabinet, also known as an etagere. Showcase some of your favorite dishes, vases, and decorations in eminent style!
20. Swing Stools Are a Great Space-Saver

Wilker Do's
Have you ever heard of a swinging stool? I hadn't until now, but it looks very useful. Stools tend to impede you when you sweep or mop, and in-between meals. Turning them into swinging stools will make accessing the cabinets and floor easier!
21. Make a Mounted Dish Drying Rack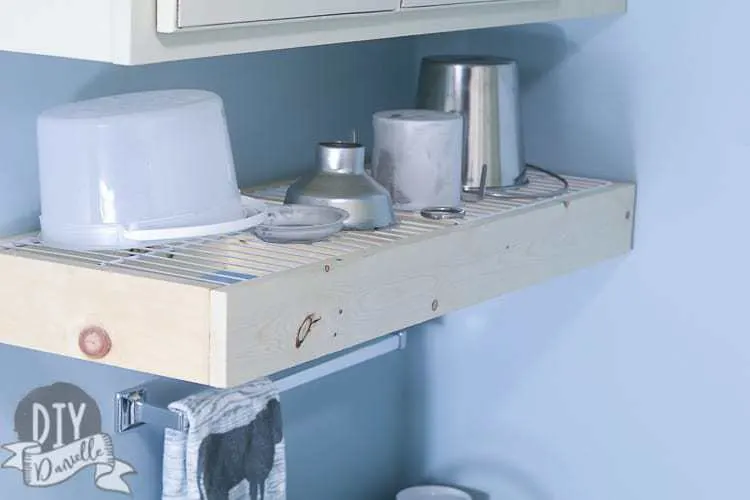 Diy Danielle
Keep track of your many rags and towels, with a cabinet-mounted dish drying rack. No more soggy rags marinating in the sink! (Gross).
22. Try this Smart Pot Lid Holder DIY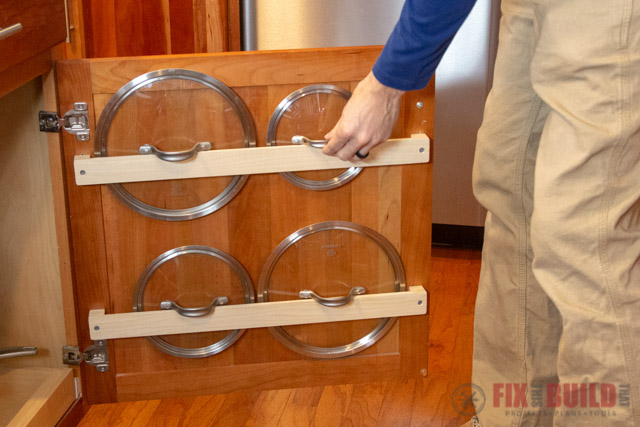 Fix This Build That
Pot lids do take up a lot of room, don't they? They also clatter loudly when you rummage through them looking for the right one. Spot the right lid immediately and grab it with ease, with this pot lid holder DIY.
23. Must-Have Trash Bag Roll Organizer

Simply Organized
When you've just taken out the trash, missing trash bags can be a pain, especially if people start throwing things away in the empty can. This trash bag roll organizer will make sure you always know where they are!
24. Try a Multi-Purpose Pegboard Organizer

Inspired By Charm
A pegboard is one of the simplest kitchen cabinets organizing ideas, as the holes are already there to allow you to place countless hooks. Simply place this inside one of your cabinets or on a wall, and conveniently hang cutlery, measuring cups, and more!
25. An Ingenious Pull Out Can Organizer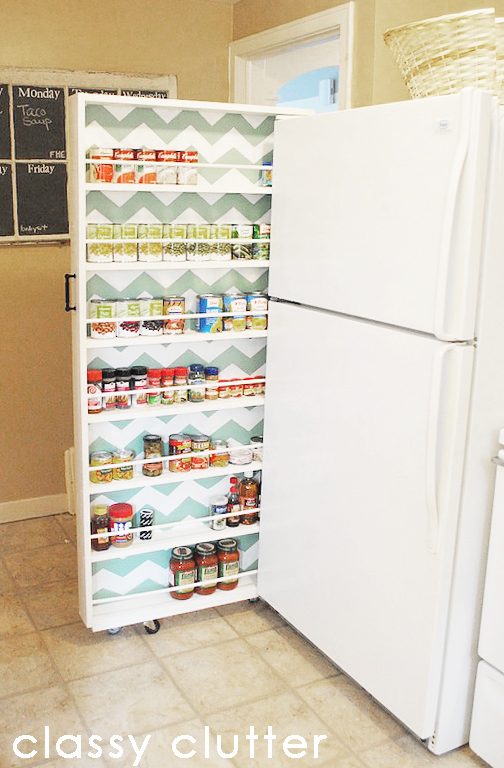 Home Talk
This is for the truly crafty folk. If you've got a lot of food cans, they doubtless take up a lot of room in your cabinets. You can free up tons of kitchen cabinet space with this clever pull out can organizer!
26. Make a Little Above the Stove Shelf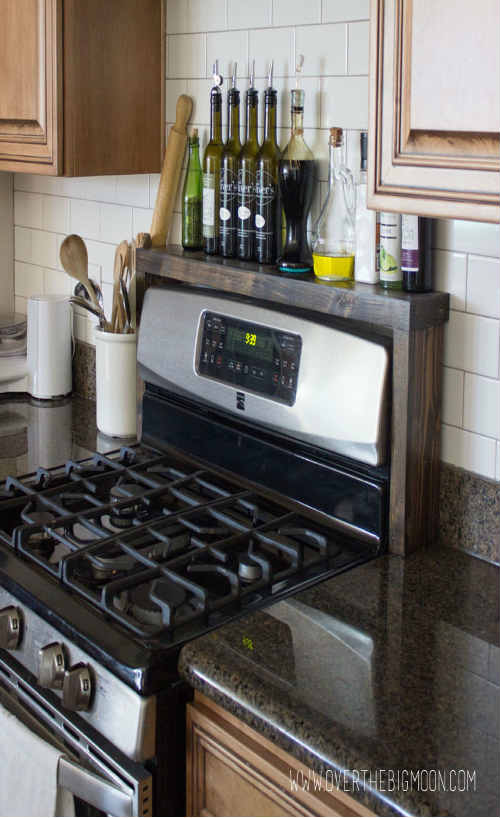 I See I Do I Make
There's valuable space above the stove that can be put to use. Store oils and the like on an above the stove shelf. They will make a pretty display, free up cabinet space, and be easier to grab when you're cooking than ever.
27. A Nifty Cabinet Door Measuring Cup Hanger

Crafted By The Hunts
Believe it or not, there's viable storage space behind each of your cabinet doors. You can even dedicate one to storing measuring cups, with this homemade hanger. I think it looks a lot neater than it does storing them in a drawer. What do you think?
28. Create Your Own Decorative and Practical Mug Tree

Bob Vila
If your mugs take up a lot of room in your cabinet, you might like to try making a mug tree. This will hold mugs like a coat rack holds coats, with a stand and hooks to hang them on. It takes up that spare vertical space in the cabinets, while freeing space to either side for bowls, cups, and so on. As a bonus, it looks very decorative!
29. Craft a Mug Hook Hanger and Display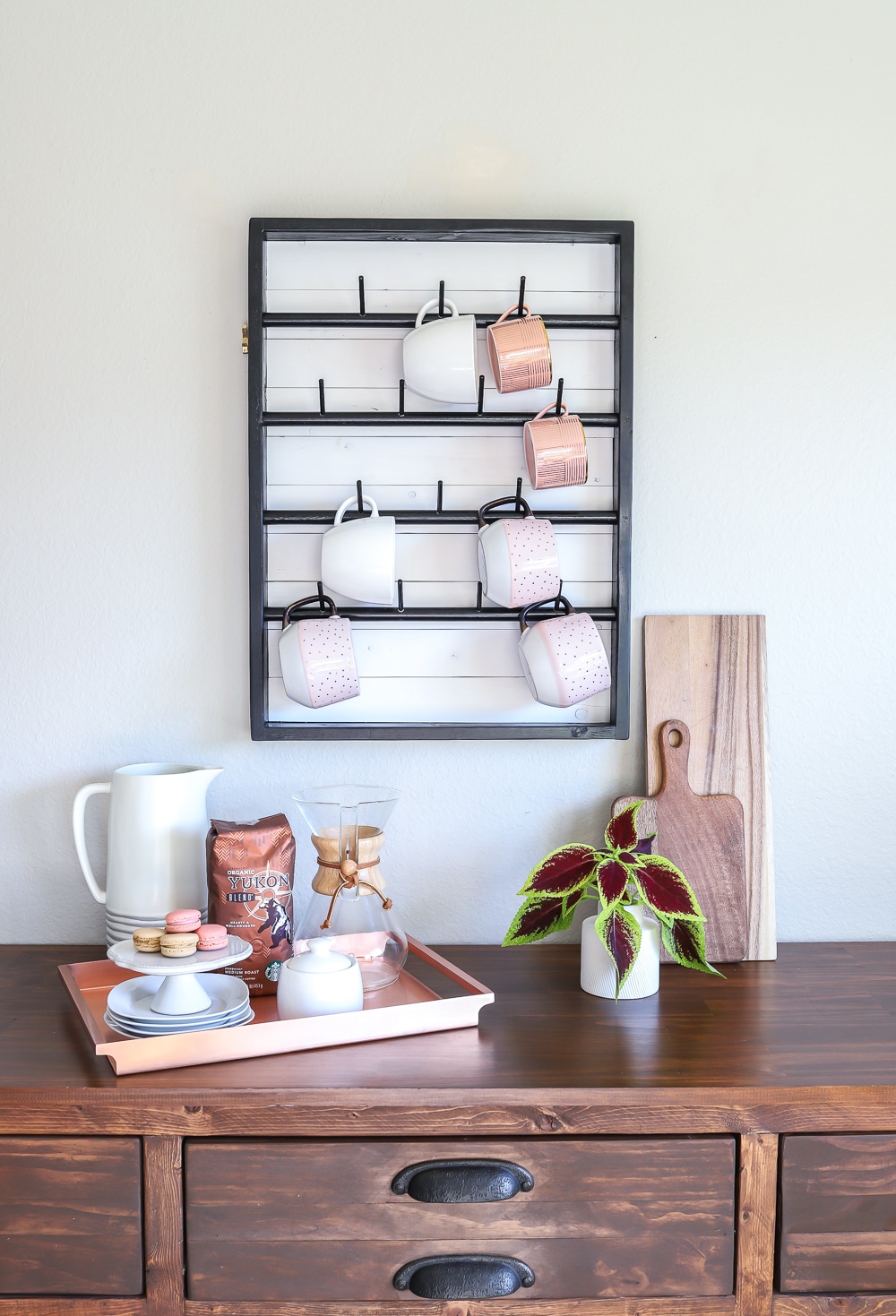 Jen Woodhouse
Another fantastic way to clear out some space in a cabinet is to store mugs on a hook hanger. This can be placed on the outside of a cupboard or cabinet, or even on the wall. Show off novelty mugs or chinaware – whatever you desire!
30. Mason Jar Utensil Holder

Fun Money Mom
This mason jar utensil holder can be placed on the counter, in a cupboard or cabinet, even placed sideways in a drawer. Keep important spoons, spatulas and other utensils from getting scattered, in a simple and stylish way.
31. Hanging Wine Glass Rack

Fun Money Mom
Clear up cabinet space with this artistic and efficient hanging wine glass rack. Not only does this create more cabinet room, but it makes for some top-notch decor!
So, what do you think? Did any of these suggestions catch your eye? With just a few changes and additions, you can have your kitchen looking better than ever!