If you are looking for a quick and easy way to make dinner, a pressure cooker is a way to go! Seriously, as a mom of 2 who sometimes gets stuck at the office, I can tell you first-hand what a Godsend this appliance is, helping me create tasty, fun, balanced meals without a lot of fuss or time!  And now, I'm going to share how it can help you too, whether you're cooking for 2 people or 10.  My Best Pressure Cookers Review will go over the top 5 products, as well as give you buying tips and recipes so you can find the best one for you and discover a whole new way to spice things up in the kitchen.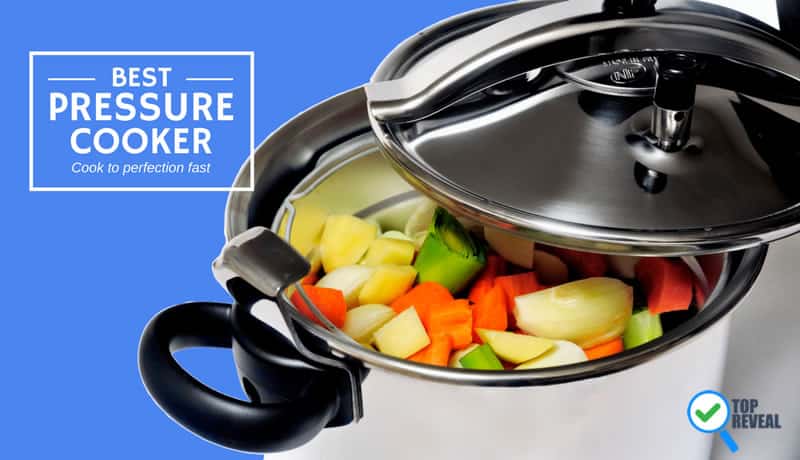 Features and Benefits of a Pressure Cooker
Pressure cookers are ingenious appliances that have been around for decades but have only recently gotten the recognition they deserve.  Designed as an all-in-one meal vessel, they allow you to cook nutritious, decadent creations in a minimal amount of time. Let's look at their main features and benefits to see what makes them so special:
• Convenience: cook meals 2-10 times faster than it normally takes, giving you more time to spend with family and friends. Gets you out of the kitchen: combines a slow cooker, microwave, rice cooker, steamer, and regular pots and pans into just one pot.
• Multiple Programming: many of today's pressure cookers have different cooking programs, giving you a greater degree of precision and more options in terms of the types of foods and meals you can choose from.
• Energy Efficient: saves up to 70% of energy cost for preparing meals and keeps the kitchen cool, a big plus during those hot summer months.
• Creates Nutritious Meals: foods are moister and nutritious thanks to the steam and pressure, leaving all the vitamins and minerals trapped inside.
• Safe and Easy to Use: safety is better than the old pressure cookers as the lid cannot be opened until pressure is released.
Differences between Electric and Stovetop Pressure Cookers
Before reviewing the top models it's important for you to understand the differences between the 2 main types of pressure cookers, which are stovetop and electric. The main difference is that with stovetop versions you need to monitor the heat and pressure whereas, with an electric, you can program it and leave it; you don't have to be close by while it's cooking. The electric is usually larger so it takes up counter space, but for many, that is a small price to pay for the convenience they provide.
In addition, electric cookers give the option of a non-stick or stainless steel inner pot while stovetop styles are more flexible in the various energy sources that can be used such as electricity, propane, or natural gas. Both are a great option, electric pressure cookers are better at controlling the time and temperature of whatever you chef up and are the preferred style among most cooks.
What are the Top Rated Pressure Cookers for Canning?
Listed below are five reviews of pressure cookers that were found to be the best.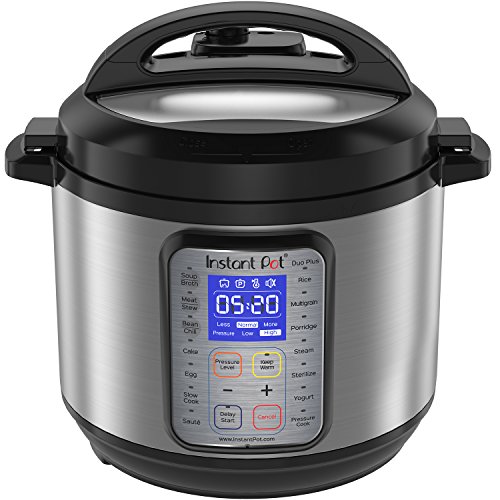 This pressure cooker is 9-in-1 due to being able to do what nine kitchen appliances can do, including a pressure cooker, slow cooker, rice cooker, yogurt maker, egg cooker, sauté, steamer, warmer, sterilizer, plus it can even make a cake. It has 15 microprocessor controlled programs.
It has a stainless steel (18/8) inner pot with all components that come in contact with the food are food grade 304, which makes it durable and ultra resistant to corrosion and oxidation. It is dishwasher safe and it is UL certified with ten proven safety mechanisms. Comes with accessories that include a steam rack with handles, recipe book, serving spoon, soup spoon, and a measuring cup.
It has a large blue LCD display making it easier to see how the cooker is progressing that you can adjust settings on even when cooking is in progress. Some of the ten safety features include a safety lid lock, a sensor for lid position detection monitoring if the lid is in an unsafe position or if the lid is leaking steam. It turns off if the internal temperature exceeds safety limits and releases excess pressure into an internal chamber in a dangerous situation.
It has automatic temperature control to regulate as per the type of program selected. Also, it has an anti-blockage vent to prevent food debris from blocking the vent and a keep warm selector than can be turned on or off.
Most customers were pleased with this pressure cooker giving it a rating of 4.6 out of 5 stars.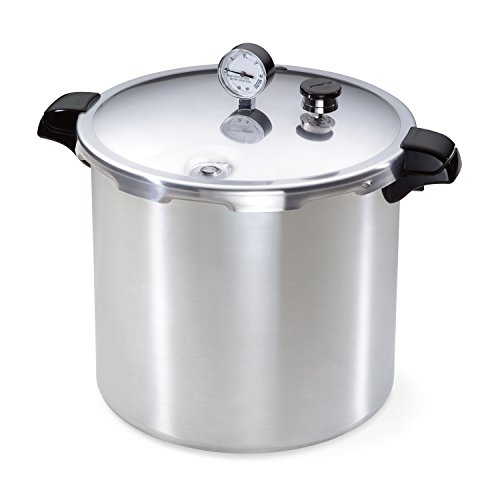 This stovetop 23-Quart Pressure Cooker doubles as a boiling-water extra-large canner that holds up to 7 quart jars or 18-pint jars so you can make lots of preserved fruits, jams, jellies, pickles, salsa, and much more.
It is made of warp-resistant heavy-gauge aluminum for fast and even heating. You can order it with a canning kit that includes a funnel for filling regular and wide mouth jars, a bubble remover, magnetic lid lifter for removing canning lids, kitchen tongs, jar wrench for removing screw bands, and a jar lifter for removing hot jars from canner. It can be used on smooth-top ranges as well as regular stoves.
It has a Deluxe pressure dial gauge to register the complete range of processing pressures. It comes with very clear instructions and an extended 12-year limited warranty. This combo pressure cooker/canner had many positive reviews giving it a rating of 4.7 out of 5 stars.

This 2-Quart electric pressure cooker is perfect for singles or small households of 2-3 people and includes a glass lid for slow cooking, steamer rack, rice spoon, ladle, measuring cup, and an extra silicone sealing ring. Its 7-in-1 multi-purposes include replacing your slow cooker, rice cooker, sauté pan, yogurt maker, steamer and warmer.
The inner pot is made with non-stick coating to prevent food from sticking, is BPA free, and dishwasher safe. You can have peace of mind with this cooker since it has nine proven safety mechanisms including a lid lock and position monitor, anti-clog protection, pressure limiter, temperature controller, excess temperature monitor, excessive pressure protection and auto-control guard, and an electrical current monitor.
Besides the 13 cooking programs and the recipe book you receive with the cooker, you will have access to a website for recipes and tips. Many customers were pleased with this pressure cooker giving it a rating of 4.4 out of 5 stars.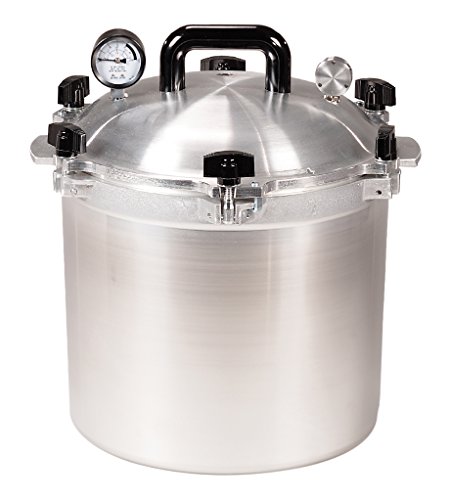 The All American 21-1/2-quart pressure cooker and canner can hold 19 pint jars, 4 ½ gallon jars, or 7 quart jars. It is made of durable hand-cast aluminum with a satin finish that is easy to clean and double thick edges to give more protection at the points of the heaviest wear. The positive action clamping wing nuts make it easy to open and close. Only the All American features the "metal-to-metal" sealing system that gives a steam-tight seal with no gaskets to crack, burn, replace or clean.
It has settings for 5, 10, and 15 psi and is 15-3/8 inches high with a 12-1/4-inch inside diameter. You get a three-setting pressure regulator valve and the pressure gauge is easy to read. Available in other sizes such as 10.5 quart, 15.5 quart, 25 quart, 30 quart, and 41.5 quart. It can be used on gas, electric, or flat top stoves and comes with easy-to-read instruction and recipe books.
Customers were so pleased with this pressure cooker/canner that they rated it with 4.9 out of 5 stars.

This 8-in-1 mini size pressure cooker may be small but it is a powerful way to save time and energy for a small family of 2-3 or for students and other singles. With the eight features, you will have a pressure cooker, plus a slow cooker, rice cooker, steamer, warmer, sauté pan, yogurt maker, and stock pot. It has 10 proven safety mechanisms and certified by ETL and CETL. It has 16 built-in cooking programs with a non-stick inner pot.
It comes with a user manual, cookbook, steam rack, rice spoon, soup spoon, measuring cup, an extra sealing ring, and a 12-month warranty. Most customers were happy with this pressure cooker giving it a rating of 4.2 out of 5 stars.
Pressure Cooker Buying Considerations
Before buying a pressure cooker there are some important factors to consider. Here's a list of what to look for:
• Electric or Stovetop: Research the difference and decide which you want. Electric may take a little longer to cook, but if you work long hours or need time for other chores it may be the better choice.
• Pressure: It should be 15 pounds (psi). If it the cooker does not list a psi, then it is most likely less than 15 and will take a significantly longer time to cook.
• Settings: Stovetop cookers have two pressure settings – low and high, while electric have more settings. If you cook dishes that require precise heating, you may want to go electric.
• Material: Is it made from cheap aluminum or leak-proof high-quality stainless steel? Do you prefer stainless steel or non-stick coating? How and what it's made from can affect what you cook so make sure you choose one that fits your style of cooking.
• Safety: Is it UL-listed? Are the handles easy to use and feel safe? Stovetop cookers with a longer handle with another handle on the other side are safer to remove the lid.
• Size: Most pressure cookers can hold between 4 to 10-quarts; 4 quarts is enough for 2 or 3 people while 6 or 8 quarts is good for a family of 4 to 6.
• Ease of Use: Most electric cookers are easy but some may be more complicated. Avoid stovetop cookers that have several directions to lock the lid. Also, avoid stovetop cookers that have a gasket on the pressure selector as it can get lost down the sink drain.
• Replacement Parts: If replacement parts are needed, are they easy to order? Check reviews.
Safety and How to Use a Pressure Cooker
Modern day pressure cookers are much safer than the old ones that could explode. However, whether it is a stovetop or electric pressure cooker, it is very important to be sure to read the instruction manual. It will tell you exactly how to use your cooker properly. It will let you know the amount of liquid that must be included each time you use it and most importantly, how to release pressure before you open the lid properly so you don't burn yourself.
It may not a good idea to buy a pressure cooker from a garage sale or thrift store unless it has an instruction manual but if you do, you can look up the manual online by clicking here. If you happen to have an old one that you can't get a manual for and you're not sure about using, you can do a water test to see how the pressure works. Click here to read about how to do a water test.
Food that does not work well in a pressure cooker is anything that's real tender such as fish since it tends to fall apart. Also, to keep the steam vent clear, anything that foams easily such as split peas and beans, oatmeal, apples, cranberries, and pearl barley should not be loaded more than one-third to one-half of the pressure cooker and should have a tablespoon of oil added.
The steps to use the newer stovetop pressure cooker are as follows:
1. Add a cup of water or amount called for in recipe,
2. add the food according to your recipe,
3. select pressure setting, turn heat to high (medium for induction),
4. after about 10-20 minutes it heats up and the lid is locked,
5. then lower heat to maintain the pressure and start time to count the cook time per recipe,
6. check every few minutes to make sure it is maintaining and when done,
7. release pressure according to the instruction manual and/or recipe as to how long to wait before removing the lid,
8. remove lid by tilting lid away from you so the steam doesn't burn you,
9. remove food and serve.
The electric pressure cooker directions are simpler. After adding water or other liquid and food, close lid and choose a cooking program and the time on the display. Since it keeps track and lets you know when finished releasing pressure, you do not have to monitor it. Remove lid as described in number 8 and remove food to serve.
If you have an old pressure cooker that is over five years old, releasing the pressure when it is done cooking is done differently than the newer cooker.
To do a quick release you place the cooker in the sink and run cold water over it without getting water in the steam valve or to do a natural release, let it cool down for about 15-30 minutes until the pressure is released.
It cannot be expressed enough that it is of utmost importance that you read the instruction manual before using any pressure cooker and to keep it handy while it is cooking.
Recipes for Pressure Cookers
Stovetop Pressure Cooker Beef Stew
Ingredients
• 1-1/2 pounds sirloin tip or rump roast, cut into 1-1/2″ cubes
• 1/4 cup flour
• 2 tablespoons oil
• 2 cups of beef broth (hot)
• 1 tablespoon Worcestershire sauce
• 1 teaspoon dried marjoram leaves
• 3 cloves garlic, minced
• 1 onion, cut into 1-inch pieces
• 5 carrots, sliced
• 4 potatoes cut into 1-inch pieces
• 3 stalks celery, cut into 1-inch pieces
• 1 (14.5 oz) can diced tomatoes, not drained
• 1 teaspoon seasoned salt
• 1/4 teaspoon pepper
Directions
Heat oil in pressure cooker over medium heat. then coat meat with flour and season to taste. Add meat and cook uncovered until browned, stirring occasionally.
Add the hot beef broth, Worcestershire sauce, marjoram, and onions and stir, bringing the mixture to a boil (stir occasionally). Close cover, bring it to high pressure, then cook for 15 minutes.
Remove pressure cooker from heat, reducing pressure before removing the cover. Then, add remaining vegetables and season with salt and pepper. Close cover, secure and return to high pressure cooking for 5 more minutes. Remove cooker from heat, once again reducing pressure before removing the cover. Stir the stew gently and add seasoning if needed; serve hot.
Electric Pressure Cooker Pork Roast with Apples
Ingredients
• 1 (3 to 3-1/2 pound) pork shoulder roast
• 1 teaspoon crushed caraway seeds or Italian seasoning
• 1/2 teaspoon salt
• 1/2 teaspoon pepper
• 2 tablespoons vegetable oil
• 1 onion, cut into wedges
• 3 cloves garlic, sliced
• 1 cup water, vegetable or chicken broth
• 3/4 cup apple cider or apple juice
• 3 medium Granny Smith apples, cut into wedges
Directions
Trim any visible fat from meat and pat dry with paper towel, set aside. In a small bowl combine the caraway seeds or Italian seasoning, salt, and pepper and rub the mixture over the roast. Heat 1 tablespoon of oil in a 4-6 quart cooker, then add meat, cooking until brown on all sides; add more oil if needed. Once brown, remove meat and set aside, draining off the fat.
Place the trivet or an over-proof rack in the pressure cooker and return meat on it. Add onion, water or broth and apple cider/juice, lock the lid in place and bring the cooker up to high pressure; cook for 45 minutes. Allow pressure to come down naturally and carefully remove the lid.
Transfer the meat and onion to a serving platter and keep warm by covering with foil. Add apples to the cooker and bring to boiling, then cover loosely (do not lock lid) and cook over medium heat about 5 minutes or until apples are crisp-tender. With a slotted spoon, remove apples to the serving platter placing over roast. Serve immediately.
Electric Pressure Cooker Spaghetti Sauce
Ingredients
• 1/2 pound lean ground beef or turkey
• 1/2 pound bulk Italian sausage
• 2 cups sliced fresh mushrooms
• 1 onion, chopped
• 3 cloves garlic, minced
• 2 stalks celery, chopped
• 1/3 cup chopped fresh parsley
• 1 teaspoon sugar
• 1 teaspoon dried oregano
• 1/4 teaspoon crushed red pepper flakes (optional)
• 2 bay leaves
• 1 (28 oz) can stewed tomatoes
• 1 (6 oz) can tomato paste
• 6 cups hot cooked spaghetti
• 1 cup grated Parmesan cheese
Directions
In a 4 or 6-quart pressure cooker, cook beef and sausage until brown, stirring often to break up the meat and crumble it. Remove meat with a slotted spoon when done and drain off fat from the pressure cooker. Return meat to cooker and add remaining ingredients, except for spaghetti and Parmesan.
Lock the lid in place as per directions of pressure cooker bringing up to high pressure and cook for 10 minutes. Meanwhile, bring a large pot of water to boil for the spaghetti and cook according to directions. Quick-release the pressure cooker and carefully remove the lid after 10 minutes.
Remove bay leaves and keep warm if waiting on spaghetti. Serve with sauce over the spaghetti and sprinkle with Parmesan cheese.
Conclusion
After reviewing the above it was difficult to decide which is the best since they are all excellent in terms of quality, design, and function. But if I had to choose it would be the Instant Pot IP-DUO Plus 60, 9-in-1 Multi-Functional Pressure Cooker due to its stainless steel inner pot and high seller rating.
However, all of the models on my list will more than get the job done and make meal time simple, safe, and fun, making whichever one you choose a great investment.
[rwp-review id="0″]