Do you love it when your kitchen sparkles and shines, but hate all the work it takes to get it that way? Well, so do I! Cleaning your kitchen can be time consuming, expensive, and frustrating. You buy all these cleaners and tools, spend hours scrubbing your stove, countertop and refrigerator, and half the time it doesn't even work.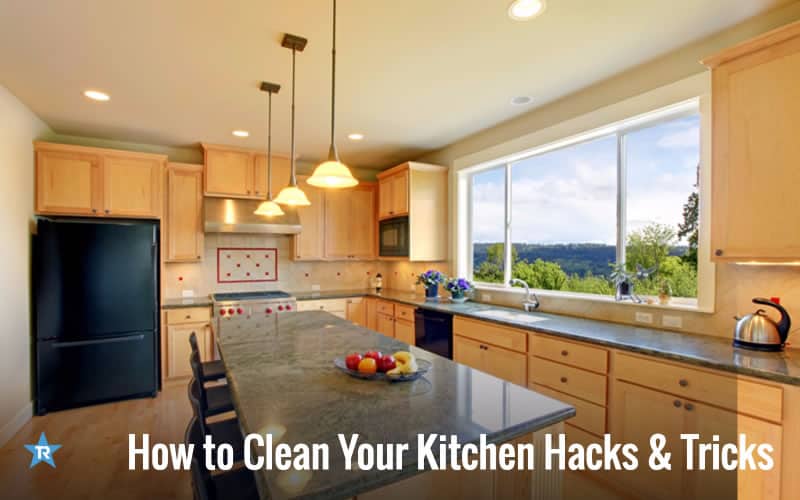 But don't worry, I'm going to change all that. I have 13 kitchen hacks and tricks that are guaranteed to work. These tips are affordable, easy to do, and best of all, they really work. No gimmicks, no pricey cleaners- just floors so clean you can eat off of them and counters so shiny you'll need shades to look at them.
So read on, then roll up your sleeves and get to work; you can thank me later.
Use Ammonia to Clean Your Stove Grates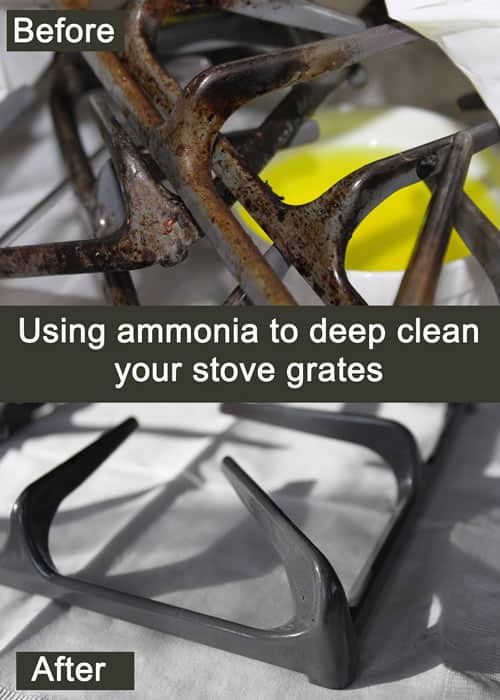 Shared via my great challenge blog.
One of the most stubborn areas of the kitchen to clean is the stove, in particular the metal grates that cover the burners. They are notorious for collecting food particles, oil and other products, causing them to become gooey, sticky and impossible to clean- until now.
To get them grime free and shining like new, use household ammonia to soak them overnight, then wipe them clean in the morning- no scrubbing required. You can soak them in a shallow pan or bucket, using just enough ammonia to cover them.
This trick is easy, costs next to nothing and really gets the job done.
Get Stainless Steel Sinks to Shine with Baking Soda
Stainless steel sinks are extremely popular these days, and also extremely hard to clean. Every spot, whether it's water or dirt, shows on them, so even when they are clean they can still look dingy and dirty. Plus, they can scratch easily, limiting how and what you use to clean them.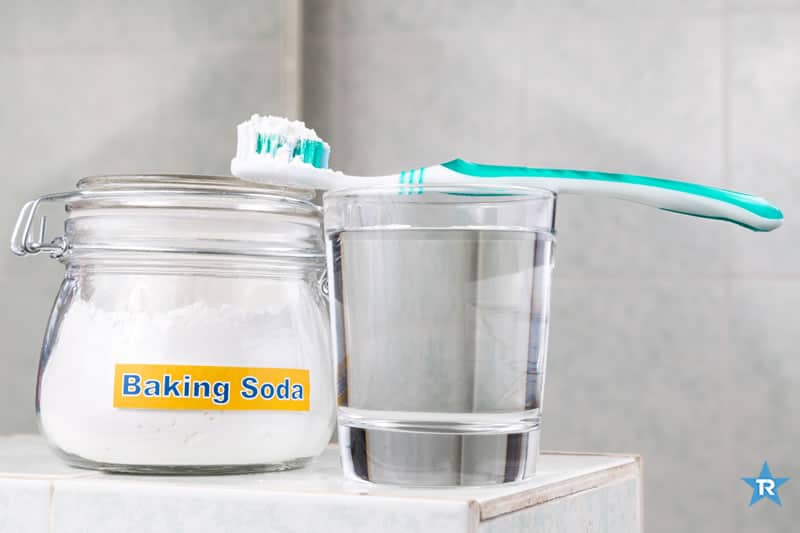 But don't stress, there is a simple and safe way to prevent all that: baking soda. Oh, and it also works to clean dirty drains too.
Just take a box of baking soda and sprinkle it across the bottom of your sink; a thin coat will do.
Then using an old toothbrush (soft bristles) rub the baking soda around in a back and forth or circular motion to remove any stains. Rinse the sink with warm water, dry, and voila: clean sink.
Eliminate Oil Stains Using….. Oil
Oil stains on oven hoods are some of the most annoying and hard to clean stains. Hoods are notorious for being sticky, greasy messes thanks to splattering oil, so the idea of using oil to clean it up sounds crazy. But as crazy as it sounds, it actually works.
If you take a paper towel, dip it in vegetable oil, and run it across your oven hood, the oil and gunk will come right off. After you remove all the grease, just wipe it down (no rinsing) with a clean paper towel. This will leave a light coat of oil, making future clean ups easier.
Make Your Own Disposable Wipes
Disposable wipes are very convenient for quick, efficient cleaning. But they are also very expensive. So, to help you get the best of both worlds here is a simple way to make your own reusable wipes using an old t-shirt, vinegar and some essential oils.
Take an old t-shirt and cut it up into small squares. Then, mix equal parts vinegar and filtered water, and add a few drops of essential oil for a nice, pleasant smell. Dunk the shirt scraps into the solution and let them soak for a few minutes, then store in an air-tight container.
You can wash them after each use and resoak, saving you money without sacrificing convenience.
Eliminate Grime & Grout from Kitchen Countertops

Shared Making Lemonade Blog
Tile countertops are the bane of most homeowner's existence. Whole the tile itself is easy to maintain, the white grout lines in-between are really hard to get clean because they are narrow and the grout material is porous. But don't worry, you are not stuck with dingy gray grout forever. Using steam to sanitize your countertop works like a magic too.
Using a simple combination of baking soda, dish soap and vinegar, you can get your grout looking white and bright in no time. Combine 1 ⅔ cup baking soda, ½ cup liquid soap, ½ cup water and 2 tablespoons of vinegar together.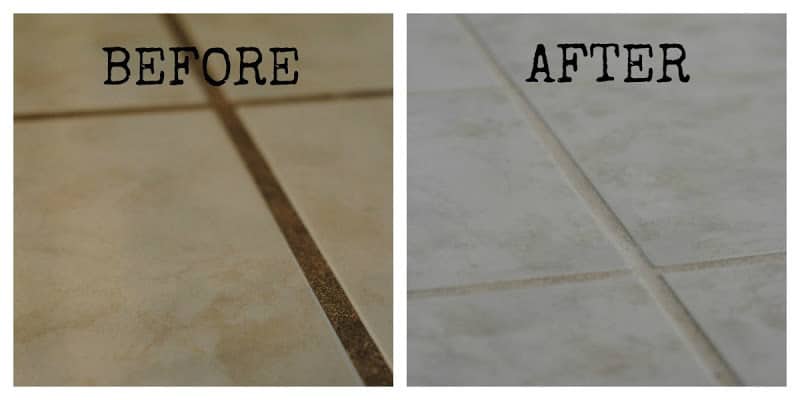 Then, using a toothbrush, toothpick or small rag, dip it in the solution and rub it along the grout. It will soak up and eliminate stains instantly. One can use steam-cleaner or steamed mop to do extra steam cleaning afterward.
Lemon & Water Will Transform Your Microwave
Microwaves take quite a beating and are often neglected in terms of cleaning. Which is why when you do clean them they are usually filthy. Caked on foods and grease are common sights in most microwaves, but you can easily get rid of them using 2 common items found in any home: water and lemons.
Fill a microwave safe measuring cup or small pitcher with water and a lemon cut in half. Place it in the microwave and put it on until the water boils. The steam from the water, combined with the acidity of the lemon, will make the grease and baked on particles easy to remove. The lemon will also help it to smell fresh and clean.
Clean Butcher Blocks with Just Lemon & Salt
Shared via The Graphic Fairy
Wooden butcher blocks are great for chopping and dicing, but their porous surface make them susceptible to stains and odors. But you can easily eliminate those issues using 2 simple household ingredients: lemons and kosher salt.
Kosher salt acts as an abrasive, and combined with the lemon it can deep clean and eliminate odors. Liberally sprinkle salt across your wooden cutting board, then wipe back and forth with the lemon and watch stains and odors disappear.
Dryer Sheets Can Clean Pans
Dryer sheets don't just make your clothes smell spring fresh: they degrease your pans too. Pans can become dull over time as a result of all the sprays, oils and foods cooked in them, but a dryer sheet can change that.
Place a dryer sheet in a pan, add warm water and let it sit for a few minutes. The dryer sheet will produce grease-fighting bubbles and soak up dirt. Just rub the dish down, rinse with warm water and you'll have a pan that looks like new in minutes.
Spotless Ovens with Baking Soda
Baking soda is inexpensive and versatile. It doesn't just eliminate odors, it also cleans several surfaces, including your oven. Ovens are one of the hardest appliances to clean without using chemicals- unless you have baking soda.
Baking soda can safely clean your oven and remove the most stubborn stains. Spray the inside and oven door with warm water, then sprinkle baking soda in the oven and across the open oven door and let it sit for at least 15 minutes.
Then, wipe a small spot with a warm cloth to see if it's clean. Repeat until clean; for stubborn stains you may have to do this a few times.
Use Onions to Get Grill Grates Shining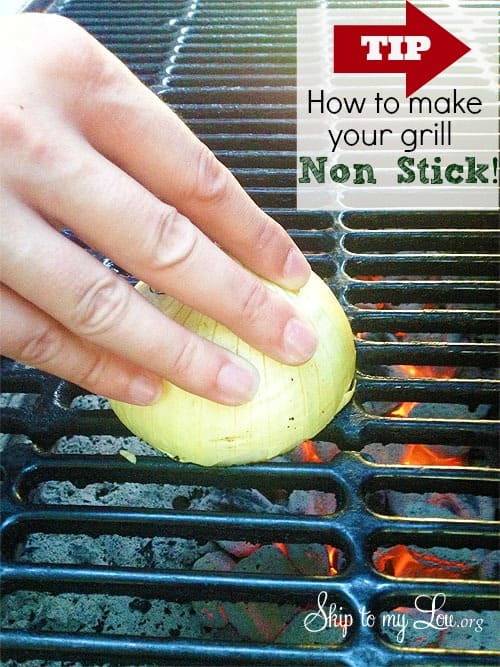 Shared via Skip to my Lou
If just the thought of onions brings a tear to your eye you may want to wear a mask for this next hack. Grill racks are prone to having burnt particles, like meats and veggies, stuck to them, but onions can fix it.
Before using your grill, take half of a white onion, peeled, and rub it back and forth against hot grill grates (wear oven mitts). The onion deglazes the grates and cleans them. It also helps add flavor to your burgers and meats.
Toothpicks Can Reach the Tiniest Places
Toothpicks are great for cleaning hard to reach places in your mouth, and in your kitchen. Use them to remove dirt and debris from crevices along your stove, countertops and appliances, leaving no spot unreachable.
You can dip a toothpick in lemon or vinegar, then rub it along grout lines to get them sparkling and also eliminate odors from your kitchen.
Vinegar & (Lemon Oil) Are Your Refrigerator's Best Friend
Shared One Good Thing By Jillee
Because they are so cold, many people forget to clean their refrigerators and the trash compactor, or fail to clean them properly. Yes, the cold does keep odors at bay, but it doesn't completely eliminate them. Which is why you need to wipe down your fridge regularly using my simple solution.
Take 1-part white vinegar and mix it with 2 parts of water and a few drops of lemon oil, then wipe down the inside of the fridge from top to bottom. The vinegar will fight germs and the lemon oil will help everything to smell vibrant and clean.
Clean Your Blender 1-2-3
Want spot-free blenders that are clean in even the hardest to reach spots? Well, you can have them and the good news is all you need is some soap and water. Fill the blender with warm water, add a few drops of soap, then pulse or blend for 3 minutes. The inside and blades will be clean as a whistle.
Following my 13 kitchen hacks and tricks will have your surfaces looking and smelling great. All of these tips are easy to follow, use things found around the house and are safe and inexpensive. They help cut down on cleaning time and are more effective than store cleaners, so you can really get your kitchen the way it should be: perfect and like new.
Reference:
http://www.cosmopolitan.com/food-cocktails/a28077/awesome-kitchen-cleaning-hacks/
http://cutediyprojects.com/life-hacks/40-cheap-kitchen-cleaning-tips-that-will-make-your-kitchen-sparkle/