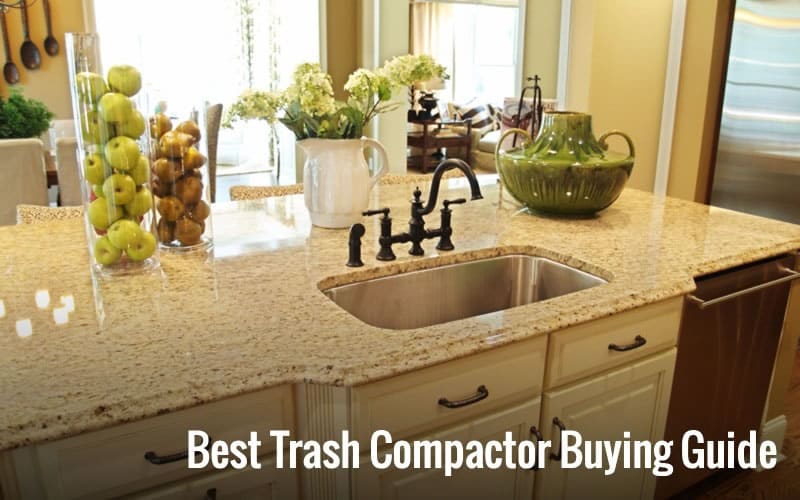 In my house, there is only one chore that strikes fear in the hearts of my children and husband, and that's taking out the trash. It is a cumbersome, time-consuming, and smelly task that needs to be done several times a week, causing everyone to scatter like mice- with me left holding the bag (literally). Which is why I decided to invest in a trash compactor- and it's the best decision I ever made.
Compactors are efficient, powerful and good for the environment, reducing waste volume and late night trips to the curb (something your family will love you for). They are handy and practical, but choosing one can be hard, which is where I come in. Having done extensive research before buying my own, I'm going to pass on what I learned to you with this Best Trash Compactor review.
My review contains essential information on how to use a compactor, what to look for when buying one, pricing options, and a look at the top models on the market. So, all you have to do is read up, then run out and get one.
What is a Trash Compactor?
Trash compactors may look like your average garbage can, but they are anything but average. These motorized appliances push down garbage into a compactor safe bag, reducing wastes by up to 80%. The bags are the same size as your average trash bag; they are just reinforced to withstand the pressure.
Garbage can be compressed multiple times before emptying it, and they can cram food, plastics, paper, tins and other essential household materials. The only exceptions are glass, which can be a bit risky and may poke through bags, wood, and electronics.
Easy to use and available in an assortment of sizes and styles, they fit any lifestyle and any size household. There are free-standing models that can go on any space, under the counter models, and ones with a finished top to extend counter space. They also require minimal maintenance and cleaning.
The Top 7 Trash Compactors in the Market
Now that you know what you want and need, it's time to look at the 5 best models on the market.

Sleek and efficient, this 1.55 cubic ft. free-standing appliance is great for any size home, especially larger ones with kids thanks to enhanced power and child-safety features.
It can reduce 6 bags of garbage down to 1
thanks to a
¾ horsepower motor that exudes 3000 lbs
of force. Even more impressive is the automatic program feature. You can schedule when the garbage gets done and then forget about it, taking convenience to a whole new level.
This also means bi-weekly garbage trips and less clutter. Fitted with an odor disk, which is good for 6 months of fresh smelling garbage, and 3 fitted bags, the Elite delivers odorless compacting in sturdy bags that won't rip or tear.
Finally, the child lock ensures kids can't get inside, so you can rest easy knowing their safe. A good family model that won't break the bank.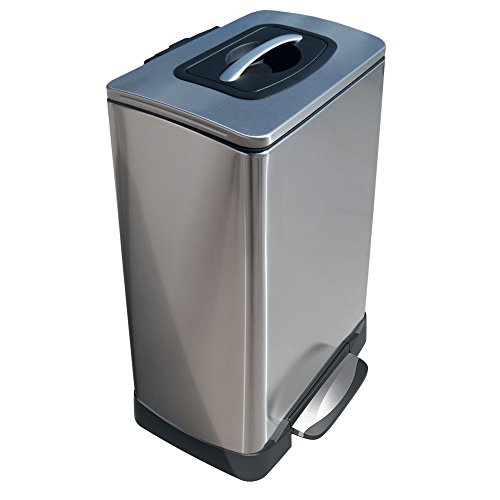 Designed using fingerprint resistant stainless steel, this compactor is great for families with sticky little hands or messy spouses. The soft-touch pedal allows for easy opening, while the silent lid closes slowly, so you don't have to worry about any fingers getting caught.
Also, there is a locking device to keep the lid open when you use it and a lock to hold the bag in place; so no unwanted spills inside the can and no fighting to hold the lid up as you clean off dinner dishes.
Measuring 25.5High, 16wide, 13.5 deep it holds up to 40 liters and is stylish enough to work with any kitchen decor. Affordable and attractive, it is a solid investment.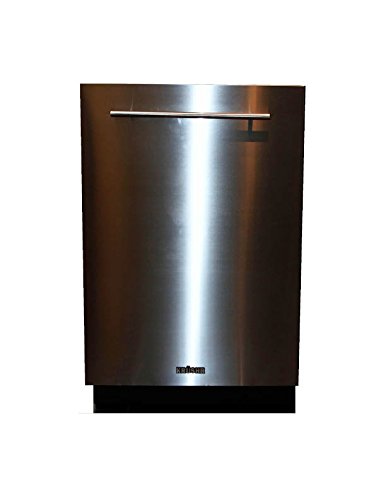 This fashion-forward model is one of the more expensive models at around $1500, but the price tag is warranted thanks to some advanced features that make compacting a snap.
With interchangeable front panels available
, including stainless steel (for an additional price), style-conscious shoppers will love this unit, which can be free-standing, mounted into the cabinetry or fitted under existing countertops thanks to the removable legs.
As far as features, there are several that make the K024 extremely efficient. There is the one-button touch operation for quick start-up, energy saving mode, which lets the unit crush at maximum force without using more energy than necessary, and can crushing mode, to handle cans and tin containers.
Fitted with a child lock, this unit delivers on all levels and is the best value for your money.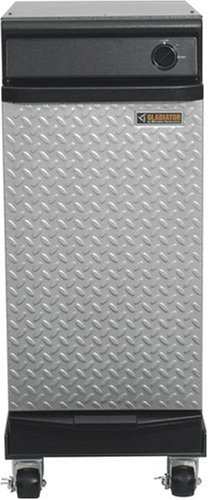 With its industrial yet sleek design, this compactor from Gladiator is ideal for families or workspaces. Fitted with an anti-jamming mechanism, it will squash regular trash and recyclables safely and easily each and every time thanks to the 1/3 horsepower motor.
Even better, it can handle large volumes, compressing them to half the size, to keep your space clean and neat; not to mention it's better for the environment.
The touch toe drawer allows you to open the machine even when your hands are full and the on/off/start key allows for quick start-up and stopping when needed. There are also convenient rubber casters that allow you to easily move the unit, along with a lock to stabilize it when needed.
Well worth the price, it will last for years to come.

Designed with your convenience in mind, the Broan Elite puts hygiene and simplicity first. This model has a stylish finish that works in any style kitchen and child lock with key for concerned parents.
With the ability to put out 3000 lbs. of pressure and reduce trash from 6 bags to 1, what sets this unit apart is the painted steel compacting plate, which handles bottles and cans expertly. This is important for those who recycle or pay to have garbage taken, and convenient because you can throw virtually anything in it.
It has a fully retractable door, so you can fit even large size objects in
without struggling and also makes cleaning the interior and removing the bags easier. Plus, there is a 6-month manual odor control system you can turn monthly with your compacting schedule to keep everything smelling fresh.
An excellent choice for those with busy lifestyles, it can be free-standing or go under some countertops.

For those who want a sleek under the counter model, the Profile by GE is hard to beat in terms of quality and function. This model is like the little-engine-that-could, with 2300 lb.s of force to handle food scraps, paper, plastics and more.
Equipped with an anti-jam sensor, you never have to worry about overloading
the unit and it has a removable drawer, making emptying it easier. It can be wiped down with soap and water each time you empty it and requires no maintenance.
It also is a great space saver, fitting under and counter, so it is ideal for small apartments. A good unit for smaller areas and families.

This budget-friendly unit is perfect for small spaces. The sleek black unit can be mounted under any countertop and has easy to use tap controls for quick, efficient compacting. Great for food, paper and cardboard, it has anti-jam sensors to ensure it operates smoothly and a toe-touch bar for easy opening.
The unit also comes with fitted bags and has a lock key for safe operation. A bargain unit with high-end abilities.
Why You Need a Trash Compactor? Are Trash Compactors Worth it?
Knowing what a compactor can do is only the beginning. You also need to understand all the ways it can help you (and your poor scared kids/hubby). Let's look at the benefits of owning one:
Cuts Down on Trips to Take Out the Trash: With a compactor you can fit more garbage into one bag, in some cases reducing 6 bags of garbage down to one. That means making weekly, or even bi-weekly trips to the garbage bins, instead of daily.
This is particularly useful during those cold winter months, if you work late nights or if you value your time.
Maintenance Free: Most models require no upkeep and can be wiped down when you change the bags, making clean-up a snap.
Makes Your House Cleaner: Since you can fit more trash in each bag, it saves you from having to pile up trash in the garbage or front gate in-between weekly trips from the trash collectors. This eliminates and makes your house tidier.
Eliminates Odors and Messes: Many models have a charcoal filter to control odors, and fewer trips to the trash mean less chances of bags are leaking and spilling- keeping you and your house mess free.
Saves You Time: Are Trash Compactors Worth to buy? Fewer trips to remove the trash, or take the recycling to the center, saves you time and energy. So no more schlepping out to the middle of nowhere when you could still be sleeping in bed.
Saves You Money: These appliances save you money in several ways. They cut down on the number of bags you use, cut down on garbage costs if you use a removal company and pay by volume and save on trips to the recycling center, so you save on fuel.
Environmentally Friendly: Less trash means fewer bags to use, which is good for the environment because there are less bags in the landfills.
What to look for When Buying a Compactor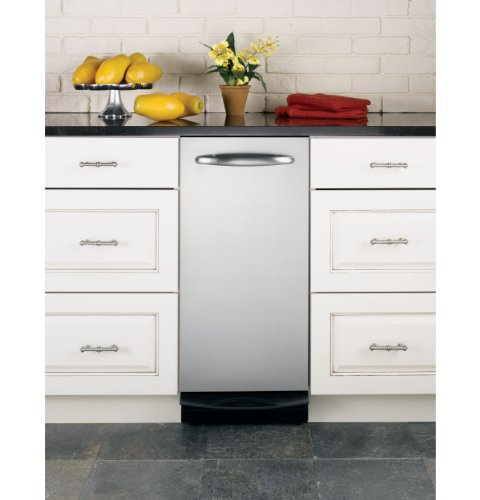 Compactors can cost anywhere from a couple of hundred dollars to over a thousand, so knowing what to look for is essential; otherwise, you will be wasting your money. Here is what you need to consider:
Space: Do you live in a small apartment? Do you have limited under the counter space? Which style you buy depends a lot on the space you have. If you live in an apartment you may need an under the counter style or if you have a house you may want one for the recycling in the garage.
Size: In this case the size of the compactor and the motor both need to be considered, for different reasons. The cubic space is important because the smaller the unit, the more frequently you will have to remove the bags. If you have a large family, you'll want a larger unit.Also, the larger the motor, the noisier it may be, so check or ask to try one out to have a sense of the noise level. If you have an infant or sick person in the house, it may bother you will have to factor it in.
Extra Features: Things you want to look for to make life easier include a toe bar, air filters, anti-jam sensor, and child-proofing.Toe bars allow you to open the compactor when your hands are full; filters keep smells at bay, sensors alert you when the appliance is over-filled, and child-proofing prevents kids from accidentally putting it on.
Consider which of these you need, or if you need them all.
Price: Decide ahead of time what your budget is, then pick the best model within that range. There are great offerings at all different price points; knowing your limit will eliminate wasted time looking at models you can't afford.
Pros and Cons of Trash Compactors
Last, but not east, you must consider the pros and cons before buying one of these units. Efficient and easy to use and maintain, they save you time and money, making trash day a monthly event and cutting down on trash volume.
They also keep your home tidy and fresh, minimizing garbage and odors and help reduce trash in our environment.
On the down side, there are some materials it can't compact, so you must be aware of what you put in them, and if you put foods like fish in them regularly, you may have to deal with a little odor from time to time.
You can refrain from throwing in too many smelly foods, or use a garbage disposal to eliminate this problem.
Trash Compactors: Your New Best Friend
As my Best Trash Compactor Review shows, these appliances are big on saving you time and money. They provide you with a quick and safe way to cut down on your garbage, so you can make fewer trips to the curb and spend more time where it counts: with your family.
Cost effective over time, they are great for helping the environment and can save you space, storage and make your home clean and smell fresh. Best of all, your family will love you for it and trash day will be something they look forward to… well, almost.