If you think crepe pans, or crepes for that matter, are too fancy for your kitchen, then think again. Crepes may sound complicated, but they are quite easy to make and are perfect for a meal, as a snack, or for dessert. Stuffed or plain, savory or sweet, all you need is a good crepe pan to make it happen, and I can help you with that.
Still not convinced? Well, a good crepe pan can also make eggs, tortillas, and other foods, making it a versatile and essential home tool. Who knows, it could even help you to become the next Bobby Flay…
I'll even throw in a few recipes to get you started on the road to possibly becoming the next Food Network Star (hey, it could happen!)
What is a Crepe Pan? And what are crepes?
To understand what a crepe pan is, and turn you into a 5-star chef, you must first know what a crepe is. Crepes are very thin pancakes you can make using wheat flour. Since they are so thin and delicate (almost like paper) they require a particular type of pan, as opposed to traditional flapjacks. Crepes can be topped with fresh fruits, ground beef, decadent chocolate (my fav!) and anything else, making them a great base for any meal.
A crepe pan is a very shallow pan that is tempered, and most are made of aluminum or cast-iron. The non-stick surface ensures the crepe doesn't get stuck when cooking and the tempered surface allows the entire pan to heat evenly, for proper cooking.
Professional crepe makers have no sides, but are very expensive; crepe pans have a small lip to flip and use a spatula with ease and are much more affordable.
Top Five Crepe Pan Reviews
Now that you just why you need and should have a crepe pan let me show you the top ones on the market. I'll break down how they work, pricing and what they have to offer.
This pan is one of the better-made models and good for those with varying recipes to try. Lightweight and sporting a curved stainless steel handle this pan is great for manipulating batters.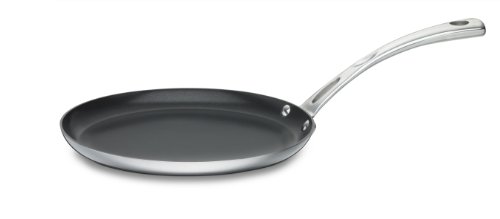 The non-stick, tri-ply interior makes it resistant to scratching and allows you to create beautiful crepes that
won't burn or leave parts
under cooked. And at 10" wide it is ideal for making fruit-filled crepes or stuffed tortillas; recipe choices are endless, perfect for budding chefs (and improving your chances for stardom)
Easy to clean with a soft sponge, this is a solid choice for cooking enthusiasts.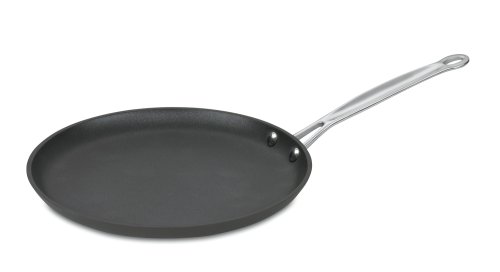 This 10" crepe pan is a bargain at just
under $25
, creating professional style crepes for you and your whole family. Made of an anodized
exterior and a specially patented quantanium interior
, this pan is durable and can withstand daily use.
The surface is nonporous so that it can be washed without damage; you can also place it in the oven at temperatures up to 500°. The quantanium interior is non-stick and reinforced with titanium, for an even heating surface that creates paper thin crepes every time you use it.
The handle is stainless steel, so it stays cool to the touch, and the tapered rim prevents spill overs. Plus, the 10" size is good for families, allowing you to make large dessert crepes, pizzas or omelets for everyone.
A smart choice for large families or those who like to entertain.
If you are obsessed with crepes and want a true French-inspired crepe pan, this is the one for you. Costing around $130, it is a big investment, but for those who make crepes faithfully, it is more than worth the price.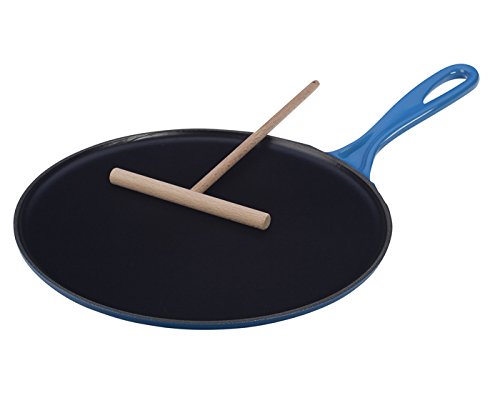 Made of enameled cast-iron, the classic blue outside of this pan is both
cute and durable
, while the cast-iron interior will last for years. The enamel and cast-iron combination ensures even heating throughout the entire pan; no soggy or overly crispy crepes.
The practically non-existent rim lets you swirl the batter expertly and flip crepes like a professional. No seasoning is required, and it can be used on stove-tops or in the oven at any temperature so that you can bake folded concoctions with ease.
Versatile and built to last, this is the ideal pan for crepe lovers and anyone who wants a pan that looks as good as it works.
This specially formulated crepe pan is all natural and works like a charm, creating tasty crepes at a great price of just under $50.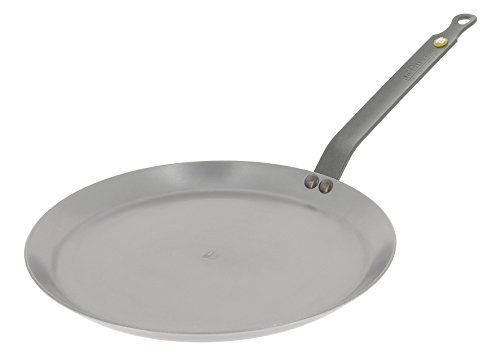 Made of pure iron, this pan is treated with Bee Wax, which prevents rust, oxidation and makes it naturally non-stick after seasoning it.
There are no PTFE or PFOA chemicals
, so it is good for the environments and the metal is conducive to even heating.
This pan requires special care and must be deglazed with hot water when washing, so if you are into the environment and care enough to take those extra steps this is a quality pan.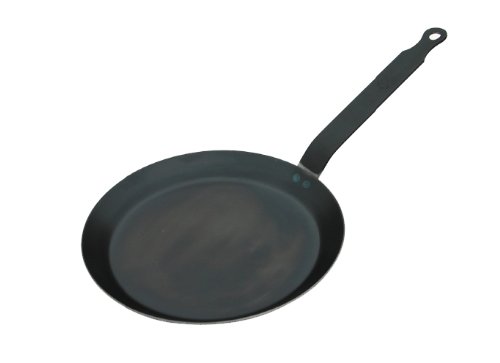 This pan is ideal for those looking to make just crepes, as that is what it is designed for and produces restaurant quality crepes.
Made of blue steel, the low sides make it perfect for spreading batter and flipping crepes. Blue steel helps create, crispy, thin crepes that are perfect for breakfast or as a desert. It also builds flavor after each use, which is why it's best used for only crepes.
The pan can be cleaned using soap and water (soft sponges only) and must be seasoned before using. Measuring at 9 1/2 -inches, it can make enough for 1 or more.
All of the pans so far have been stove-top ones, but there is another option: an electric crepe maker. Electric crepe makers have no rim, plug in, and can be portable for added convenience.

Made with a
non-stick 13-inch surface
, this crepe maker spreads batter evenly and quickly. It has an indicator light to tell you when it's heated and a temperature control for precision cooking.
There are a wooden crepe scraper and turner included, as well as instructions to get you started. Plus, there is a cleaning brush for 1-2-3 clean-up. A smart choice who wanna have portable and convenience all-in-one.
The Benefits of Owning a Crepe Pan
Having a crepe pan is a good idea for several reasons:
Improves Your Palette: Pancakes are great, but there are days when you want something more. With a crepe pan you can quickly turn out fluffy, light crepes, then add some fruit for a light, refreshing meal. Who knows, they could even make your kids like fruits and veggies (Hey! It could happen).A crepe pan can also be used to make tortillas for tacos or a thin crust pizza (that you can sneak a few veggies on). The point is, the possibilities are endless.
Makes Perfect Crepes: If you try making crepes on a skillet or in a regular frying pan, you are doomed to fail because they don't heat evenly throughout. With a crepe pan, you will make perfect crepes every time, amazing family and friends at your next party. But don't worry, I won't tell anyone how you did it,
Easy to Care for: Most pans are low on maintenance and require no special care; the non-stick surface means no scrubbing- just wash it and forget it.
Helps You Lose Weight: Crepes are low in calories and less dense than your average pancake, so if you're watching your weight they are perfect for you. Having a crepe pan will encourage you to eat better, whether it's making crepes or turning out an egg white omelet.
What to Look for When Buying a Crepe Pan
Before investing in a crepe pan, here are the key things to look for: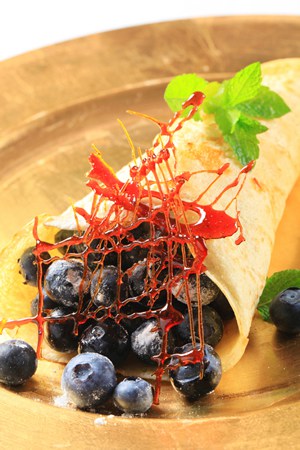 Materials: Steel and Teflon can scratch, and if that happens the pan will not cook evenly, so look for cast-iron, blue steel or aluminum, which are more durable and scratch resistant.
Shape: Crepe pans have low rims, but some are shorter than others, so you need to know what you are using it to create. If you are making just crepes the lower the better. If you plan to make eggs or pizza, you want one with a higher rim.
Care: Most pans can be cleaned using a soft sponge, but others may need a special cloth and some need to be oiled or seasoned before using.Check and be sure to get the one that works best for what you need. If you have small kids or are pressed for time, you may want something low-maintenance.
Best Crepe Pan Recipes
To get you started as a master crepe chef, here are some recipes for you to try and enjoy:
Basic Crepe Recipe:
In a blender combine eggs, milk, flour, salt and oil. Blenders work best to make the batter smooth and lump free. Cover the batter and then refrigerate for 1 hour (batter cooks better when cool).
Heat the crepe pan and brush with oil, then pour 1/4 cup of crepe batter into the pan. Tilt the pan to coat the surface thoroughly and cook 2 to 5 minutes, turning once, until golden.
2.Fruit Salsa Crepes
Perfect for breakfast, brunch and as a snack, these light crepes are yummy and healthy. Here's what you need:
Ingredients:
For the crepes, you need the basic crepe recipe.
For the fruit salsa you need 2 apples, 1 pint of strawberries, 15-ounce can of peaches, drained (or 2 fresh peaches), 2 kiwis and 2/3's of a cup of apple butter.
Directions:
Dice the apples, strawberries, kiwi and peaches in a bowl, then mix with the 2/3 cups of apple butter. Put in the fridge until the crepes are ready.
Prepare crepes, then top with salsa and fold over. One may consider using carbon-steel woks and other pans.
3. Ham and Cheese Crepes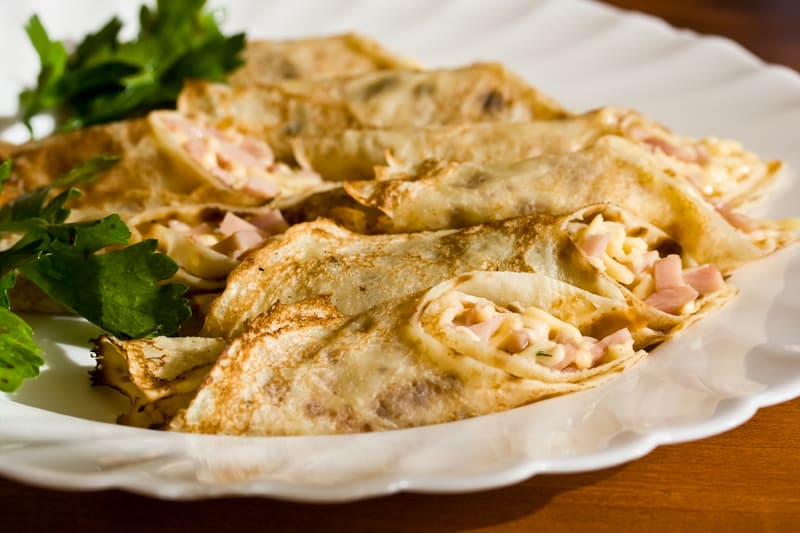 Ingredients:
Basic crepe batter
Filling: shredded Gruyere Cheese, thin sliced Prosciutto (or ham); additional ingredients to top crepe: shaved asparagus, Olive oil, kosher salt and black pepper
Instructions:
Cook crepes as usual, then place on a baking sheet, fill with prosciutto and cheese, fold in half, then fold again. Brush the top with Olive oil and shaved asparagus (optional) and place in a 350° oven for about 3 minutes.
With our Best Crepe Pan Buying guide, you have everything you need to know to purchase a great crepe pan at an unbeatable price. These pans are affordable, serve multiple purposes, and can make any cook a spectacular one, turning out restaurant style crepes that will fool the pickiest palettes.
Crepes are light, tasty confections that can be served at any meal and take it to another level. They go with any food, fit every lifestyle, and best of all, are simple to make. An investment in a crepe pan is an investment in quality foods. It will put a smile on your face, and your family's faces, every time you use it. And of course, it could make you a star (move over Giada).