Love beer? You certainly aren't alone. There is no doubt that beer makes for a wonderful way to relax or hang out with friends. While there are plenty of good ales out there that you can pick up at the grocery store, haven't you ever wanted to see if you could give it a go yourself?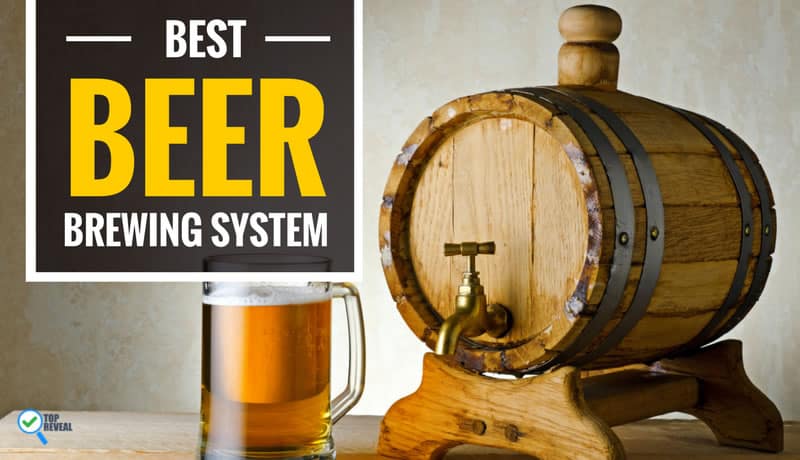 It's easier than you think. While it may take you awhile to master the art of brewing beer, getting started is relatively simple and it doesn't require a huge startup cost. With a home brewing kit, pretty much anyone can give this age-old artform a try. Today we will be taking a look at five of the best beer brewing kits to see which one is right for your needs.
Key Info for Our Top 5
Northern Brewer Go Pro 1 Gallon Small Batch Beer Brewing Starter Kit : 1 Gallon Capacity, includes twelve bottles, recipe book, instructional DVD
NorthernBrewer Deluxe Home Brewing Equipment Starter Kit: 5 Gallon capacity. Recipe kit included.
Mr. Beer Premium Edition: 2 Gallon capacity. Eleven bottles included.
Brewery in a Box: 5 Gallon Capacity, Recipe kit included.
Midwest Supplies: 5 Gallon Capacity Recipe Kit
Our Recommendation:
We are about to take a look at a lot of great home brewing kits, and while all of them are really excellent in their own right, there is one that takes the cake as far as we are concerned. The Homebrew starter kit offers a great combination of quality and value that should help you to brew high-quality beer in no time at all.
Hey, that's just our opinion. You can make your own decisions as we take a look at the best beer brewing kits.
Top 5 Home Beer Brewing Kits
The first brewing kit that we will be looking at is on the small side, but that is not to say that is lacking in quality. This kit will be
perfect for anyone
that is looking to make smaller batches of beer. Let's take a look at a few of its key features to see how it stacks up to your needs.
All Inclusive:
You are getting the works with this unit. Everything that you could possibly need to get started is included in the package, so you can begin brewing the day that it reaches your door.
Instructions:
The package also comes with an instructional DVD that will help beginners get started. While home brewing is a relatively simple art that you will undoubtedly begin to pick up on your own, the inclusion of detailed instructions is still a great way to eliminate some trial and error.
Affordable:
Because of the size of this unit, it is one of the more affordable options that we will be taking a look at today on this list. If you are looking for a budget option, this may be the one for you.
Consequently, the size of this kit is also one of the biggest points against it. If you want to brew a lot of beer, it is going to take a long time to do so with this set.
This next kit is also made by NorthernBrewer, but provides something of an upgrade. Being a much larger unit, you are going to be able to
make a lot more beer
if you decide to take this route. Let's once again look at the features to see if this is the kit for you.
It's Big:
A big brewing kit might not be perfect for your situation if you are living with very limited space but if you are just someone that is looking to brew as much beer as possible, this is definitely a great option to consider. The large, five gallon brewing capacity will help ensure that you are able to brew about as much beer as you could want.
Another DVD:
Since this kit is made by the same manufacturer as the last one that we looked at it is also going to include a DVD to help get you started. By now, you know why that is a positive thing. The more instruction you have the easier it is going to be to begin brewing beer.
Great Ingredients:
Finally, you are getting some really excellent ingredients with this package, that are similar to the ingredients used by high-caliber brew masters from all around the world.
One area in which this kit lacks is in accessories. It neither comes with the necessary 4-gallon kettle, nor a set of bottles with which to get started
This next kit is not quite as large as the last one that we looked at, but it is rich in accessories and should empower you to make
high-quality beer
right from the start. Let's take a look at the features one more to see if it is right for you.
Keg Fermenter:
The keg fermenter that is featured in this unit is made of a shatterproof material that will keep your beer safe and sound as it ferments.
Reusable Bottles:
This package comes with eleven reusable bottles that have been designed specifically to keep carbonated beverages from going flat. They also happen to be shatterproof so you won't need to worry about breaking them.
Pre Measured Carbonation Drops
The carbonation drops that come with this kit are premeasured to ensure that you get the exact right amount every time that you brew beer. It's a simple feature that will ultimately make the process a little bit easier.
One thing that some people have taken notice of is that the recipe kits that are supplied by the manufacturer are not the best. While this can be a little bit disappointing, the good news is that once you get started you can use any recipe kit that you like to continue.
The second to last package that we will be looking at is another larger unit that will empower users to make up to
five gallons of beer
at once. Let's find out how it stacks up to the other units we have looked at.
It's Easy to Use:
This package is designed to be easy to use, featuring detailed instructions that every user should have no trouble following. Of course, the easier your brewing kit is to use, the quicker you will be able to start making some beer!
It's Big:
This package is able to produce up to five gallons of finished beer, making it a great option for users who are hoping to brew in bulk.
Brewing Kettle:
The brewing kettle is a very necessary accessory that is essential to your ability to make beer. While you can technically substitute any large pot to fulfill the roll, it is still nice to see the inclusion of this piece of specialty equipment.
While this package does pretty well in regards to accessories, it does not come with bottles which may be something of a drag for some users.
The final brewing kit is another large unit that will be a great option for people who are looking to brew in bulk. Let's one last time take a look at the features to see if it is right for you.
Pale Ale:
The package includes a great recipe that will produce five gallons of delicious pale ale. It's always nice when you can start brewing the day you get your kit—especially when what you are getting to brew happens to be delicious.
Large:
This is another five-gallon unit that is going to be great for the person who is looking to brew in bulk. It also happens to be a little bit more affordable than some of the other five-gallon packages that we have looked at which makes it a great option for those on a budget.
Comprehensive Kit:
The kit comes with ALMOST everything that you need to get started. It includes fermenting buckets, a recipe book, some ingredients, as well as a slew of other parts and pieces that you will need to begin brewing.
The reason that I emphasize the word almost is that this product advertises itself as a kit that includes everything that you need to get started and this is not quite true. You are also going to need a four-gallon kettle to make use of this kit.
While other units also have not included the kettle in their package, it is somewhat misleading that this product claims to include everything that you need. If you do not have a large pot, you will need one to use this kit.
How to Brew Your Own Beer at Home?
With most of the kits that we have looked at today, the company provides you with the ingredients and recipes so that all you have to do is put them together to make your beer. This makes crafting your batches pretty simple, but it also keeps you from adding a personal touch to your brews.
Fortunately, you can still make your beer a little bit more personal using the brewing kit recipes by adding your own personal flavors into the mix.
While the best beers usually only use a few ingredients, that is not to say that you can't mix things up a little bit by incorporating some spices, or even fruits that will give your beer a unique and distinct flavor.
Fruits like strawberries or dates will compliment the natural flavors of your brew quite nicely. To incorporate them, add your fruit or spice to the last five minutes of the boil phase of your brew. Just remember that a little bit goes a long way when it comes to adding additional flavors, and while putting in too few additional spices may not flavor up the beer the way that you want to, putting in too many can ruin a batch.
What to Look for in a Home Brewing Kit:
Here are a few tips that will help you to pick a brewing kit that is perfect for your needs.
Capacity: The brewing capacity is one of the most important components of a home brewing kit because it is going to determine how much beer you are able to make. While brewing kits with a smaller capacity will often cost less money than their larger alternatives they also add quite a bit of time to the process if you plan on brewing a lot of beer.
On the other hand, if you don't have much of an interest in making larger batches, settling on a smaller unit is a great way to save yourself a little bit of money.
Accessories: Accessories like recipe books, or reusable bottles are not necessary to the process, but they are certainly nice to have when you can get them. An accessory-rich brewing kit is going to minimize your need to buy supplemental equipment, and it might also be more user friendly.
Starter Kit: Do you have experience with home brewing? If not it may be a little bit of a struggle at first. In that case, you are definitely going to benefit from a kit that comes with instructional materials such as booklets or DVDs that will help you learn the ropes.
Common Customer FAQ
Q: How Long Does it Take to Brew Beer?
While it only takes a few minutes to combine the ingredients for a batch of beer, it will take around two weeks for the brew to ferment. Be patient!
Are Beer Ingredient Kits Expensive?
Good question. Since you will need to buy an ingredient kit every time you wish to brew beer, the price of your new hobby is going to be more expensive than just the cost of the brewing station itself.

The cost of ingredient refills is going to depend entirely on where you get them, and how large your brewing station is. However, the good news is that your refills may very well be cheaper than it would be to buy a proportionate amount of craft beer at a store or restaurant.
Can I Make Other Drinks in My Brewing Station? Hard Cider?
While a brewing kit is mostly for brewing, you should be able to make similar drinks, such as hard cider, without encountering many difficulties. Just do your research before starting.
Conclusion
As you can see, there are plenty of great products out there for anyone who is looking to start brewing from home. Which brewing station is right for you? That depends entirely on what you are looking for. The good news is that all of the products that we have taken a look at today are of the highest quality, which means that no matter what you choose, you are going to get something that functions well.
Just relax, do your research, and choose the brewing station that is perfect for your needs. You will be glad you did when your house becomes known for its great, craft beer!