Springtime is when we open those windows, let that fresh air in, and run outdoors. No more cozy nights on the couch over a bowl of soup. I want friends coming over for BBQ's and fresh flowers in my window. All of this makes it the perfect time to clean. The weather is warming up and new life is beginning, so let's start with our home.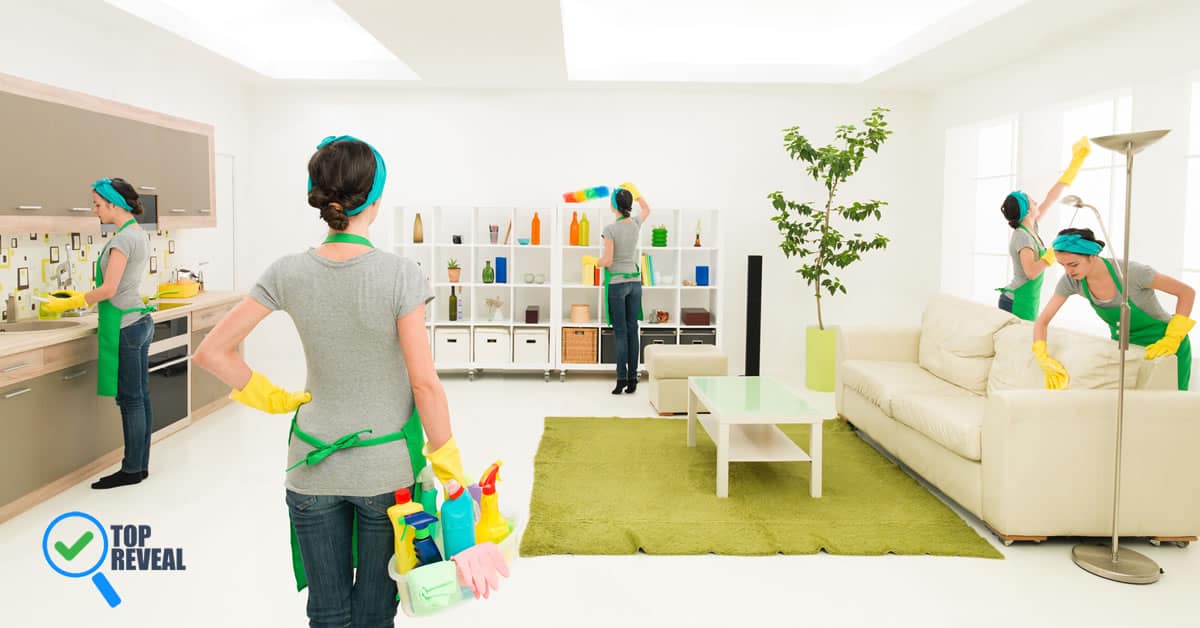 This season is a gentle reminder of those shower tracks that haven't been cleaned in a while or those air vents that may be a bit clogged. Sure you clean your home regularly during the year, but it is always a good idea to do a deep clean on an annual basis. Here is a list of some spring cleaning hacks that will make this deep clean a bit easier on you.
17 Cleaning Hacks and Tips for the Spring
1. When Life Gives You Lemons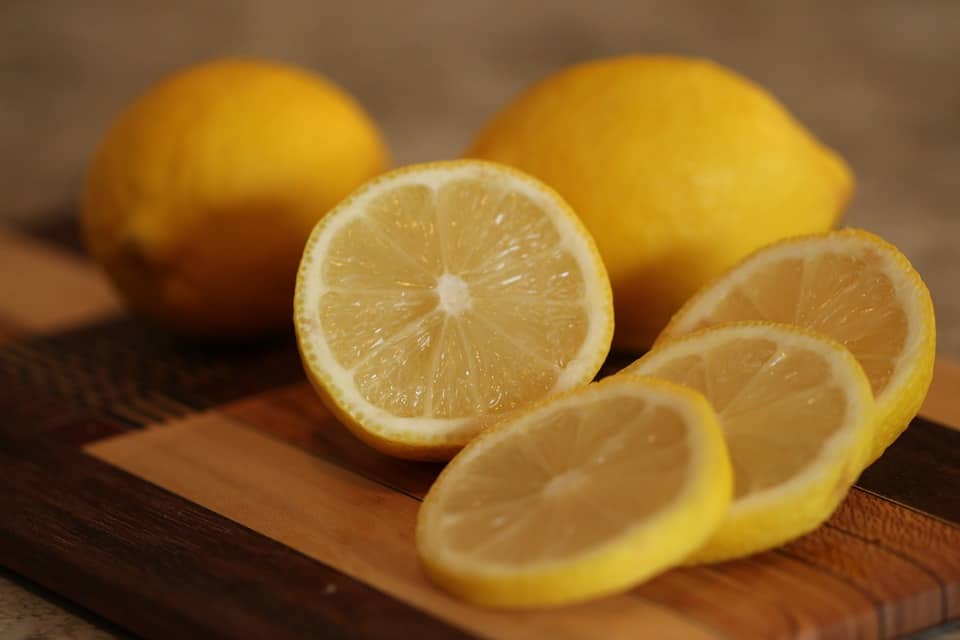 Lemons are a natural all-all-purpose cleaning solution. Cut a lemon into some wedges and rub them over all of your stainless steel appliances. This will help eliminate residue like rust and hard water stains without leaving your kitchen or bathroom covered in chemicals. It will also leave your air smelling fresh and chemical free!
If that wasn't enough, throw the leftover pieces in your garbage disposal. It will help eliminate any smell coming from your garbage disposal and give off a bit of an extra fresh citrus scent.
2. Out With The Old
When was the last time you cleaned out your fridge? Cabinets? Bathroom? This isn't just about throwing away everything with an expiration date but purging your home of excess items. Check out the list below for everything you should shuffle through. Items that are in great condition consider reselling, items that are in good condition donate to charity, old food should be thrown out, and clothes with holes you can toss.


Source
• Pantry & Cabinets
• Fridge
• Closet
• Toy Bins
• DVDs/movies
• Cleaning supplies
• Bathroom cupboards
• Medicine cabinets
3. Keep Allergies at Bay

Van Dykes
When spring hits so do allergies. This is why it can be so important to clean out air vents. Cleaning out your air vents can help ensure you are keeping your home fresh and free from allergies and dust. Clean out your air vents and then go over them with a mild scent free car wax. This will help prevent dust build-up and allow fresh air to easily pass through.
4. Handle With Care

one good thing
There is one area of every home people forget to clean. It is easy for us to focus on our fridge, toilets, and floors, but one area that undoubtedly had plenty of germs is your cabinet and door handles. Every handle of your home was probably touched with an unwashed hand, so over time that gunk builds up evenly. You probably don't even realize it! Every door handle and cabinet handle needs to be scrubbed down with this mixture.
Combine 1 part of coconut oil with 2 parts of baking soda. Rub around the area with a toothbrush and wipe clean.
For more details check out this tutorial: One Good Thing
Source
5. The Do's and Don's of cleaning fabrics
In the midst of cleaning, you may remember to check the tags on a couch, rug, or pillow only to find some weird Egyptian code telling you how to clean. Is it too much to ask for a straightforward answer? Well, we are here to help you decode those tricky labels.
X: Can only be cleaned with a vacuum or brush.
S-W: Can only be cleaned with dry0cleaning solvents or water-based cleaners.
S: Can only be cleaned with dry-cleaning solvents. Avoid saturation and water.
W: Can only be cleaned with water-based cleaning solutions.

Knitspot
6. Serving A Clean Oven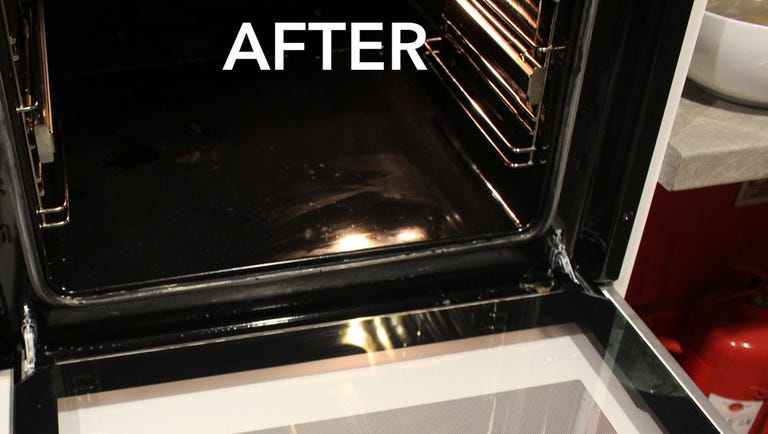 Source
My oven is one appliance in my home that I struggle to keep clean. So this hack is always in my back pocket year-round. Clean your oven racks with a combination of distilled white vinegar and baking soda. Soak a sponge in the mixture and scrub the rack clean!
7. Stop Grim in its Tracks
Shower door tracks often get neglected during our normal cleaning schedule, making spring cleaning the perfect time to go over these nooks and crannies. They can be especially tricky but this cleaning hack has made things easy.
Soak some paper towels in distilled white vinegar then place over the tracks. Let it soak for 30 min. After, the grim should easily come off with a toothbrush or Q-tip.

Source
For more details, check out: Cents-able Momma
8. Caring For Your Carpet

Source
During the year, most of us do not have the time to give our carpets the care they need. Making springtime the perfect opportunity to give your carpets a good look over. Chances are you have a few stains. Consider this mixture of blue dawn dish soap with hydrogen peroxide. Combine these ingredients, apply to a rag, and pat the spot clean!
9. Out With The Dirty Grout
Grout is one area of the home that you may not realize is dirty until you give it a good clean. Consider applying some resolve on a toothbrush and scrubbing those little nooks. You will be surprised how easily the dirt comes up. Source
10. Hot Tubbin'
A clean tub is what will actually make you want to take a bath! So make sure that soothing room is always ready to welcome you in. Turn your faucet up to the highest temperature possible and add some alkaline cleansers. Allow it to soak for 5 – 7 minutes before draining the water.

Source
11. Scuff Off
Scuff marks are not the hardest thing to remove, but when you are dealing with a lot it can take a while to get your floors back to their pretty clean selves. Instead of spending your afternoon on your hands and knees, apply some WD-40 to the scuff marks and scrub them out quickly with ease.


Source
12. Sock it To Me
Since I am a neat freak, I go through cleaning supplies fairly quickly. So my favorite hacks are those that keep things cheap. This one does just that. Throw an old sock over a Swiffer to dust and sweep those floors. Vacuum the extra debris and toss the sock in the washer with the other rags used during your cleaning. It is a reusable solution to one of my favorite ways to clean.
For more details, see the post on An English Accent.

Source
13. Stainless Stainless Steal
You would think that stainless steel would never have smudges and always appear perfectly clean, but the name is deceiving. Instead, combine some water and cream of tartar into a paste. Dip your sponge in the paste and clean any stainless steel appliance. Buzz Feed
14. Ice, Ice, Furniture
Moving furniture around? You no doubt will have dents left in your carpet. A good way to remove those dents quickly is to place a few ice cubes over those spots. Let them melt and bring the carpet back to life with a spoon, fluffing it up.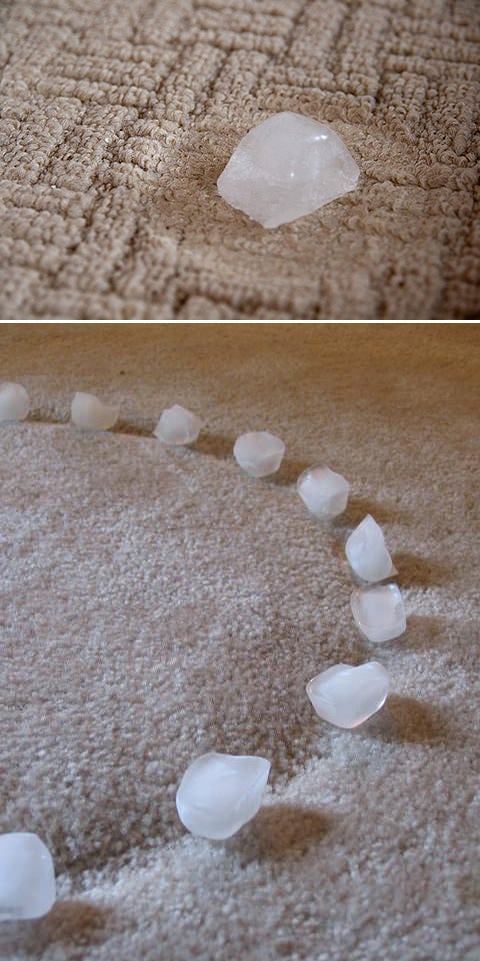 Cool Creativity
15. Declog All Drains

Make-It-Do
A clogged drain is not just annoying, but it can actually build up the water so grim and debris settles in the drain and sink. To clean out your drains, try this gentle but powerful Drain-O.
In a bowl, combine 1 part salt and 1 part baking soda. Pour it down the drain. Then pour some warm vinegar. Let it rest for about 5 – 10 min. Followed by some hot water. The drain should be cleared and flowing with ease!
16. Don't Clean Blind
Blinds used to take me forever to clean. I wanted to get every single layer to be completely dusted so that light could shine on in! Which is why I love this hack. Take a set of tongs and wrap a few small hand towels around each end, secure with a rubber band, and wipe each blind clean. Or cleaning with steam with this gadget.
It makes dusting a breeze.

Source
For more details, check out Sprinkle Some Fun
17. Don't Forget Your Vehicle!
Don't forget to get your car cleaned as you make the rest of your home shine! While there are plenty of ways to clean the outside of your car and dash, your fabric seats can be more of a challenge. Since I am a dog owner, one of my favorite hacks is to take a spray bottle of water over the seats and then squeegee the hair right off.
It will be so easy to clean after, you will forget about all of the challenges of owning a pet with hair!

Source
Did you enjoy the list? Spring cleaning can be fun and satisfying once it is all finished. We also know it can be tiring, so follow some of these hacks to make sure you have enough stamina to make it through all the cleaning that needs to be done. This carpet cleaner trick is helpful to clean your couch too.
Be sure to let us know what your favorite hack is in the comments and share this with a friend who loves spring cleaning as much as we do!