Ahhh the simplicity one could have in life if you could only speak your desires and, poof, they happen just like that. I know this sounds like a fantasy world of genies and magic, but it can be yours.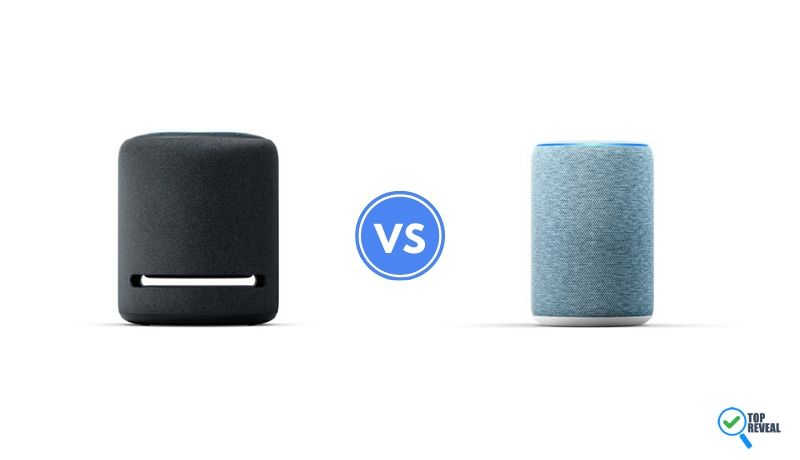 The part that stops a lot of people who already know these kinds of devices exist is that there are many options out there and getting started to figure out the differences between them may seem like a task.
Sooo, we are removing the work of that with this article. In this brief read, you can learn all you need to know to decide which genie will do your bidding. We will break it down in a way that covers all the bases to make your decision an easy one between Echo Studio and Echo 3rd Generation, two of Amazon's best products.
The Short and Sweet of It
Don't have time to read this all the way through? No problem. I will get right to it.
Our best recommendation for the top pick is Echo Studio for two important reasons. I am all about value. With the Studio, you get superior sound and Zigbee to help you maximize all your smart home devices at a price that is affordable for something made well that will last years.
I can't say enough about the sound quality and features. To be honest, before I started looking into these products I didn't even know some of this technology even existed. This takes music listening to a whole other level.
The Studio's value is also additive. Since Zigbee helps you use all your smart devices fully, you will get to enjoy their full value as well as that of the Studio while maintaining all the features of other Echo devices.

The Echo is a gem that only looks simple. It has a sleek design that belies its sophisticated inner qualities. With immersive sound technologies, Alexa and Zigbee, this is like having the Black American Express of Echos.
The Echo Studio has all the features of other Echos but also the sexy power of the best technology. Some of its best features include:
Sound, Sound, Sound Quality: Echo Studio is the superior choice when it comes to sound quality. Studio has multiple ways to connect to your auxiliary devices such as Advanced Audio Distribution Profile (A2DP) support for audio streaming from your mobile device to Echo or from Echo to your Bluetooth speaker as well as AVRCP for voice control of connected mobile devices.It also has a 3.5 mm or mini-optical Toslink line in to connect to other modules you might like to use. It has a 1" tweeter, two 3" mid-range speakers and a booming 5.25" woofer with a sound aperture that allows for the best bass in the Echo line.

For a really amazing sound innovation, the Echo Studio will read the room and adjust the sound to optimize for the acoustics. Probably the best part is Dolby Atmos audio, which is next to actually being there live. For music and digital entertainment lovers, this is the highlight as far as features.

Alexa-Enabled Tools: Alexa is what Amazon Echo is most known for because it is like having a 24/7 personal assistant. Alexa is continuously improving to best serve you. Alexa allows you to make calls, play music, track fitness, control movies and entertainment, check the news, set timers and reminders, check the weather, and adjust smart home controls.
Built-in Smart Home Hub: Honestly, turn it on and let it set itself up and calibrate itself with all your smart home appliances and devices using Zigbee. No need to figure out lots of details when it will do it all for you.
Smart Home Voice Control: Using just your voice and your Echo Studio, adjust smart home features. For example, close the garage door, lock the front door or adjust the thermostat temperature from anywhere, even lying in bed.

Revolutionizing your home is easy with Echo products and Echo 3 is no different in that sense. The third generation of Echo is yet a better adaption of the original, which has innovated home design and function in a way few things have in this generation.
The new Echo 3 takes all the strengths of previous versions, updated its technologies and delivered it all in Amazon Echo's uniquely aesthetically-pleasing unit. It has a laundry list of great elements and functions like:
Colors: If the look matters to you, the fact that Echo 3 gives you more choices will be important to you. In addition to the same 3 colors offered previously, there is also a fourth color option of Twilight Blue for Echo 3rd Generation.Far-Field Voice Sensing: Alexa is kind of like your mother; she hears everything. Whether your music is booming on your Echo or the room is quiet, Alexa will hear and respond to your needs. Sound is detected rom any direction due to the many microphones its sidewalls.
Hands-free Calling, Messaging and Intercom: I love not having to scream up the stairway to get my kids' attention, which one of my favorite features. It is just so easy to call out what you need and they can't pretend they didn't hear you. It is also easy to text your friends and family just as easy as talking to them or connect to a call.
Sound Quality: Echo 2's sound quality is great, but Echo 3rd Generation is just that much better due to having similarly sized woofer and tweeter to the Echo Plus 2. It is sure to please any music lover.
Alexa-Enabled Tools: Echos are most known for Alexa, the cloud-based voice service that aides you in staying connected to everyone and everything by the mere sound of your voice. Alexa can help you set reminders and timers, check the forecast, watch the stock market, make calls, play or adjust music, track fitness, monitor and adjust smart home controls, control movies and entertainment, and check the news.
Kids Content: The Alexa app has Amazon FreeTime, which makes kids' content available at the same price. There is even more for a small monthly fee that can be found here as well, such as Disney, Nickelodeon, radio stations and Audible books just to name a few.
Price: This is the part most people will like. Since Echo 3 is just around the reasonable price of $100, it is the mid-priced option and totally worth every penny and more for the value it adds to your daily life.
Echo Pro Tip
If you want the Zigbee but don't necessarily want to go all in to get the Studio, the Echo Plus 2 is a great option as well. It has all the main features of Echo 3 but with the addition of Zigbee and not quite the upper price point and more color options than the Studio.
Cut from the Same Cloth: How are Echo Studio and 3rd Gen Similar?
Of course both being Echos, there are going to be similarities. The obvious one is Alexa voice control. This alone can revolutionize your life and make it more efficient, not to mention there is that cool Jetsons or Inspector Gadget factor that comes along with that.
Another factor often forgotten is user-friendliness. All of the Amazon Echo line products share this trait but what could be easier than the simplicity of the buttons and voice control as well as the quick, automated set-ups? Let me answer that for you – nothing.
Music streaming as simple as saying a word or two is both convenient and individualized. You can connect to all your favorite apps via Alexa.
Often forgotten is also the sleek beauty of all the Echo products. They each have a simple yet chic design that adds sophistication to any room.
Difference Between 2 new Echos – How Studio and Echo 3 are Different?
Okay, obviously if you are buying a speaker, you want great sound and this is a difference. The other big impact difference is the Zigbee Smart Home Hub. Other considerations that might matter to you are appearance, connectability, price and overall size.
Sound Quality
The best possible Echo sound comes from the Studio, as in Music Studio. There are so many features that enhance the sound experience it isn't even funny. If your primary reason for getting an Echo relates to music or sound features, you definitely want the Studio and its top of the line technology.
The Studio has an immersive sound system with more speakers
than any other Echo and Dolby Atmos technology to boot. It also optimizes sound by altering playback for each individual room. Wow.
This isn't to say that the Echo 3 doesn't have great sound. Contraire mon frère. Nonetheless, if you want optimal sound, Studio is simply it.
Zigbee: Simple Home Automation
For non-techies and those with smart home appliances and devices, Zigbee can be huge. Just ask Alexa to configure Smart Home devices through Zigbee with the Studio. She will set you up and then you can adjust all these using just your voice.
Imagine lying in bed at 11pm and realizing you forgot to go close the garage door. Simply tell Alexa to close the garage door and voila!
Too cold, tell Alexa to adjust the thermometer to the desired temperature.
Your expected visitor arrives juuust as you finally get the baby to sleep – just tell Alexa to unlock the door.
Now if you are like me, when you buy the device, you think how wonderful all this sounds and then you get it on your porch, open the box and have no clue how to set it all up. If you have the Studio with Zigbee, no problem. Alexa will set up for you and you will actually get to use all those features instead of giving up.
On the other hand, if you have no smart home devices and don't intend to get any in the next year or two, this might not really rate as a consideration for you.
Appearance – Look and Feel
If you want color choices, you can only get that with Echo 3 which comes in four color schemes — Charcoal, Sandstone, Heather Gray, and Twilight Blue. Studio comes only in standard Charcoal.
If you are one of those people who take special pride and care in coordinating all your accessories, this will be an important factor for you. Then again, black goes with everything, doesn't it?
Connectability
Both the Studio and the Echo 3 have 3.5 mm connection but only Studio accommodates mini-optical Toslink line in.
Price
There is about a $50 difference between the two price tags, Studio being the higher priced one. Although it costs more, there is a ton of value in that money, especially for music aficionados.
Overall Size: In some cases size is essential, especially if you are limited in space. The Studio is significantly larger at 8.1" x 6.9" while Echo 3 is several inches smaller and shorter at 5.8" x 3.9" x 3.9"
Sooo what now?
The bottom line here is that Amazon makes great Echo products that are all Alexa enabled and each has great features. That being said, the Echo Studio has it all for a mere $50 or so more. That's like one dinner. I would skip the dinner and get the better Studio personally. The dinner comes and goes but you will have the Studio for years.
With the Studio, you get Zigbee and sweet, sweet sound performance.
[rwp-review id="0″]