Smart speakers like the Amazon Echo have gained a lot of attention in the last few years. If you're like me, though, you aren't one to jump on the bandwagon without a lot of research. Of course, there are plenty of short reviews on buyer's pages of the Echo Show 5 but they're usually pretty limited. After all, many of them focus on brevity just as much as reviewing the product.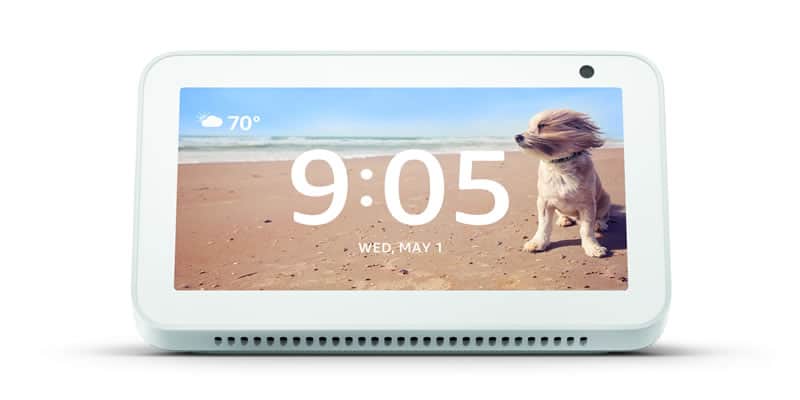 I want to take a moment to expand on what those reviews might tell you. I want to take a deeper look at what this piece of tech can and can't do for you. This Echo Show 5 Review will help you decide if it's right for you through an honest look at it.
What Is a Smart Speaker?
Let's start off with defining what a smart speaker is. A smart speaker is an internet-enabled device that you can control with vocal commands. It can respond to those commands and even communicate with other devices. Think of how you interact with Siri on your iPhone. If you ask her to play music or order a product, she does it.
These devices work under the same concept just positioned in your home rather than your phone. All you have to do, ideally, is to address it directly (i.e. "Hey Alexa") and tell it what to do.
There are plenty of smart speakers on the market. Not only do multiple forms of Amazon's Echo, but Google has also jumped into the market with their Google Home and Apple sells the HomePod.
The Echo Show 5 is a rather small device that you can easily set up
on a side table or it into a nook on a counter. To be exact, it has a 5.8" width, a 3.4" height, and a 2.9" depth.
The smart screen measures 55" from corner to corner. To set it up, you just need to plug it in and connect it to your WiFi. From there, you can start using it.
What the Echo Show 5 Does for You
Now let's get into the meat of the issue: what do you get out of the Echo Show 5? First, I want to clarify that the Echo Show 5 isn't limited to Amazon Prime members even though it can reap additional benefits. Now, with that out of the way, here's what you get out of the Echo Show 5:
Stream music, videos, and more: This is the main draw of any smart speaker. You can address the Echo Show 5 directly and ask it to play music, relay the news, tell you the weather, and more. Prime members can use Amazon Music and Video but those without a membership can still use services such as Spotify and YouTube.
Ask it anything: Since the device is connected to the internet, there are few questions that it can't answer. Does your child need to know the distance from the Earth to the Sun for their homework? Do you need to convert measurements for a recipe you're working on? All you have to do is ask Alexa and she'll deliver an immediate answer.
A smart screen: This is a feature that you don't see from other Amazon smart speakers like the Echo Dot. It comes with the added benefit of being able to bring up visuals as well as audio commands and answers. You can even conduct video calls through the Alexa app, to another Echo device, or Skype.
Connect with and control other devices: One of the biggest goals of having a smart home is that you don't have to worry about managing a different app or separate software for every little detail.
The Echo Show 5 allows you to connect other devices to it. This includes doorbell cameras, lights, thermostats, and more. It should be noted that these are separate devices that aren't sold with the Echo Show 5.
Protect your privacy: Privacy is a huge concern for many people considering smart speakers. This device addresses this directly, which is something I personally appreciate a lot.

You can turn off the microphone and camera with the press of a single button and you can slide the shutter closed over the camera.

Alexa skills: Alexa Skills is an interesting facet of Alexa that I find very interesting. All you have to say is "Alexa, show me skills" and it'll bring up something new for you to learn.
There are plenty of categories and you can pull up specific skills you're interested in or just browse through some of the popular ones. There are some skills that require subscription services which is a bit of a downer but most are free to explore.
Personalization options: The screen of the device can be personalized to your preferences including the background and clock face.
Echo Show 5 Vs. Original Echo Show 2nd Gen
As the next entry in the Echo Show line, it's worth taking a look at how the Echo Show 5 is different from the original Echo Show.
The first thing you'll notice is size. The screen size of the Echo Show 5 is 5.5" compared to the original Echo Show's 10.1" screen. So, if you're a fan of a large screen, you might be disappointed by this. I personally appreciate the idea that it doesn't take up as much space.
A downside is that the smaller screen is that the resolution is lower. The original Echo Show has a 1280 x 800 resolution compared to the Echo Show 5's 960 x 480 resolution.
There you go – everything you need to know in my Echo Show 5 review to decide it's a good investment for you. I think that the latest entry in the Echo Show line has proven itself as a worthy contender. It has its drawbacks but, for the most part, it's shown itself to be a worthwhile option if you're looking to upgrade your smart home.