Out of all the rooms in my home, I spend most of my time in the kitchen. Our laundry room is right off the fridge, and between cooking, preparing lunches, and gathering with my loved ones, it is basically our entire home. Which is why I can use all the counter space and storage I can get, leading to my kitchen island being my best friend.
They are so versatile and can offer just a bit more space for all those crazy mornings. Rather than spend an entire year's salary on an island, create your own with these DIY Kitchen Island Ideas. They can be surprisingly easy and inexpensive while adding a ton of character to your home.
Creative and Cozy Kitchen Island You can DIY
1. Simple Rustic Kitchen Island

At Koko's Place
Looking for something quick and easy? How about something rustic but will not appear damaged after a few cuts and spills. Then this is the perfect one for you.
2. Add a Bit of Architecture

Gina Glavin
Islands can be basic or filled with character. All you need to do is add a few simple architecture pieces!
3. Get Creative!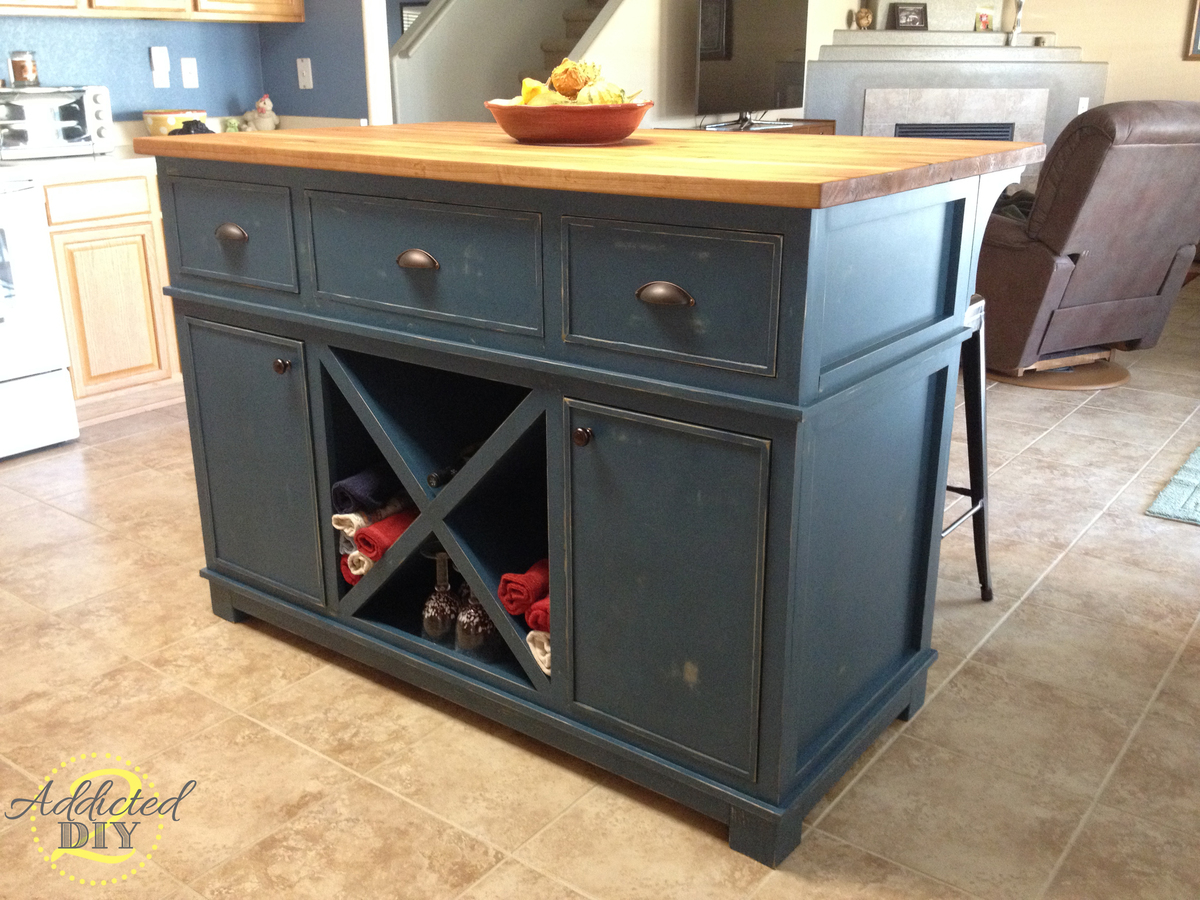 Ana White
Get some inspiration with this DIY. Adding an X shelf can be the perfect place to store kitchen towels or cloth napkins. It is pretty too!
4. Add a Towel Rack

Vintage Home Love
I use my island for baking, chopping, and slicing, which means big messes. Adding a towel rack is the perfect way to help control messes.
5. The Old Dresser?

Hallmark Channel
Yup! The old dresser. It can be a beautiful antique statement piece with most of the work already done for you.
6. Island on The Cheap

Mom in Music City
If you are concerned about building on a budget, this DIY is for you. This blogger is great at delivering style without destroying your wallet.
7. Chunky Legs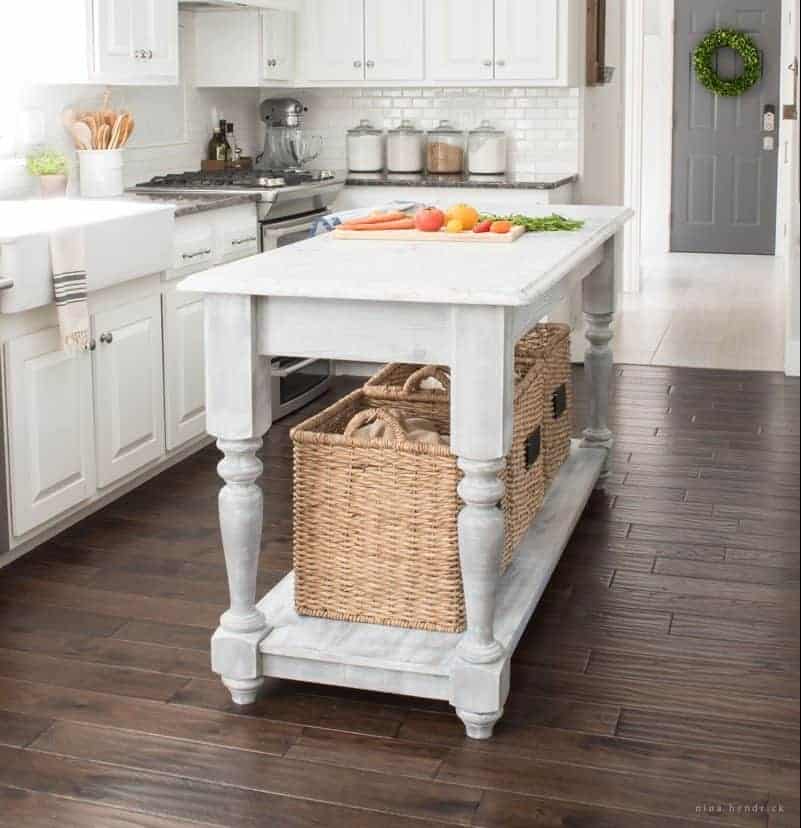 Another simple way to add some character is by picking out some fun chunky legs for your kitchen island. Carve some yourself or do a bit of exploring at your local antique shop or hardware store.
8. From Tree to Island

laluznyc.com
This is for the intense DIY'er. Here the blogger will literally walk you from tree to kitchen island.
9. The Wash Tub Island

Magazine Your Home
Looking for fresh ideas? Start here! Take a vintage wash tub and create an island for a beautifully rustic look.
10. Create Some Contrast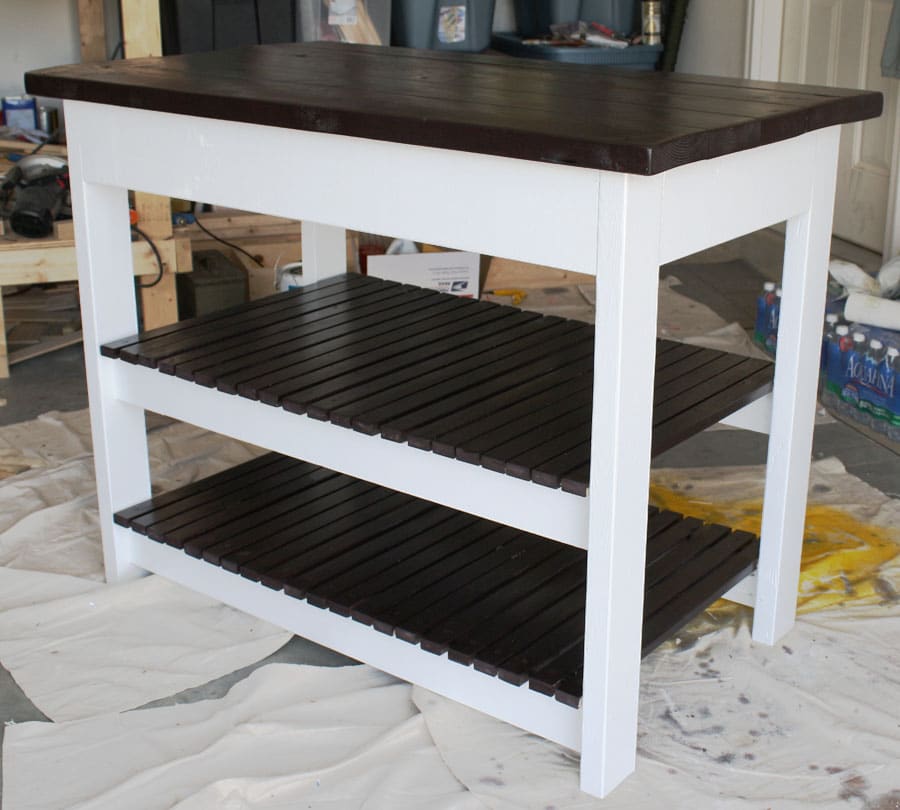 The House of Wood
Kitchen islands are just about the woodwork. Create some contrast in the color of the wood to make it really pop!
11. Breakfast Bench

Cassie Bustamante
Want more than a kitchen island? Create a sweet breakfast bench for your kids to eat at while you finish your daily kitchen tasks.
12. Kitchen Island Made Our of Pallets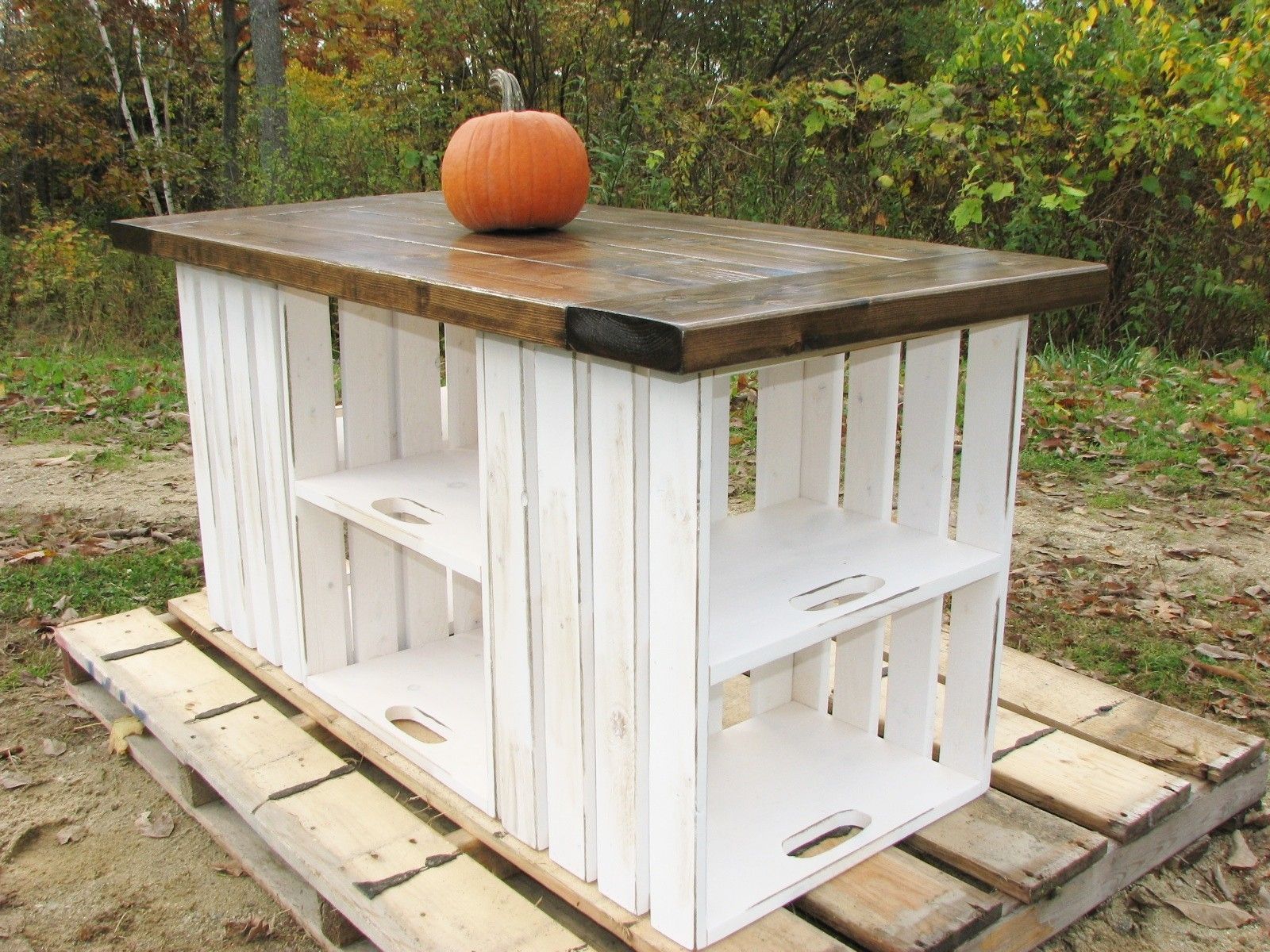 custommade.com
Pallets are so in right now and this blogger took full advantage of it. There are tons of things to do with kitchen pallets, one of them being kitchen islands! Make sure that you clean you floor with a steam-machine and a corded vacuum.
13. Create Some Molding

Bloglovin
If you are looking to upgrade your kitchen island, add molding is a quick way to class up a piece of furniture.
14. A Desk Too?
We have seen a dresser be turned into a kitchen island, but did you think of a desk? This can be another piece of furniture that your family outgrows then recycle!
15. A Bookshelf Too?
Yup, it is true. You can turn nearly anything into a kitchen island. From a desk and wash bin to a dresser and bookshelf!
16. Create A Large Shelf For Decor

Source: Designing Domesticity
This is a super pretty idea! Leave plenty of space on the bottom shelf so you can add giant bowels, woven baskets, or vases of flowers. Even from below it will make a statement!
17. Simple Transformation


Little Glass Jar
This is possibly one of the simplest and quickest transformations. Simply remove the backboard and repaint to have an entirely new piece of furniture.
18. Trash Can Cabinet

Sawdust to Stitches
Adding a trash can cabinet can be perfect if you have a full area under your sink or would like additional trash space for recycling!
19. You Can Have it All!
Source: I Should be Mopping the Floor
Want all the features? Add a bench, chair, storage space, or trashcan cabinet. No need to pick just one!
20. Add a Few Wheels
My kitchen island has wheels and it makes things so much easier. When the kitchen is crowded or I want to make a little bar, all I have to do is roll it!
21. Barn Wood For Character

Rain on a Tin Roof
This DIY beautifully incorporates some barn wood to give the piece a sort of rustic, beach, type look. Ideal if you have some spare wood but in need of character.
22. Metal Top

Remodelaholic
The newest craze is to mix textures, woods, and colors. So give a metal top for your kitchen island a try!
23. Wine Rack DIY

Thrifty Decor Chick
It may look complicated, but adding a DIY wine rack is surprisingly easy! And if it is too hard, then you can just enjoy a glass of wine as you forget this addition. Those bottles have to go somewhere.
24. Modern Kitchen Island

Classy Clutter
When it comes to DIY there is no shortage of rustic options. But if you are looking for modern options it may be more challenging. Not anymore! Go with this modern DIY kitchen island. It would be a plus to have your own Water Ionizer in the kitchen.
25. A Door to Kitchen Island

Source: TC Designs
This can be a fun project if you have an old door you want to ruff up or if you want to just look for a door while antiquing. The perfect excuse.
Did you enjoy the list? If so, share it with your friends and let me know what you think in the comments below. DIY kitchen islands are so useful and everyone could find a use for one!