We all love ice-cream. Winter, spring, summer, or fall, it is the perfect dessert for any occasion. But did you know that you can make your own ice cream?
With tools like a home ice cream maker, the process of making frosty treats of your own creation is actually a lot simpler than you ever would have guessed. But of course, like any product category, some ice cream makers are better than others.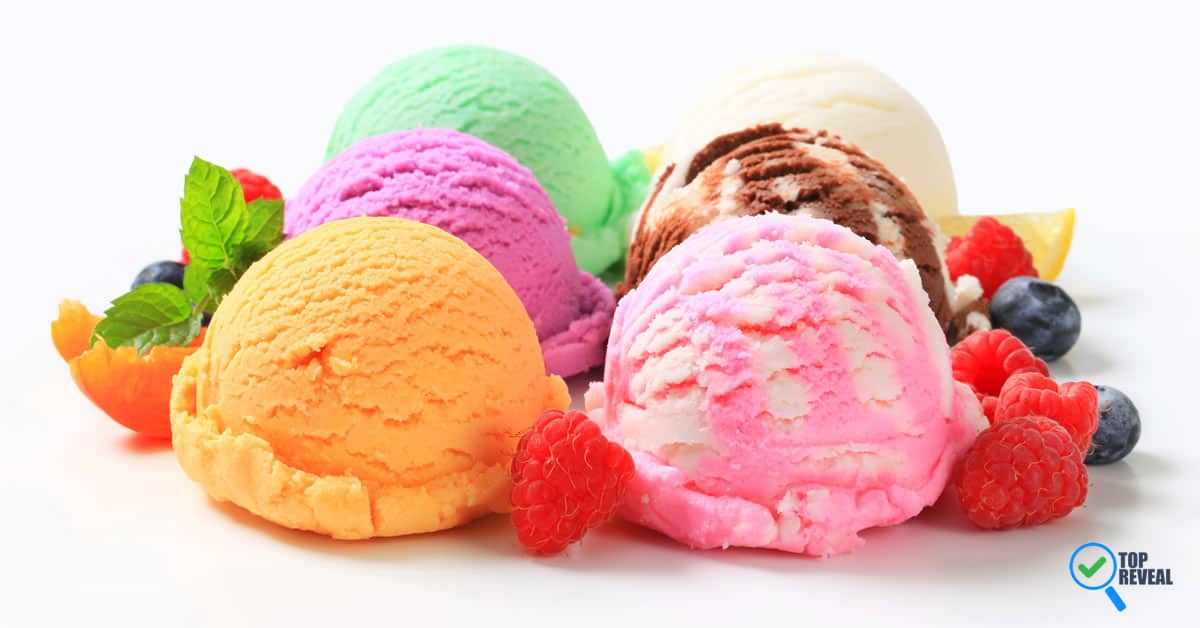 That being the case, we have assembled a guide below to help you pick out the best one. Read on for a guide to finding the best ice cream maker!
Our Recommendation:
You are going to be hearing a lot of information about a few ice cream makers in the paragraphs that are to come. While all of these appliances have earned their place on this list by being very good at what they do, there is one in particular that we feel outshines the rest.
We picked the Cuisinart ICE-70 as our choice for the top ice cream maker on this list because it represents the best combination of value and features.
Hey, that's just our opinion. You can decide which ice cream maker you like the best yourself when we dive into what's out there!
Why You Need an Ice Cream Maker:
Well, first of all, the term 'need' might be a little bit relative here. You don't actually need an ice cream maker, but chances are you want one.
Why? Well, it's pretty simple. Homemade ice cream is crazy good, and an ice cream maker just makes getting it so easy.
Between all the different types of makers out there, like hand churn or electric models, there are plenty of different options to chose from.  You can see what ice cream maker you like the best as we now take a look at what is out there!
Top Rated Ice Cream Makers: Which One is the Best?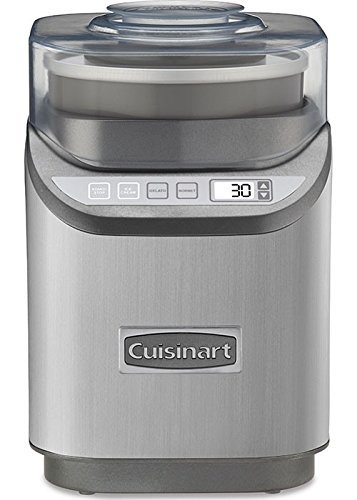 You will of course probably remember the Cuisinart ICE-70. Earlier, we mentioned this unit as our choice for the top ice cream maker on this list. Now you can find out why as we dive into the features.
Capacity:
One of the first things that you will notice about this unit is its impressive capacity. With a two quart tank, you will be able to make plenty of ice cream each and every time you decide to make a batch.
LCD Screen:
In the digital age, we almost come to expect nice, high-quality displays on all of our tech. This unit definitely delivers on that expectation, featuring a high-quality LCD screen that makes it easy to navigate the units settings. Speaking of which….
Settings:
Last but not least, the Cuisinart comes capable of three speed settings. The benefit of this feature is pretty simple—the more settings you have, the more different types of ice cream the machine will be capable of making.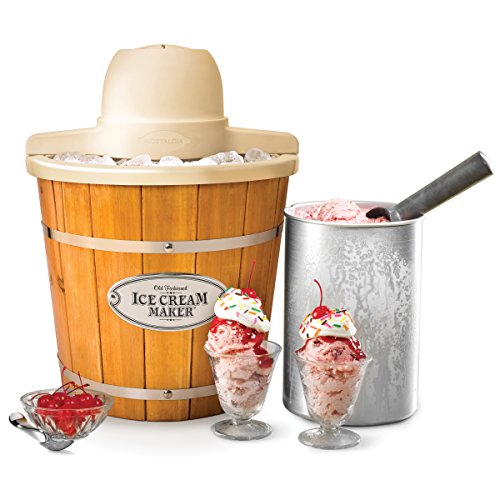 The Nostalgia ice cream maker is a lot simpler than the last unit that we looked at, and it definitely shows in the price. Let's take a look at the features of this
affordable ice cream maker
to see if it is right for you.
Motor Powered:
The design of this unit has all the makings of a traditional, hand cranked ice cream maker, but all the conveniences of a modern appliance. To operate this machine all you need to do is throw in the ingredients and let the high-caliber motor take care of the rest.
Price:
This unit is available at a small fraction of the price that the last option was listed for. While this discrepancy in cost results in far fewer features for the Nostalgia, many shoppers may be willing to forgo some conveniences to save a lot of money.
Huge Capacity:
Finally, the Nostalgia actually has a larger capacity than the Cuisinart. With this unit, you will be able to make up to a gallon of your favorite ice cream in one batch.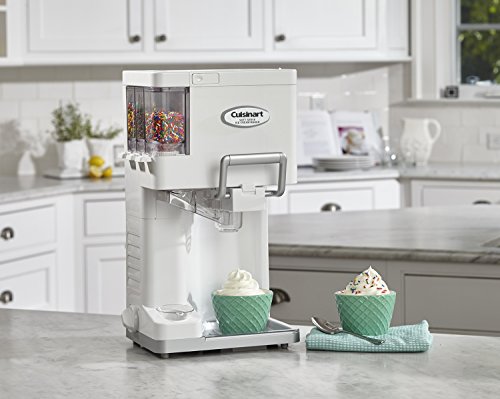 Next on our list, another offering from Cuisinart. Does it live up to the features of our editors pick? Read on to find out!
It's Easy
One of the first things that you might notice about the ICE-45 is that it is all about being easy to use. Simply put your ingredients in the easy lock top, and watch the motor do its thing. You don't even have to monitor it! The machine will stop itself when the ice cream is made.
Dispenser:
Not only does this machine make ice cream but it also dispenses it. The unit doubles as a soft serve ice cream bar. Once your creation is complete, you can pull a lever to dispense the delicious soft serve.
The unit even has a condiment chamber, for easy access to the topping of your choice, and a small designated area for cups and cones. The streamlined design makes it easier than ever to start serving up some delicious ice cream.
It's Quick:
Last but not least, this machine also benefits from being very quick. You can have up to one and a half quarts of soft serve in about twenty minutes, meaning second helpings are never too far behind if you want them.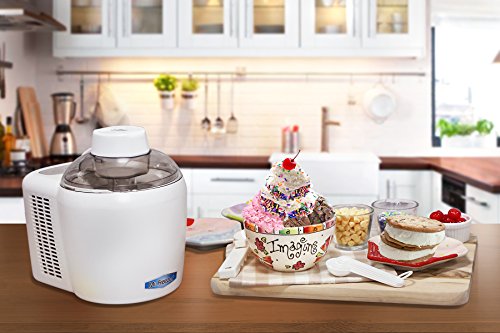 The second to last ice cream maker that we will be taking a look at today may be on the simple side but that doesn't stop it from consistently making delicious treats. Let's take a look.
You Choose the Hardness:
Everyone likes their ice cream a little bit different. Some like the soft creaminess of soft serve, while others like a good firm scoop. No matter what your preference, you can have your ice cream the way that you want it every time with the Mr. Freeze.
Simply select your desired level of hardness and let the machine do the rest.
No Pre-freezing:
There is no need to pre-freeze anything with this machine. Just pour the ingredients in and wait. Your ice cream should be ready in sixty minutes or less!
Versatile:
Not only can you choose from hard or soft but you can also make a variety of different ice creams. From sorbets to sherbets and gelatos the sky is the limit!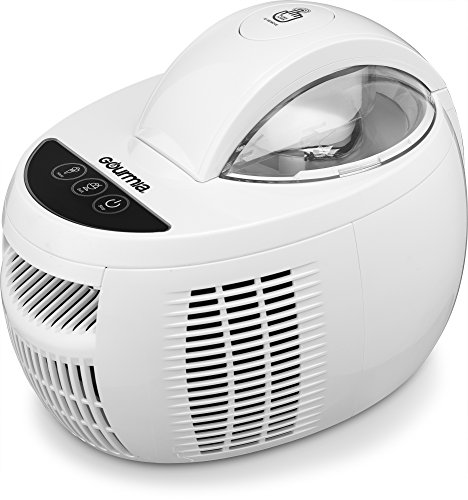 Last but not least, the Gourmia! Let's one last time look at some features to see if this unit is right for you.
Affordable:
This unit definitely falls in at the lower end of the price spectrum. If you are looking for a budget buy this is a good option to consider.
Quick:
Speed is definitely something to look for in an ice cream maker. With this unit, you can get your treats in thirty minutes or less.
Timer:
Finally, the Gourmia features a built in timer that ensures you don't have to monitor your mixture. Just pour in the ingredients, set the timer, and let the machine do all the work!
Buying Considerations:
Now that you know what is out there, let's take a look at a few considerations that should help to make your ultimate buying decision a little bit easier.
Price:
Price is the first consideration that you should make for any potential purchase. As you probably noticed from the list above, there is a pretty wide range of prices in the world of ice cream makers. While mark ups aren't always necessary, it is also true that you pay for quality. Ideally, the best ice cream maker will include the perfect combination of value and features.
Size:
When it comes to ice cream makers, size matters for several reasons. For one thing, there is storage to consider. If you are like me, your kitchen is probably bursting with a variety of appliances and gadgets that take up all of the shelves and drawers.
Naturally, you are going to want to buy an ice cream maker that you have room to accommodate. Then there is also capacity to consider. Generally speaking, larger makers are going to have the capacity to make more ice cream. If you want to make a lot of ice cream at once, that's great, but if not, you can probably save a little bit of money by getting a smaller option.
Features:
Each ice cream maker also comes with a set of features that are unique to it. Decide up front what features are important to you (like multiple modes of use) and which arne't. Why? Extra features generally cost a little bit extra money. You definitely don't want to have to pay extra for a feature that you arne't even going to use!
Settings:
Different settings are going to produce ice cream with different tastes and consistencies. The more settings a machine has, the more versatile it will ultimately be. At the very least, you certainly want your ice cream maker to be able to make treats the way that you like them! Pay attention to the settings to make sure your ice cream maker is able to accommodate your preferences.
Conclusion:
Well, as you can see, there are plenty of great products out there in the world of ice cream makers. Of course, you already know which one we like the best. Thanks to a really impressive combination of features and value, it seems to us that the Cuisinart ICE-70 is the best option on this list.
Of course, that definitely does not mean that that is the ice cream maker you need to go with! There are plenty of incredible options out there. Just pick the machine that you like the best, and enjoy delicious, frosty, home made treats this summer!