If you are updating your home, one room that is sure to give away your fixer-upper status is the bathroom. Bedrooms, hallways, and even closets are easy to give a quick updated look. Similar to the kitchen, the bathroom requires a bit more work. Which typically means a bit more money. This is when I turn to DIY projects! A simple, DIY Bathroom Decor Ideas search can lead you to some of the most creative ideas.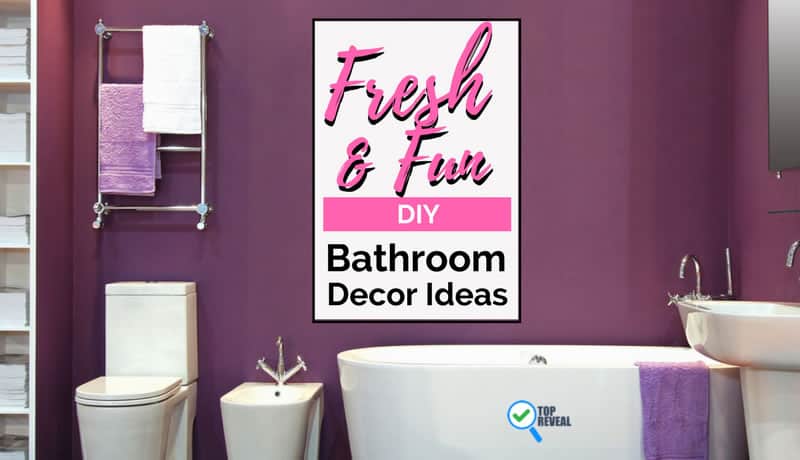 DIY Bathroom Decorating Ideas
A Bathroom With a Ladder

Courtesy of Funky Junky Interiors 
We are starting big and going small. I love this ladder because it does two things. First, it creates some beautiful floor to ceiling storage. Second, it is such a statement piece! Especially difficult to do in a bathroom!
Over The Toilet Storage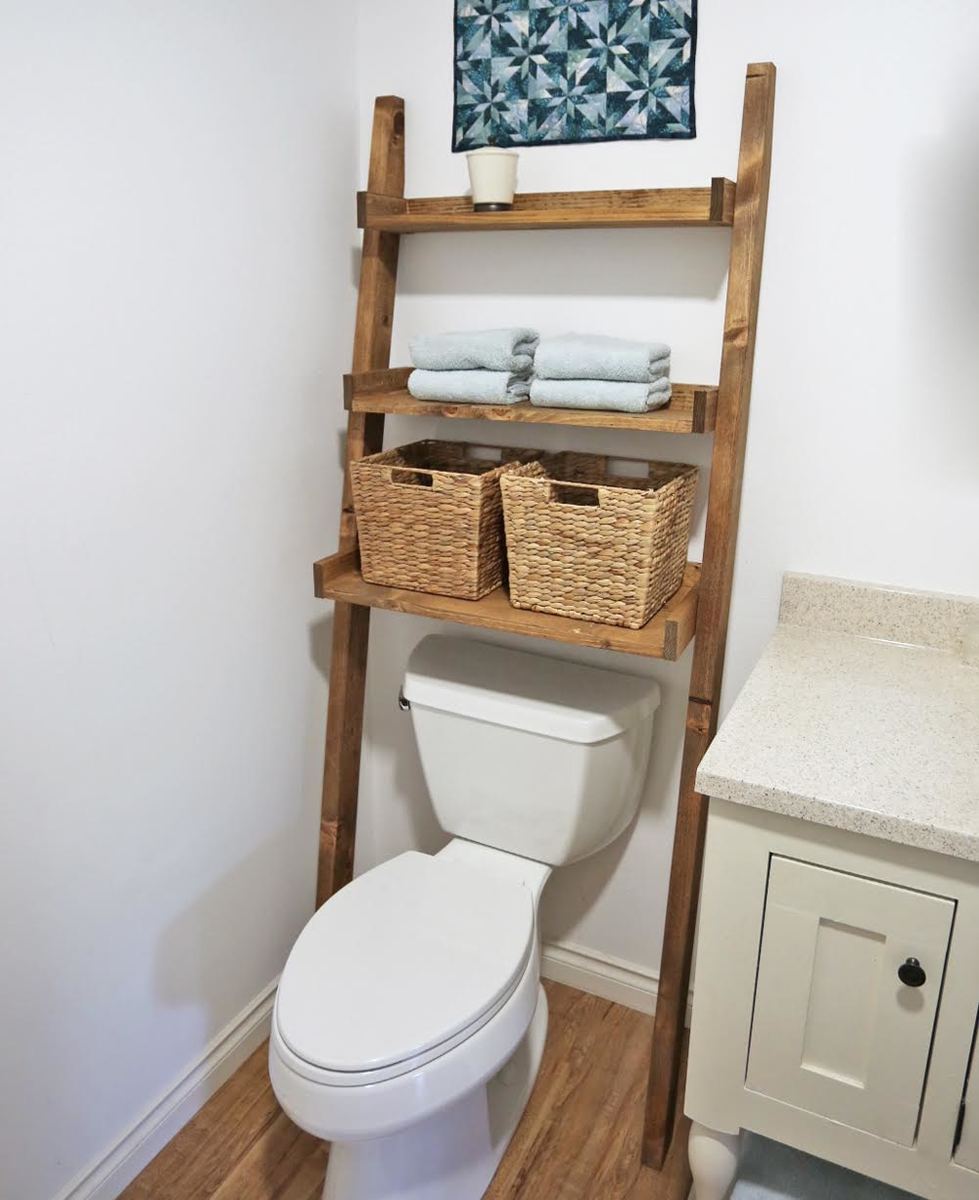 Via Ana White
If you like the idea but you are working with limited space, try the same ladder concept but over a toilet. Great statement piece while utilizing all the space available!
Toilet Paper Holder Shelf
Leave your phone here so it doesn't drop in the toilet! Add a candle, some potpourri, or small plant. It is a quick and easy way to add some beauty to what is traditionally an eyesore.
DIY Toilet Paper Holder
Lose the shelf and go for just plain pretty toilet paper! Again, toilet paper display options often bring the value of a bathroom down, so don't neglect this space!
Rustic Toilet Paper Holder
If your bathroom has a rustic feel to it, this will keep with that shabby chic theme. Plus, with some wall stickers, you can avoid putting nails in the wall! Win-Win!
Mason Jar Tissue Holder
From Landeelu
Keeping with that rustic theme, make sure all your product fall in line! This is a cute way to utilize those mason jars we love so much as well as making sure your family and guests are always equipped with a clean tissue!
DIY Updated Tile
Courtesy of Snugglebug University
I love this DIY because this is the only blogger I saw utilizing this idea! I have white tile and the last thing I want to do is make my bathroom a huge project by removing all the tile. With just a bit of creativity, you can update the space! I was shook at how easy it is!
DIY Your Sink Color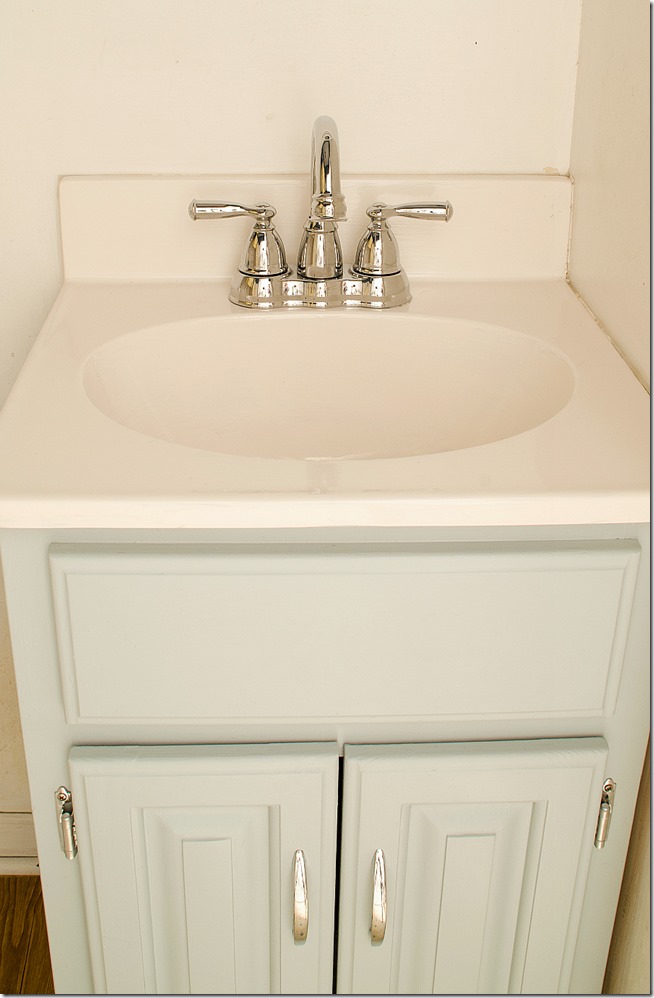 Courtesy of It All Started With Paint
Want to replace the tile AND the sink? We got you covered. This DIY'er shows you how to bring life back to your sink by painting over it!
Frame a Mirror

Via Cherished Bliss
No tile, but you have a plain mirror. Add some wood with your favorite stain. I first saw this and thought, 'no way'. Turns out it is not as difficult as you would think!
Butcher Block Vanity

From Beneath My Heart
If you are looking to really revitalize your bathroom, have you considered redoing your entire vanity? Not for the faint of heart, but I think we can all agree. This vanity is beautiful!
Master Bath Wood Vanity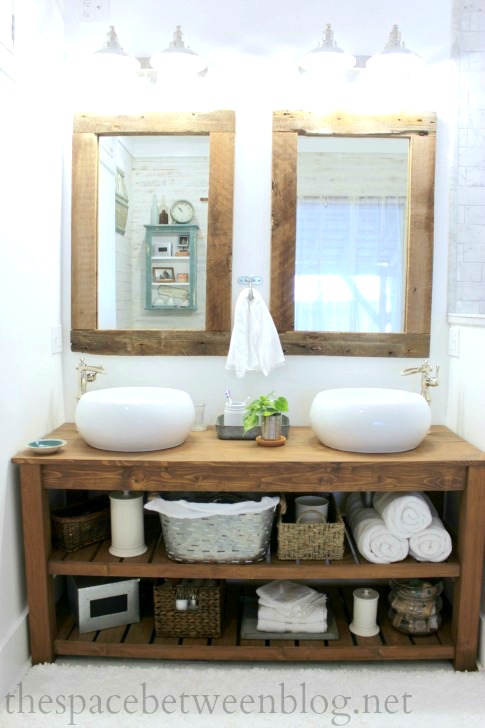 From The Space Between
If it is a master bathroom you are redoing, go for this adorable dual sink! A bit easier since the design is very simple, but what makes it great are the decorations around it, bringing it to life!
DIY Concrete Sink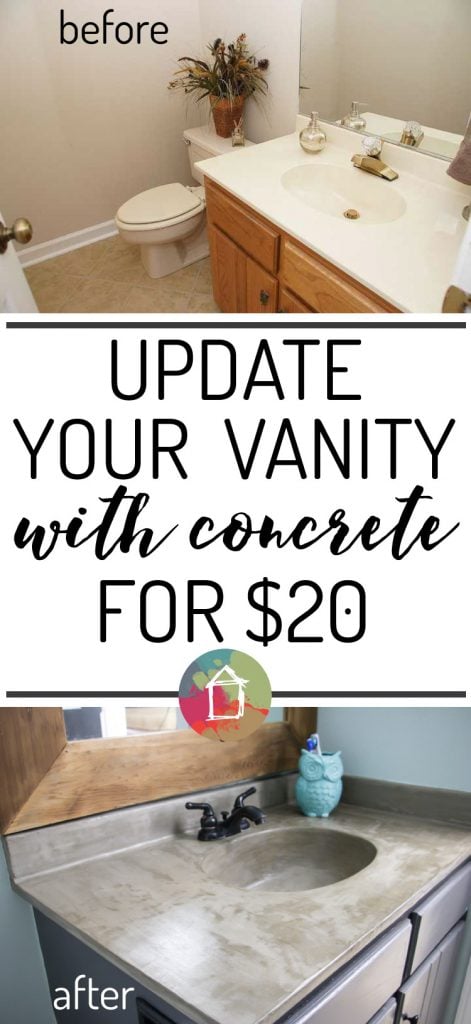 Courtesy of Designer Trapped
Again, this is one of those projects I sighed at how difficult it would be, but give the directions a look over and you will find it is so much more simple than it sounds.
Airstone Your Tub
From Lovely Crafty Home
This project is perfect for those looking to combine multiple elements or add a nice touch of nature. It does both beautifully and can turn your bathroom into an oasis!
DIY Bathroom Mirror Storage Case

From Shanty-2-chic
Who doesn't love a piece that serves multiple purposes? Incorporate tons of storage and a full-length mirror in any space!
DIY Bathroom Mirror Cabinet
Courtesy of Beautiful Matters
This is keeping with the same idea from number 14, but a lot less work and perfect for those smaller spaces.
Pineapple Bath Mat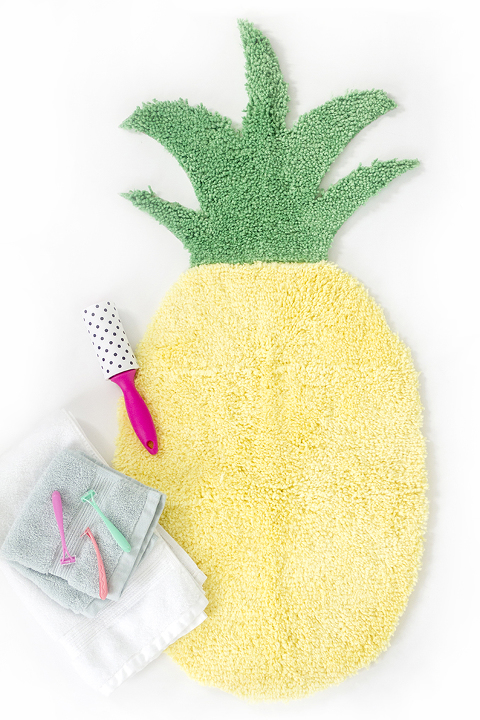 I love this for a kids bathroom! It is so creative and you can incorporate the idea for multiple designs, like a princess crown or sports car.
DIY Towel Rug
This is for the adult that cannot seem to keep water in the tub or shower. A towel rug is super absorbent, inexpensive, and easy!
Wine Cork Bath Mat

Crafty Nest
If you are not fighting to keep the water in the tub, go for a fancy bathmat, like a cork mat! It is so pretty, nonslip, and just feels nice under your feet! See more steam-cleaning gadgets here.
DIY Botanical Shower Buddy

From Instructables
I have two things in every room of my home, a plant and a candle. They add life, fresh scents, and beautiful pops of color. So the idea of incorporating a plant that will thrive in steamy bathrooms gave me life!
Repurposed Candle Jars

Courtesy of Mommy Suite
That other item my home cannot live without? Lots of candles means I have a ton of candle holders. I can send them to be recycled, or I can recycle them myself! Perfect for those smaller bathroom items, like Q-tips and bobby pins.
DIY Shower Bottles
This one is more for the organization but it is a pretty DIY as well. I use this to help manage my shampoo bottle usage. If I don't I get carried away, and next thing I know, my various bathroom products have taken over the entire shower. Also check out the tankless heater for your bathroom to save up some space.
Did you enjoy the list? DIYing your bathroom gives you the flexibility to personalize on a budget and constantly reinvent your personal space! Let us know what you think in the comments and share it with a friend who would find this useful!