A Perfect Gift
Christmas time is here. That means it is time for gifts. Getting them and giving them. That also means that you are in the position of needing to make a couple of lists.
No, not "naughty and nice." More like what you want to give people, and what you want to give them.
Today, we are looking at a category of items that you might want to put on both lists. The robotic mop. That's right, a product that makes mops exciting. Who doesn't want the gift of a robot this year for Christmas?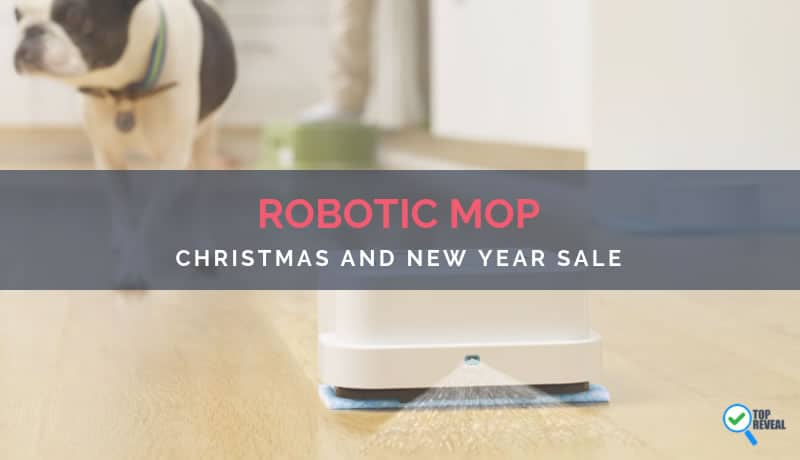 Besides just sounding cool, this is a product that saves time, and gets your house looking great while you relax.
Anyone with floors is going to want to think about getting themselves a nice robotic mop this holiday season. That in mind, let's look at some deals on robotic mops this Christmas 2018 season!
What are the Best Robotic Mop Christmas and New Year Sale?
We have compiled a list of some of the best robotic mop Black Friday and Cyber Monday deals below. Read each one and consider what might be best for your family or as a gift for someone you know.
This robot mop may be small, but that is what makes it so effective. The iRobot Braava is able to get into the smallest of spaces including under couches, around toilets, corners, and below cabinets. While small, it is perfectly able to clean up dirt, dried coffee and watermarks on any surface. Lastly, its smart technology knows to avoid mopping stairs and rugs.
This robotic mop will navigate your entire home with indoor GPS technology. It provides two cleaning settings one for a simple dry sweep up and a second for damp mopping. You can easily insert and remove the included dry and wet microfiber cleaning cloth. If you prefer, you can use your own disposable wipes.
The ILIFE V5s Pro Robot Vacuum mop will eliminate all floor cleaning for you. It vacuums, sweeps, and mops your floors all at once. It has a powerful motor that is able to pick up any and all pet hair, dirt, and dust. The small, sleek, and discrete bot will even put itself away when all the cleaning is complete.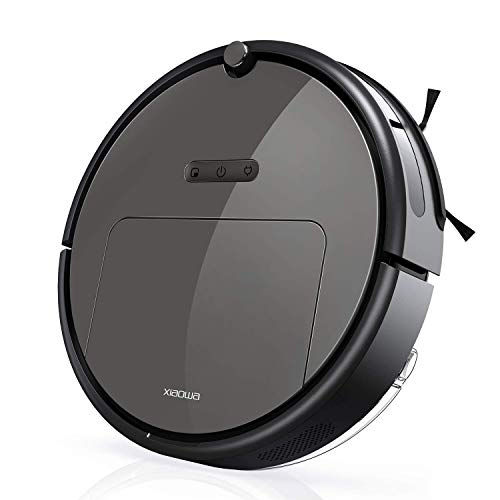 For buyers that don't mind throwing down a little bit of cash. The Roborock is a pricey but high-end robot mop that will appeal quite broadly to buyers with a little bit of money to spend.
It features route planning. This feature is facilitated via high end sensors that will get the layout of your home and ensure a thorough, satisfying clean.
It also features a high-powered vacuum, and the ability to do hardwood floors and carpets alike.
If you want a good, all purpose robotic mop, and you don't mind paying a little bit of money for it, this is going to be one to think about.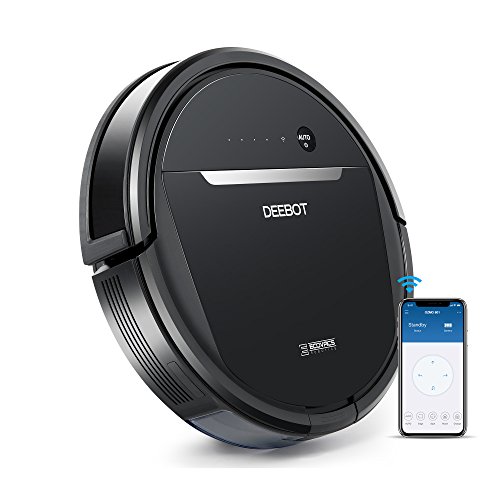 Another pricier robotic mop. The Ecovacs Ozmo 601 does things right with a sleek low-profile design that looks good and lends itself well to storage and transportation.
This is another mop that features multiple modes of use. This means that you are going to get your money's worth regardless of whether or not you have hardwoods or carpets.
It also features app support, so that you can control it with your iPhone, and a missive, two hour battery life so that you can be comfortable and confident in the fact that the Ecovacs will be able to address the needs of your entire home.
Another great mop that justifies its beefy price tag.
The Deenkee is a moderately priced, high-performing robotic mop that features three different modes of use. It vacuums, sweeps, and mops, ensuring that you can treat all of your home's needs.
It also features smart sensors that will help ensure that it navigates through your home safely. The sensors will both keep it from colliding into things, and also from falling down stairs, and other lofty heights.
If you want to get a lot of features out of a moderate budget, this will be a great mop to think about.
The bObsweep Pet Hair Robotic Vacuum Cleaner and Mop is specifically designed for those of us with pets and a pet hair problem. Its large dustbin allows for easy pet hair and dirt clean up throughout your entire home. Then to make sure your home is consistently clean set a personalized cleaning schedule, so you don't have to constantly fuss over sweeping up. It comes in two fabulous colors, either ruby or champagne to blend in with any household.
This fantastic robot vacuum cleaner mo does a little bit of everything. It can damp or dry sweep carpet, tile, hard wood, and laminate flooring easily. This is in part due to its powerful suction of hair, debris, pet hair, and dirt. You won't have to worry about it getting lost or falling down the stairs with its smart bump technology.
The Dry Microfiber Mopping Robot is a simple robot mop that is perfect for pet hair, dirt, and debris under and around furniture. It works best on hard surfaces and can last up to 100 minutes before needing to be recharged. The robot works quietly so you can have your floors cleaned while you sleep. It also has a gentle microfiber mop pad so there is no chance of it scratching even delicate flooring surfaces.
Black Friday: Time to Grab a Robotic Mop
If you are considering purchasing a robotic mop, know that Black Friday is your best chance to get a great deal. Historically robotic mops have dropped in price on Black Friday due to their insane popularity. So this season is sure to have some fantastic deals.
Deciding to Buy?
When searching for a robotic mop consider your own home and what will you be primarily using the mop for. If you have a pet or children who often bring in the dirt, leave messes and hair around you are going to want a more high powered mop. Some robotic mops have vacuum settings that can take on carpet or avoid stairs. This is important to consider when thinking about your own home and what the robot will be used for
This year check out our list of the best robotic mop Christmas deals to complete your Christmas shopping. These home appliances are easy to use and perfect for anyone looking to improve their house cleaning routine. You can find a mop designed for pet owners or one that is made for apartment living. Whichever you decide, find a great deal this holiday season.