Hey, man, cool it. No, really, it isn't as difficult to find the right fan that you need as you think. We'll tell you how to decide which type of fan to buy just as quickly as you need to go grab a fresh drink of ice cold water.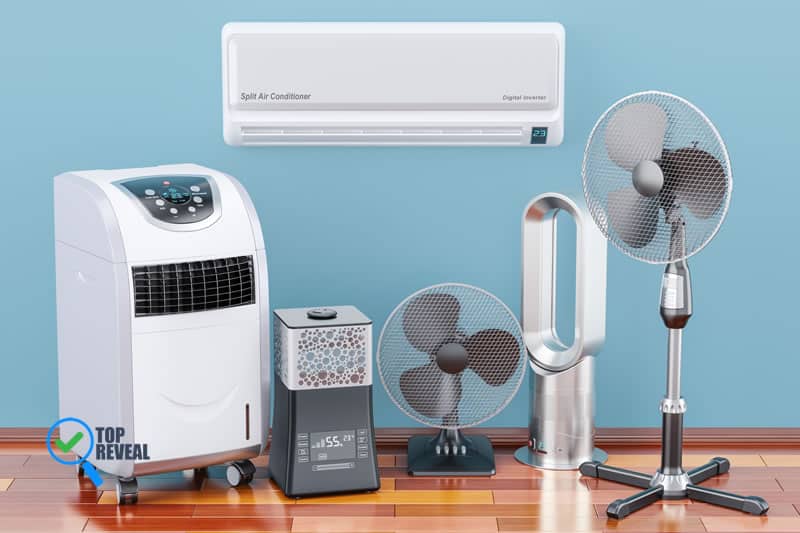 Different Types of Floor Fans
Ceiling Fans
Ah, the classic ceiling fan. These are the fans that are installed into the – you guessed it – ceiling in your home. They are great for cooling an entire room because they will get all the air in the space moving. Usually, they will offer three different levels of power so that you can adjust your air flow to your needs.
These fans work best just about anywhere. Outside, inside, anywhere that there is a ceiling and wiring to power the fan! If you don't need a fan to be taken around the house and don't mind doing some installation, the ceiling fan is the most effective option that you will find.
Floor Fans
A floor fan is a great alternative for if you want to get some height to your air flow. These fans are the ones that are set on the ground but have a long stand so that the fan blades themselves are about 4 or 5 feet off the ground. These are great for if you want to find a middle ground with your fan needs. They can be moved pretty easily, provide a pretty nice windstream, and can be plugged into the wall.
Altogether, a standing fan is an above average candidate for just about any situation that you need to get cooled down.
Tower Fans
Tower fans are about halfway between a floor fan and a tabletop fan. They are often rectangular in shape and sit on the ground. Instead of having blades, they usually have some other sort of system to get the air moving through the housing of the fan itself.
These tower fans often boast filtration and energy efficient qualities that other less sophisticated fans don't even consider thinking about having.
Also, they are generally rather powerful and creatively designed to look great sitting in any room. If you need a basic fan to do some basic cooling in an average sized room, a tower fan should be right up your alley.
Tabletop Fans
If you need a little buddy to cool off just you, you're looking for a tabletop fan. These fans sit right on top of your bedside table, desk, or dresser and provide a nice cooling stream to a smaller space. As far as power goes, they are probably comparable to two vents on an air conditioner in a car. They're great for pointing straight at you and dropping your body temperature but not strong enough to be useful for a whole room.
Probably the best thing about owning a tabletop fan is the size of these units that make them easy to carry from one room to the next.
How to Decide Which Type of Fan to Buy: Things to Consider
Maneuverability
There are varying degrees of maneuverability that you get with different types of fans and they greatly impact how to decide which type of fan to buy. If you need a stationary piece, a ceiling fan is probably best because it will stay out of the way of everything. But if you need something that moves around, a floor fan or a tabletop fan is probably best.
A floor fan can work, too, but they tend to be a little heavier so they are quite as easy to move around. The maneuverability of a fan is more about its weight rather than its actual physical size. Which brings us to our next point…
Size
Where you plan on putting your fan makes a big difference when it comes to what size you can get. If you want something you can carry around in the palm of your hand, then a tabletop fan is for you. If you want a fan to sit in a room on a semi-permanent basis, then a floor fan or a tower fan would be great for you due to their bulkiness.
Just make sure that you have spots in your house in mind when you pick out your fan of choice. Size also is a contributing factor to the power of air flow that the fan can bring, which brings us to our next point…
Fan Power
Of course, you want to have a fan that gives you the kind of cooling power that you desire. If you absolutely want to cool a room with the best effectiveness, a ceiling fan is definitely the best choice. After that, tower fans can be mighty effective if you're willing to get one that is top of the line.
Third comes floor fans, as they tend to be a lighter option.
Last, tabletop fans will work to get just maybe one or two people cooled down. Any type of fan will most likely have a low, medium, and high setting, so make sure you are on the lookout for that, too!
Noisiness
Some people hate the sound of the fan whirring in the corner (although others love it). If you're trying to get a fan that is quiet as possible, tower fans are often bought for this specific reason. There are models that forego traditional fans and use other technology that is as silent as could be. With that said, any fan that is using blades is likely to make noise but some will be quieter than others.
Truthfully, the only way you can be sure your fan isn't going to annoy you is by turning it on and listening.
Conclusion
Are you sitting in a pool of your own sweat yet?! Ew. But don't worry, this is a wrong that can be righted – with the right fan. Now that you know how to decide which type of fan to buy, you can chill in ease and comfort with your trusty companion keeping you cool.