There is one dessert that is guaranteed to make everyone smile: cupcakes! You just smiled reading that, didn't you? Don't worry, I did too when I wrote it. Cupcakes are timeless and versatile; they are used for weddings, birthdays, after-dinner treats and more. And they are also quick and easy to make.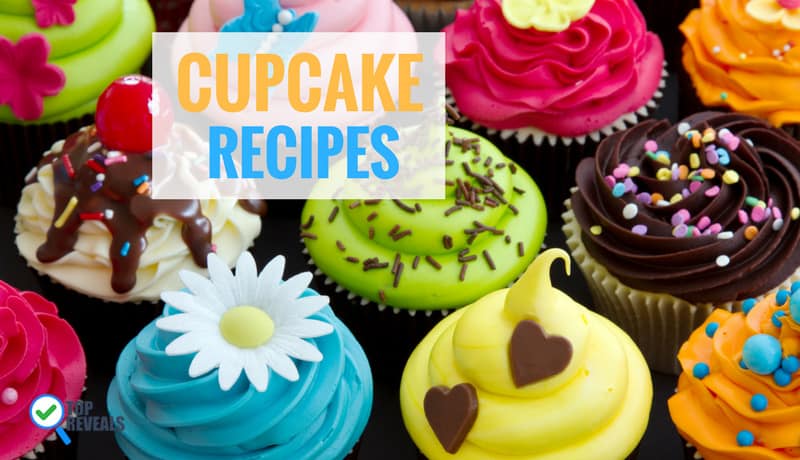 Speaking of which, if you are looking for a new recipe, whether it's a booze-filled one for an adults-only party,  one rich with butter and sugar, or a gluten-free concoction, you've come to the right place. I'm celebrating my love (obsession?) with these treats by sharing my list of lip-smacking good cupcake recipes.
Lip-Smacking Yummy Cupcake Recipes
There are links to the full recipes for each picture, along with a description so all you need to do is read, bake, and enjoy!
Chocolate Lover's Dream Recipes
1. Mississippi Mud Cupcakes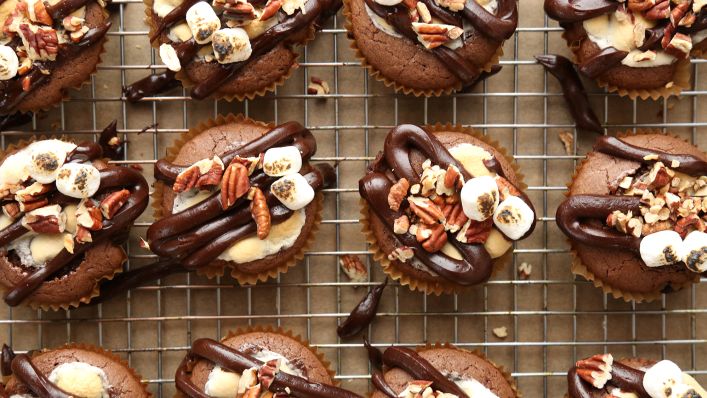 These chocolatey cupcakes, courtesy of Genius Kitchen, are ooey, gooey, and packed with tons of flavor, the pecans on top add a nice texture and the toasted marshmallows give them a hint of smoke that enhances the chocolate tones. In other words, it's a chocolate bomb of joy.
2. Polar Bear Paw Cupcakes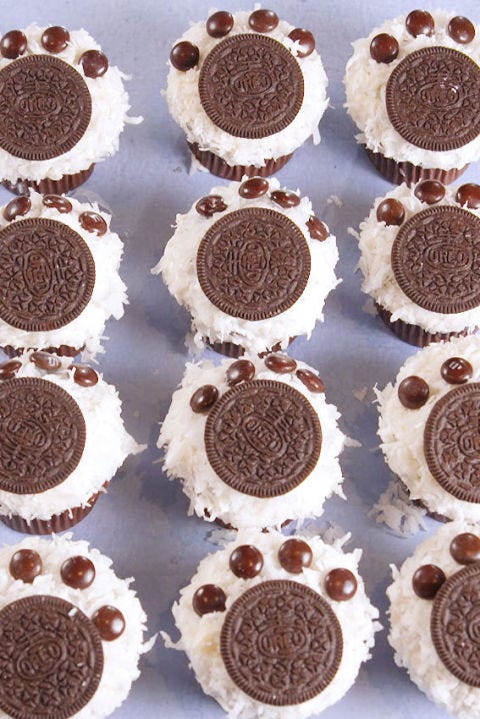 Delish has a delicious cupcake that mixes chocolate, Oreos, and coconut, a winning combination in my book. The cute design is great for a kid's party and you can substitute a buttercream or other flavored frosting if coconut isn't your thing.
3. Red Velvet Cheesecake Cupcakes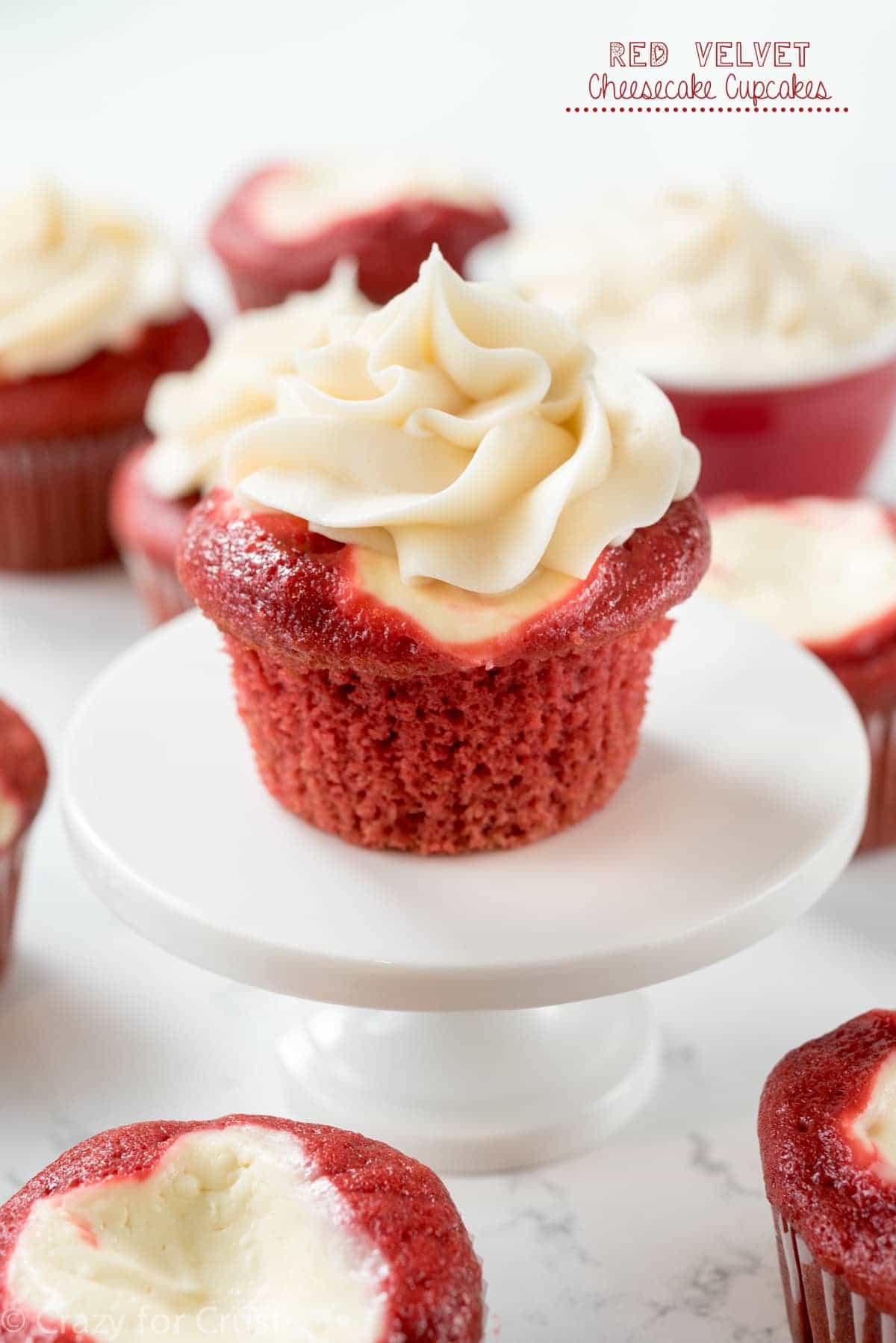 They may be red, but the taste of these cupcakes from Crazy for Crust is all chocolate and cheesecake when it comes to flavor. Cheesecake and chocolate is as classic as peanut butter and jelly, and these bites are chock full of decadence. They are filling and fun-I dare you to eat just one!
Vegan Delight Recipes
4. Healthy Hostess Cupcakes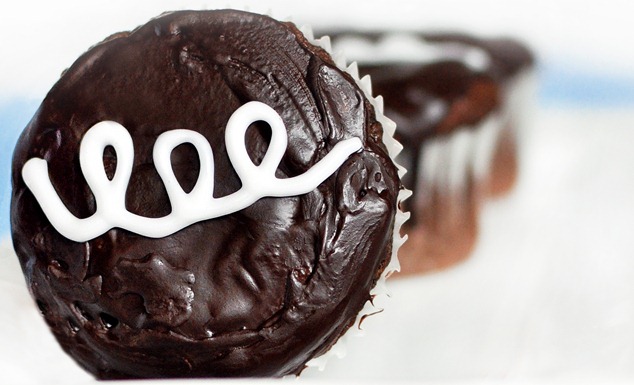 Take a trip back to your childhood with this clever and vegan-friendly recipe from Chocolate Covered Katie. Whole grains and chocolate combine to create a moist, flavor-filled bite-sized delight. You and anyone you serve them to will swear they're made with a traditional recipe. They're that good!
5. Vegan Funfetti Cupcakes
This recipe from the Minimalist Baker proves going Vegan doesn't mean you have to sacrifice aesthetics or flavor. It's also the perfect way to get your kids to eat healthy without even knowing it.
Boozy Bliss: Adult Cupcakes
6. Pina Colada Cupcakes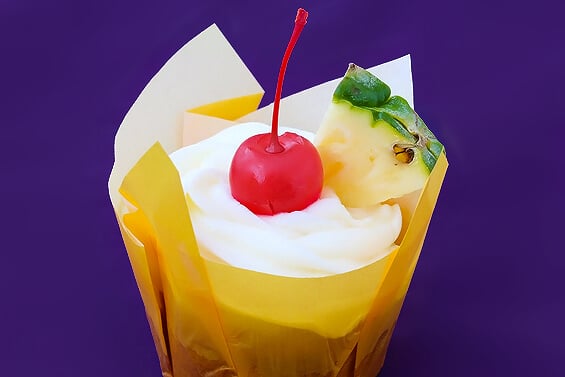 Gimme Some Oven (don't you just love that name?) has taken everyone's favorite drink and turned it into a cupcake to die for. Just in time for summer, you can whip up these light, refreshing, alcohol-infused cupcakes that are sure to fill you up without weighing you down. Perfect for entertaining in your backyard on a warm summer night the wrappers and garnishes complete the look and make this one of my favorite bites on the list
7. Mini-Mimosa Cupcakes
Planning a girl's Sunday brunch? If so you have to include these tasty treats from This Silly Girl's Kitchen. Mixing the classic flavors of orange juice and champagne, they're surprisingly fluffy with a nice acidic bite thanks to the orange flavoring, What I like is that they feel indulgent without being overly-sweet so you can serve them to almost anyone; just make sure they're 21 or older!
8. Tequilla Sunrise Cupcakes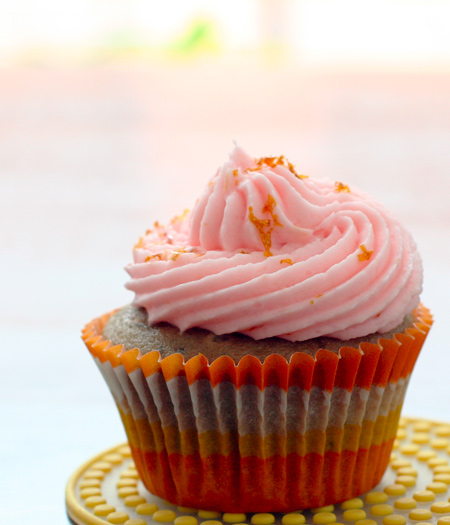 Love & Olive Oil has found the perfect balance between sweet and potent with these tequila-laced creations. I love the play on colors between the frosting and the wrappers, which mimics the festive name. Cinqo de Mayo is almost here and these lil delights would be perfect for celebrating it; although truth be told, you don't really need an excuse to make these.
Gluttonous Gluten-Free Recipes
9. Hot Cocoa Cupcakes with Meringue Frosting
Enjoy cupcakes and hot cocoa all year-round with these treats from Food & Wine; they're so good I promise you-you'll have a hard time eating just one. The creamy meringue frosting is a nice contrast to the deep chocolate flavor and the cupcakes are surprisingly springy and airy.
10. SALTED CARAMEL CUPCAKES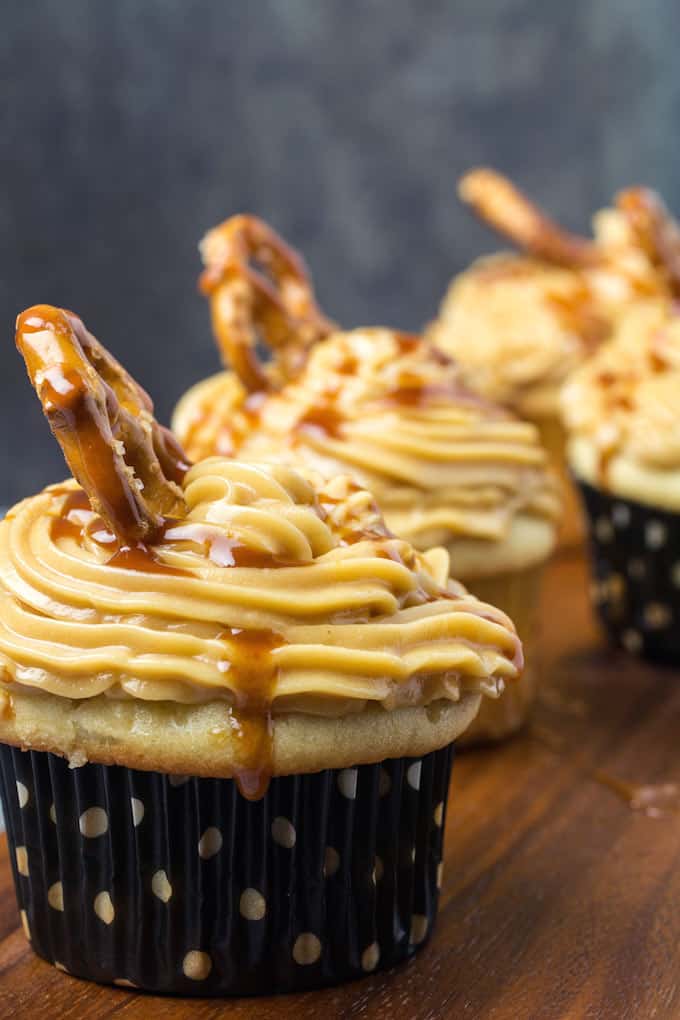 Salted caramel is all the rage these days (I know I can't get enough of it) and these mini delights showcase this popular flavor to perfection. Courtesy of Dinner Then Dessert, these cupcakes are salty, sweet, and gluten-free, so you get all the flavor and none of the suffering! All the components are home-made and they are so rich you won't know anything is missing.
Cute Kid Recipes
11. Ice Cream Sundae Cupcakes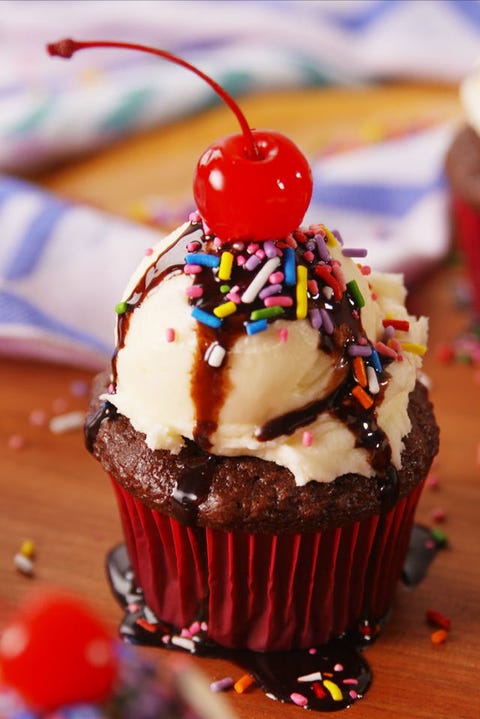 Delish has an ice cream sundae recipe- yes, you read that right, that kids will love and adults will definitely want a bite of! These are darling for a birthday party or as a summer evening family treat and super-simple to make. The cake part is packed with flavor in every bite ad the ice cream "frosting" is the perfect counterpoint. You can even set up an ice cream topping station and have the kids make them themselves.
12. Cookie Monster Cupcakes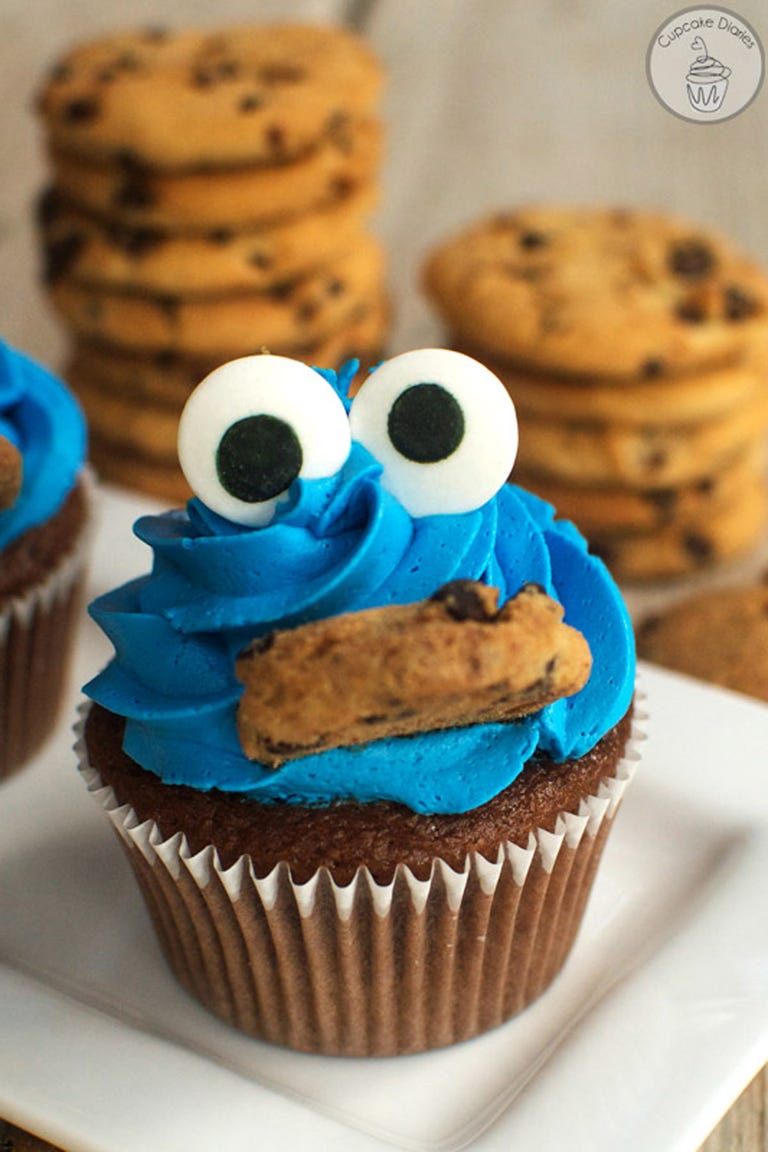 Want to put a smile on your little one's face with these Cookie Monster cakes from Cupcake Diaries. Unlike other character-inspired cupcakes, these are super simple to put together and will have kids squealing with delight, from both the look and the tasty flavor. Chocolate is great because almost every kid love sit and you can always do vanilla if that better suits your child. See the Top Rated Mixing Bowls for good.
Subtly Sweet Recipes
13. Ube cupcakes
 For those who prefer naturally sweet cupcakes and want to stay away from artificial flavor enhancers, these Ube cupcakes from Heart of Mary are a pleasant surprise.  Ube is a sweet potato and gives these mini desserts a subtle sweetness that is enjoyable and not cloying. The cake is soft and light and deceptively rich in flavor. Beleive me, once you try it you'll want them all the time.
Did you enjoy my Lip-Smacking Good Cupcake Recipes? Tell us below and share some recipes of your own with us!