A precooked rotisserie chicken can really simplify your dinner. What can you do with leftover chicken the next day? Here, we'll take a look at 10 leftover rotisserie chicken recipes that offer a healthy, delicious option for lunch or dinner.
What to Eat with Store-Bought Rotisserie Chicken?
When you first purchase a rotisserie chicken, you can pair it with a variety of sides. This includes mashed potatoes, some veggies like carrots or roasted squash, or you can even turn to rice, salad, or other potato products.
However, the sides you dip up with a rotisserie chicken can change depending on the rotisserie chicken recipes you're referring to. You can rework rotisserie chicken leftovers into a variety of dishes including salads, casseroles, tacos, nachos, chicken noodle soup, and flatbreads.
Keep reading and we'll take a look at some of the most delicious recipes you can make with the help of rotisserie chickens.
10 Easy and Yummy Recipes with Store-Bought Rotisserie Chicken
1. Chicken Avocado Salad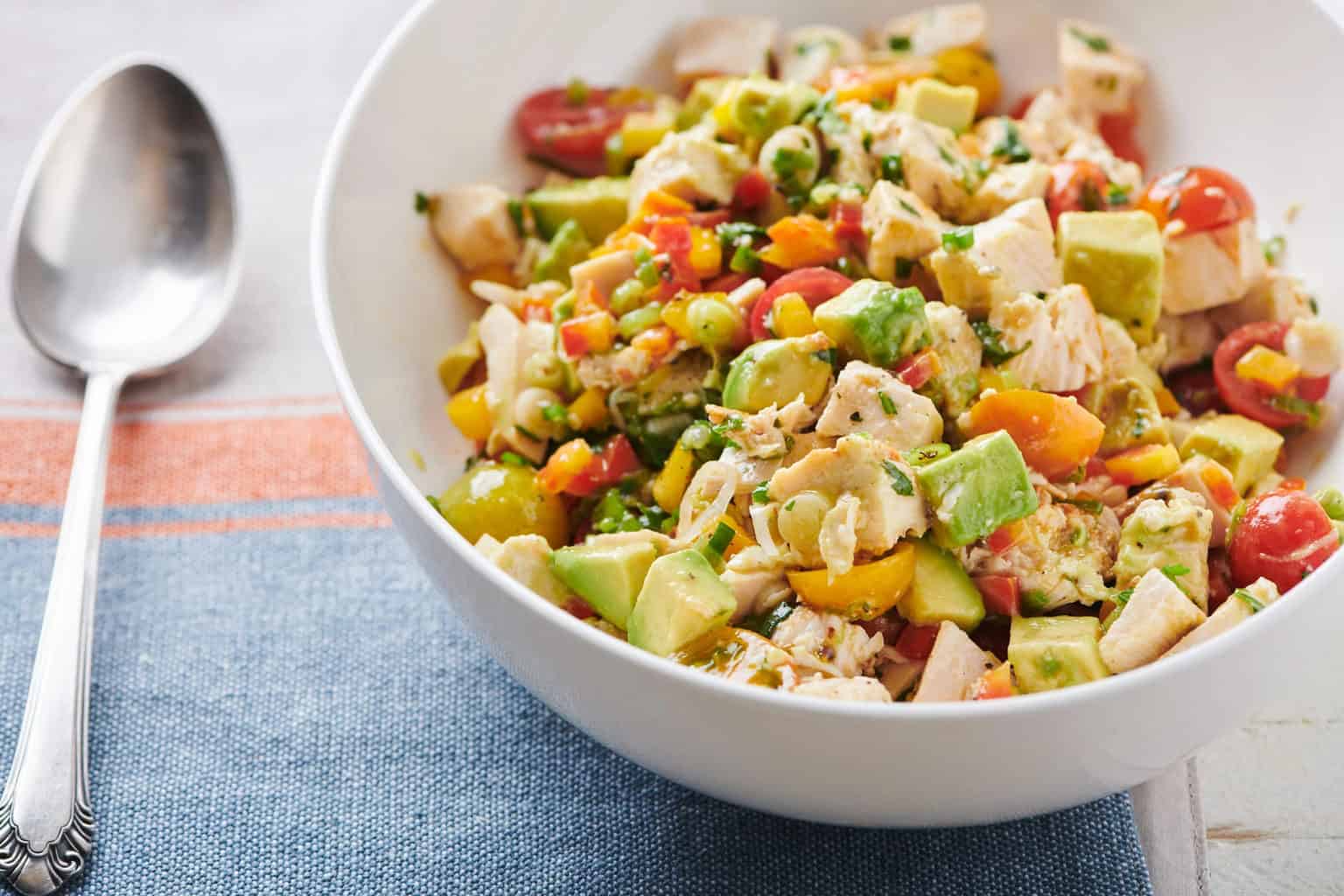 Salads are a go-to for many healthy meals. With this recipe from Eat This, you can use your leftover chicken with arugula, cranberries, avocado, goat cheese, walnuts, and all topped off with a honey mustard vinaigrette. This is a great light, summery meal when you're looking for something that won't make you too hot.
2. Chicken and Peach Flatbread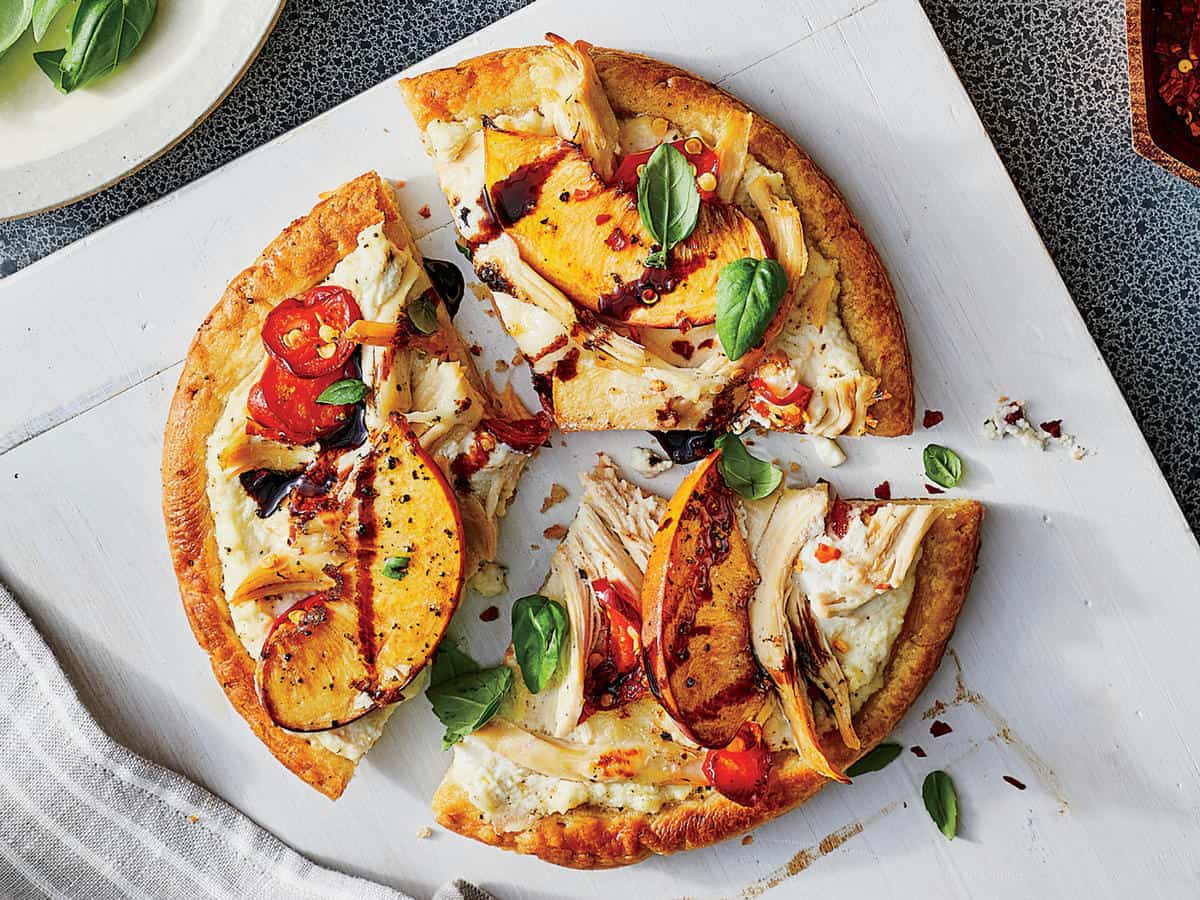 Flatbreads really give you a chance to think outside of the box. With this recipe from Cooking Light, you can combine your sweet and savory ingredients to create a nutritious flatbread. For an even easier time, you can opt for pre-made pizza crusts as well as a rotisserie chicken.
3. Chicken Spring Rolls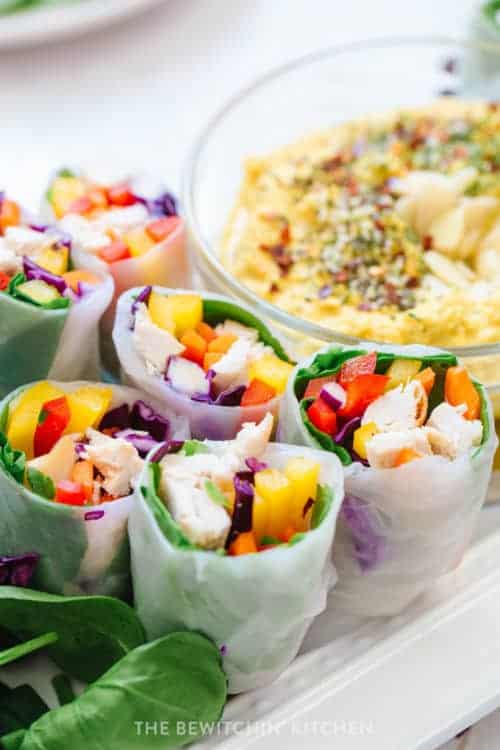 If you want a refreshing side or enjoy the crunch of a tasty veggie, spring rolls are a great choice. This recipe for chicken spring rolls from The Bewitchin Kitchen is delicious and easy! Plus, this garlic-filled recipe offers a flavorful way to eat your greens.
4. One-Pan Cauliflower Nachos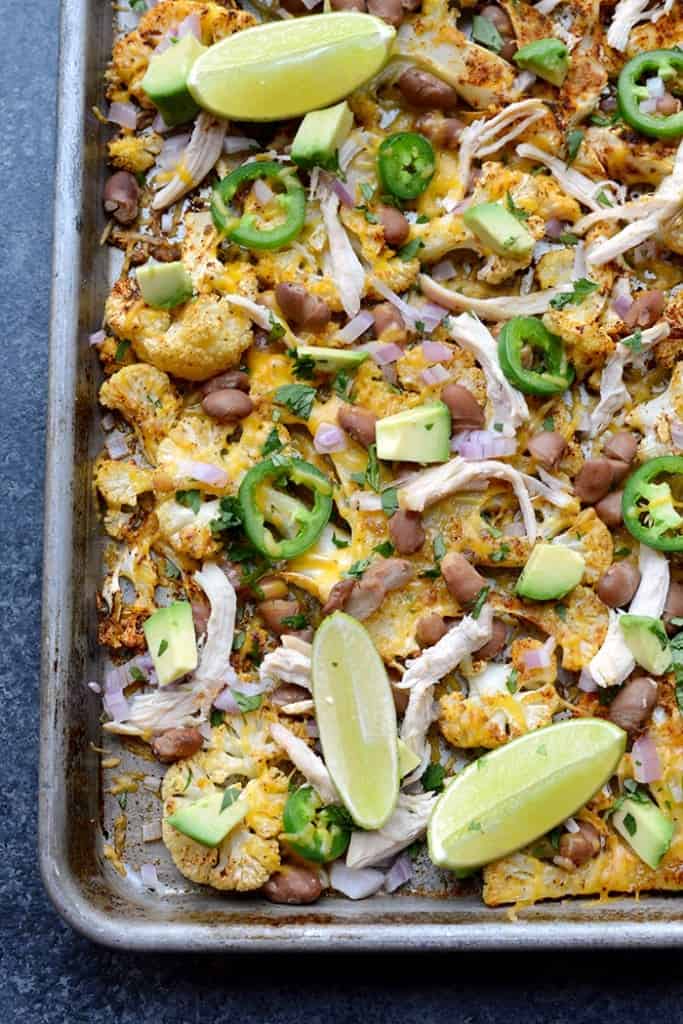 Ingredients:
Cauliflower Nachos:
Cauliflower (1 head)
Olive oil (2 tbsp.)
Garlic powder (1 tbsp.)
Cumin (1 tsp.)
Chili powder (1 tsp.)
Salt and pepper (to taste)
Nacho Toppings:
Rotisserie chicken (1/2 cup)
Cheddar cheese (1/2 cup)
Pinto beans (1/2 cup from a can)
Red onion (1/4 cup, diced)
Jalapeño (1, sliced)
Cilantro (to taste)
Pico de gallo
Instructions:
Preheat the oven to 400 degrees Fahrenheit. Grease your baking sheet as well.
Cut the head of cauliflower into four sections. Thinly slice these fourths to form the chip-style shape. Put these on your greased baking sheet.
Drizzle olive oil over the cauliflower chips. Add cumin, chili powder, garlic powder, salt, and pepper.
Bake for 25 minutes.
Remove from the oven and flip cauliflower on the baking tray.
Add cheese, chicken, beans, onion, jalapeño, and cilantro.
Bake for another 5 to 10 minutes. Make sure the cheese is melted.
Serve with pico de Gallo.
5. Buffalo Chicken-Stuffed Peppers
Recipe source: https://www.delish.com/cooking/recipe-ideas/recipes/a51994/buffalo-chicken-stuffed-peppers-recipe/
Ingredients:
Bell peppers (4, halved)
Shredded leftover rotisserie chicken (3 cups)
Large onion (1/2, chopped)
Gouda (shredded, 2 cups)
Garlic (2 cloves)
Hot sauce (1/2 cup)
Butter (3 tbsp.)
Fresh chives (2 tbsp., chopped)
Salt and pepper
Ranch (to taste)
Instructions:
Preheat the oven to 400 degrees Fahrenheit. Place bell peppers open-side up. Drizzle olive oil on them and add salt and pepper to taste.
Melt the butter in a large skillet on medium heat.
Add onion and cook for five minutes or until the onion is tender.
Add garlic and cook for one minute or until fragrant.
Add shredded rotisserie chicken and hot sauce. Mix thoroughly and bring to a simmer. Remove from heat once it reaches a simmer.
Fill bell pepper halves with the rotisserie chicken mixture then top each stuffed pepper off with Gouda.
Bake for 20 to 25 minutes. When you take them out, the cheese on top should be completely melted.
Top each baked stuffed pepper with some chives and drizzle ranch over the pepper as a final touch.
6. Veggie-Loaded Rotisserie Chicken Casserole
If you need something easy but loaded with veggies for dinner, you can grab your rotisserie chicken leftovers and make this delicious casserole from Project Meal Plan. For a healthy but creamy casserole, this recipe turns to Greek yogurt in the place of cream!
7. Chicken Chili with Sweet Potatoes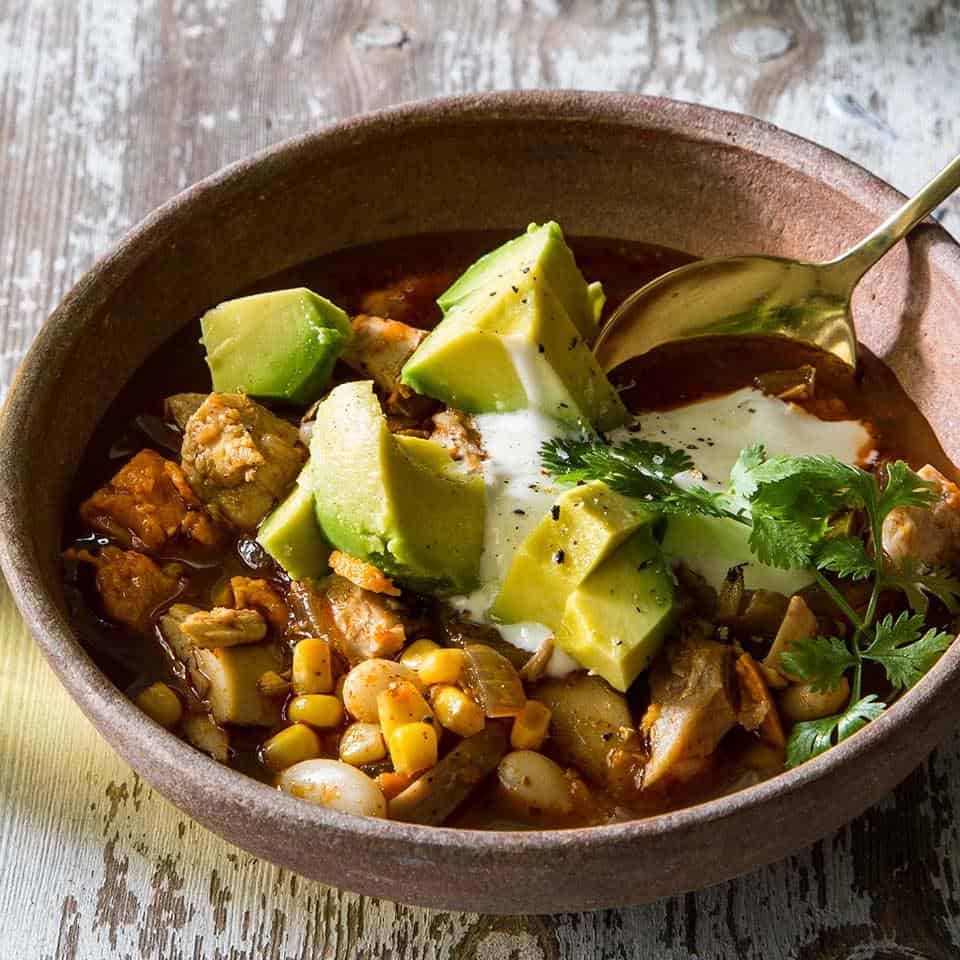 You can actually make your rotisserie chicken a rather rich but healthy dish! Nothing will warm you up quite like chili and Eating Well has just the recipe for the best healthy chili with leftover rotisserie chicken. With a variety of ingredients including chicken, corn, beans, and green peppers, it has a varied texture as well as a great taste.
8. Healthier Rotisserie Chicken Salad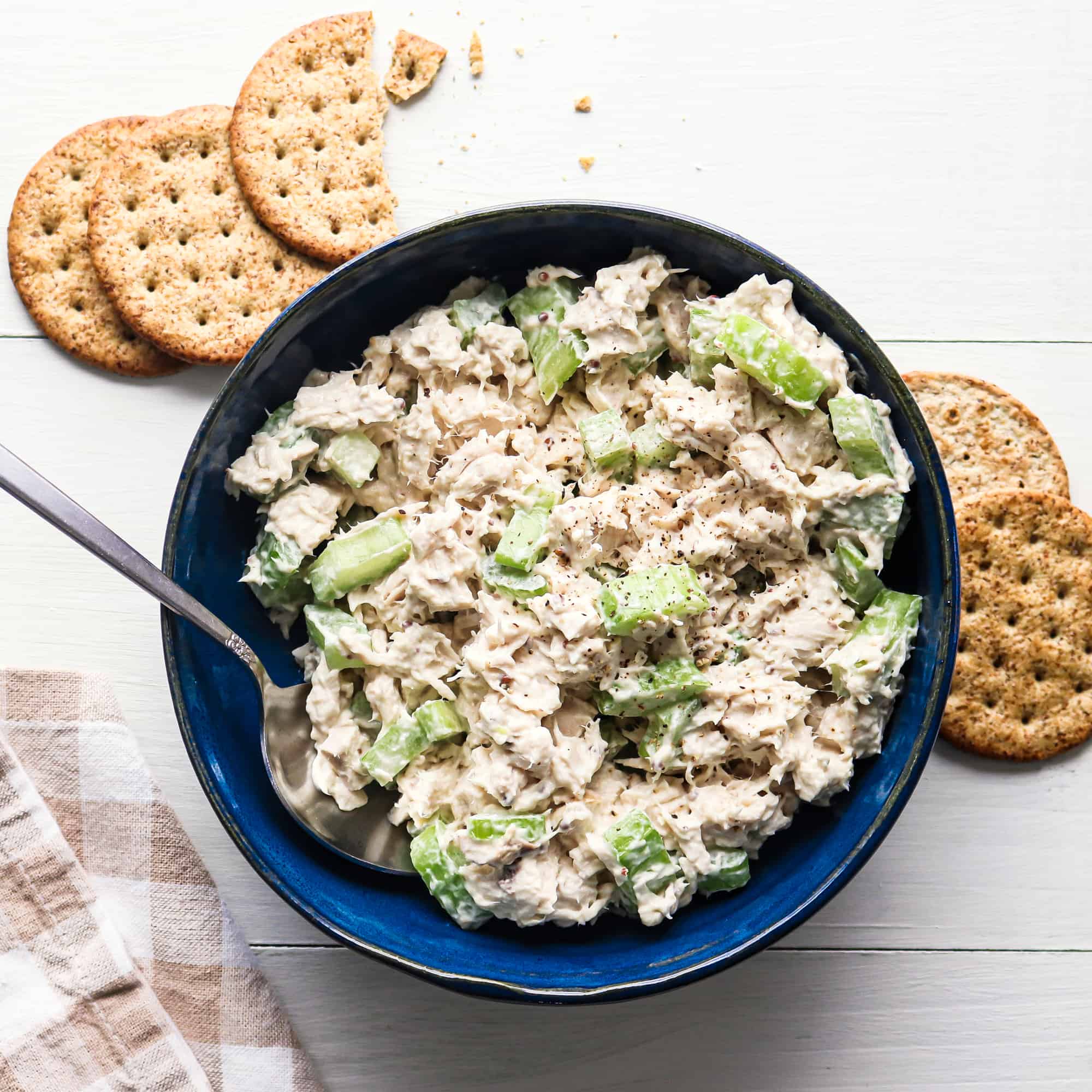 Recipe source: https://www.chewoutloud.com/healthier-rotisserie-chicken-salad/
Ingredients:
Rotisserie chicken (7 cups, shredded)
Small onion (1, finely chopped)
Small red pepper (1, finely chopped)
Plain yogurt (1 cup)
Mayo (1/2 cup)
Celery (1/2 cup, chopped)
Green onion (1/4 cup, sliced)
Lemon juice (1 tbsp.)
Garlic powder (1 1/2 tsp.)
Sugar (1 tsp.)
Ground mustard (1 tsp.)
Dried dill weed (1/2 tsp.)
Black pepper (1/4 tsp.)
Chopped parsley (optional garnish)
Instructions:
Grab a large bowl and combine all of the ingredients, using a bowl scraper to fold the ingredients together.
Cover and put in the fridge until served.
Serve on its own or on crackers or a sandwich.
9. Tuscan Chicken with Penne Pasta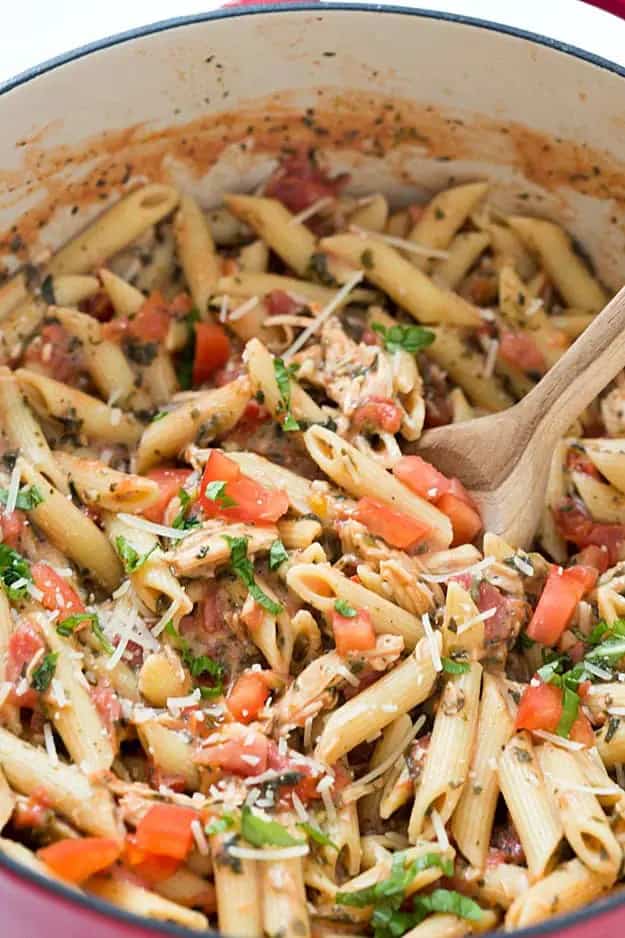 It's hard to go wrong with a pasta dish. Alongside the rotisserie chicken, this Tuscan chicken with penne pasta from Gal on a Mission has plenty of spinach, tomatoes, onion, and more! With plenty of herbs, this recipe is packed with flavor too.
10. Easy Greek Tzatziki Chicken Salad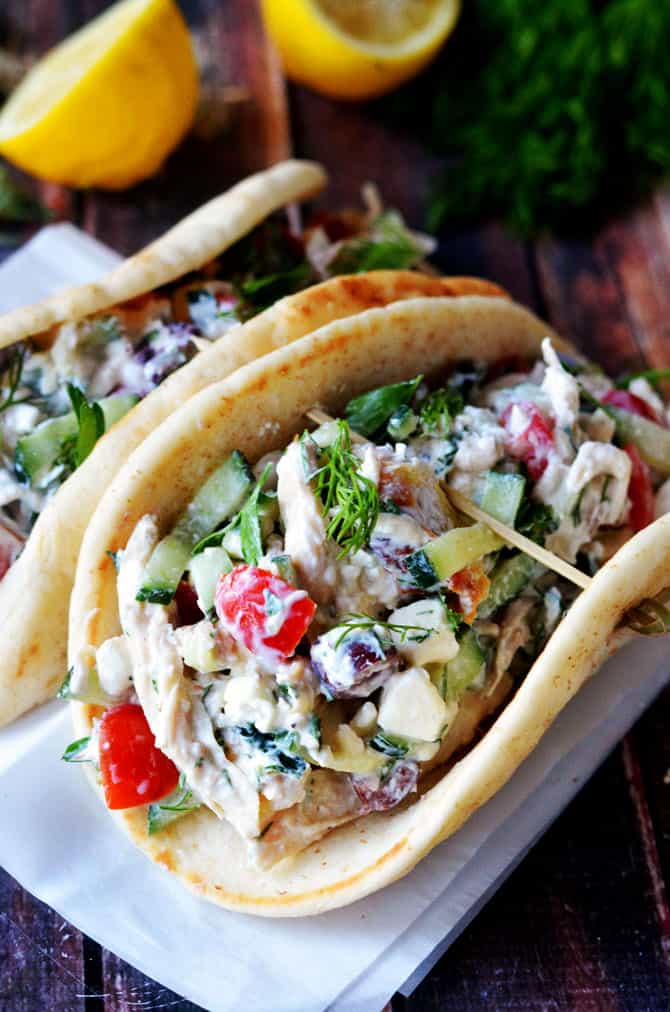 For a refreshing dish, you can try this Greek tzatziki chicken salad from Host the Toast. It's a great way to change up your tactic and give your rotisserie chicken a fresh, new flavor. Not to mention, ingredients like kalamata olives and fresh dill pack a tasty punch.