Mixing bowls are an essential component of any kitchen, performing a wide variety of jobs like a jack of all trades. From mixing ingredients to storing leftovers, they are one of the most versatile, and overlooked, pieces of kitchen equipment. Fact is, many people fail to realize just how many different types and sizes there are- or all the ways they can be used.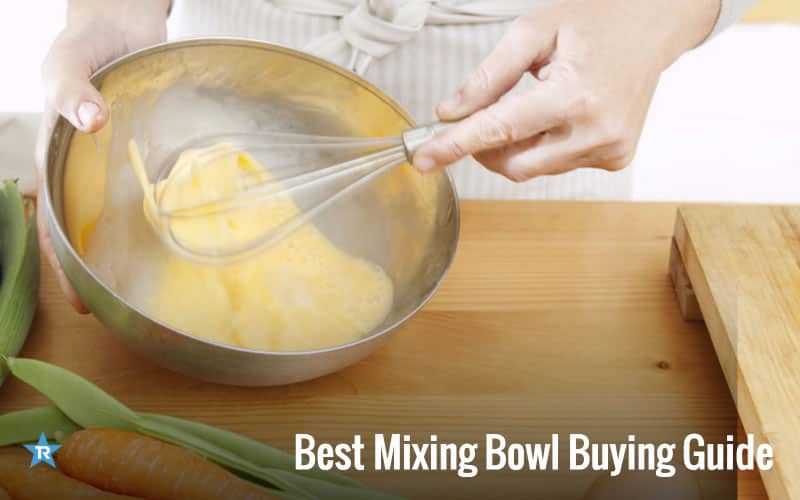 To help you out with this, I put together this Best Mixing Bowls buying guide. I will give you a breakdown of the various styles, sizes and uses of mixing bowls, how many you should have and a list of the 5 best mixing bowls for your money. So read up before you whip up that next cake (and be sure to send me a slice).
5 Top-Rated Mixing Bowls for Baking– Which One is the Best?
Now that you have a good sense of what mixing bowls are and how you can use them, let's look at the best ones on the market. Each review includes pricing and suggested uses, giving you a clear picture of how they can work for you
This set is a smart choice because it has a variety of sizes and extras that make it great for storing and mixing. There are 4 glass bowls in this set: a 1-quart, 1 ½-quart, 2-quart and a 4-quart, and each comes with its own lid for easy separation and storage.
The glass is microwave, oven, freezer and dishwasher safe so you can use them for just about anything and the plastic lids are BPA free, so they're good for the environment.
Great for keeping leftovers, traveling to school or work and basic mixing needs, this set can handle jobs big and small.
These high-quality, durable bowls are some of the most versatile on the list and they are a bargain for bakers.
Each bowl has marked measurements on the inside, so you can pour and measure at the same time. This is really convenient and a big plus for bakers. They also have silicone coated bottoms, so they won't move while mixing- another plus.
There are 4 sizes in the set: 1-quart, 1.5-quarts, 3-quarts and 5-quarts, so they can be used to prep large meals, and each one has a BPA free silicone lids, so they can be used to mix and store.
Dishwasher and freezer safe, they won't rust and the stainless steel is made to last. A must for any serious cooks.