November officially marks the beginning of the holiday season, but while Black Friday is the day that people traditionally kick off their shopping, the truth is that there is no reason to wait until Thanksgiving. There are plenty of stores that are rolling out incredible deals on some of their top brands right now.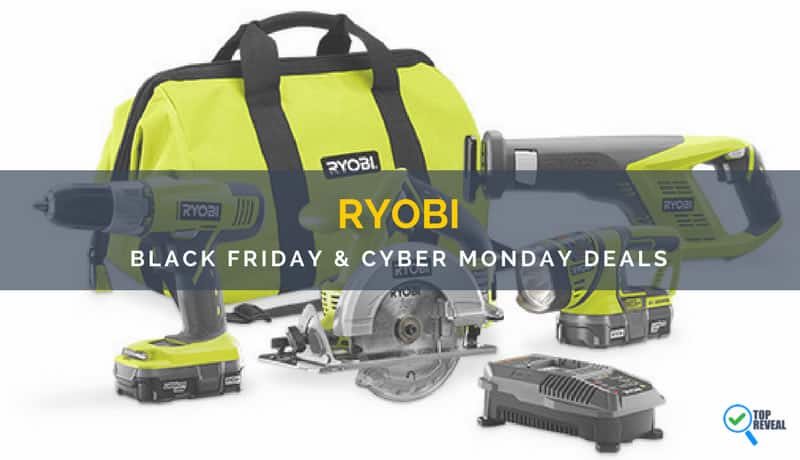 That is precisely why today we will be taking an in depth look at some truly incredible deals that are available on Ryobi products. Read on for a comprehensive guide to the very best Ryobi Black Friday/Cyber Monday deals!
Are Ryobi Products a Good Gift?
For the right person, Ryobi tools definitely make for an incredible gift. People that like tools really like them, but they can be a little bit pricey so they will certainly appreciate the opportunity to not have to pay for them.
From saws to drills, Ryobi makes pretty much everything that the woodworker, do it yourselfer, or even homeowners that like to take care of light home maintenance themselves could want.
Without further ado, read on for your guide to the best Ryobi Black Friday/Cyber Monday deals!
What are the Ryobi Black Friday/Cyber Monday Deals of 2018?

This next product is another combination pack that, while not quite as comprehensive as the first one that we looked at, still represents an excellent opportunity to get started in the
world of power tools
.
This combo kit comes with a speed driver and a circular saw. While these two tools will not be enough to approach any job they still represent a good start, and you will never the less be able to get plenty done with the Ryobi ZRP825. It's a great gift for anyone looking to start or supplement their tool collection.
Ryobi ZRTSS102L 13 Amp Compound Miter Saw
The miter saw is a must have for any woodworker, and this particular unit is of notably high-quality. With a powerful motor that is able to deliver 4,800 RPM, and a myriad of other features this heavy-duty tool is able to confidently approach most woodworking jobs.
All this said, the miter saw is certainly not right for everyone. It's an advanced tool that should not be purchased for beginners. However, the woodworker in your life is certainly going to appreciate this gift.

The first product that we will be looking at is actually a collection of products. With this comprehensive combo set you are getting a reciprocating saw, a compact drill, a circular saw, and a multi tool. Of course,
the tools are all of the highest quality
, and together they will give home owners the opportunity to tackle most basic jobs confidence.
For the person that is looking to get started in the world of power tools this combo set is absolutely perfect.

This next item may not be quite as flashy as a shiny new power tool but it will certainly be appreciated by the woodworker or do it yourselfer in your life. The Ryobi One+ Charger works with all Ryobi One+ products and provides and impressive four-hour charge that will ensure stress-free, uninterrupted work.
This charger is an excellent gift for anyone that will be working extensively with their tools.
Ryobi 18-Volt One+ Lithium Ion Cordless Drill:
Every home could benefit from a good power drill and that is exactly what you are getting here. This combo set comes complete with two compact drills, a charger, and a bag to carry it all in. These drills are powerful and even have a speed adjustment feature that allow you to take care of a wide range of jobs.
Given how versatile it is, most people will benefit from this gift.

This next drill is an
affordable option for the person who doesn't need a combo set
. While you are only getting one drill here, you are still getting the same great features that characterized the previous drills we looked at. It's powerful, it features adjustable speed, and is designed to be comfortable.
This is the perfect gift for anyone that wants to add a great power drill to their tool collection.
Ryobi ZRP818 19V One+ Lithium-Ion
This high-end drill features an LED light that will help illuminate your workpiece, a magnetized platform built into the base that is able to store screws. It's also lightweight, powerful, and it comes with a charger and carrying case so that you will have everything you need to use this tool to its fullest.
This is a great gift for anyone that is looking for a really high-end drill.
Ryobi One+ Variable Speed Cordless Leaf Blower
The final product that we will be looking at is a powerful, cordless leaf blower that will make yard maintenance a breeze. It features a long battery life, a powerful motor, and a variable speed trigger that allows you enjoy maximum control over your work.
Everyone with a yard could benefit from the usefulness of a leaf blower, making this a great gift for most people in your life. This is definitely a great deal to look out for during the Black Friday Ryobi sales.
Early Black Friday Deals?
If you haven't heard about early Black Friday deals before you certainly are not alone. It is a relatively recent development that is the product of the online shopping boom. Traditionally Black Friday sales have happened in the earliest hours of the morning on the day after Thanksgiving.
While that has always worked well in the past, people are now accustomed to shopping online at their leisure, which does not mix well with the typical Black Friday format. As a result, there are now sales available early so that more people can take advantage of online and in person shopping discounts.
Conclusion
As you can see, there are plenty of awesome deals available on some incredible Ryobi products. There is no need for stress this holiday season now that you know all about the best Ryobi Black Friday/Cyber Monday deals!