We all have that family member who is constantly giving us their old hand-me-downs. It could be clothes, cookware, or home appliances, usually, I pass. Until it is furniture, an often expensive item that can make the deal too good to pass up. A common furniture item you probably have been offered or found at a thrift store is the dresser. These finds can look outdated and in need of some DIY love. So I have put together some of my most useful DIY dresser ideas.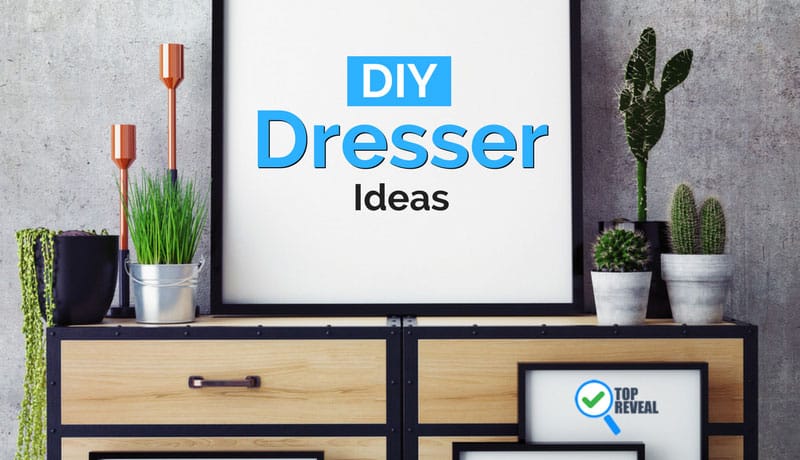 Handmade DIY Dresser Ideas
A-Rod Dresser
I have always loved that open dresser look. It just looks so high-end model. I dream of hanging my beautify coats and dresses for the world to see. I just need to get some first…
Wheel it to me
Courtesy of Shanty 2 Chic
At first, I thought, 'why would I need wheels?' Then I remembered I feng shui more than the average professional feng shui. Not only can you quickly move furniture around for redecorating, guests, or just creating more room, but you can vacuum under there as well! Where are my neat freaks at?!
Your Basic Thrift Makeover

Evolution of Style
Felt like this was essential to include because when it comes to DIY, most of us are going to start with a great thrift store find. This how-to provides great insight into how to turn that find from a cheap hand-me-down to a high-end piece of art.
When The Drawers Are Beyond Repair
Courtesy of Ella Claire
This is some inspiration that could be helpful to anyone trying to update or repair their dresser. Sometimes those drawers are beyond repair, so what is a girl to do? Add baskets. You can add some really beautiful baskets giving an average looking dresser some character.
If She Loves Lace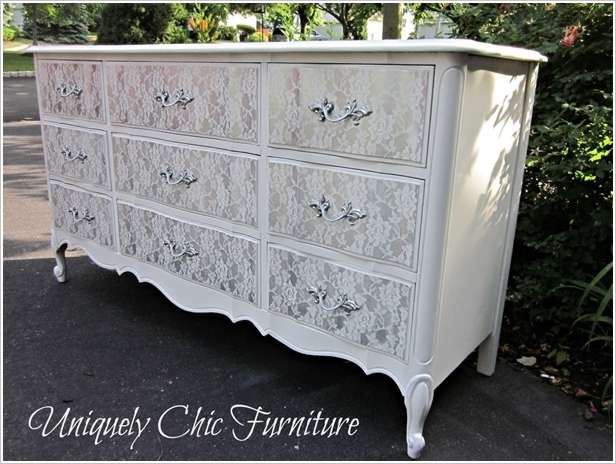 Feeling fancy? I love this for the one who loves all things fancy and frilly. It may look a bit challenging, but can be fairly simple to do once you get the hang of it.
For The Traveler's Souvenir Finds
This is a total conversation starter. I love the character and vintage look this dresser can bring to a bedroom. You can really incorporate some unique pieces of luggage to make this a fun accent piece.
Unsuspected Flair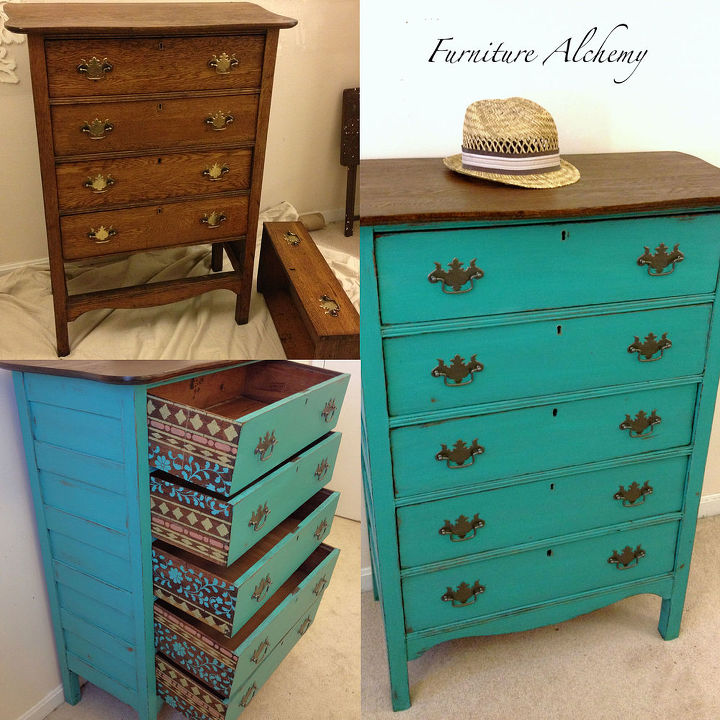 Alchemy Home
Classy on the outside, a party on the inside. This is just one example of something fun and unique you can do with the sides of your dresser drawers. There are tons of ways to paint, wrap and decorate the side panels of your drawers.
Stencil For a Theme
From IkeaHackers
While these drawers are a fun way to upgrade any standard Ikea dresser, you can stencil your favorite design to any dresser. Do you have an ocean themed room? Stencil on an octopus, mermaid, or a ship! This can be especially fun for a child or teens room.
From Mid-Century To Modern

Lost and Found Decor
This dresser is beautiful being both simple but filled with character. Is it the gold handles I fell in love with? Was it the half rich colored wood, half white paint charm that had me swoon? I don't know what it is but this DIY incorporates everything we love about doing it yourself.
Why I Love Molding
Courtesy of Thrift and Craft It
Molding is a great way to dress up your plain dresser. Maybe your old dresser already has molding? Make it pop with some bold paint color that contrasts with your overall dresser color.
For The Advanced DIYer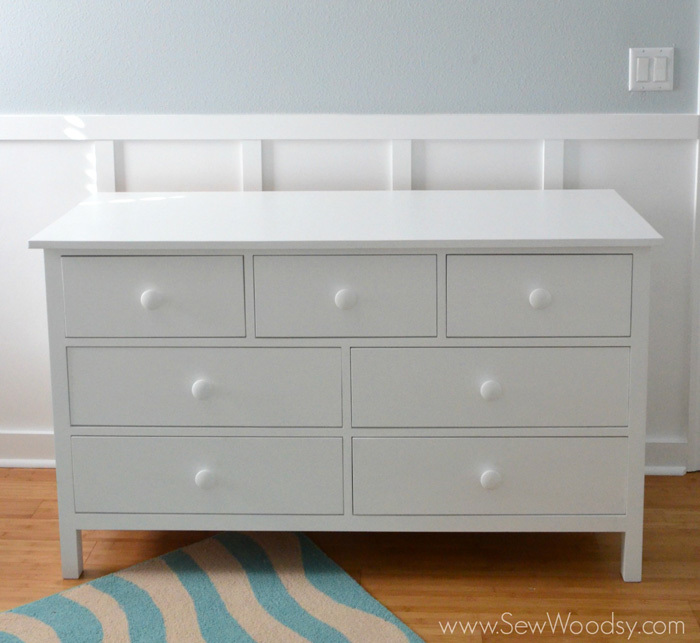 Via Ana White
Not all of us have an old dresser or have found the perfect one to remodel. So start with this basic model to build from scratch. This may not be a great beginner project, but the directions allow you to easily follow the steps to give you a great start to a unique dresser.
For The Advanced Artist
From Sea Rose Cottage
This is a fun one to incorporate into any themed room or child's bedroom. It does require a bit of advanced artistry but it is well worth it when it all comes together.
The Handles I Will Dream About Forever
For the most part, we have seen beautiful, yet standard dresser handles. These handles put all the other ones to shame. They are such a subtle, yet unique way to show some classy character. You can even label them so you always know what is in each drawer.
A Little Goes a Long Way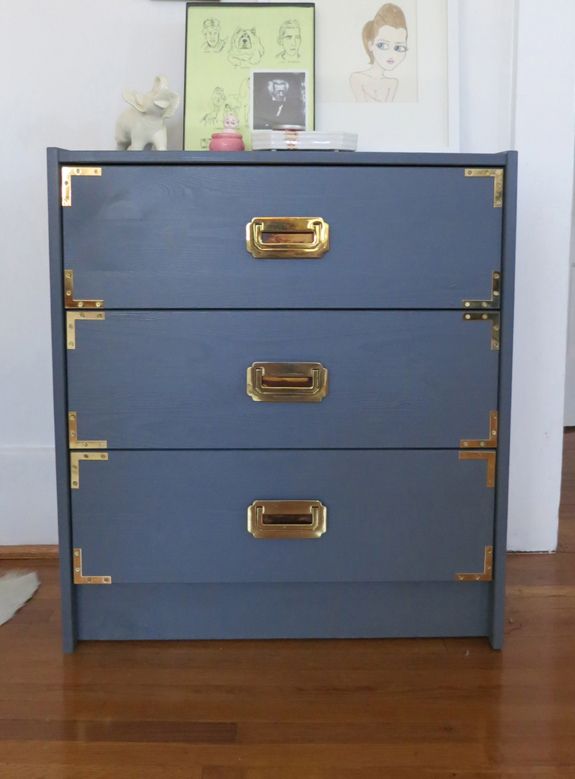 Not every dresser DIY needs to be complex, and this dresser proves it. Sometimes a little goes a long way and all you need is to add a bit of accents, like these metal corners and matching handles.
Subtle Texture
https://howtonestforless.com/2012/07/20/kitchen-accent-table-1st-project-with-wood-icing/
Admittedly, I had to look up what wood icing is but it turns out it is a really cool way to add some beautifully simplistic texture. I love how this DIY project just adds it to the drawers to make them just a tad bit more interesting.
Tile, For Something Truly Unique
Courtesy of East Coast Creative
I am sorry, did I fall asleep and wake up in Lisbon? Add tiles to your dresser for a seaside fresh appearance. This dresser has some beautiful pale tiles but you could get really creative with some bright colors! Make this a total statement piece.
For a High-End Look
From Andersen Seven
This DIY can make any ordinary dresser look super expensive and high-end. It is sleek, yet super fashionable. Play around with how you want to incorporate the mirrors and quickly make a flip!
If You Love The 70's
From Vintage Revivals
A lot of DIY projects involve some sort of paint or extensive artistry. This one is perfect for those of us that prefer to be using their garage tools. From afar, this dresser can take you back to the happening 60's / 70's but up close it is really just PVC pipe. Such a clever idea!
Take Me To The Sea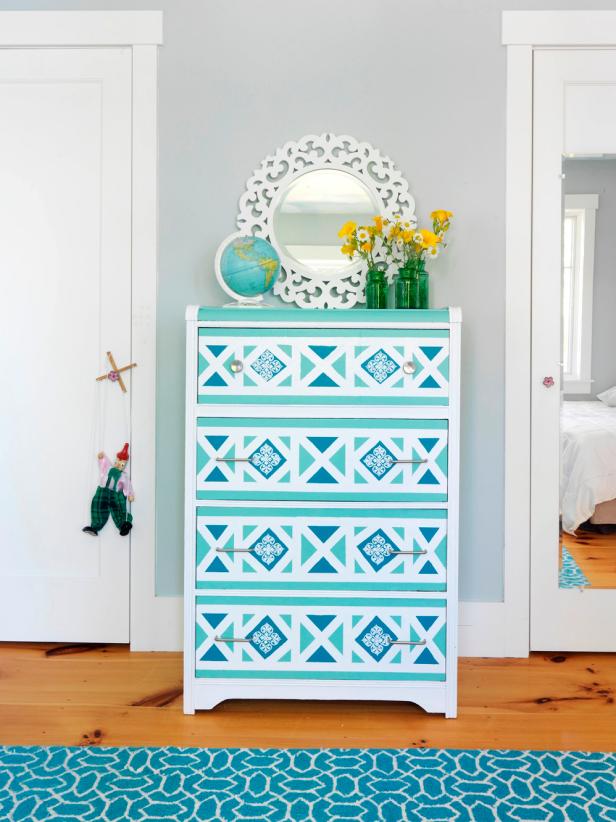 From DIY Network
There are tons of ways to paint your dresser but using paint to create beautiful designs allow for unlimited designs and color combinations. This DIY gives you awesome advice on how to make a unique design your dresser drawers using just a few tools.
Not Your Grandma's Dresser, Anymore
Via Confessions of a Serial DIYer
While a lot of these DIY projects allow you to transform any dresser this one gives you a great solution to flipping your grandma's old dresser. It shows you how to update the design without sacrificing that beautiful vintage charm.
Did you enjoy the list? DIYing your dresser can be a fun way to express yourself and add a statement to your bedroom. A boring dresser can quickly bring down the perceived value of your room, so invest in a few simple quick fixes. Let me know what you the think in the comments and share if you liked it!