A quality rotary tool can change the way you work. There are always tiny details that need attention or last minute cuts that need to be done and with the perfect rotary tool you can be sure it's all taken care of.  And at the top of the rotary tool ladder stands Dremel.
They make the best rotary tools so it would seem appropriate that we should compare the best of the best with this comparison of the Dremel 4000 vs 4300 models.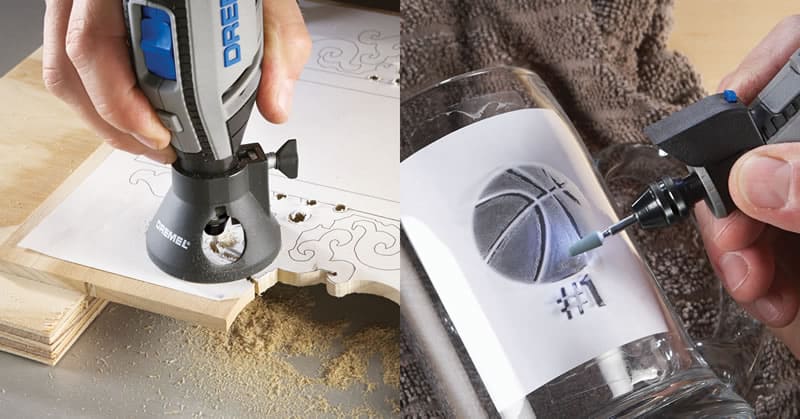 The Verdict
Spoiler alert! The Dremel 4300 is the best rotary tool that Dremel manufactures. While all of the rotary tools we talk about on this page are of outstanding quality, the 4300 model is the best one that you can find because of it can do everything that the 4000 and 4200 models can do – and more. The most defining characteristic that puts the 4300 above the other models is that it has a 3-jaw chuck, making it able to use the widest range of Dremel accessories.
The versatility that this affords makes it so that you can give attention to any of the finest details you can imagine on your work. It also has a couple of smaller features like a work light, warranty, and finer grip that make it a better rotary tool than its ancestors.

The Dremel 4000 is the most basic rotary tool that Dremel makes. While it is the most rudimentary, it still offers characteristics that you would appreciate with amazing features like:
Includes 50 accessories: With your purchase of a Dremel 4000, you get 50 attachments that make it one of the most versatile machines you could own. With these attachments, you can improve all of those little details on your projects to give them a polished, professional finish.
Variable Speed Motor: This rotary tool works at speeds from 5000 to 35000 rpms. This makes it so that you can work at several different speeds to get your job done right no matter the situation.
360 Degree Grip: The grip on this tool gives you a sturdy grasp no matter what angle you hold it at. Since you will be working on the smallest parts of your projects with this tool, you are going to want this fine grip for your detailed work.
Key Features of the Dremel 4200
The Dremel 4200 is just a step up from the 4000 if you compare the Dremel 4000 vs 4200. The better model has even better features like:
EZ Change System: Switch from sanding to polishing to cutting about as easily as you could imagine with this new Dremel system. We all know how useful it is to be able to change from one task to another to cut down on project time without sacrificing quality.
Cooler Motor: This improved motor has 20% better air flow. The venting design keeps the tool working at a lower temperature both to save wear on the motor and to keep your hands working more comfortably.
Auto-adjusting Power: Featuring the most powerful motor that Dremel has put into a rotary tool, this motor automatically adjusts its power source to work at the right speed for the job. This improves safety as well as efficiency since your tool is always working at the right proficiency.

The newest in Dremel's line of rotary tools is the 4300 model. This product features awesome characteristics that you are sure to enjoy like:
New 3-jaw Chuck: This new chuck lets you fit the widest range of Dremel accessories possible. It also provides quick change capabilities like never before.
Pivoting Light: Working in low light situations? No problem for this rotary tool. It features a light to ensure that you can see what you are working on no matter the situation.
Two-year Warranty: Dremel knows you are going to love this rotary tool so they are making sure that you can enjoy it for years to come with a two-year warranty.
Similarities in The Dremel 4000 and 4300
There are a few things about these products that make them similar (but that's okay because these characteristics are what make all these items great!). These similarities are:
Nearly Identical Motor: Almost the same motor is used to make all of these fine rotary tools. While they aren't all exactly the same, they are certainly reminiscent of each other and provide very similar power.
Variable Speed Capability: All of these rotary tools have the same variable speed technology. This means that they all adapt to your work in the same way to provide a similar, pleasant user experience.
Similar Grip Style: These three products all have generally the same outward shape. This means that they will all provide nearly the same comfortable feeling in your hand.
Differences Between Dremel 4000 versus 4300
Truly, the differences are what set the Dremel 4300 apart from its older brothers. It simply has a few better features like:
Universal 3-jaw Chuck: The 3-jaw chuck is completely unique to the 4300 model. It lets you be able to use the most Dremel accessories, giving you more options to make your projects exceptional.
Work Light: The 4300 is also the only rotary tool from Dremel that has a light on it. You'll be able to see your work clear as day no matter the circumstance, something that can't be said with the other Dremel models.
Two-Year Warranty: With a warranty in place, you can be certain that you will get to enjoy this tool for at least two years, something that can't be said about the other two models.
Projects that Can Be Done with a Dremel Rotary Tool
The projects that can be created with an appropriate rotary tool are numerous. Rotary tools are perhaps the most versatile tool you can own since they can cut, polish, sand, carve, engrave, grind, sharpen, and clean. And that's not even an exhaustive list.
You can go from cutting through a piece of light metal pole for creating a new support for a deck to engraving a piece of wooden art for a loved one all with one tool.
You can then switch out the heads on your tool to go back to polishing that newly installed pole and, again, switch heads to sand that engraving for a nice finish. Moving between projects with a rotary tool is as easy as switching out the head and as versatile as the attachments that come in the kit that comes with your rotary tool.
Conclusion
All told, there may be a battle between the Dremel 4000 vs 4200 models but the Dremel 4300 is a cut above the rest. The 4300 does everything that its predecessors do but with a more powerful motor and even more versatile attachments. Most rotary tools are great and provide a lot of utility to your workspace and project potential but none seem to compare when it comes to the Dremel 4300.
Dremel truly has set themselves apart in the rotary tool game.
[rwp-review id="0″]