Sure, doing laundry isn't glamorous, but that doesn't mean the room you do it in has to be boring and drab. Just like your kitchen and other living areas, your laundry room needs some TLC. After all, you will be spending a great deal of time in there, so why not make it a place you want to go to?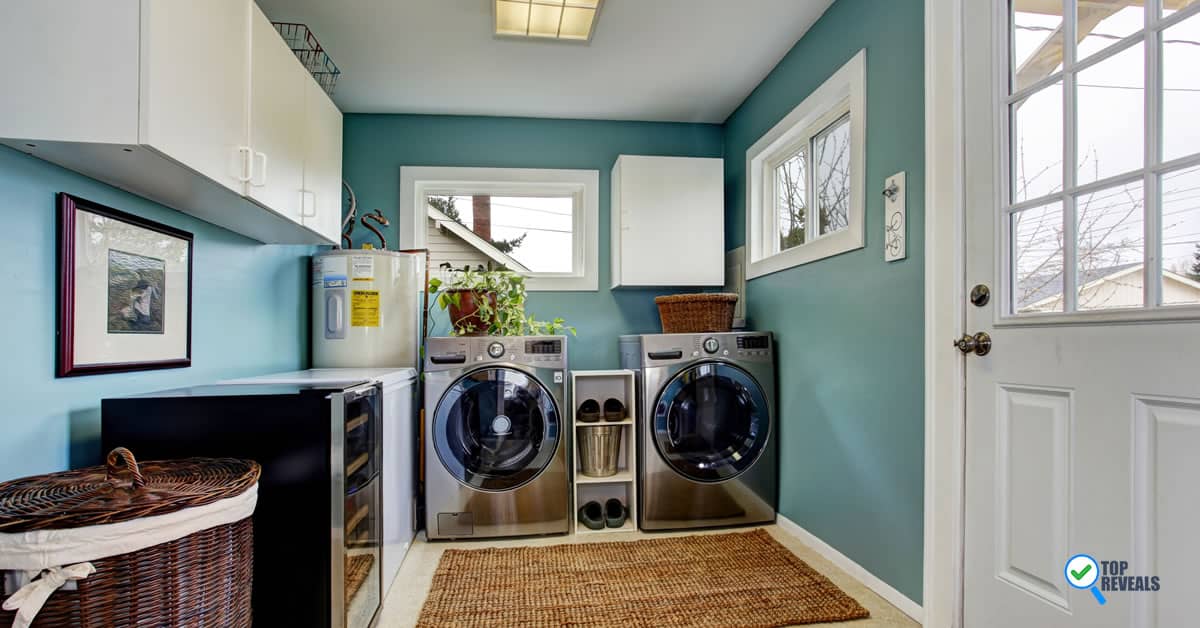 To help inspire you, check out our list of lavish laundry room design ideas that are so pretty you'll look forward to washing clothes.
Lavish and Clean Laundry Room Design Ideas
1) Modern, Metallic, Magic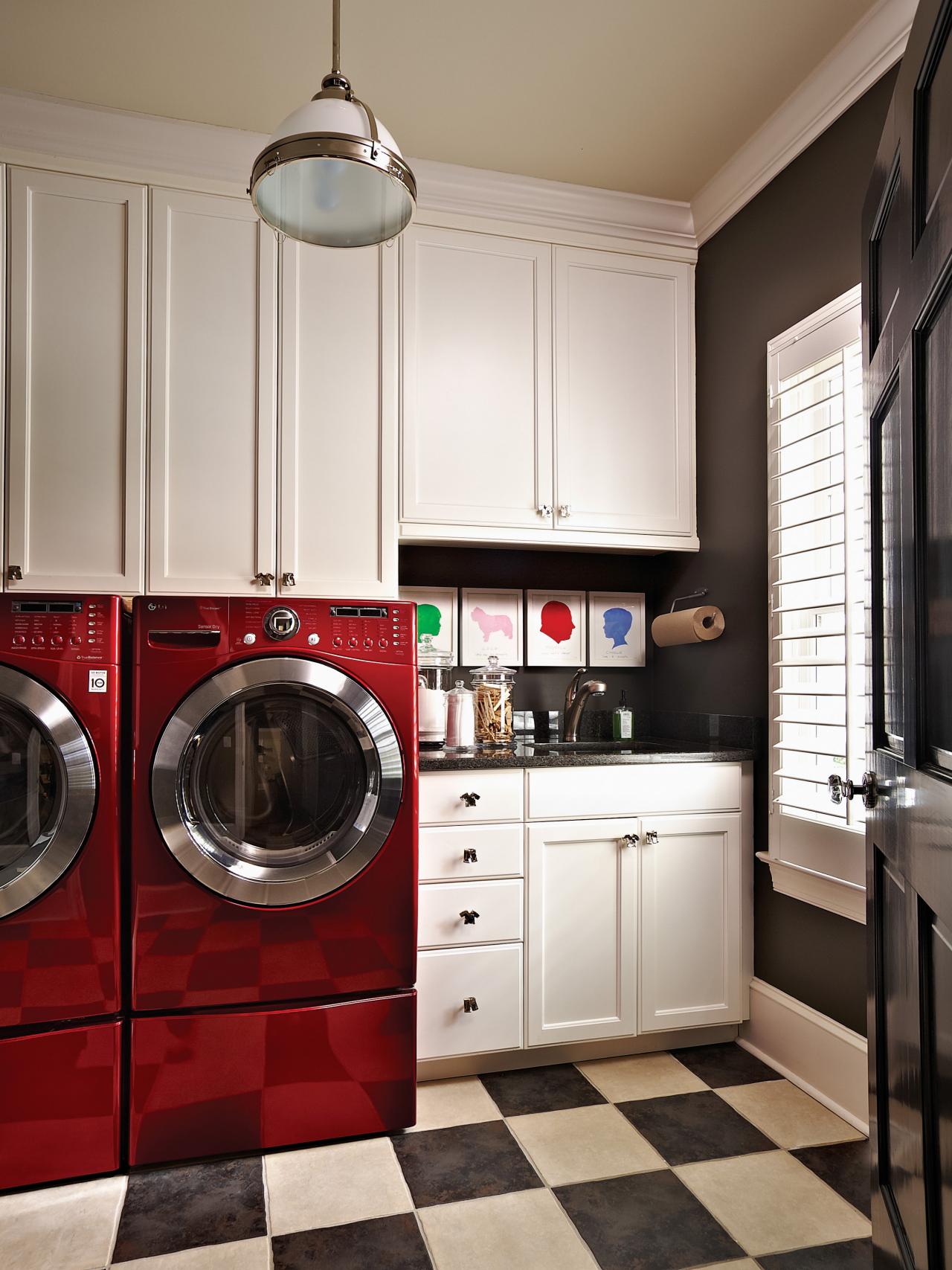 Give your laundry room a modern-day update like Traci Zeller by mixing classic black and white flooring with sharp metallic appliances in an eye-popping color like fire engine red.
2) Color Your World
Funky floor tiles in varying shades of blue and painted cabinetry give the space a uniform and tranquil feel. Get inspired by this look and more from Houzz.
3) White & Bright
You can never go wrong going all white, especially in a smaller room. White instantly brightens up the space and makes it feel cleaner and lighter. Check out this look and learn more from BHG. One can clean the laundry room with a canister upright vacuum
4) Sheek & Sleek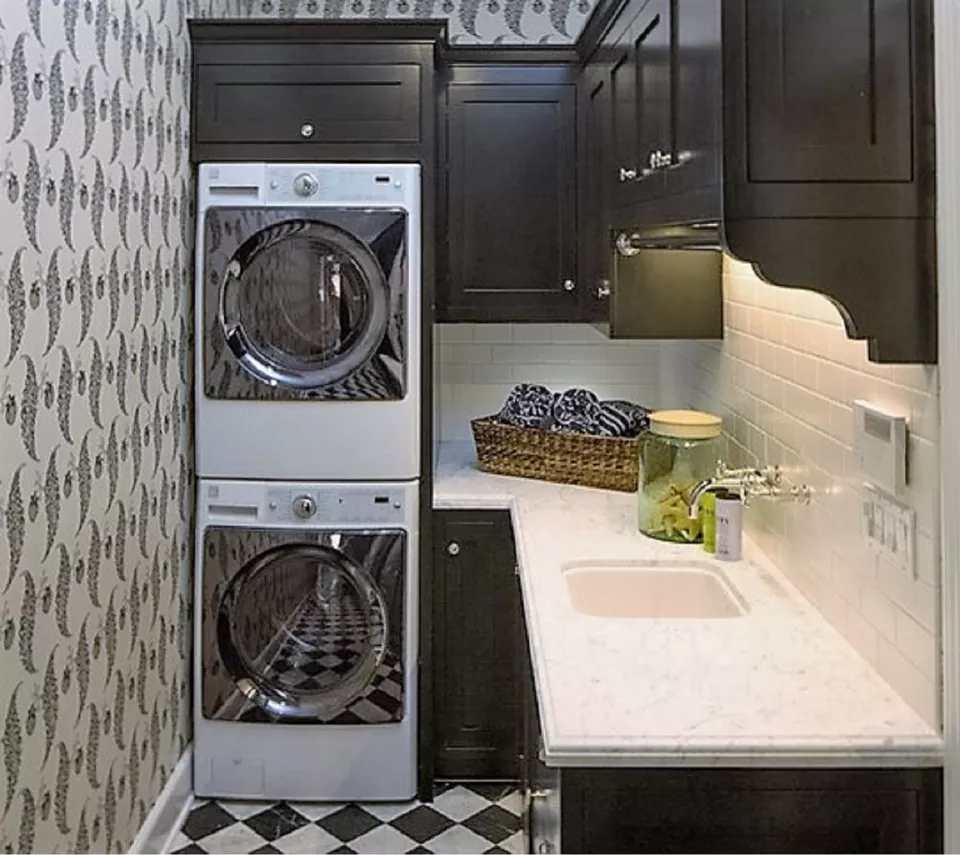 Use something simple, like wallpaper in an Avante Garde design to take your laundry space to another level. Designers Murphy Moon not only used wallpaper but high-end finishes to add a touch of class to what is normally a dreary place.
5) Paint a Picture
 
House Beautiful took laundry rooms to a whole new level with this phenomenal design. The mural draws you in and transports you so you don't even realize it's a place to wash and dry clothes.
6) Grey is the New Black
Grey is always a great choice, as it gives an air of polish and adds a punch of color without being too bright. Take a clue from Home With Baxter and use a rich, dark grey tone, as it adds depth to the room.
It's contrary to what you've been told, dark colors can work great in a small space. Remember to have standing fans to keep your laundry air fresh and flow.
7) Fun & Fresh
Show off your flair and have some fun with some kitschy design elements like over-sized safety pins and beachy navy stripes like the ones seen here by Sophia's Decor. These types of color combinations make any room feel airy and will put a smile on your face every time you go in there.
8) Country Cozy
If you have space why not use top of the line French country cabinets for an upscale feel? This style from Arch Studios will look great in any home and instantly add value to it, making it well worth the investment.
9) Wood & Stone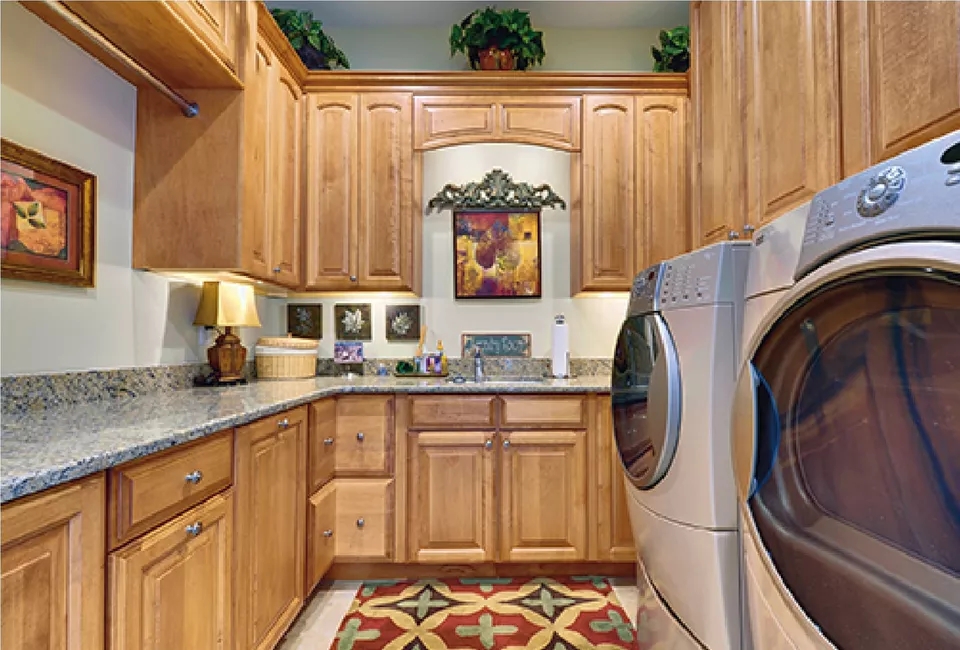 These shaker style cabinets from Wellborn Cabinets are the star of the room and rightfully so. Mixing wood and stone or granite counters add warmth to the room and gives it a homey feel. Plus, these materials will last with minimal effort and upkeep.
10) Modern Marvel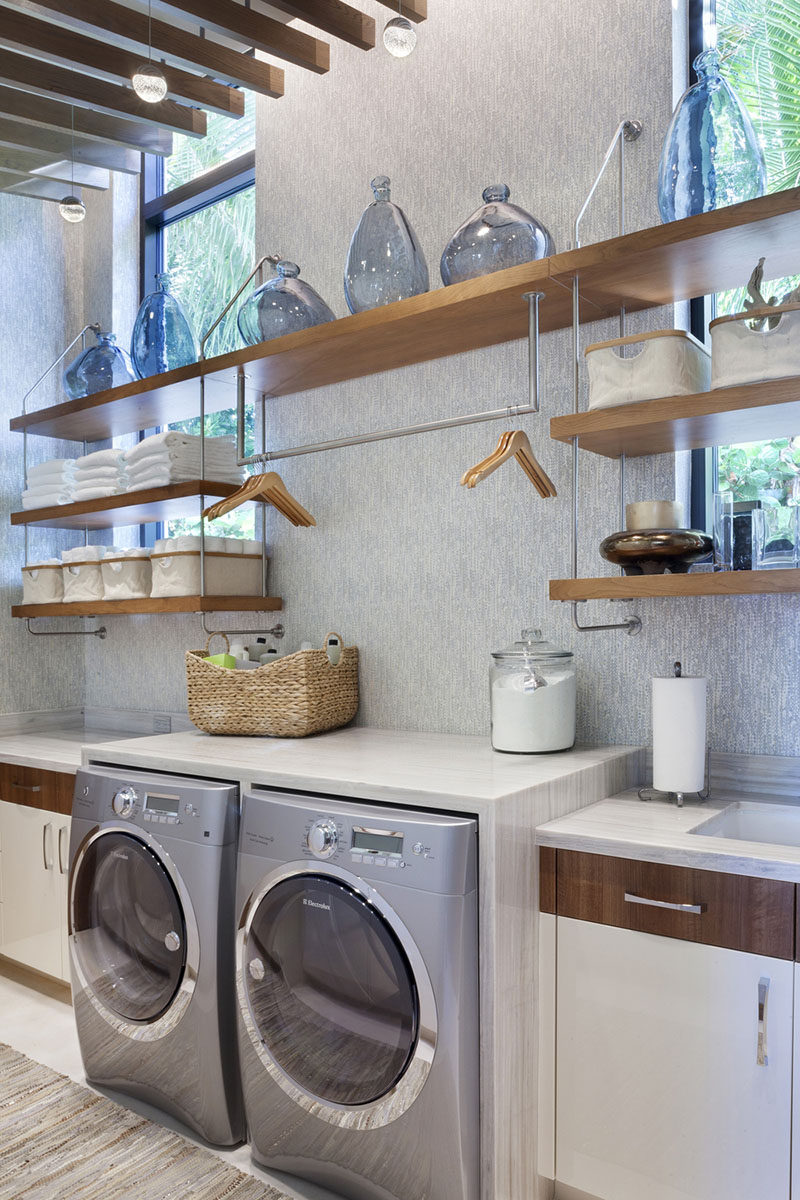 What's not to love about this design from Marc Michael's Interior Design and cabinets by Superior Wood Products. The blend of textures and varying neutral shades makes it feel polished without being too stuffy.
11) Wall "Art"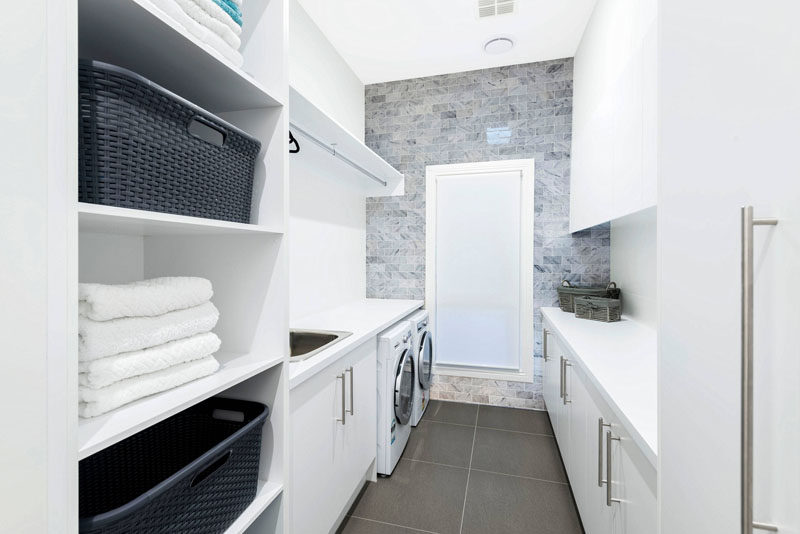 Change things up and keep it interesting by using patterned subway tiles on the wall and solid tones on the floor like this style seen here by Detail 9 Architects. This is the perfect example of how you can create interest without using lots of competing colors.
12) Pattern Power
Competing patterns, like stripes and florals, can make the laundry room the most interesting place in the house. The key is to use complementary colors, with one pattern being softer than the other, like View Along the Way did. Even better with a help of a Fabric and Clothes Steamer here.
13) Simple Symmetry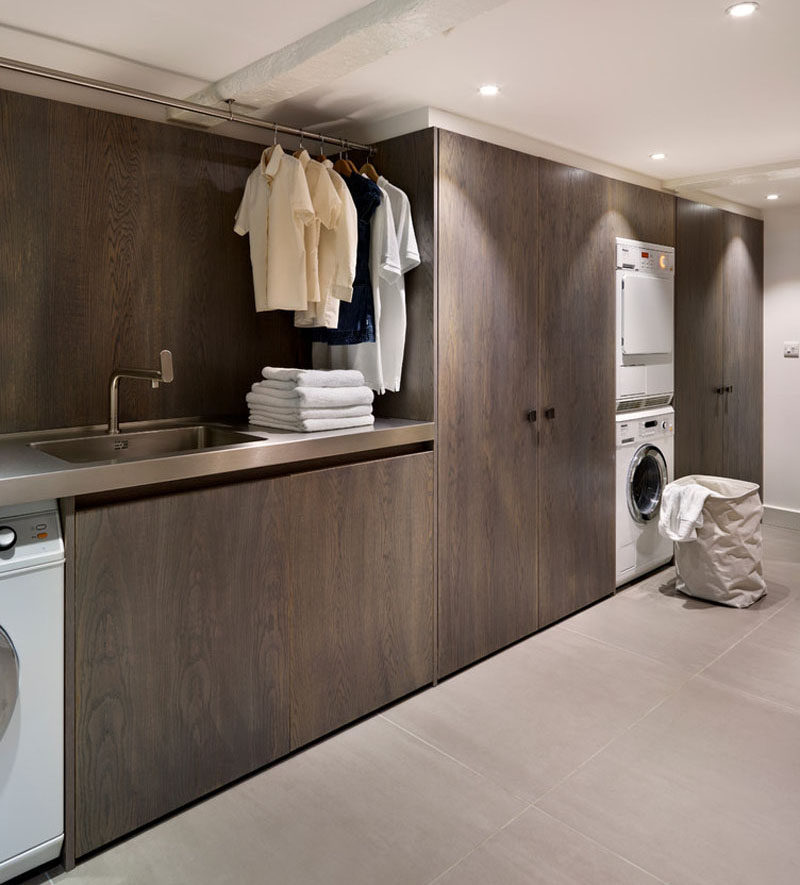 For larger laundry rooms, a symmetrical look like the one created here by designer Teddy Edwards will make you feel you're living in the penthouse of the loftiest hotel. Custom cabinetry in one material and minimalist furnishings complete the look.
14) Bright & Bold

Who says a laundry room can only be used to wash and dry clothes? If yours is big enough to make it the most fun room in the house by adding bright patterns like BHG. You can even add a space for crafting or a little nook to escape and be by yourself.
15) All Natural
Go rustic by mixing all natural elements, from a shiplap wall to cement flooring and laundry baskets made of cool cotton like Stacy Risenmay. This style harkens back to days of yore and will make you think of country living every time you step inside it.
16) Sitting Pretty
This laundry room seems more like a sitting room or beauty parlor thanks to the patterned rug, drapery, and curtains. The trick is to use feminine accents like Readhead Can Decorate to make the room feel soft and welcoming.
17) Familial Fun
Make your laundry room the place everyone in the family goes to by adding cool features like barn doors that double as chalkboards and using an inviting color palette like BHG.
18) Industrial Charm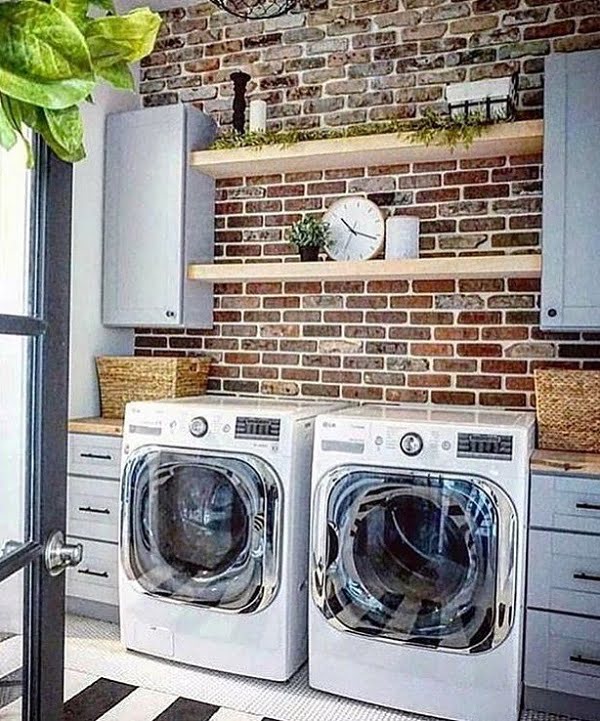 Go industrial like Lisa Jeanette Wood by adding a brick accent wall and using other industrial pieces like wrought iron drawer pulls.
19) Vintage Vibe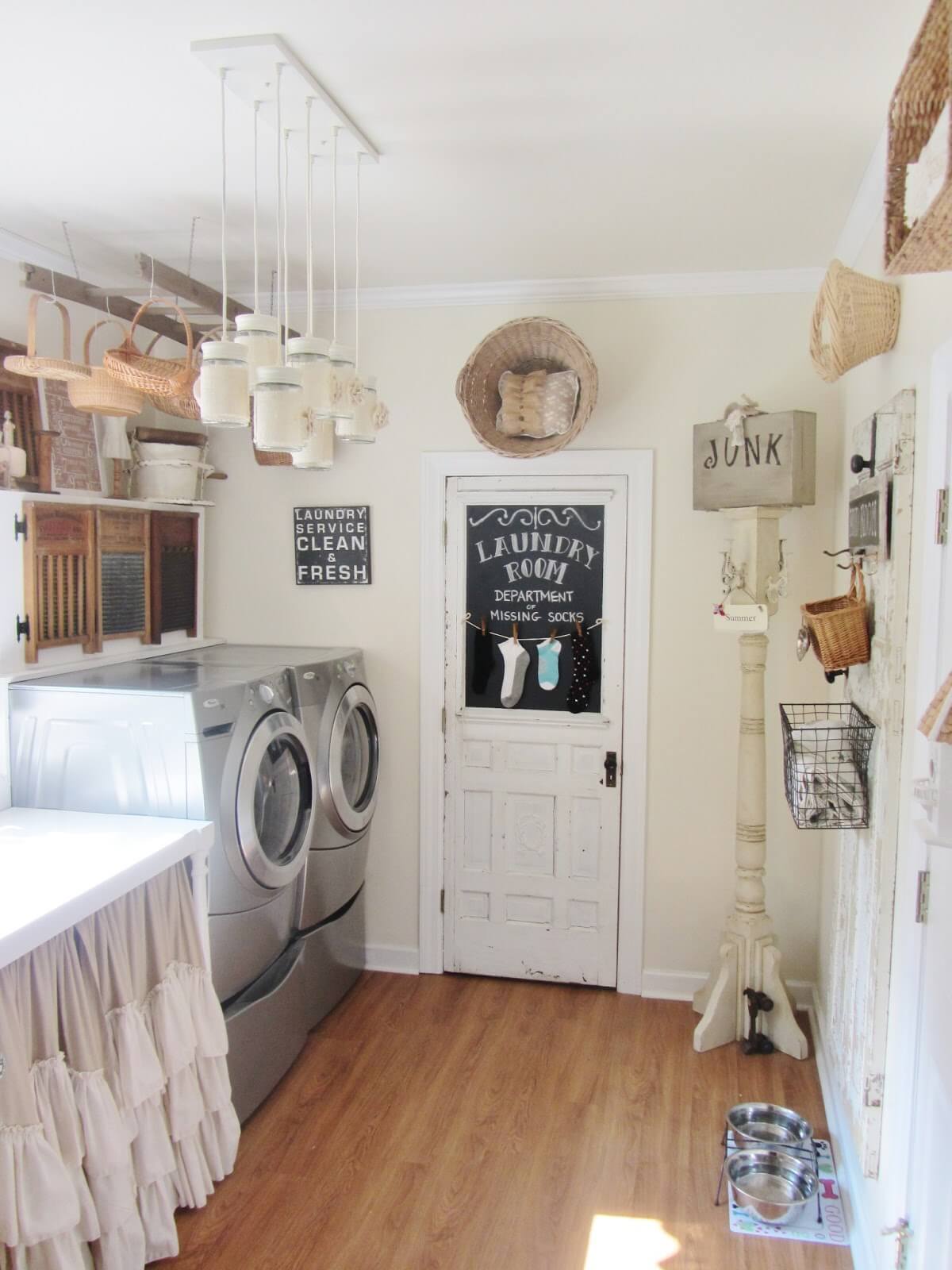 Vintage, as seen here by Junk Chic Cottage, is a great design style because it is easy to put together and is timeless; which means you don't have to update it unless you want to.
20) Chic & Sleek
Add an air of pizzaz by using dazzling accents like a sparkly chandelier and mixing it with more streamlined, clean materials like quartz countertops for a one-of-a-kind look like the one here from Right Up My Alley.
Did you like our list of  lavish laundry room designs? Let us know and be sure to share these great ideas with your family and friends.