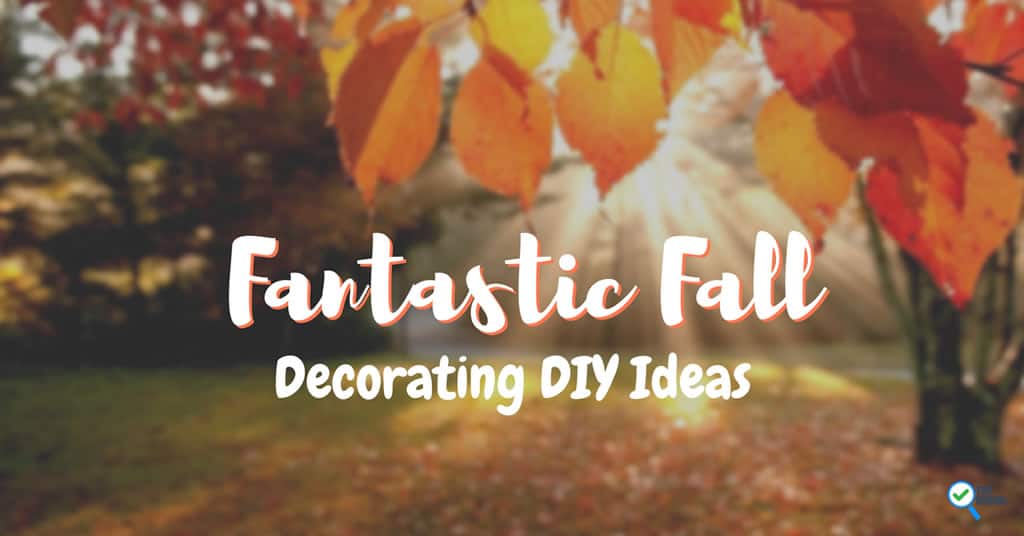 I don't know about you but for me, fall is more than just a season; it's a feeling. A warm and cozy feeling that you get every time you step out into the crisp cool air and see the leaves changing color or smell the wafting scents of pumpkin and cinnamon. One that makes you want to throw on a sweater and curl up with some hot cocoa in front of the fire. And guess what? You can get that feeling inside your home too with our Fun & Fresh Fall Decorations DIY Guide. From simple, inexpensive ideas to decor tips and pumpkin collages we will show you all the ways you can transform your home into a fall wonderland!
Fall DIY: Tools of the Trade
Like every other season, fall has its own unique colors, textures, and scents that you can incorporate into every room of your house. Knowing what hues to use and where can help you change the look and feel of your home without having to break the bank.
Before we share some DIY ideas, check out our style guide and tips to see where and how you can add a little fall to your life.
The Fall Decorating DIY Idea Infographic

Feel free to include this Image on Your Site
Colors
Signature Colors: rust, brown, tan, orange, gold.
Fall weather may be cool, but it evokes warm and fuzzy feelings, which are reflected in its signature colors. Warm tones, like the ones you find in the brown and rust families, work best to create that inviting, homey feeling. Sure, you can run out and buy all new furniture if you have an all-white couch, but you don't have to.
Simple changes, like adding a tan throw across it or using pumpkin-colored throw pillows, can make that white couch work in any season. Incorporate fall colors into every room, using accessories like gold tins in the kitchen and pumpkin rugs in the hall. A little can go a long way.
Scents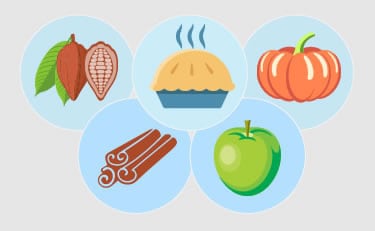 Signature Scents: vanilla, pumpkin, cinnamon, brown sugar, apple.
Nothing says fall like the smell of a warm apple pie, so why not have your whole house smell like it? Sure, you could bake a pie, but if you don't have the time or energy fake it by placing fall scented candles around your house. You could even use a scented insert in your fireplace to really get that smell throughout the house. Oh, and as a bonus, add a few in the bathroom to mask any not so fall scents! And have fun with it, maybe do pumpkin in one room and vanilla in another.
Fabrics
Signature Fabrics: flannel, cable knit, corduroy, wool, faux-furs.
When you think autumn you think of snuggling up on the couch or burrowing in a soft, comfy sweater. And you can recreate that by using a blend of different fabrics in your home. Play with textures to create a space that makes friends and families want to stay for a while (but not too long). There are lots of ways to do this, from adding a fuzzy, plush cashmere (real or fake) rug to your living room to throwing corduroy slipcovers over your dining room chairs. These fabrics have a depth to them and feel soft and soothing against the skin, giving off a comfy, homey vibe.
Fall Themes: Leaves, Pumpkins, and Gourds, Oh My!
While you can use traditional pieces in varying autumn shades and textures, for a real wow factor try decorating with a specific fall theme, such as leaves, pumpkins, and other natural elements. Just be careful; there's a thin line between ambiance and overkill so as with most things, less is usually more. Here's a rundown of popular fall themes and how to use them in your home.
Pumpkins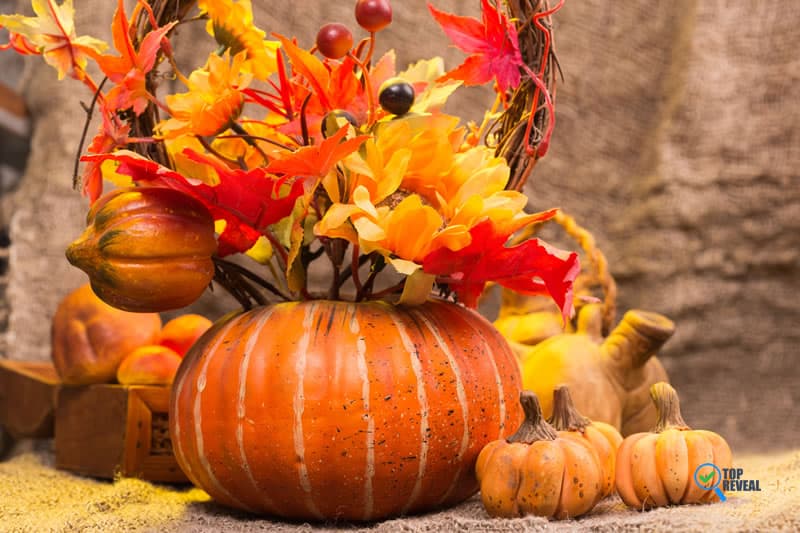 Halloween is one of the main fall holidays, so it's no surprise that pumpkins are often used as decorative pieces. For us, they are great when done right, which means playing with varying colors. For instance, white pumpkins lend an elegant air to a dining room table or front porch. And traditional orange ones that look a bit worn give a nice rustic feel to a hearth.
The idea is to not overwhelm a space with too many pumpkins and use them as subtle accents; unless you have kids and want a real Halloween theme.
Leaves & Branches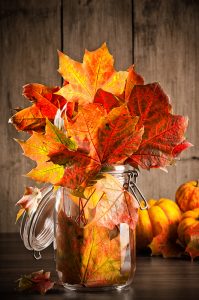 Leaves and branches are another clever way to give your house a homely autumn touch that's not too overpowering. And the great thing about leaves, twigs and other natural elements is they can be used as is or manipulated into varying shapes and colors.
For example, twigs can be twisted into a wreath for your front door, or you can spray paint leaves and write names on them to be used as a place card holders when you have a party. When used right, they give off a rustic vibe that is 100% fall.
Gourds
Like pumpkins, gourds are a great element for tables and fireplace mantles, with the added advantage that they come in a variety of colors, sizes, and textures. Many gourds have gradient colored bumps, adding a layer of depth to them and making them a great centerpiece. Group a few together on a coffee or kitchen table for a unique focal point.
Fun & Fresh Fall DIY Decorating Guide
Ok, so now that you see all the ways fall can invade your home, we'll share some great project ideas with you. They range from simple to outrageous and cover every room in your home, so you're sure to find something that works with your house and decor.
Outdoor Looks You'll "Fall" For
Whether you just want to jazz up the front door or decorate the whole porch, there are lots of ways to bring fall to your doorstep:
Wreathes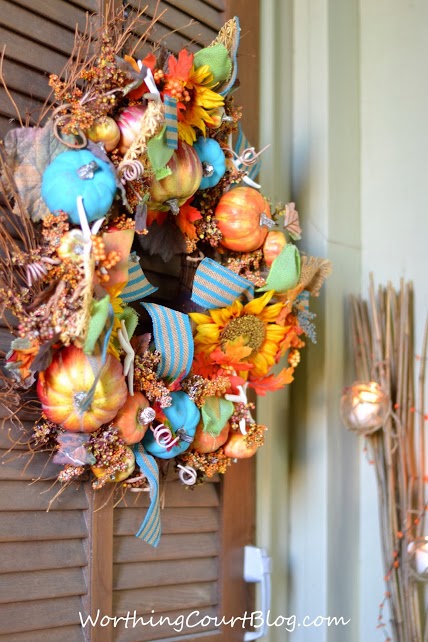 Looking for a simple way to transform your front door and give it an autumn feel? Try using a wreath made of leaves or small pumpkins. Use ribbons in varying shades and just have fun with it. Have a red door? Use neutral shades with hints of gold. Is your door brown? Then try bold orange and greens to liven it up. The idea here is to enhance what you already have and create a welcoming, inviting vibe
Deck The Halls…I Mean, Front Porch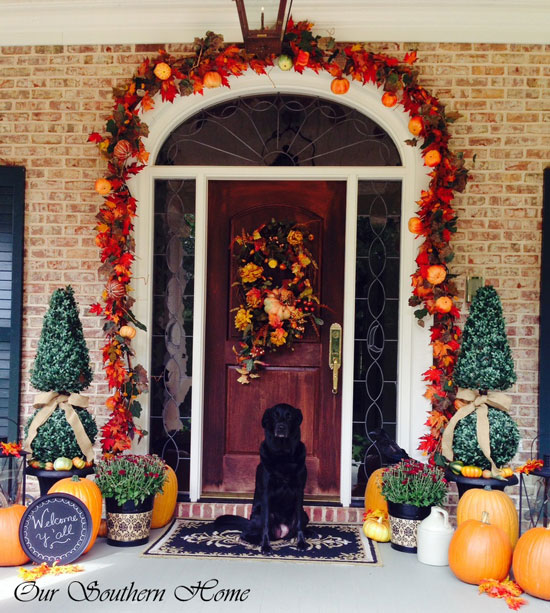 If you wanna go all out and make a statement, fill your front porch with varying objects like in this picture for a classy but fun style. The garland made of leaves, along with the decorative pumpkins and wreath scream fall and will make people want to stop in just to say hi- so be sure to have some hot cider and an apple pie waiting! See more ideas from Front Porch Ideas and More.
"Send" A Message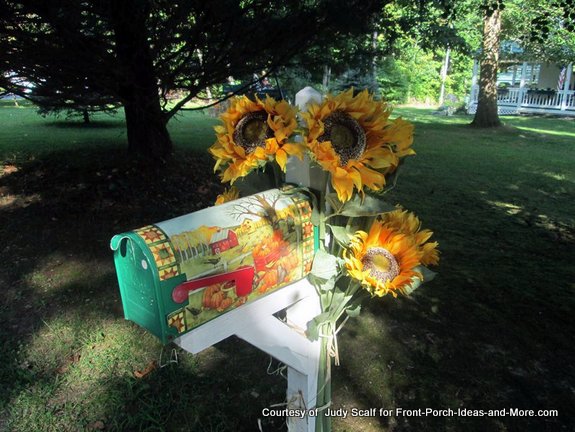 If you want to say fall, a cute mailbox cover like this one will do the trick. You can choose plaid, scarecrows, leaves, or other motifs to give it a cool fall look. Personally, I like to make my mailbox a Halloween theme and have fun with it, but whimsical or understated, there's a lot you can do.
Indoor Looks to "Fall" in Love With
Every room in your home, from the front hall to the bathroom can be updated and given a fall feel, you just have to be a bit creative; and if your not that's okay because we have some great ideas here for you!
Halls/Foyers: Make An Entrance
Homey Halls
With a few accent pieces, you can make your guests feel all warm and cozy as soon as they step through the front door. Strategically placed pumpkins, rustic blankets, and fall signs set the tone for the rest of the house. And since a lot of pieces are natural elements, like leaves, they tend to match any decor.
Spooky Greetings
If you love Halloween but want a more sophisticated look, this kitschy sign and accents will do the trick. The brooms and witches hats give off a fun but polished vibe that guests will get a kick out of!
Living Room/Den: Make Everyone Feel at Home
Pump-tastic Pieces
If you have a neutral living room, all you need are some colorful throw pillows in shades of pumpkin to give it an autumn look. Try to use soft, plush fabrics like cable knit or flannel and if you can, get a fun piece like the pumpkin shaped ottoman above; it's sure to make friends and family want to put up their feet and stay a while.
Fall, Fall, Everywhere
You can create a fall feel without changing any of your existing furniture; just gather some pumpkins, wicker baskets, woven boxes and some leaves for vases and make your living room all about fall. Put acorns and twigs in a basket on the coffee table and dress up your mantle with candles in autumn scents for a quick and inexpensive transformation.
Mantle Magic
Your fireplace is already the focal point of the room, so fall-ify it with interesting and rustic items; think pumpkin spice candles on a wrought iron candle holder, autumn leaves in the hearth and a chic sign to drape along the mantle. Viola, fall is here! Via Pinterest.
Kitchen: Take a Bite Out of Fall
Country Chic
Fall is often associated with the outdoors and nature, so mimicking the hues and scents of outside can make your kitchen feel fall ready. You can easily do this by using slipcovers for chairs in gingham or floral patterns and having a vase of fresh flowers on the table. Shared Comfydwelling.com
Scary Fun
If you have kids or are a kid at heart, this spooky but impressive kitchen scene is pure brilliance. Yes, it takes some time and a bit of work, but the payoff is more than worth it.
It's All in the Details
When it comes to your kitchen you may be limited in terms of space, so a good way to change things up is to add candles in varying scents, surrouned by fall accents like acorns and candy corn. And if you really want to kick it up a notch add a colorful tablecloth that looks and feels homemade.  All these little details will add up to make the whole room feel comfy. And you can always burn those candles to the scene. Via Pinterest
Dining Room Table: Set the Scene
Farm House Chic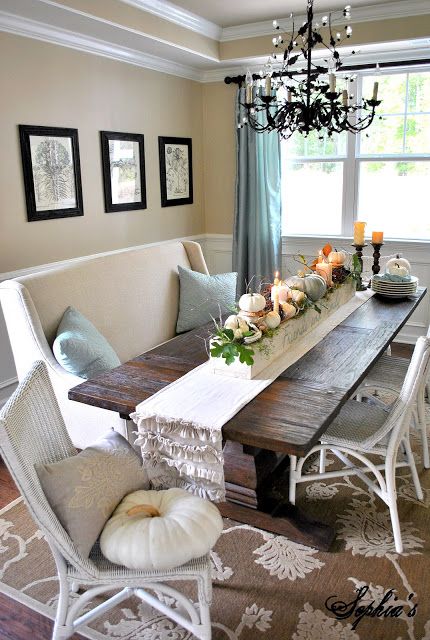 Make your dining room a show-stopper by going all white in your decorations. Set a white table runner and farm trough and fill it with white pumpkins, gourds and other assorted nuetral branches for an elevated country farm look. Via DigsDigs.
Family Friendly
Fall should be fun, so play with Halloween-inspired colors to create a stunning centerpiece that those young and old will admire. Gradiate yellows and oranges on milk bottle or mason jars for ecclectic holders or use candy corn in clear glasses; just make sure the kids don't eat them!
Bathroom: Good, Clean Fun
Wrap it Up
These cute wraps are an easy way to add a touch of fall to your bathroom and store extra rolls; stack them on shelves or behind the toilet for a cute touch.
Beauty Everywhere
Its nice to set the stage when you look in the mirror and adding fresh sprigs or a pumpkin is an easy way to do it. It makes the bathroom a cheery, pretty place and carries the fall theme through the whole house. From Pinterest
Bedroom: "Fall" Asleep in Style
Plush Comfort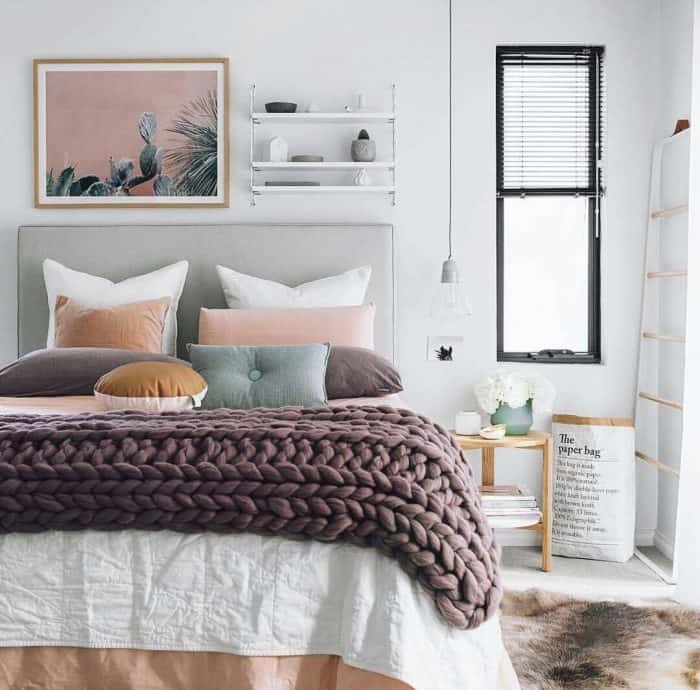 A great way to give your bedroom a touch of fall is with a chunky throw in a brown or taupe; it instantly says comfy and cozy. Add a few candles to set the mood. Feedpuzzle.
I hope my  Fun & Fresh Fall DIY Decorating Guide help you get into the spirit and celebrate fall in all it's glory. Whether you decorate one room or all of them , just remember to let your creativity show- there is no right or wrong way to do it as long as you're having fun!