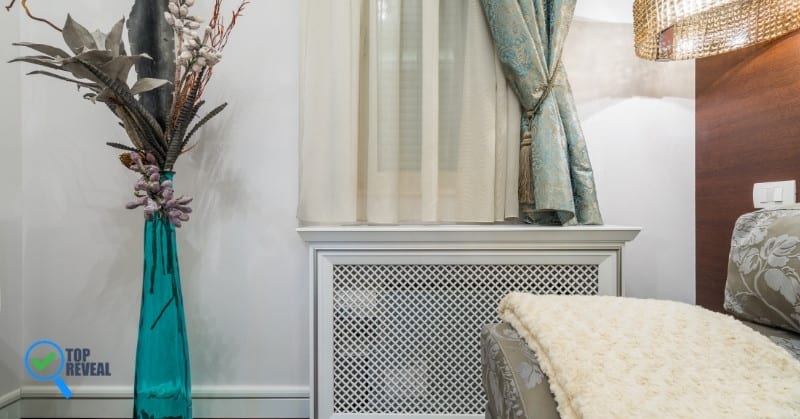 Home Detail UK has a brand new range of radiator covers, including stylish new grey radiator covers. These new covers have a fresh contemporary elegant design. The radiator covers will easily match your hallway, bedroom, and living room with this look.
But you're wondering about more than will the radiator cover match the style of your house? Most people wonder if using radiator covers will be safe or reduce the amount of heat produced.
Well, simply put, radiator covers are safe to use, and they don't reduce the heat that your radiator produces. High-quality radiator covers will have a lot of space for the heat to escape and reach the rest of the room.
This article will delve deeper into everything about radiator covers. You'll learn more about the different types of radiator covers and why you should use them.
About Home Details UK new grey radiator covers
Home Details UK's new range of radiator covers has been made from good quality MDF. Their radiator covers have an elegant matt grey and white finish. These covers also have an extensive under the shelf vent that easily allows heat to escape.
Radiator covers will also help cover an unsightly eyesore. Covers with a stylish and beautiful design will help protect an old and unattractive looking radiator.
Home Details UK's grey radiator covers look amazing with the grill pattern design. They will also give your home a personal touch. On top of giving your home some extra style, you will be able to use the grey radiator cover as an extra shelf for family pictures or any ornaments.
Having a new grey radiator cover in your will keep your family safe while giving you an extra place to place your keys and wallets. The cover will also protect your children and pets from getting burned on the hot surface.
Each of Home Details UK's grey radiator covers will be delivered "flat-packed" with instructions and fixings. Being flat-packed and coming with instructions will make it easier for you to assemble your new grey radiator cover.
What is a radiator and a radiator cover?
Radiators have been designed to warm-up rooms during long cold winters. They do this by transferring heat from the radiator to the surrounding area.
Radiators do this by taking in cool air through their bottom. The air then gets heated while it passes through the radiator fins. The radiator then discharges the hot air from the top.
Some people will decide to use a radiator cover (also known as a radiator cabinet) to cover their radiators. Radiator covers are made from different materials such as aluminium or chrome.
Different types of radiator covers
There are two different types of radiator covers. There is a radiator that covers just the top. A second radiator covers the top and three sides.
All radiator covers need to have openings at the top and on the sides to allow for heat circulation. If you want to use the radiator cover as an extra shelf, you need to make sure that the cover is sturdy.
In most cases, radiator covers that just cover the top are made from wood. Other materials that are typically used for radiator covers include:
Hardwood: This is a trendy choice for radiator covers. Hardwood radiator covers will easily blend in with any wood trim you might have in your home. However, hardwood radiator covers are more expensive and transfer less metal.
Engineered wood: Radiator covers made from medium-density fiberboard (MDF) is just as sturdy as hardwood radiator covers but are more affordable. These covers also go well with a painted radiator.
Radiator covers are made from a combo of MDF or Wood and metal grilles.
Steel or metal: Metal grilles or screens in radiator covers will allow for better air circulation. Metal or steel radiator covers are more affordable than wood radiator covers. However, they can get hot to touch, and they can be dented.
Different Radiator Cover Styles
Radiator covers come in different styles. These include the following:
Vertical Line Pattern: The air spaces are vertically arranged in this style. It's an excellent style for homes with a minimalist style with clean lines or modern flats.
Horizontal Line Pattern: This is an excellent option for both modern and traditional homes.
Diamond Pattern: With this pattern, you'll get a traditional style. It will fit nicely in rooms with classic furnishings or old homes.
Why use radiator covers?
There is a wide range of reasons for using radiator covers. Because each home is unique and has different needs depending on the room size, people who live there and how well your home keeps in the heat.
Below are some of the reasons to have a radiator cover in your home. It will also help you decide if you should get a radiator cover.
Covers protect your radiator
Some radiators might suffer some wear and tear because of harsh outside elements. A radiator cover will help protect your radiator from stains, rust, or even any corrosive substances.
If getting a radiator cover doesn't sound good to you, you could add a finish to protect it, or even a good paint job will protect your radiator without taking extra space.
Protect your pets and children
Nobody wants to see their kids or pets get a nasty burn from a radiator. Radiators have sharp corners, and they can get pretty hot. A radiator cover will protect your loved ones from getting hurt from the scorching hot surfaces and pointy corners.
You get an extra shelf.
Radiator covers don't just have to protect your radiator. You can use a sturdy cover as an extra shelf or even as an extra storage space.
Muffles any noise
Radiators can be boisterous and unpleasant. The dripping sounds and banging pipes noises will give you a headache! Having a radiator cover will help muffle the noises coming from your radiator.
But if your radiator is constantly making noises or even just a strange noise, you should have it looked at by a professional or yourself. You can easily take apart a radiator cover so you can get to your radiator if there are any issues.
How to measure for a new radiator cover
So how do you know which radiator cover will fit in your home? Well, you'll need to get a measuring tape and maybe even have your phone ready to take photos.
Taking measurements and photos will ensure that your new radiator cover fits and matches your style. There are some measurements that you'll need to know for your cover:
Depth of the radiator from the wall
Height of your radiator
Length of the radiator that includes the valves
Measurements of window ledges or skirting boards near the radiator
With these measurements, you'll want to add an extra 5cm to the width 3cm to the height and the depth. You also want to ensure that the cover isn't pressed against anything big or near a window. Taking this step will ensure that the radiator cover sits evenly and correctly.
How to assemble a radiator cover
Typically, radiator covers will be delivered flat-packed. This delivery means that you'll need to assemble the radiator cover yourself.
In most cases, it will be a simple case of screwing the top shelf and sides together. You can screw the front grill in place or even use magnets to keep it in place.
There are some radiator covers you can attach to the wall with fixing brackets. You'll just need to follow the instructions that come with your radiator cover.
In some cases, radiator covers don't need to be fitted because they are free-standing. A free-standing radiator cover will give you easy access to the controls.
It will also be easy to put the radiator cover in place. However, this option won't be as secure and sturdy as a fitted radiator cover.
Summary about radiator covers
Radiator covers are handy pieces of furniture to have in your home. They can protect your radiator and your loved ones.
You will protect your radiator from pesty rust and stains. Your radiator cover will protect your loved ones and pets from cuts and nasty burns from your radiator.
A sturdy radiator cover will also serve as an extra shelf or even give you additional storage space. The shelf will come in handy for any family photos or ornaments.
For this and the other reasons that we mentioned in this article, there's no reason why you shouldn't get a grey radiator cover in your home.
References:
https://www.plumbworld.co.uk/blog/radiator-cover-buying-guide
https://www.familyhandyman.com/article/radiator-covers-what-to-know/#types-of-radiator-covers
https://www.greatrads.co.uk/blogs/news/what-are-radiator-covers-for