Forget chocolates and flowers, if you really want to wow your other half this Valentine's Day give them the gift that keeps on giving; Alexa! Trust me, nothing says love more than an Amazon Echo device to help you husband change the channel without leaving the couch or help your girlfriend turn the heat up before she ever gets out of bed.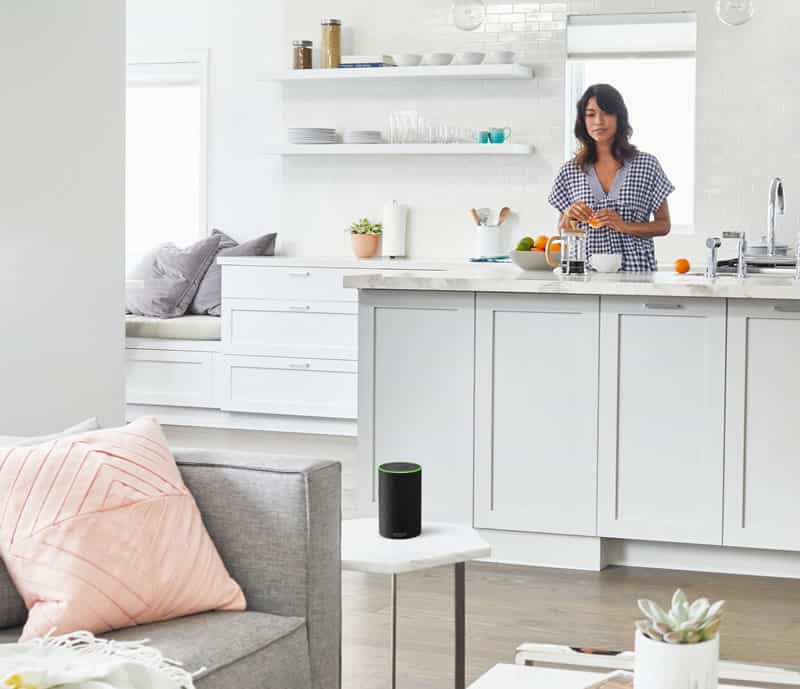 And as my gift to all of you, I'm going to give you a rundown of the best Echo Valentine's Day Gift Ideas to make sure you choose the right one.
How Do You Spell Love? Alexa
If you think an Echo device isn't romantic, think again. These gadgets can really show you care, making life easier for whoever you give it to. And if you are looking for a more sentimental feel, here's how they can be downright sappy:
Streaming Music: Yes, Alexa can stream music but to make it special give your wife an Echo with your wedding song set as her morning alarm or create a playlist of her favorites.
Entertainment: Get your husband a subscription so he can watch or listen to your favorite sports team; I don't know about you, but my hubby would downright weep if I did that for him.
Movies: Give your girl a Prime subscription with her Echo, or buy her favorite movies and put them in her library. Hey, if you want bonus points you can sit and watch with her.
Echo Valentine's Day Gift Ideas – Show your Love with a "Voice"
Your spouse does a lot for you, so why not return the favor by giving her/him an Echo 2nd Generation? This new and improved version of the original Echo lets her listen to her favorite songs or the news with added clarity and can also pick up her voice no matter how noisy it is; so no more screaming over the kids!
To give her Echo a more personal touch why not load it ahead of time with her favorite songs? Once she unboxes it you can surprise her by saying "Alexa, play Joann's favorite tunes list," and watch her face light up as her songs start filling the room.
Do you want to make life easier for your partner? Maybe she needs help finding new recipes or wants access to her favorite jams. If so, an Echo Dot is a sweet gift for you to give her; small and powerful, it is perfect for her to use to get daily flash briefings or to find new recipes to chef up in the kitchen.
And if you want to surprise her, you can enable Alexa ahead of time, setting up her alarms or connecting her smart devices. So, she can just open it up and start telling Alexa what to do. Imagine her face when she hears her alarm go off or says, "Alexa, dim the lights'" and the lights go down. She will melt in your arms.
Echo Show (Best Echo for Conferencing – $50 off this Valentine's)
If you really want to "show" your girl how much she means to you an Echo Show (see what I did there?) is my top choice. Thanks to the touchscreen, she can see and hear whatever she asks Alexa to do, making it the ideal gift for those who love to putter around the kitchen.
She can use it in the kitchen to watch Gordon Ramsay as he chef's it up or to video call you while you're at work to say I love you. And if you're feeling romantic you can upload her favorite Prime family pictures and create a video montage as a way of saying Happy Valentine's Day.
Don't get caught on the "spot" without a gift for your wife; instead, grab an Echo Spot, quite possibly the cutest "alarm clock" of all. She'll love the small screen that can show her a YouTube video or news clips, keeping her up to date and on time every morning! The Spot is the perfect bedroom companion (next to you of course) and can keep her on schedule day in and day out.
With a Spot your loved one can get caught up on the weather and plan what to wear to work accordingly or listen to relaxation music before turning in for the night. The Spot is perfect for anyone who loves to stay curled up in bed and if you want to take it u a notch you can serve her breakfast in bed when you give it to her.
Who said electronics are just for boys? Women love gadgets just as much as men, so if your other half is a techie the Echo Plus is sure to warm her heart. The Plus will provide her not just with help, but endless hours of fun as she configures all her smart devices she can access thanks to the built-in hub as one of the best smart home automation center.
What's even better is that the Plus can handle all her needs, whether she wants Alexa to check her email or wants to have some fun and play a trivia game with friends. If you want to impress her you can enable some skills she may not know about, like the sommelier skill for wine lovers or if you are expecting your first kid the What to Expect skill.
I hope my list of Echo Valentine's Day Gift Ideas puts you in the mood…to shop! These devices will really show her how much you love her and allow you to get creative. Pre-load them with her favorite songs, movies, and pictures for a personal touch that is guaranteed to put her in the mood… for fun!